The iGathering Comes Of Age…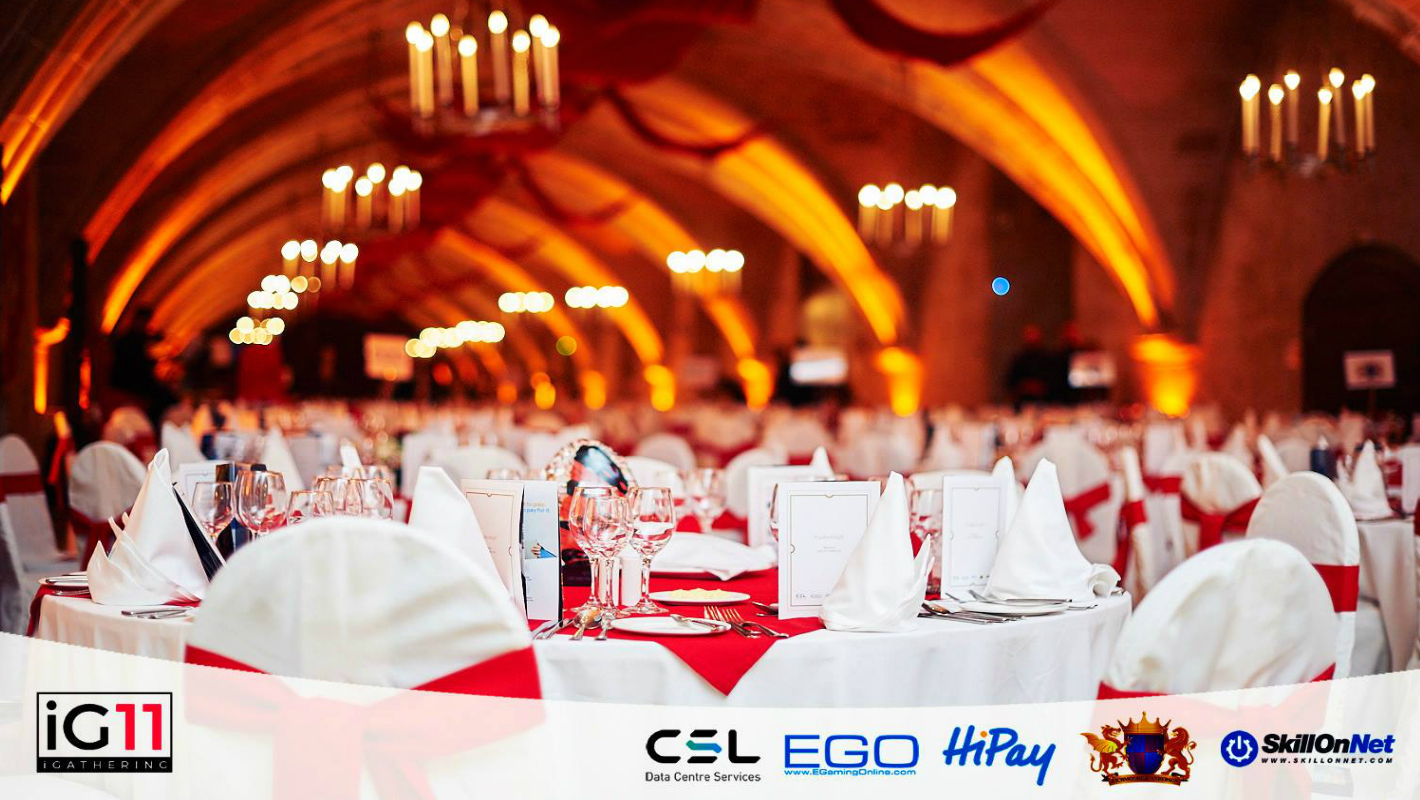 The iGatherings have become a staple on Malta's iGaming calendar, a sign of SiGMA's year-round commitment to the industry. Over the previous editions guests have really been treated to some of the finest dining extant, and the experience is only getting better with successive editions of the event.
The purpose of the iGatherings is to expose the movers and the shakers of the iGaming industry to some of the finest locations the island has to offer. The largely expatriate community will have the opportunity to experience a different side of Malta in a featured venue, enjoy fine food from a featured chef, with the work of a featured artist in the background.
This marquee event started off at fine local restaurants, but as of the last edition it has taken flight. The last event was organized at the MCC, whose 16th century architecture provided a stunning backdrop. Going forward, iGatherings will always take place at one of the most majestic locations the island has to offer, and display the talents of the finest local chefs and artists. The Casino Maltese, a wildly underrated venue with a truly unique atmosphere, has been chosen to host iGathering 18.
As ever, no expense is being spared, and the industry elites in attendance will be able to enjoy a night of finer living – and do a spot of networking if they're so inclined. Once again, this event is co-organized with six sponsors, and promises to be a quintessential fusion of Maltese culture and the iGaming biz.
For more information, visit our official website: www.sigma.com.mt or mail directly to: sophie@sigma.com.mt
Great night for Worldpokerdeals at the iGB Affiliate Awards 2019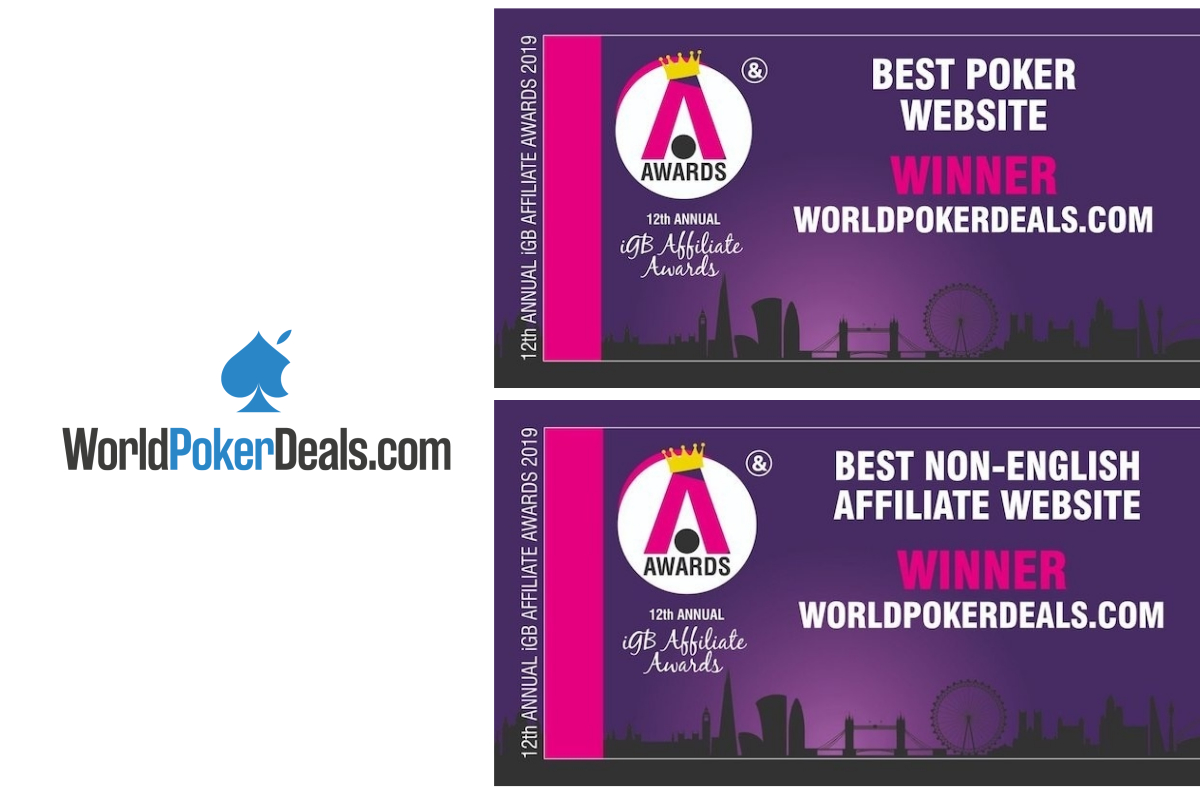 Worldpokerdeals had a great night the last February 9, 2019, during the iGB Affiliate Awards where they confirmed its leadership on the market by winning the two most prestigious awards for poker affiliates: Best Poker website and Best non-English Speaking Affiliate website.
The judges itself commented that in 2019 the caliber of the participants was outstanding and wasn't easy to make the final decisions. The criteria for choosing the winners included traffic increase, relationships with the affiliate programs, rankings, business growth, among others.
Worldpokerdeals was created because we "had something out-of-the-box to offer": the company has a strong focus in customer service, developing close relationships with all the value chain, from poker rooms, affiliate programs, and poker players.
Rodion Longa, Worldpokerdeals CEO said: "Thanks for the support guys. I am the happiest 32 years old boy in the world."
"We are nerds in terms of customer service and satisfaction. We have the greatest number of agents to be able to provide personalized game-select advice and respond in time to our clients. We design easy-to-use interfaces and make readable content. Also, players love our parties in Thailand :)"
The iGB Affiliate Awards reached its 12th edition and are the most prestigious awards in the gambling industry with a focus on transparency.
About Worldpokerdeals:
Worldpokerdeals.com — is a team formed by poker experts under the leadership of Rodion Longa. The company, founded in 2012, is committed to fully support professional poker players, guaranteeing the best conditions for a comfortable grind in almost all poker networks.
Today, Worldpokerdeals is one of the fastest growing multilingual (Russian, English, Spanish, Vietnamese) companies providing services for poker players.
KING BILLY WINS THE BIG ONE!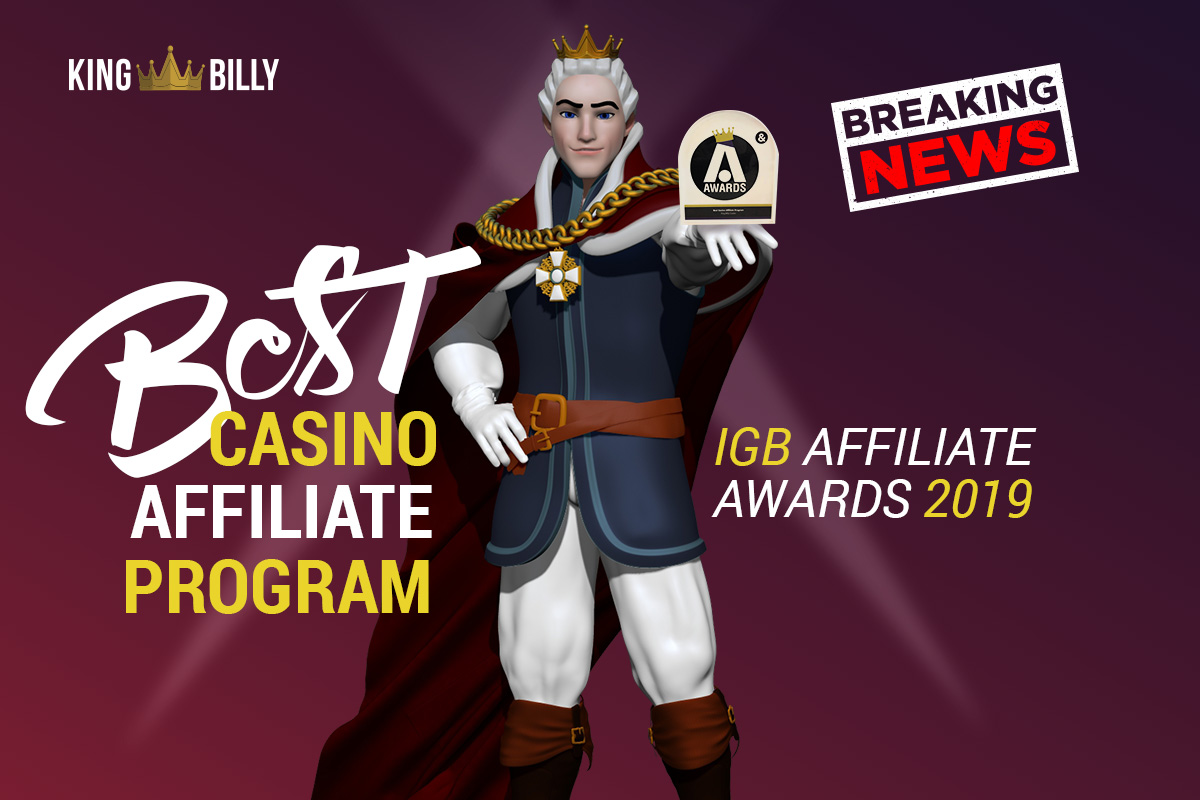 The cyber-ink of our last article about King Billy and his tendency to get awarded hasn't even dried up yet and here we are with, you guessed, one more award for His Majesty.
King Billy, First of His Name, Rightful Ruler of the Kingdom, Guardian of the Realm and Protector of the Players (and Collector of Awards we may humbly add) has done it again. He has got one more award. And this time, it's the biggest of them all in the Affiliate Universe.
King Billy Casino brought home its finest piece of silverware yet, the "Best Casino Affiliate Program" Award of this year's iGB Affiliate Awards, which took place on Saturday, February, 8, 2019, at The Brewery in London. Moreover, the Servants of the King did it in style, by beating the likes of giants like Betsson and Mr Green.
We asked (again!) Ruslan Legenzov, the King Billy Casino's Head of Affiliates (or "Lord of Affiliates" as the casino's protocol dictates) to share a few words with us about this outstanding distinction and this is what he told us: "Guys, first of all, I must confess to you that this has been so much beyond expectations and words that I have wondered for a few moments whether I live in the Matrix.
But it's true, definitely true! All of us here at King Billy Casino are naturally ecstatic and speechless. Personally, I would like to thank all the people in my department who have worked unbelievably hard in order to earn the respect and trust of our affiliates. To Vlad, Olivia and all the rest of our Lords and Ladies in the Department… thank you!
And, of course, we would like to thank, from the bottom of our hearts, our affiliates. All this could not have been possible without you guys! Thank you Cristina, David, Milica, Alanias, Rasmus, Milena, Nenad and the 500+ rest of our affiliates, partners and friends! This one is for you!"
This prestigious award brings King Billy's awards tally up to four in less than a year:
iGB 2019 Awards Best Casino Affiliate Program

AskGamblers 2018 Awards Best New Casino

AskGamblers 2019 Awards Best Casino – 3

rd

place

AskGamblers 2019 Awards Player's Choice Casino – 2

nd

place
So, anyone willing to bet that King Billy wouldn't make it up to five or six until the end of the year? We know we wouldn't!
PartnerMatrix powers TotoGaming Affiliate Program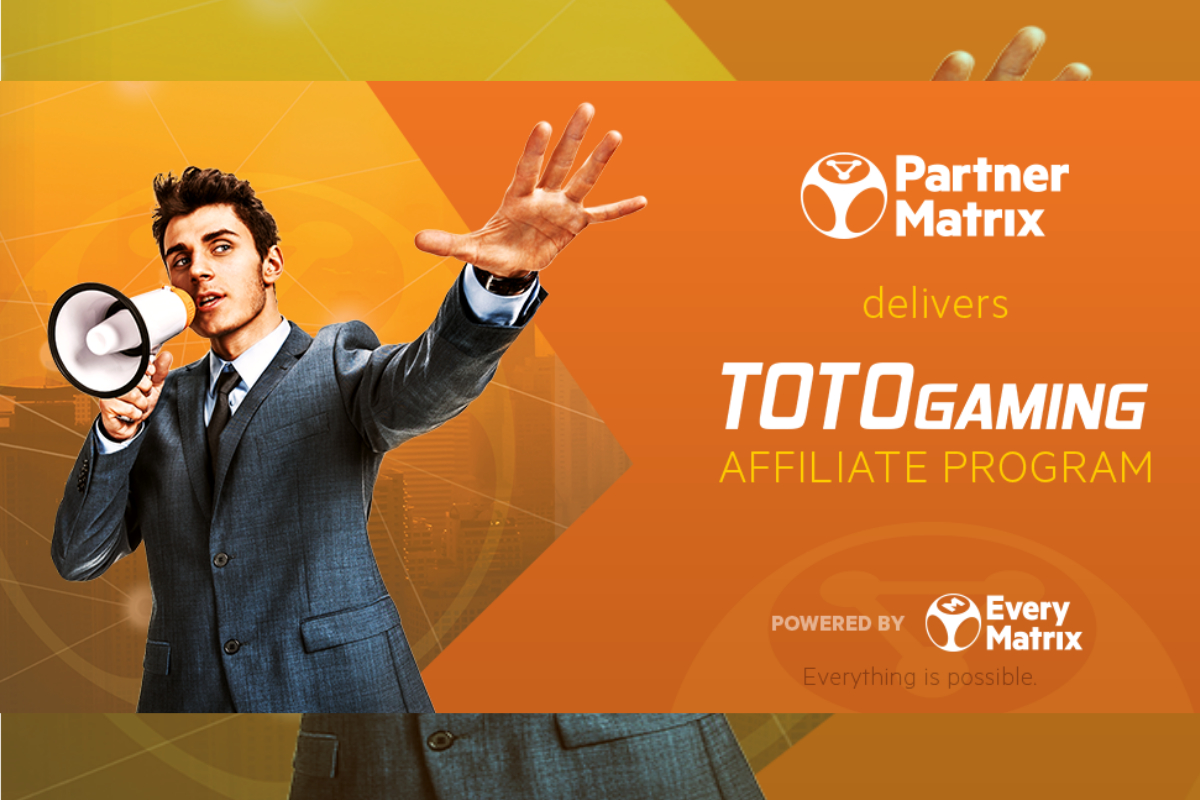 EveryMatrix is delighted to support the launch of TotoGaming Affiliate Program through its PartnerMatrix Affiliate Management solution directly integrated with TotoGaming's current platform as a 3rd party.
Through PartnerMatrix, TotoGaming Affiliates provides flexible commissions structure, an easy-to-use and friendly interface, plenty of marketing tools, support for attractive bonuses and promotions and constant expert guidance.
Furthermore, PartnerMatrix simplifies affiliate managers' operational efforts through in-depth reporting with real-time statistics, accurate tracking of the impact of promotions, allowing them to easily manage data, payment plans, marketing tools, and affiliate settings from a single location. The back-office in PartnerMatrix is highly focused on both administrator and affiliate comfort and it gives the opportunity to reach each angle of the promoted brand.
Victoria Poghosyan, the Deputy COO on Commerce at TotoGaming said: "As we already have a leading position in the Armenian market both as an online and land-based gaming operator, it was inevitable to extend our services further, therefore we designed a program that will cater the interest of our affiliates at best. Our partnership with PartnerMatrix came naturally since we pursue the same goal – to make affiliates successful through excellent campaigns."
Levon Nikoghosyan, PartnerMatrix CEO, added: "We're thrilled to be TotoGaming's choice for their affiliate platform and looking forward to strengthening this partnership in 2019 as the companies continue to grow together. PartnerMatrix has now considerable expertise in optimising the affiliate channel and leverages its market-leading platform to help operators launch and manage successful affiliate programmes."
PartnerMatrix is continuously innovating to benefit both operators and affiliates. The platform recently made available features such as Reactivation Rewards for affiliates, Server to Server (S2S) tracking that improves the accuracy of the conversion, and Player Segmentation for better optimization of the affiliate rewards. PartnerMatrix also delivers feeds and APIs for affiliates to obtain reports and data automatically.
About TotoGaming :
TotoGaming is a reputable iGaming operator, partnered with Digitain, providing betting opportunities to players across multiple sports betting and online casino products during last 15 years. TotoGaming's in-house 400 traders cover 65 sports, 7500 leagues, 3000 betting markets, 40 000 pre-match monthly events, 30 000 real live monthly events. The Live Casino and online casino cater for various slots and games. The variety of excellent gaming experiences are supported by a superior customer support service and care for players. TotoGaming is headquartered in Yerevan, Armenia.
About EveryMatrix:
EveryMatrix delivers a modular and API driven product suite including a market leading one-stop shop casino content aggregator and integration platform, a cross-product bonusing engine, a fully managed sportsbook and sport data services, a stand-alone payment processing product, and a multi-brand affiliate/agent management system.
To offer the services required by operators, the EveryMatrix products work together as an entire platform or independently and can be easily integrated with existing platforms to accommodate different types of clients from bookmakers to lotteries and, from existing large operations to newcomers.