Best Odds Marketing Partners with MintBet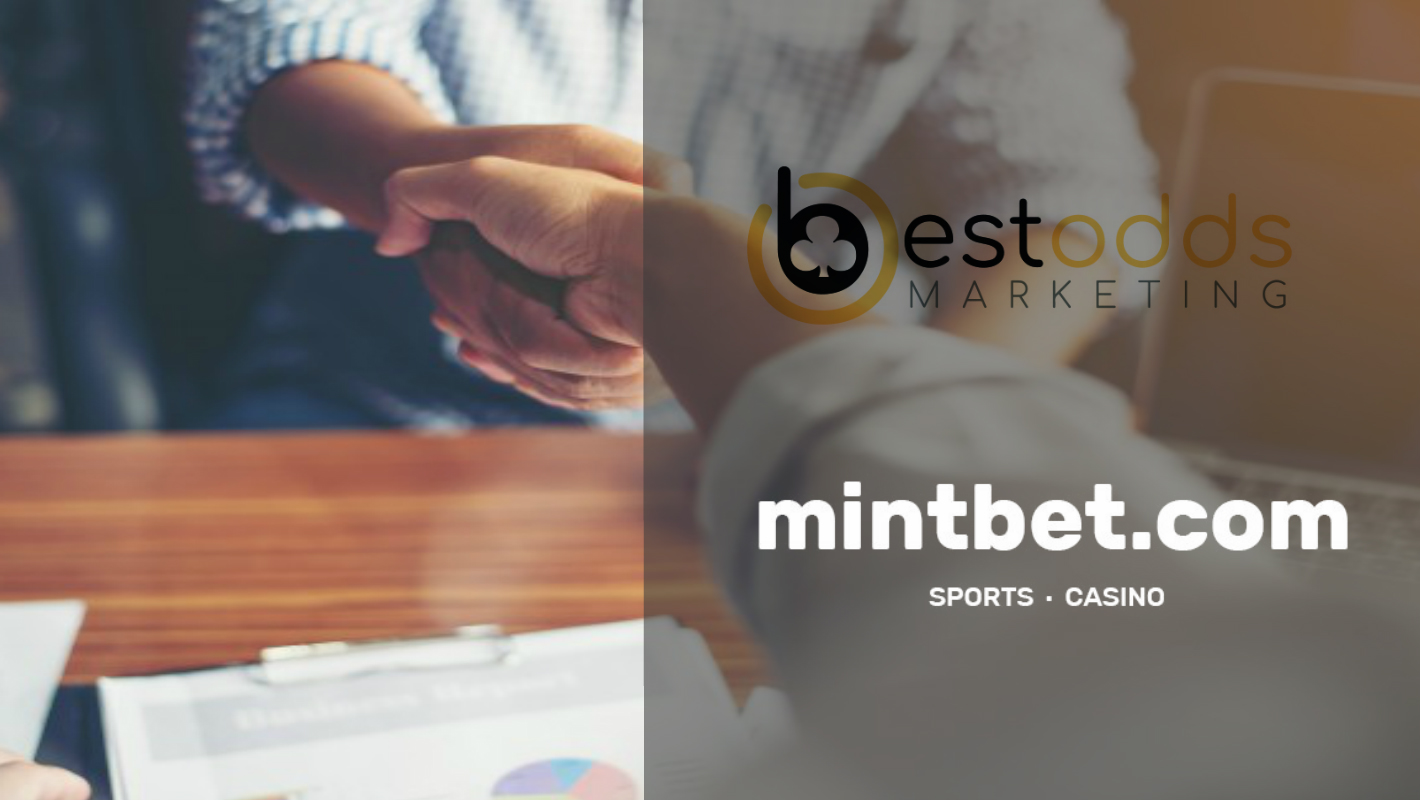 iGaming-focused marketing consultancy to provide strategic digital marketing services to Irish online sports-betting brand
Best Odds Marketing, a UK-based strategic digital marketing consultancy focusing on the iGaming and retail betting sectors, has partnered with McBride Racing Ltd., the Ireland-headquartered operator of the online sports-betting brand MintBet, to manage the brand's strategic digital acquisition marketing programme in the UK market.
The Irish sports-betting provider has contracted Best Odds Marketing to manage its online marketing and affiliate programme promotions ahead of its official programme launch.
The agreement will see Best Odds Marketing, led by Lee-Ann Johnstone, embedded as the official marketing partner for the MintBet brand. The two companies will work in partnership to strategically acquire new customers for MintBet and promote the brand in the broader UK market, under its existing regulated licence.
Focusing on the UK and ROW markets, MintBet offers customers an exciting betting experience. Customer satisfaction is at the heart of everything the brand does. MintBet clients can expect VIP treatment at a slick, fast, reliable and trustworthy site, which offers generous odds and a combination of popular promotions for both sports and casino products.
Customers who are looking for value will enjoy playing at MintBet's online sportsbook and casino, as they will enjoy quick, hassle-free entry, a cutting-edge product offering with competitive pricing and excellent service.
Thomas McBride, Head of Marketing at MintBet, said: "We've partnered with Best Odds Marketing because they know this space, and have years of proven award-winning experience in acquisition within the iGaming sector. We will leverage their knowledge and expertise to create a competitive offering and actively promote our sports-betting and casino brand in the UK."
Lee-Ann Johnstone, founder and CEO of Best Odds Marketing, stated: "Partnering with MintBet to help launch this exciting new brand and provide strategic marketing support is a great challenge for our team. It's very exciting to work alongside an organisation that is focused, open to trying innovative marketing techniques and dedicated to building strong affiliate relationships. We look forward to being part of their brand journey online and helping them launch their affiliate programme soon."
For more information on Best Odds Marketing's partnership with MintBet, please contact Best Odds Marketing.
About MintBet.com
Founded in 1979, McBride Racing Ltd. established its retail arm in 2003 and now offers a high-performance sports-betting and online casino service. MintBet is the exciting and dynamic online re-brand of McBride Racing Ltd, benefiting from over 40 years of industry experience as the family-run bookmaker of choice for customers in the Republic of Ireland and Northern Ireland.
About Best Odds Marketing
Founded in 2017, Best Odds Marketing is a strategic digital marketing consultancy offering affiliate management and digital marketing strategy, servicing the iGaming and retail betting market. With a wealth of expertise growing programmes in the iGaming sector, Best Odds Marketing offers comprehensive digital marketing services based on a collaborative client approach.
Meet the first four speakers of Kyiv iGaming Affiliate Conference!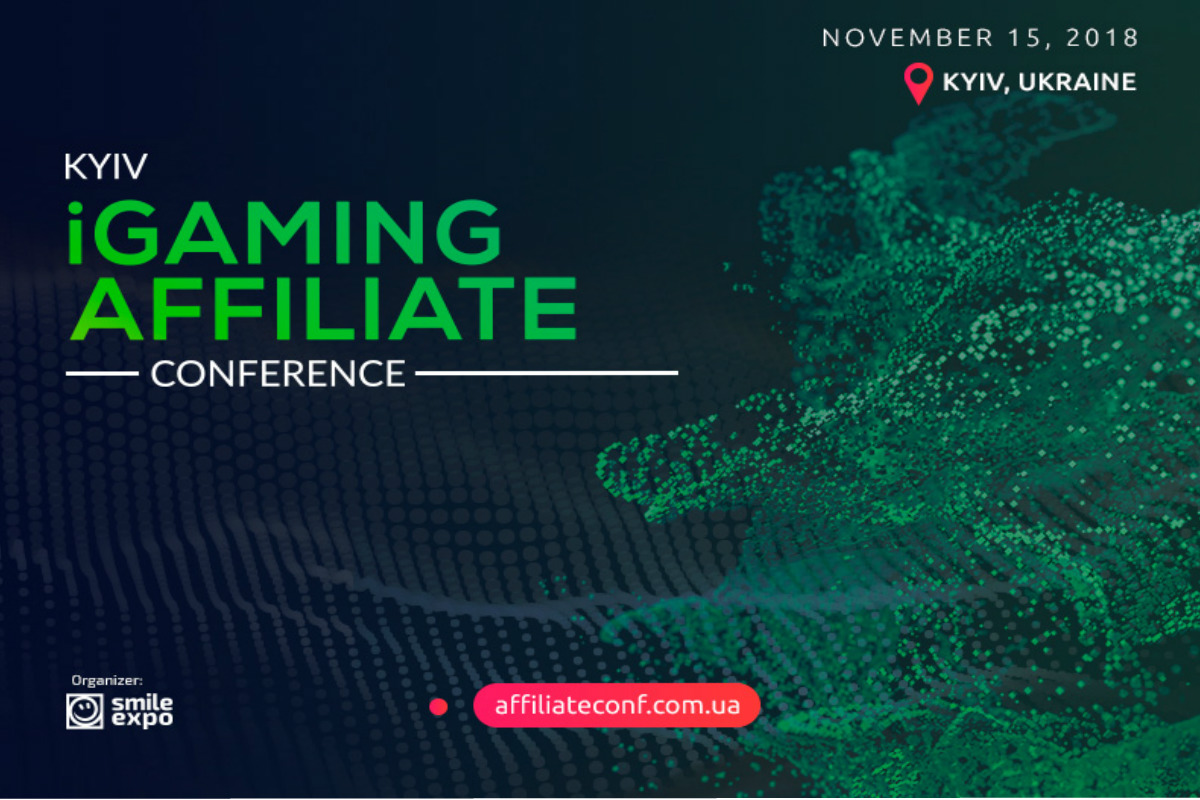 Speakers of Kyiv iGaming Affiliate Conference: discussion of gaming affiliate programs and traffic in Russian and foreign networks
On November 15, Kyiv will host iGaming Affiliate Conference. The industry representatives will discuss the latest gambling and affiliate marketing trends as well as take an opportunity to establish new business partnership within the networking area. Meet the speakers of the event that have already confirmed attendance. They are e-business professionals and world-class experts on affiliate marketing.
The event will gather representatives of iGaming business and affiliate marketing. The platform consists of a conference, an exhibition, and a networking area. It will take place at Vsi. Svoi D12 (12 Desatinna St.), a popular center of cultural and business life in the city's old town section.
Conference: space for expert's presentations addressing affiliate marketing and iGaming.
Exhibition: a venue for iGaming representatives from across the globe. The companies will present software and hardware products.
Networking: business representatives will enjoy the enjoyable atmosphere with a VIP zone available to special guests.
Conference speakers and their presentations
iGaming is a highly competitive niche, which has to be taken into account while developing marketing strategies. Vladimir Luchaninov, Head of Acquisitions at Firelink Media, will tell about the pitfalls of eSports affiliate programs and provide the criteria of affiliate program choosing. He will also touch upon the challenges of risk assessment as well as advise on how to reach the highest profit from an affiliate program.
Kostiantyn Novofastovsky, Head of ClickFrog, will also cover the peculiarities of gaming websites. In his presentation titled 'Buying traffic in gambling. How to avoid bots', the speaker will feature the popular resources and compare CPM banners with ClickUnder.
Dmitry Petrenko, Head of SEO at Edu-cash.com Ukraine, will dwell on promotion in foreign networks. The speaker took part in website promotion to top positions in the U.S., Canada, Germany, Austria, and the CIS. He will reveal the secrets of leadership on foreign competitive websites emphasizing on grey promotion and organic traffic.
Myroslav Liaskovez, Founder at LeadMarketing and an author of the online course 'Facebook Without the Fluff', will shed light on traffic arbitrage techniques in social networks. The attendees will have a chance to find out about the frequent mistakes made by beginning arbitrage managers and effective advertising strategies for Facebook.
New speakers are coming soon! Visit the website Kyiv iGaming Affiliate Conference to follow the announcements.
Register to keep up with the trends of gambling affiliate marketing.
Login Casino raffles one VIP ticket for Kyiv iGaming Affiliate Conference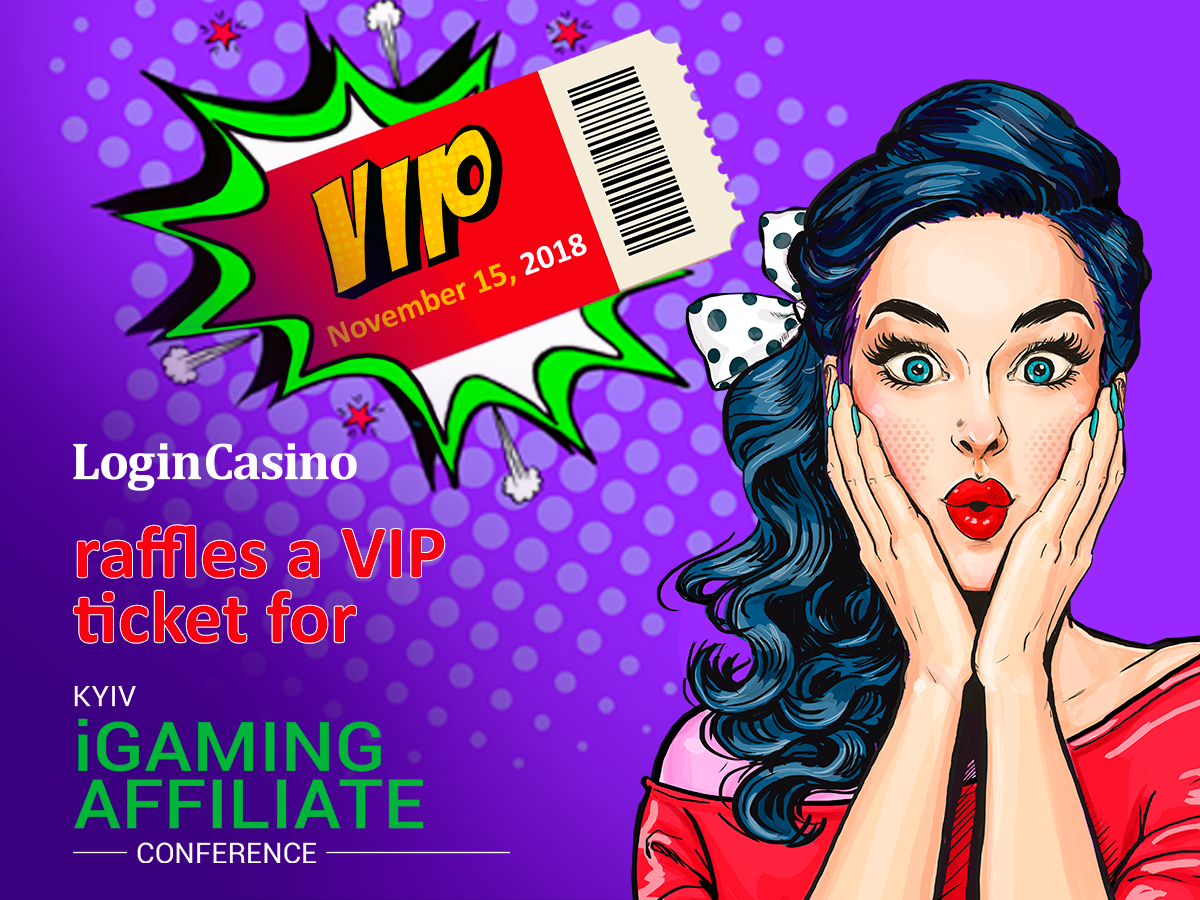 Login Casino, the media gambling-sponsor of Kyiv iGaming Affiliate Conference, is raffling a free VIP ticket for the event.
The conference will be held on November 15 at a popular local platform TAO Event Hall, Kyiv, Ukraine. In order to take part in the raffle one has to fill in the registration form on the Login Casino website, having indicated the name and e-mail address from 9.10.2018 to 04.11.2018. The winner will be determined on November 5 via a random number generator.
The VIP ticket includes:
separate registration at the entrance;

comfortable VIP zone with the best level of service and networking opportunities;

access to both conference and exhibition area;

access to the after-party;

gifts from the event organizers.
What is going to be at the conference:
Both local and foreign experts of the sector will take part in the event. The conference will bring together iGaming business representatives as well as stakeholders of the affiliate marketing industry – one of the most accessible ways of brand promotion. The platform will give the visitors and speakers the opportunity to get new business contacts and listen to a number of useful reports.
During the event, the industry experts will take the floor in section № 1. They will cover the following topics:
revenues from the affiliate programs;

correct paid traffic redirection to gambling website;

which resources outside of the Runet can be useful for operators;

how exactly the work for the World Wide Web is carried out and many more.
The special guest for the event is the head of the advertising traffic audit service ClickFrog.ru Konstantin Novofastovsky. He will dwell on how a successful gambling-related traffic purchase is carried out as well as about the most popular traffic channels to gambling websites. The expert will also explain how to avoid bots, what to choose – CRM-banner or ClickUnder and many more.
One more speaker at the platform for presentations in section № 1: Conference will be Vladimyr Luchaninov, Procurement Director at Firelink Media. He will explain the criteria for choosing an affiliate program, which risks and pitfalls can be connected with it.
The event organizer is an international company Smile-Expo.
Register: https://bit.ly/2QE5peS
Betsson Group Wins Top Online Gaming Affiliate Award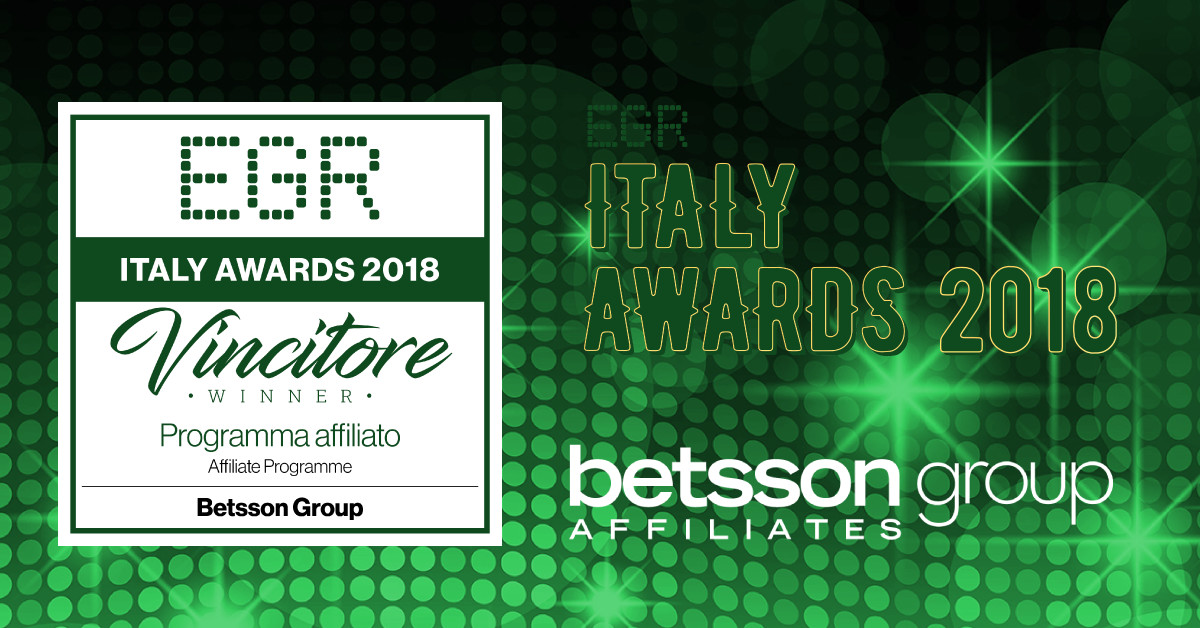 Betsson Group Affiliates – Best Affiliate Programme – EGR Italy Awards 2018
Betsson Group is proud to announce that it has received one of the highest accolades when it comes to the online gaming affiliate arena, with its affiliate offering named 'Best Affiliate Programme 2018' at the prestigious EGR Italy Awards.
Hosted at Aldrovandi Villa Borghese, in the heart of Rome, the fifth edition of the EGR Italy Awards brought together the largest online gaming operators and service providers operating in the Italian market. This is the first time that the EGR Italy Awards has introduced the 'Best Affiliate Programme of the Year' category, meaning that Betsson Group is truly leading the way with its affiliate programme in the Italian market.
Jesper Svensson, CEO for Betsson Group said, "We're very proud to receive this award as the entire team has worked really hard to deliver excellence in everything that we do. It's encouraging to see that the efforts done behind the scenes in offering our affiliate partners the highest possible level of service are being recognised.
Our multi-region and multi-brand offering gives our affiliate partners unrivalled flexibility to promote what works best for them and this award proves that our affiliate management teams are doing an amazing job."
To learn more about the award-winning affiliate partnerships programme by Betsson Group, visit www.BetssonGroupAffiliates.com.
About Betsson Group
With 17 brands, including Betsafe.com, Betsson.com, NordicBet.com and CasinoEuro, offering Sportsbook, Casino and other games, Betsson Group is one of the world's largest gaming groups, at the heart of entertainment for over five decades. The company's vision is to provide the best customer experience in the industry – listening to, and learning from, its customers, and then exceeding their expectations. Betsson Group is wholly owned by Betsson AB – listed on Nasdaq Stockholm Large Cap.