SiGMA 2018 Launches in 2 Weeks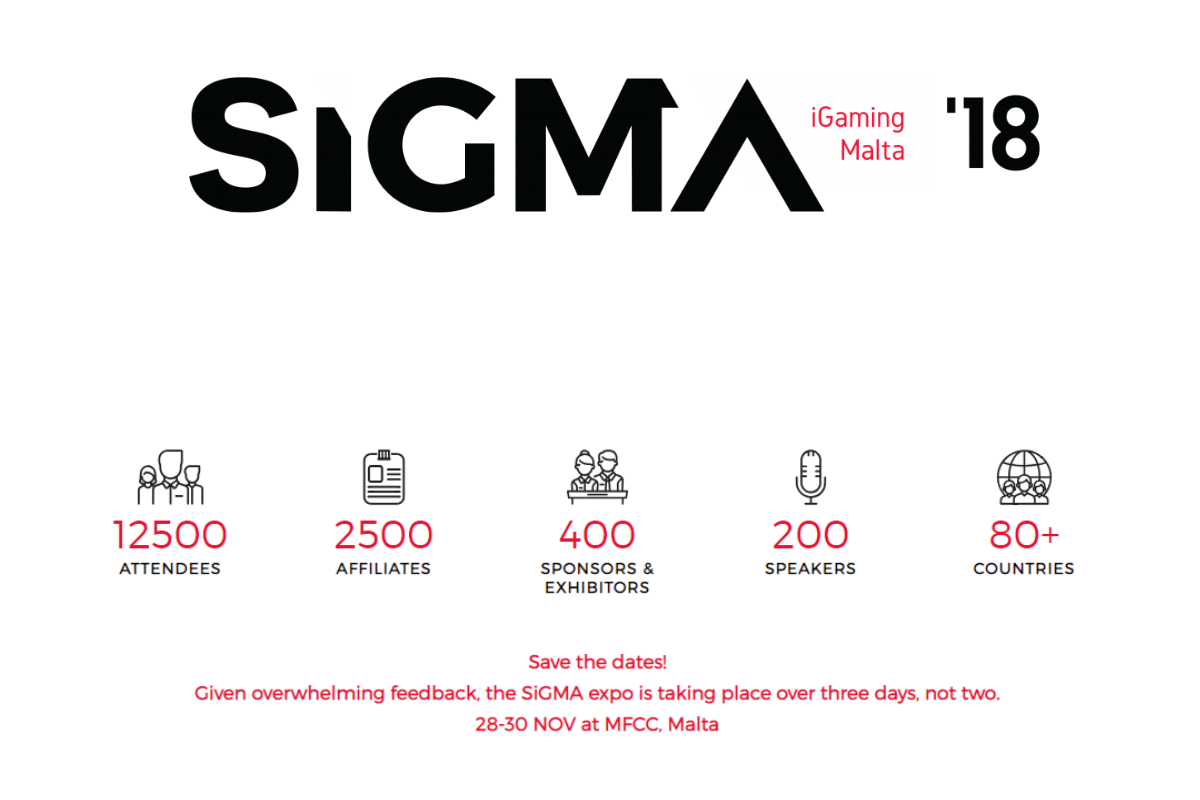 As a well-established staple on the iGaming calendar, it is unsurprising that the interest from the iGaming industry has been intense. In 2 weeks time the super-show plans to welcome 12,500 guests, including 400 sponsors and exhibitors and 200 speakers through its doors. To keep pace with demand, the sold-out MFCC floor space has been expanded and an extra day added to the Summit dates – SiGMA will run from the 28th until the 30th of November and will be held at the MFCC, Ta' Qali.
SiGMA will also be bolstered by a glamorous evening on the 27th – the iGaming Awards will seat a 1000 guests and pay tribute to companies who are shaking up the industry in Malta. Elevating the charitable event is Her Excellency, Marie-Louise Coleiro-Preca, President of Malta and tenor Joseph Calleja, one of the most recognisable faces in the opera world.
Following the black-tie event is a Poker Tournament. Held at the Portomaso Casino, the friendly-competitive event will offer an evening of relaxed networking to delegates looking to unwind before the start of the Summit.
SiGMA Pitch will make a triumphant return, providing a space for innovative young start-ups to gain valuable exposure. Finalists will gain a unique opportunity to win a space on the expo floor, score valuable invites to networking events and reel in potential funding and mentoring from industry veterans.
Since its inception, the flagship show has evolved from a local event capitalising on an untapped niche of opportunity, to a global influencer on the iGaming world stage. If last year's numbers are any prediction, 2018 is set to smash all previously held records, giving the company's ambitions plenty of space to play out.
In keeping with the global theme, SiGMA 2018 will host 6 conferences and workshops, several of which will tackle the evolution of the industry from a broader perspective, with highlights including a focus on pan-African regulation and sports gambling in the USA.
Starting on the 28th of November, the Regulatory Conference will cover important aspects of Malta's iGaming Act, as well as iGaming Law in a broader sense – including its influence on sister topics, such as AI. The Conference will feature prestigious speakers, such as Heathcliff Farrugia, CEO at the MGA, AI guru, Angelo Dalli, and an introduction from the Honourable Joseph Muscat, Prime Minister of Malta.
The first day of the show will also host a conference for Blockchain, with Mark Suwan, CEO of Blockchip taking the chair. Taking the panels to the next level is a line-up of elite guest speakers. Individuals such as Brock Pierce, an Advisor on Open Data Exchange and Joseph F. Borg, a Partner at WH Partners, will tackle complex issues, such as transparency and the right to be forgotten, blockchain investment and ICO regulation.
The second day of the Summit will see a further two conferences play out, the Conference for Payments, which is hosted by BitBay and the Conference for Affiliates and CMO's, hosted by InternetVikings.
The Payments Conference also offers a global perspective; from building smoother transactions in Sub-Saharan Africa, to navigating the licensing regime in Scandinavia. Other highlights include a panel on banking the unbanked and a feature on AML and social responsibility.
Chairing the Conference for Affiliates and CMOs is Richard Vikström, Founder at InternetVikings, who will also offer a welcome note and a talk on SEO brand protection. Other interesting topics include Humanism in Technology and a panel discussion on the Italian ban on marketing for gaming.
Kicking off the last day of the conference is the DGaming Conference, which offers an overview of a decentralised gaming industry, as well as creative AI solutions to optimise language. Hosted by DGaming Media, the conference will feature prominent speakers such as John Kamara, Director of Development at Global Gaming Media, and Marc Lesnick, President at Ticonderoga Ventures.
Rounding off the Summit is the final conference of the day – the eSports Conference, chaired by Ivan Filetti, Head of Business Development at Gaming Malta.
The Summit calendar will also provide delegates with plenty of opportunity for networking and entertainment. A fiercly competitive Hackathon has already drawn interest from developers through a generous $50k prize pool, whilst lavish dinners will feature throughout SiGMA. The Summit will also host a Crypto Cruise, and a phenomenal Closing Night event. A decadent Champagne Brunch brings things to a close on the 1st of December.
There can be no doubt that SiGMA has been a boon to the Maltese economy, operating in tandem with local growth and encouraging business to flourish on the islands. We're not resting on our laurels however, SiGMA 2018 is all set to carry on this tradition of quality and, as Malta continues to position itself as a haven for industry, can expect to continue outgrowing their limitations.
Last minute tickets are still available. Visit the website to book a pass now.
Good Game Limited offloads esports news site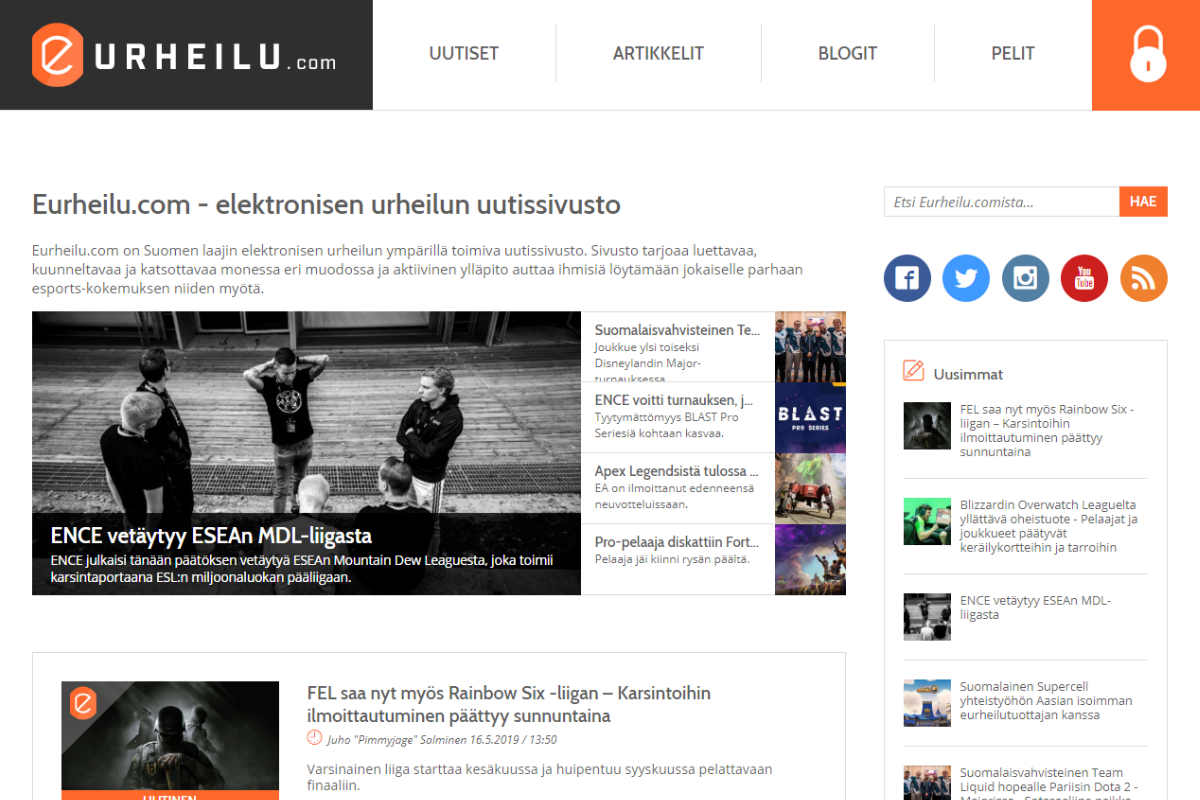 The affiliate company behind Bojoko.com sells Eurheilu.com to Esports Media Solutions for an undisclosed sum
Good Game Limited, the online casino affiliate organisation behind popular comparison site Bojoko.com, has sold its esports news asset Eurheilu.com for an undisclosed sum.
The site has been purchased by Esports Media Solutions and will allow Good Game to reinvest and fully focus on driving growth in Bojoko.
Eurheilu.com was launched in early 2016 and is updated daily with news, features, interviews, streams and guides about the thriving esports industry.
It has proved particularly popular among enthusiasts in Finland and other Nordic countries as esports continues to grow rapidly across the region.
Aleksi Halsas, co-founder of Esports Media Solutions, said: "Our Eurheilu.com acquisition supports our strategy in Finland well and we are extremely excited about the opportunities it presents us."
The sale of Eurheilu.com comes a little over a year after Good Game sold its network of Finnish online casino comparison sites to XLMedia for a total consideration of €15 million.
Good Game now operators just one site, Bojoko.com, which is being positioned as the Trip Advisor of the online casino world.
Bojoko, which was launched in 2017, allows operators and suppliers to upload their own listings with players able to leave their own ratings and reviews.
It has proved a hugely popular concept with operators, suppliers and players alike, with more than 320 casinos and suppliers listed to date.
Joonas Karhu, chief business officer at Good Game Limited, said: "We have spent the past few years building Eurheilu.com into a popular and thriving esports information site and community.
"But as we continue to invest more time and resources into establishing Bojoko as the most popular online casino comparison site in the UK and beyond, the time was right to sell the brand.
"We are thrilled that Esports Media Solutions will be running the site moving forwards as their passion and expertise will take it to the next level."
5 Panel Discussions at Zurich iGaming Affiliate Conference: What Will Experts Talk About?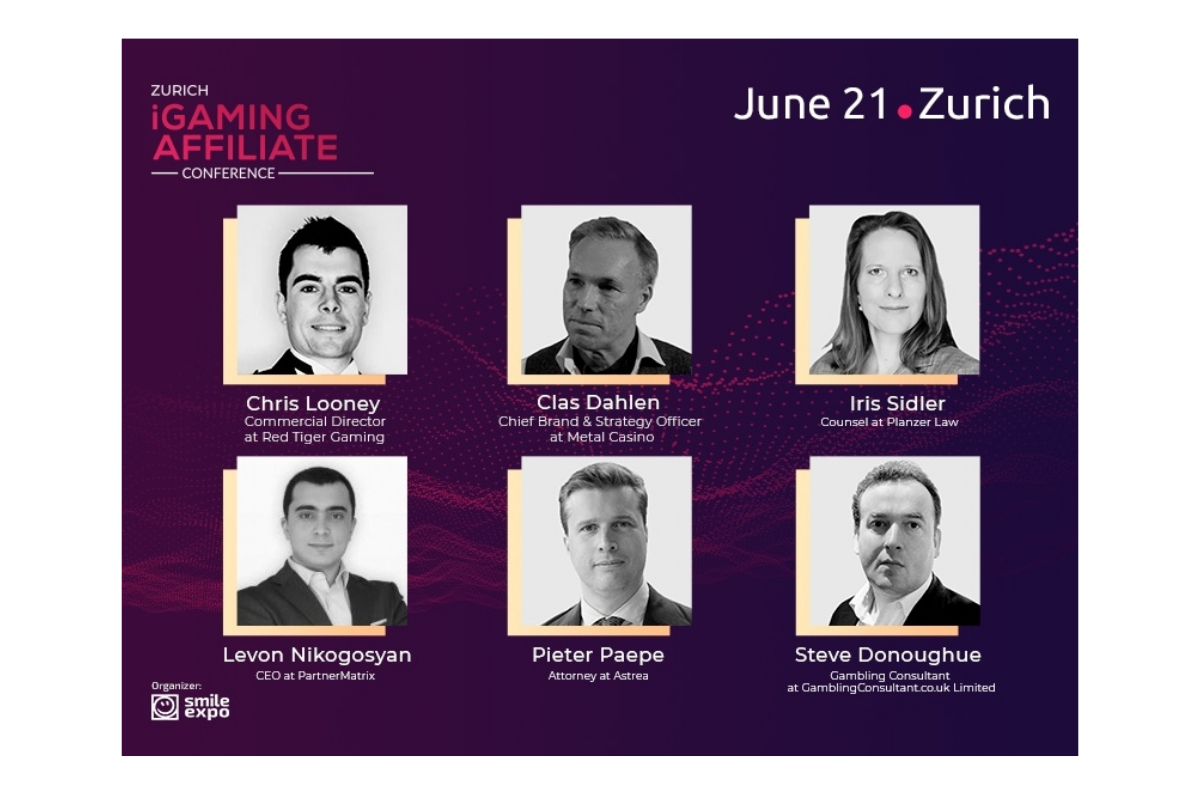 On June 21, Switzerland's first and single event dedicated to gambling business and affiliate marketing – Zurich iGaming Affiliate Conference – will feature five panel discussions.
They will allow experts from various sectors to share their experience and discuss market trends.
Panel discussion: How to create and maintain an attractive online offer
It will be focused on offer issues: what they should be in order to increase customer loyalty and retain clients. Participants include

Chris Looney,

Commercial Director at Red Tiger Gaming, who has been engaged in the gambling and microgaming industry since 2010.
Panel discussion: Successful affiliate marketing: how to attract online players
Speakers will reveal how an online gambling project can catch the interest of potential customers so that they decide to join it. The discussion will involve

Clas Dahlen

, The Best Marketing Executive 2013 in Sweden and Chief Brand & Strategy Officer at Metal Casino, as well as gambling expert

Levon Nikogosyan

, CEO at PartnerMatrix.
Panel discussion: Belgium and Switzerland: comparing two markets
Participants will explain how these two jurisdictions should establish mutually beneficial business. One of the speakers is

Pieter Paepe

, Attorney at Astrea, specializing not only in gaming, but also in sports, healthcare, IT, electronic communications, and broadcasting.
Panel discussion: Data protection issues
Experts will tell guests what measures should be taken to protect private data of both players and companies. Participants include

Iris Sidler

, a lawyer with 12 years of experience in IP, IT, and communications.
Panel discussion: Responsible gambling as the future of gambling
Experts will highlight why companies should necessarily comply with the responsible gambling concept in order to protect players from negative consequences of gambling. The discussion involves

Steve Donoughue

, Gambling Consultant at GamblingConsultant.co.uk Limited, who has been operating in the online and offline gambling sector for 25 years.
Exhibition Area and Networking
Besides panel discussions, participants of Zurich iGaming Affiliate Conference will be able to attend the exhibition area where companies will introduce their iGaming solutions.
By the way, all participants will be able to find business partners during networking. Note: each visitor is a potential client.
Venue and Organizer
Zurich iGaming Affiliate Conference will take place at Sheraton Zurich Hotel at the address: Pfingstweidstrasse 100, Zurich, Switzerland.
The event is organized by Smile-Expo, a company that has been holding high-tech business conferences for 13 years.
Hurry up to buy a ticket to Zurich iGaming Affiliate Conference at the reduced price, as it will go up on May 20!
Invitation to presentation of Better Collective's Q1 report 2019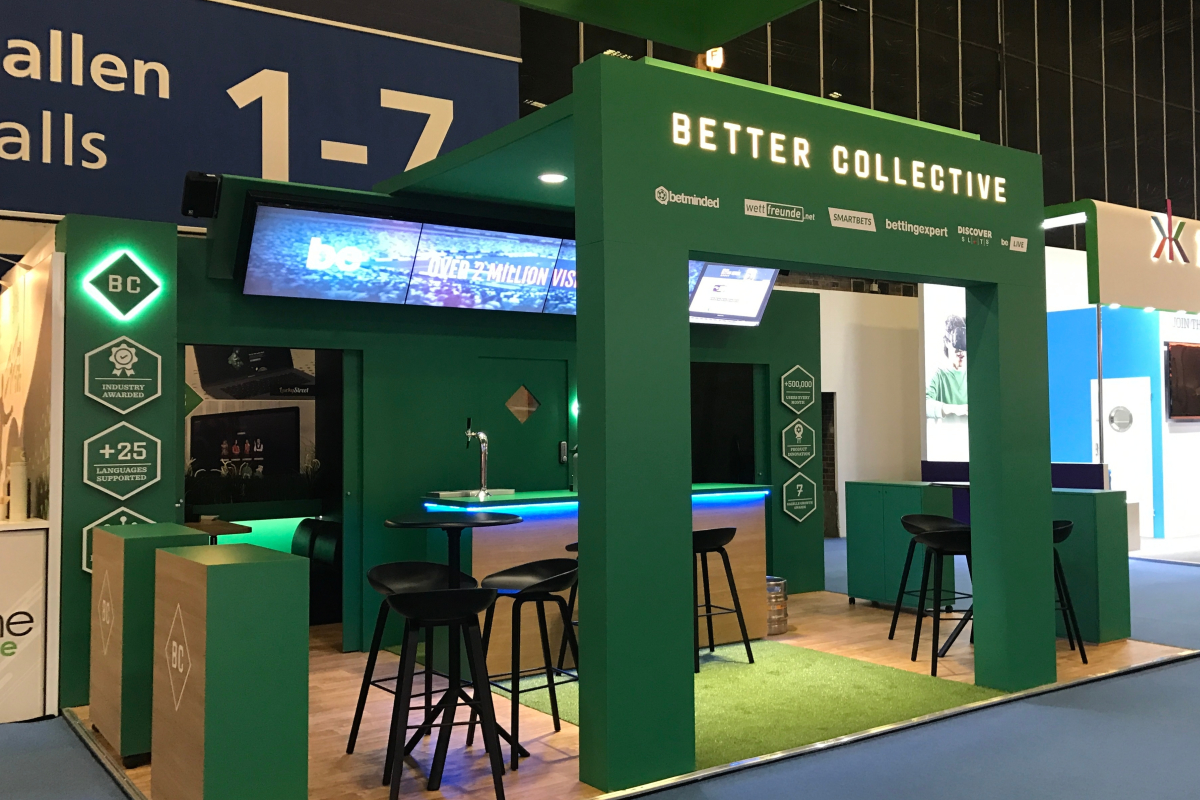 Better Collective, the world's leading developer of digital platforms for bookmaker information, iGaming communities, and betting tips, will publish its interim financial report for the period January 1 – March 31, 2019,  on Wednesday, May 8, 2019, at 8.00 a.m. CET.
A telephone conference will be held at 10.00 a.m. CET on the same day by CEO Jesper Søgaard and CFO Flemming Pedersen. The presentation will simultaneously be webcasted, and both the telephone conference and the webcast offer an opportunity to ask questions.
Dial in details for participants:
Confirmation Code:         1798279
Denmark:                            +45 32 72 80 42
Sweden:                              +46 (0)8 50692180
United Kingdom:              +44 (0)8445718892
Webcast link
The webcast can also be accessed from www.bettercollective.com and the presentation will be available from 9.00 a.m. CET.