BetterBetting Today Opens ICO Public Sale for BETR, the Betting Currency of the Future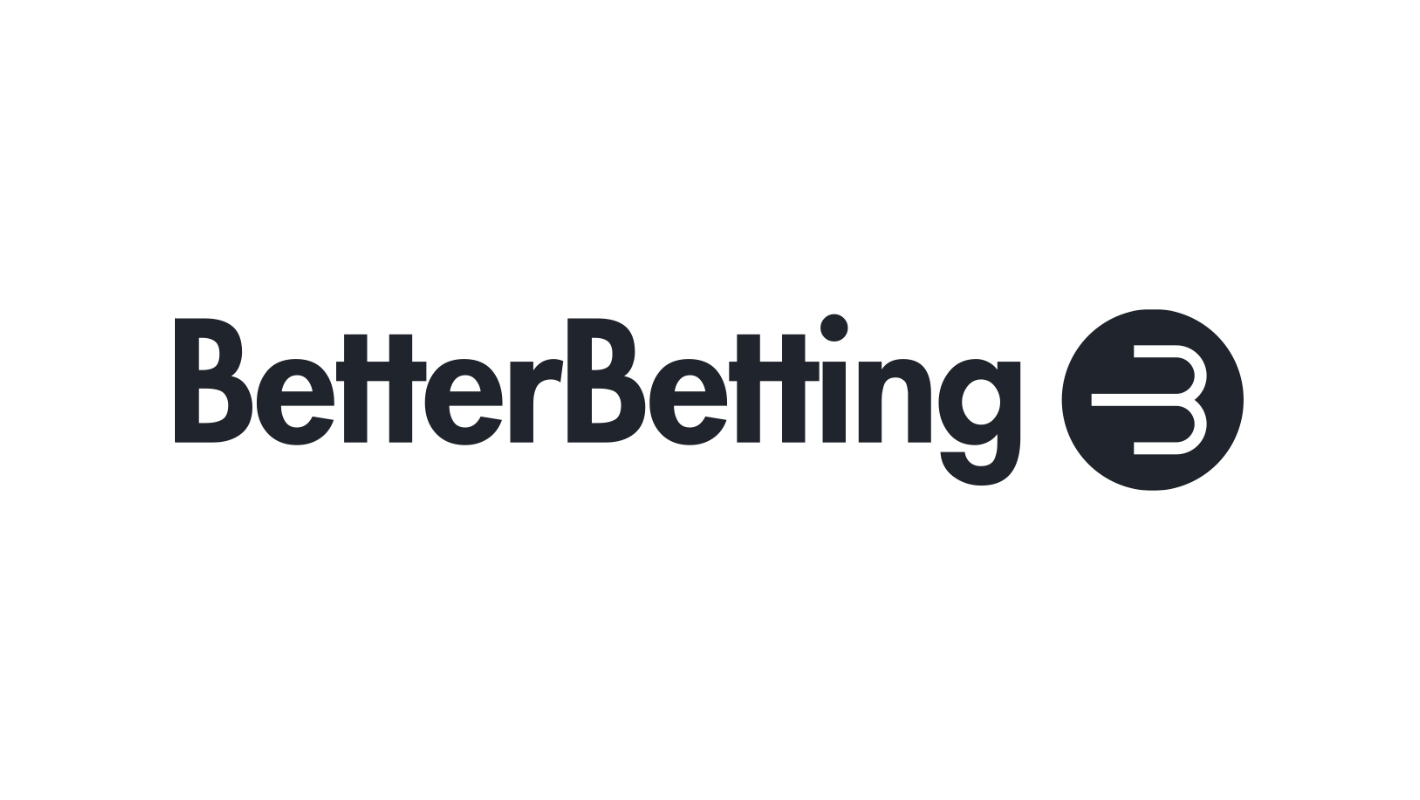 BetterBetting , a software systems enabler for sports betting on the blockchain, today launched their ICO Public Sale for BETR, a digital currency that will pave the way for a decentralised peer-to-peer sports betting system, and revolutionise online sports gaming. 
The token sale is an integral part of the company's advanced distributed peer-to-peer and peer-to-sportsbook wagering platform. As BetterBetting continues to gain ground, ICO and gambling experts expect that BETR will soon become the betting currency of the leading sports betting sites.
Following BetterBetting's successful pre-ICO sale period, their website will open at 14:00 GMT on December 15, 2017 for Public Sales. Given the high level of interest, pundits expect a rapid progression through the early-bird bonus levels (the first $5M have a progressive bonus level applied –see website for details). Cryptocurrency enthusiasts can purchase their desired share of the ICO until the projected sale end in January 2018 or hard cap of $30 million.
BetterBetting to ICO Enthusiasts: Get Tokens Before You Regret It
Once the hard cap is reached, a total of up to 650,000,000 BETR will have been released (with some kept in reserve and embargoed). These tokens will immediately be usable by sports bettors for wagers in sportsbooks that cater to BETR clients, and in peer-to-peer bets.
The target date for the launch of the fully fledged, much-awaited, Better Betting Nodes compatible with BETR is in March 2018, but owners of the crypto coin will be able to use their BETR with select sportsbooks prior to the full launch date.
As the digital currency is geared toward becoming the betting currency of the future, BetterBetting encourages everyone to make the most from the sale as the token is expected to appreciate in value within a short time of launch. There is minimal risk in buying tokens as they are tradable within two weeks after purchase, and will almost immediately start being used as value tokens on associated sportsbooks. When the ICO is over, the hard cap for BETR cannot be increased beyond the 650M limit.
BETR: A Promise of Transparency and Provable Fairness
Adriaan Brink, the CEO and Founder of Better Betting Foundation, stated:  "With Better Betting we are excited to bring a new paradigm to the world of sports betting. By combining the power of blockchain with our experience and knowledge of the sports betting industry, we are introducing a new betting currency that understands the underlying structure of a sports bet, ensuring fair and robust betting opportunities between two parties, who may not have any relationship with one another."
By removing much of the friction associated with placing sports bets, Brink's team has created a transparent and provably fair peer-to-peer sports betting system that is not controlled by a central authority. With a core team of seasoned industry experts, BetterBetting is now in the final stages of introducing BETR to the world.
Brink added:  "Working with major industry players, this decentralized liquidity marketplace for sports betting can be used in many different ways and provides automated programmatic interfaces so that existing sportsbooks can link into the system. Working with, rather than against, major industry players with a zero margin model, we seek to provide the railway tracks for sports betting in the future."
About  BetterBetting:
The BetterBetting Foundation was established in 2017 in Estonia, aiming to integrate blockchain technology into sports betting for a decentralized gambling system. Founded by Adriaan Brink and David Vanrenen, BetterBetting is a non-profit group of ICO and sports betting experts inclusive of the supervisory board members David Vanrenen, Hilly Ehrlich, and Mitchell Rankin; and the advisors Jon Matonis, Ronnie O'Sullivan, Jez San, and Eric Benz. For more information, go to  https://betterbetting.org/ 
Casino Games for Real Money – Choosing One to Play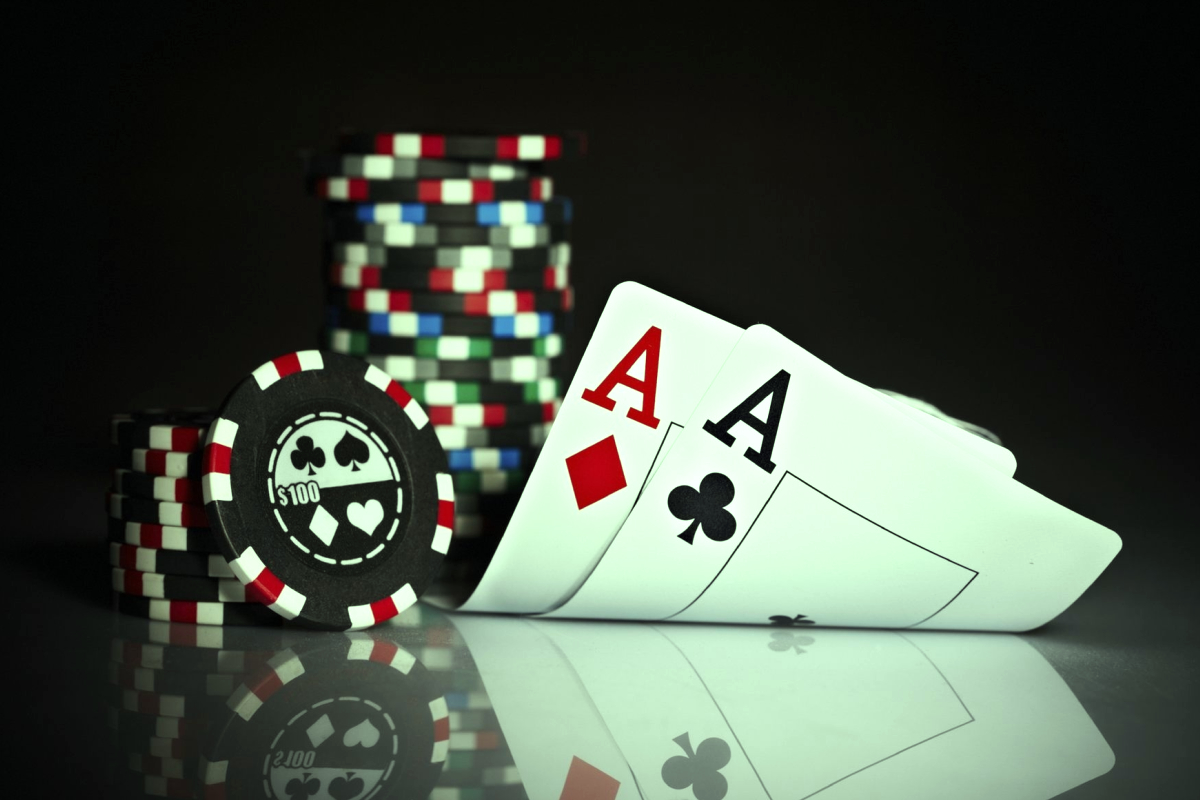 TThis post tells how to pick a casino game for real money, prioritizing slots, roulette, baccarat and blackjack.
What to Play? Choosing Casino Games for Real Money
The gambling industry has so much to offer that newcomers may feel uncomfortable and uncertain. It's better to learn about available games beforehand to make the first casino experience pleasant. There are lots of helpful lists of casinos and their features on the Internet, like the one with the best real money casino games by MoneyCasinosHowTo. We've tried to prepare a similar guide to the most popular games which you can play both offline and online.
Gambling for Real Money
Considering all the risks, remember the golden rule: casinos always win in the long run. There's always a house edge: check the percentage to know what to expect. There's no way you can beat the casino, but there are numerous options to make some profits. Before wagering your money, set some limits and don't exceed them. Even if your goal is to hit a big jackpot, remember that just enjoying the process is anyway more important.
Return to Player percentage shows how much gamblers get back: for instance, an RTP of 95% indicates that you will get, on average, $0.95 for a $1 stake. Games differ in their RTPs greatly: obviously, the higher is this number, the more winning chances you have.
As for the casino games, they can be divided into two big categories: chance-based and skill-based ones.
Games of Chance
These games depend on pure luck. Players simply place their bets and wait for the results. You can't apply skills or knowledge to influence the process. Slots are undoubtedly the most popular category that is qualified as games of chance. Apart from them, you can enjoy roulette, baccarat, as well a number of less known entertainments: craps, sic bo, bingo, keno.
Slots
Leading software providers launch new slots each month or even more often. There are thousands of unique titles, including branded ones designed in a partnership with famous franchises like Game of Thrones or Marvel's Avengers.
Slots require no specific actions from you – just start spinning. There are various types of them, from traditional 3-reeled slots to ones with multiple reels, paylines, and screens. Players love progressive jackpots like Mega Moolah where the total prize amount increases with each bet.
Roulette
Roulette is a big wheel with numbers divided into two colors. The more specific is a betting condition (for example, guessing a number instead of just a color), the more you can get.
There are three basic types of roulette:
European: the traditional version with 37 sectors
American: features two zero sectors and a low RTP (94.74% compared to 97.3% in the previous type)
French: the variation of European roulette with more loyal rules
You can also find mini-roulettes with fewer numbers, multi-ball or multi-wheel examples.
Baccarat
This card game is similar to blackjack, but neither players nor a dealer can influence the process. In baccarat, participants get two cards and, sometimes, draw a third one when specific conditions are met. Who earns 9 points, wins. Gamblers can wager on three fields: Player, Bank or Tie. Average RTP is 99%.
Other games
Land-based and web casinos sometimes offer less popular games of chance:
Craps (a 98-99% RTP): a traditional dice-based game with bets on numbers or sums
Sic Bo (a 96-98% RTP): chinese craps with three dices and more betting options
Lotto (a 70-90% RTP): players fill cards with numbers to build a winning combination
Money wheel (a 75-90% RTP): a kind of roulette without colors
Games of Skill
These games don't depend on chance: players can use their skills and experience to change the results. But luck has a definitive impact here as well.
Poker
Probably, it's the most well-known card game. Poker players compete with each other, trying to build the most powerful combination. In the most popular version called Texas Hold'em, they can select from two cards on hand and five cards on the table. Math skills are extremely useful in poker, as you have to count cards and use probability theory.
There are dozens of game variations with different rules. Here some of them:
Omaha: players have four cards on hand and five on the table
Stud: players have seven cards on hand but four of them are visible for everyone
Draw: players can redraw cards if they want
Pai Gow: players collect two hands: with a five-card combination and a two-card one
Poker is, to a large extent, about math but also about emotions. Bluffing is an inevitable part of the game. By mastering bluffing skills, players can manipulate the process and make opponents believe in what isn't actually a true situation.
Blackjack
Here's another popular card game where the main goal is to beat croupier's hand and don't exceed 21 points. Similarly to baccarat, players draw cards and count their value. However, in blackjack, they can ask for extra cards or wait for the dealer's move. Different versions may feature one or more decks with re-shuffling, as well as several betting options and extra rules like splitting pairs or doubling stakes. This game is suitable namely for those gamblers who are good at cards and math but don't want to compete with other players. An average RTP is more than 99%.
Choosing the Best Real-Money Game
The choice always depends on personal preferences. First of all, decide whether you want to relax or be involved in an intense social game which requires some skills. There are lots of options for both intentions. After choosing a game you want to wager in, you'll see that there are lots of variations, including rather unexpected and exotic ones. Explore the world of real-money gambling to the fullest.
Great night for Worldpokerdeals at the iGB Affiliate Awards 2019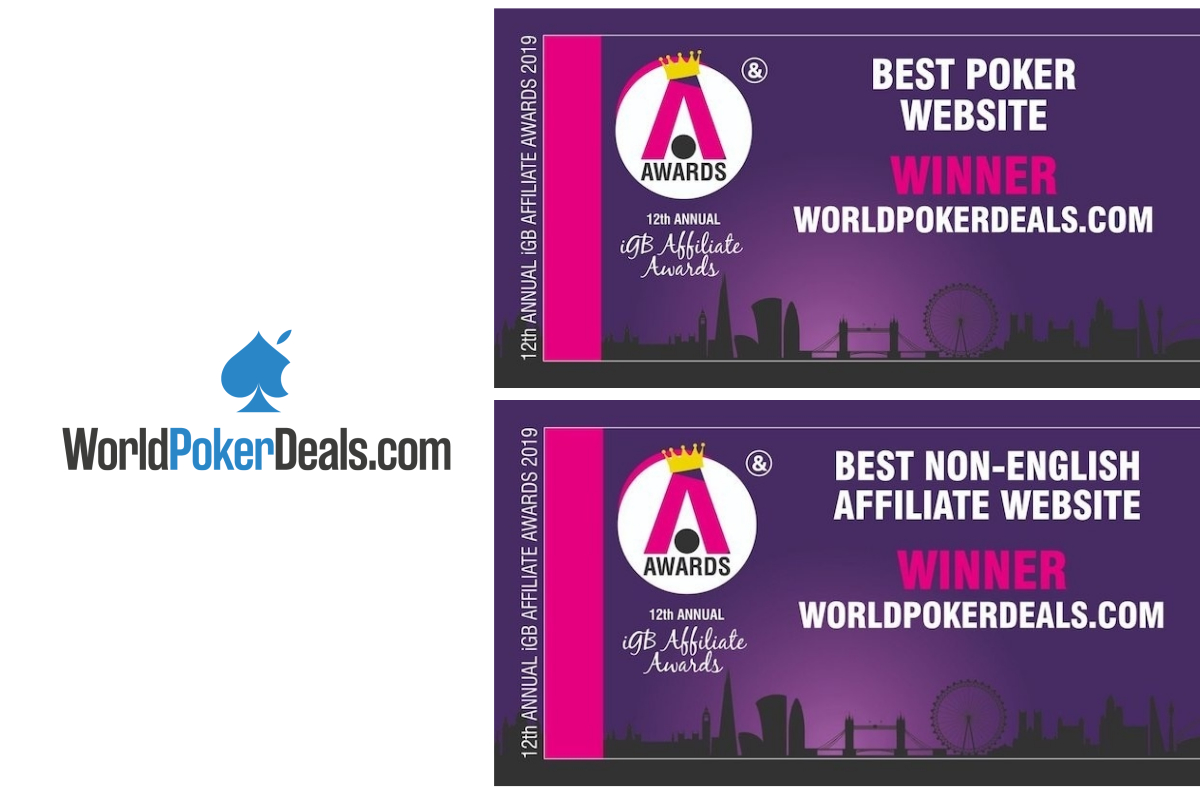 Worldpokerdeals had a great night the last February 9, 2019, during the iGB Affiliate Awards where they confirmed its leadership on the market by winning the two most prestigious awards for poker affiliates: Best Poker website and Best non-English Speaking Affiliate website.
The judges itself commented that in 2019 the caliber of the participants was outstanding and wasn't easy to make the final decisions. The criteria for choosing the winners included traffic increase, relationships with the affiliate programs, rankings, business growth, among others.
Worldpokerdeals was created because we "had something out-of-the-box to offer": the company has a strong focus in customer service, developing close relationships with all the value chain, from poker rooms, affiliate programs, and poker players.
Rodion Longa, Worldpokerdeals CEO said: "Thanks for the support guys. I am the happiest 32 years old boy in the world."
"We are nerds in terms of customer service and satisfaction. We have the greatest number of agents to be able to provide personalized game-select advice and respond in time to our clients. We design easy-to-use interfaces and make readable content. Also, players love our parties in Thailand :)"
The iGB Affiliate Awards reached its 12th edition and are the most prestigious awards in the gambling industry with a focus on transparency.
About Worldpokerdeals:
Worldpokerdeals.com — is a team formed by poker experts under the leadership of Rodion Longa. The company, founded in 2012, is committed to fully support professional poker players, guaranteeing the best conditions for a comfortable grind in almost all poker networks.
Today, Worldpokerdeals is one of the fastest growing multilingual (Russian, English, Spanish, Vietnamese) companies providing services for poker players.
KING BILLY WINS THE BIG ONE!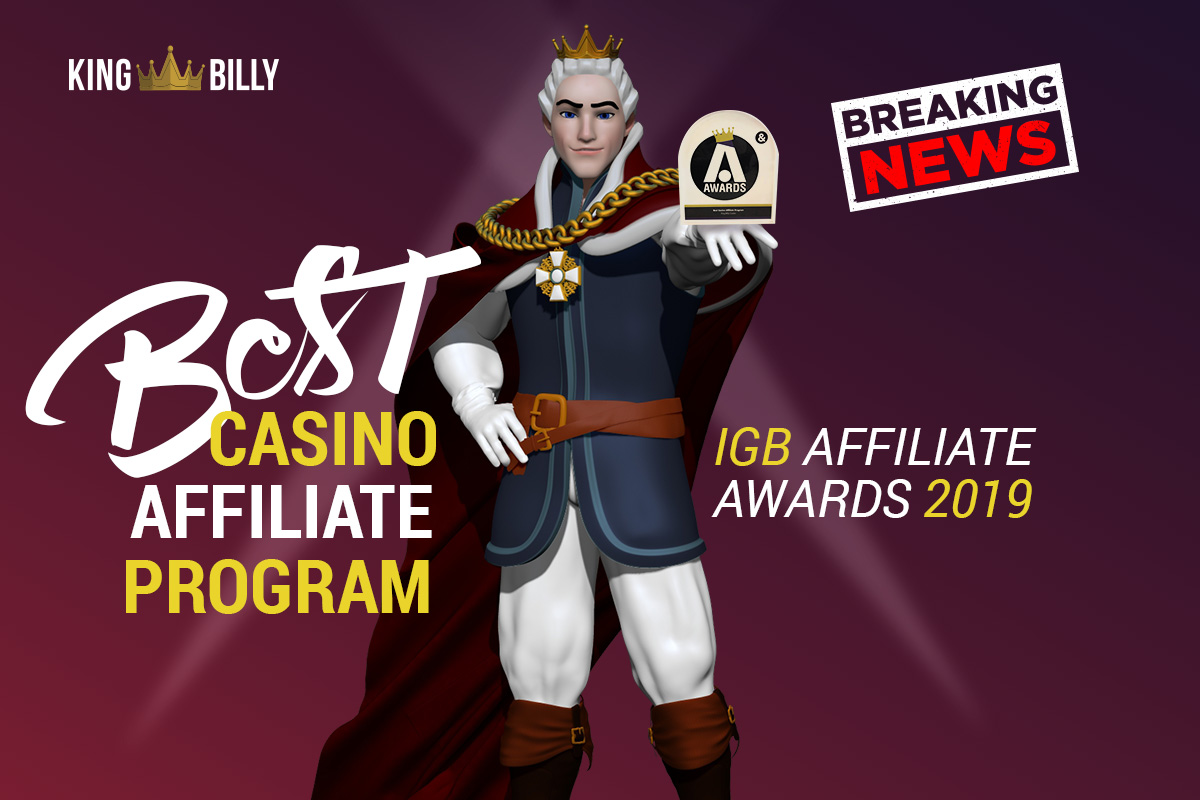 The cyber-ink of our last article about King Billy and his tendency to get awarded hasn't even dried up yet and here we are with, you guessed, one more award for His Majesty.
King Billy, First of His Name, Rightful Ruler of the Kingdom, Guardian of the Realm and Protector of the Players (and Collector of Awards we may humbly add) has done it again. He has got one more award. And this time, it's the biggest of them all in the Affiliate Universe.
King Billy Casino brought home its finest piece of silverware yet, the "Best Casino Affiliate Program" Award of this year's iGB Affiliate Awards, which took place on Saturday, February, 8, 2019, at The Brewery in London. Moreover, the Servants of the King did it in style, by beating the likes of giants like Betsson and Mr Green.
We asked (again!) Ruslan Legenzov, the King Billy Casino's Head of Affiliates (or "Lord of Affiliates" as the casino's protocol dictates) to share a few words with us about this outstanding distinction and this is what he told us: "Guys, first of all, I must confess to you that this has been so much beyond expectations and words that I have wondered for a few moments whether I live in the Matrix.
But it's true, definitely true! All of us here at King Billy Casino are naturally ecstatic and speechless. Personally, I would like to thank all the people in my department who have worked unbelievably hard in order to earn the respect and trust of our affiliates. To Vlad, Olivia and all the rest of our Lords and Ladies in the Department… thank you!
And, of course, we would like to thank, from the bottom of our hearts, our affiliates. All this could not have been possible without you guys! Thank you Cristina, David, Milica, Alanias, Rasmus, Milena, Nenad and the 500+ rest of our affiliates, partners and friends! This one is for you!"
This prestigious award brings King Billy's awards tally up to four in less than a year:
iGB 2019 Awards Best Casino Affiliate Program

AskGamblers 2018 Awards Best New Casino

AskGamblers 2019 Awards Best Casino – 3

rd

place

AskGamblers 2019 Awards Player's Choice Casino – 2

nd

place
So, anyone willing to bet that King Billy wouldn't make it up to five or six until the end of the year? We know we wouldn't!