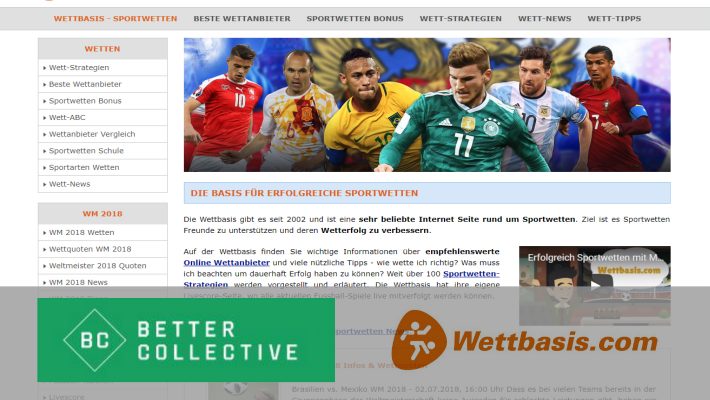 Better Collective establishes leading position in German speaking markets with acquisition of Bola Webinformation GmbH (wettbasis.com)
Monday 2nd July, 2018 – Better Collective has completed the acquisition of all shares in Austrian based Bola Webinformation GmbH, including its flagship product Wettbasis.com.
On a proforma basis, the company's annual revenue in 2017 was approximately 9million EUR and EBITA was approximately 6.5million EUR. The purchase price has been agreed at 36.3million EUR to be paid in cash.
Better Collective, the world's leading developer of digital platforms for bookmaker information, iGaming communities, and betting tips, has today acquired Bola Webinformation GmbH. This eleventh acquisition is so far the largest acquisition for Better Collective.
Better Collective becomes the leading sports betting affiliate in German speaking markets
Bola Webinformation GmbH, founded in 2008, owns strong brands focused on sports betting, including the flagship product Wettbasis.com, which is the leading affiliate website in the German sports betting market.
On a proforma basis, and after adjustment for certain non-core assets of the business that were divested before completion, the company generated revenues of approximately EUR 9 million and EUR 6.5 million in operating earnings (EBITA) in 2017.
Last year, Better Collective acquired Sportfreunde GmbH, including websites sportwettentest.net and wettfreunde.net, both large sports betting affiliate websites also targeting the German speaking markets. When combined with the portfolio from Bola Webinformation GmbH and Better Collective's other websites (including bettingexpert.com), Better Collective is now positioned as the market leader in the German speaking markets.
With the recent establishment of a new office in the center of Vienna to house Better Collective's employees in Austria, the team from Bola Webinformation GbmH will join the existing "Better Collective Vienna" team in these new facilities. A close collaboration with Better Collective's headquarter in Copenhagen will be established to ensure that synergies are realised successfully and quickly.
The purchase price has been agreed to 36.3 million EUR whereof 30.8 million has been paid in cash upon closing and the remaining part will be paid in cash after 12 months.
Jesper Søgaard, CEO of Better Collective, said:"We are truly excited about having reached an agreement with Bola Webinformation GbmH. This is the largest acquisition we have completed, and it is a great first step after our IPO earlier in June, where we raised funds to continue our acquisition strategy. With the acquisition of Bola, we are very pleased that we now take the position as the leading sports betting affiliate in the German speaking markets, a market where we see high growth potential."
Florian Körner, Founder of Bola Webinformation, added: "Speaking on behalf of the founders of Bola Webinformation GmbH, we are very excited that we have been able to conclude the sale of our company to Better Collective, a company we have known well for a long time. We are very proud of the company we have built over the years, and we are happy to see our employees and our products continue in a well-managed company where values and quality are priorities."
About Better Collective:
Better Collective's vision is to empower iGamers through transparency and technology – this is what has made them the world's leading developer of digital platforms for betting tips, bookmaker information and iGaming communities. Better Collective's portfolio includes more than 2,000+ websites and products. This includes bettingexpert.com, the trusted home of tips from expert tipsters and in depth betting theory, and SmartBets, the odds comparison platform made personal
Related
folder_openAssigned tags
content_copyCategorized under
About author