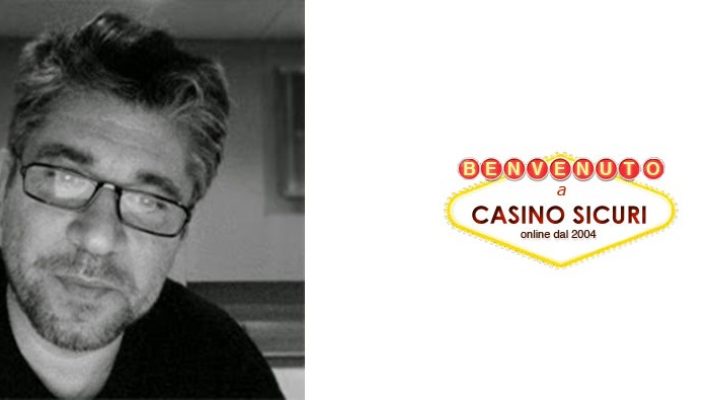 GAV Echos – Affiliate Interviews: Andrea Tonini, founder of CasinoSicuri.com
It seems that Italy is packed with huge talent for online gambling affiliate businesses. This is the case of Andrea Tonini, founder of the biggest online gambling affiliate website which focuses strictly on the Italian market, www.CasinoSicuri.com. English translation of the website would be Safe Casinos. Let's see how Andrea started out in this industry:
Name: Andrea Tonini
Age: 46
Hometown: Milano
Living in: Milano
Favorite Food: Sushi
Must Read Book: Norwegian Wood – Haruki Murakami
TheVoice: Tell us a bit about yourself, we want to know who Andrea of really is, the main person behind Casinosicuri.com. Where were you born? What was the key idea of developing this great review website for top online casino games and reviews?
Andrea: I was born in Milan, and I've basically lived there all my life, with a lot of long trips in the middle. I lived in Spain and Holland for quite some time, but I started working in gambling in 2003 back in Milan, just collaborating with a friend who was starting an Italian forum about gambling. The year after I created from scratch www.casinosicuri.com, with a very basic knowledge of HTML but with a lot of experience on casinos, since I was the one that used to test all the games and the promotions for the forum. I used that experience to create a website just for me, at the very first I was the only one involved, but soon I've added a few writers on my team to help me keeping the website update and fun.
TheVoice: As we understand your website has been live since 2004 and is one of the most popular websites in Italy. Congrats for this! Where do you think Casinosicuri.com stands now?
Andrea: There is a pretty heavy competition in Italy between affiliates, this is definitely not an easy country to work in and it needs a lot of time and dedication to stay on top of it. Affiliation used to be easier years ago, with less affiliate around and with bigger help from Google. We are now making a decent number of players per month and for sure we can do better, but it won't be easy in 2016.
TheVoice: What are the strong points of your website and what makes it stand out from the niche websites?
Andrea: CasinoSicuri gives the change to the reader to write his own experience on any casino – any kind of comment and review (apart from the abusive and spamming one) are published untouched after a very quick review from my staff or me. I think the player understands (and likes) that we are trying to give as much info as possible from an unbiased perspective, and they appreciate our efforts and honesty.
TheVoice: What were the bumps on your road when you got started and how did you overcome them?
Andrea: The biggest problem was to comply with italian laws – in 2007 casinos started to be regulated in Italy, and it was a big mess for affiliates to understand what could be promoted and what not. At a certain point, my website was blocked by the italian government and it took quite some time, emails and phone calls to have it unlocked. Not Fun.
TheVoice: You have an interesting approach towards the security of online casinos and binary options. Was this the main idea behind the website when you started or was it something you acquired on the go?
Andrea: That was our idea from the very beginning – the name itself, casino sicuri, means safe casinos, so we just wanted to focus on safety and reputability. We felt that there were at that time too many not trustable casinos and affiliate websites promoting themselves as the best, and we wanted to stand out from the crowd by trying to be the safest. It took a year to start seeing the first results, but soon users and players started commenting and collaborating, and we are happy on how things turned out.
TheVoice: We have browsed your website and found some high quality content. Are you writing it by yourself or you have a team of people writing the reviews? How many reviews are there on your website?
Andrea: I have a lot of reviews, over 3000, for a very simple reason – I let users write them and I don't do any kind of censorship, so i've also quite some bad reviews (and some casino managers are not happy about those). Of course I wrote many reviews myself and some of my writers write a few as well, together with articles about news and promotions.
TheVoice: How do you keep the content fresh and devoid of clutter when a lot of fluff and nonsense appear on the Internet on a daily basis?
Andrea: I publish gambling news and promotions every day, written by me, by my writers or generated by my users. This is a natural process that keeps my website fresh and updated.
TheVoice: We are sure that you receive daily messages from Affiliate Managers showcasing their products. You of course select them by the brands they work with; but what are your thoughts on how Affiliate Manager-Affiliate relationships should be built?
Andrea: As anyone else, I get many emails from affiliate managers – my choice of partners is though limited cause I can choose since 2007 only partners with a license to operate in Italy. At this point there are only around 20 casinos with such a license, so i'm just in touch with all the Affiliate managers that I can work with. The Job of the affiliate manager is complicated by the fact that he/she represents the casino, without having too much control on what happens in the casino itself – the casino can change promotions, have technical problems, make a mess with stats, leaving affiliate manager in the middle of it. What is important is that the affiliate manager understands a problem when it is reported, take responsability (even if it is not his/her fault) and work to fix the issue as a top priority.
TheVoice: How do you see the future of the gaming industry? For instance, will it become a truly global phenomenon in the near future?
Andrea: I think the gaming industry will simply follow the development of internet – the more the internet is spread, the more gambling online will. People had always gambled, they started 2000 years ago with the Romans playing dices on the street, and it is just a matter of giving them the right tools to gamble online, and this means a reliable internet connection (and a computer or a smartphone of course).
TheVoice: Can you name one change that you want to see in the casino affiliate ecosystem?
Andrea: The casinos are pretty much the same as they were 10 years ago, there is no real innovation in terms of the product itself. Casinos should spend more time and budget in diversification and creating something unique from a player perspective, rather then spending all their money in advertising.
TheVoice: What advise you would like to offer to the new affiliates who are looking to venture into this great industry?
Andrea: Patience is the key, cause it will take time before an affiliate starting from zero will start making money. Also, you need to like gambling, or it will be hard to put time and efforts in something you are not really passionate about.
TheVoice: Now, who is your favorite celebrity?
Andrea: I never really thought about it, i'm definitely a movie lover so I would go for an actor, let's say Claire Denis from the TV Series "Homeland".
TheVoice: If you would just open your YouTube search bar, what would you search for?
Andrea: Chess Tutorials – I love playing chess and i'm constantly trying to improve my game. At this point I can easily beat my friends, but there is so much more to learn before I become a decent player…
TheVoice: Back to work. Do you attend any igaming conferences? If so, which one is your favorite and what is your most fun experience?
Andrea: My first conference was in 2007 in Amsterdam, so i've good feeling about that city, but the best conference for fun and work is in my opinion London – always really packed and full of interesting people to meet.
TheVoice: How do you rate the chances of Eastern Europe becoming potential gaming hotpot of the future? Where do you think the region must improve upon?
Andrea: With all the main markets so filled of competition, the east European markets are probably one of the best destination for affiliates in search of new markets. At this point casinos still do not focus too much on East Europe, but I think a clearer regulation will help improve this, attract new investors and as a result new affiliates.
TheVoice: Alright, here comes the fun part…. where would you like to travel in Eastern Europe, some part of the region maybe that you haven't visited yet and favorite destination around the world.
Andrea: I went to Poland and Ukraine, travelling both countries by train on my own – it was quite an experience. I will definitely go back to Poland for some kitesurfing in the summer, and maybe visiting Kiev again if I've a few extra days. I had also a weekend in Budapest, Hungary, I love that city!
TheVoice: Where you wouldn't want to travel in Eastern Europe?
Andrea: Probably I would skip Albania, that doesn't appeal me too much. But it took me a while to find a country where I would not want to go in East Europe.
TheVoice: What is your opinion about EEG (Eastern European Gaming – eegaming.org)?
Andrea: It's a great hub to get reliable info on East European markets also from a legal perspective, I think its focus will be the key for its success.
TheVoice: Thank you for this opportunity and have a great one!
Related
content_copyCategorized under
About author