Affiliate Interviews: Kajsa, CEO of Casinosverige.me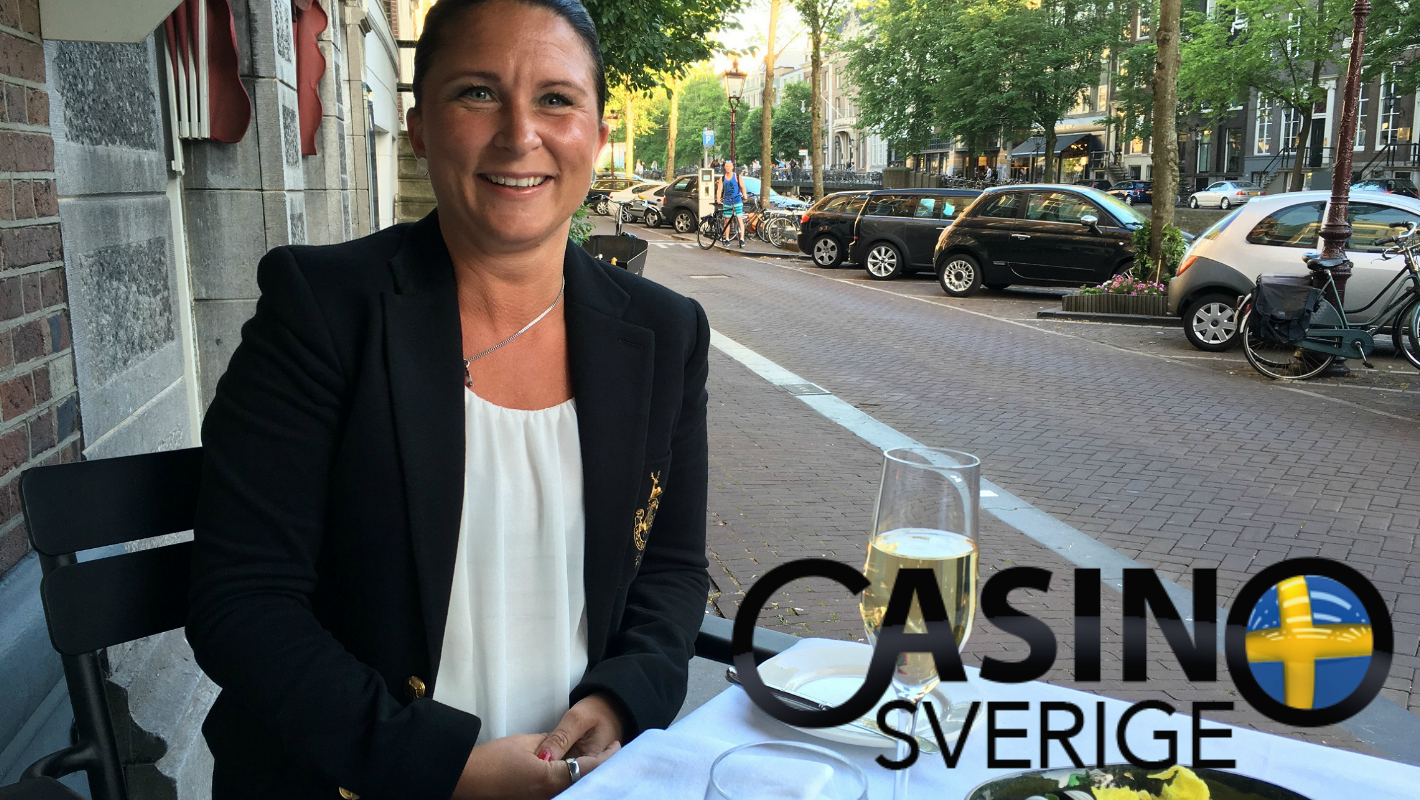 Here is the latest affiliate success story starring Kajsa, who's in the industry since 7 years already and manages Casinosverige.me a well known platform for all Scandinavian players.
GAV: First of all thank you for the opportunity Kajsa! Could you share with us your profile so our readers can get a better idea of who you are?
Name: Kajsa
Age: 32
Hometown: Varberg
Living in: Varberg
Favorite Food: Indian or a good steak
Must Read Book: There are so many!
Profession/Job title: CEO
GAV: Kajsa tell us and our readers as well a little bit about yourself. How did your career start in the industry? What was the key idea of developing this great online gambling site?
Kajsa: Well, I am an ordinary woman living on the west coast in Sweden. Since I was little I've always had a sense of business and a big interest in all kinds of sports and gambling. My career in this industry started about 6-7 years ago when i developed my first affiliate site about free bets on casino. Later on I moved  from just writing about free bets to create more comprehensive sites with reviews, promotion news and articles about the industry. Casinosverige.me was created back in 2013 and the goal was to give the visitors all information that is necessary when you want to start playing casino online. Also we try to answer all questions that a player might have in our FAQ since we know ourselves that there could be a lot of question marks when you haven't played online before.
GAV: Since there are thousands and thousands of websites in this niche out there, where do you think Casinosverige.me stands now?
Kajsa: I think our site stands out well as the site has very good online visibility. We do our best to be profound when it comes to both reviews and articles. We want to provide our visitors everything they might ask for in a casino guide online. And hopefully we've achieved this goal even if we try to develop and become better every day. Also the site is very niched to the Swedish market which I guess gives some kind of safety for the Swedish people that are visiting the site. Another thing is that we are in constant contact with our visitors and always answer any questions they might have. We also provide support when there has been a problem between the player and the casino. Even in these cases when we're not promoting the casino in question.
GAV: How do you see the Scandinavian online gambling market/industry at this moment?
Kajsa: I see an expanding market but at the same time there are many question marks regarding a future regulation. The whole industry is waiting for a regulation where foreign companies can get licenses just like we've recently seen happen in both Britain and the Netherlands. But the market really has potential and there are more people playing online than ever before. Still there are much more to get and I think that we've only seen the beginning so it's really going to be interesting to follow this market during the next years.
GAV: In your opinion what are the strong points of Casinosverige.me and what makes it stand out from the other Scandinavian niche websites/directories?
Kajsa: As I mentioned earlier in this interview we try to be as comprehensive as possible. There should be more to a good online casino guide than just a top list. So we try to provide our visitors with everything they might ask for in terms of articles, information about promotions, support, industry news, etc.
GAV: How did you start and most of all what bumps did you have to overcome at the beginning?
Kajsa: I started a site about free bets where I didn't even had affiliate links in the beginning. I also wrote down my family's horse racing tips so we all had a common platform for that. But I guess I first saw the potential of earning money when there was someone who wanted to buy a link on the site. At that time that was like magic happening right in front of me. I never could have guessed that there where ways to earn money that easily. Regarding bumps on the road I must say that I didn't get any commission to talk about for 1 or 1,5 years. And to write on a daily basis could be pretty exhausting when you don't get anything in return.
GAV: We have analyzed your website and found some great quality content. Are you writing it by yourself or do you have a team of people writing for you? How many casino reviews are there on your website? How about the your blog?
Kajsa: Content is something that I valued since day one in this industry. This is the single greatest part that I found most important for a website. For about four years I did all content myself but as the network of sites has grown and I have less time I've had to outsource some of the content writing to others. But I still write content on a daily basis and I think this is something that will never disappear from my work schedule. Regarding the daily blog posts I have a very talented content writer writing these posts filled with current promotions at online casinos. But sometimes we add articles about the industry in the blog and usually I write those articles myself as I have great insight in the gaming industry as an affiliate. At the moment we have over 50 reviews about different online casinos. These are written by both me and my content writer.
GAV: How do you manage to keep the content fresh and relevant on your website and blog, when a lot of fluffy and nonsense appear on the Internet non-stop?
Kajsa: We try to stay sharp and read all newsletters that are sent out to us on a weekly basis. By doing this we always have fresh information to provide our visitors with. Our visitors can expect us to have all the latest information when they enter our website. We also do our best to keep the top lists fresh and update when there is a change in a welcome offer or so.
GAV: We are more than sure that you receive messages from Affiliate Managers on a daily basis showcasing their best products. You of course select them by the brands they work with; but what are your thoughts on how a real Affiliate Manager-Affiliate relationship should be built?
Kajsa: This was definitely easier a couple of years ago when there weren't so many different companies in this industry. Nowadays you can get up to 20 emails a day from different affiliate managers and to be honest it's hard to find the time to answer them all. And therefor it's also hard to build new relationships with affiliate managers these days. But I think the important thing is that both you and the affiliate manager shares the same value. For me I am looking for long-term partnerships and I expect the same from the affiliate manager. I won't waste time on creating reviews and building content about a brand if it's just for a month or two. Also it's a give and take situation. Sometimes it's hard to keep a nice tone when there's so much stress all the time. And all brands wants the same: more publicity. And it's impossible to give that to all brands out there so the affiliate manager needs to give something in return in terms of loyalty for the deal, information about ongoing promotions etc.
GAV: How do you see the future of the online casino/gambling industry? For instance, will it become a truly global phenomenon? What about the Scandinavian market's future?
Kajsa: I see big potential for this industry as we've only seen the beginning yet. It's going to be interesting to see what happens as the market is growing but at the same time there is a consolidation going on where bigger companies buy more and more affiliates and casinos. But it will surely become both a global and a Scandinavian phenomenon. And I think we will see more and more countries regulate the gaming industry like we've seen a couple of countries have done already.
GAV: Do you have any advise you would like to offer to newbies who are looking to venture into this great industry!?
Kajsa: Well, as long as you work hard and never give up anything can happen. Think positive, be optimistic and don't care what others have to say about your dreams and goals. There is a lot more competition now than when I first started but still I think hard work always pays off. But don't expect to earn money right away because then you'll just end up getting disappointed.
GAV: Do you attend any iGaming/online casino conferences? If so, which one is your favorite and what is your most fun experience?
Kajsa: I've attended most of the conferences although I try to stay home sometimes as well. But I've been to both BAC, LAC and AAC and this year I am also attending Sigma in Malta. So far the affiliate conference in London was the best one since it had most to offer and was the biggest one.
GAV: What do you think the chances are for Eastern Europe to become a potential gaming hotspot in the future? Where do you think the region must improve upon?
Kajsa: From what I've understood the potential of online gambling in Eastern Europe is very good now that a legislation is in order. I've heard that many operators have received licenses in a very short period of time so obviously the interest is there from both the operator side and the player side. We can already see some bigger casinos targeting this market and if I had the knowledge and was better at foreign languages I would definitely create some affiliate sites targeting Eastern Europe.
GAV: Where would you like to travel in Eastern Europe?
Kajsa: I've actually only been to Bulgaria when it comes to Eastern Europe so most other countries would be a new experience for me! But I've heard there are great SPA treatments in Estonia so maybe that would be my first place to go.
GAV: Where you wouldn't want to travel in Eastern Europe?
Kajsa: I don't think there's a country that I wouldn't want to travel to but maybe Poland isn't my first choice if I had to pick one country not to travel to.
GAV: How about a favorite celebrity, do you have one one?
Kajsa: That varies a lot actually. At the moment I can't come up with one single favorite celebrity.
GAV: What is your opinion about the Gambling Affiliate Voice? 
Kajsa: Gambling Affiliate Voice is a great portal for affiliates in this special industry. We need more portals like this where affiliates can gather and get the best and most important information about the iGaming industry. I find many of the articles written very useful and I also like that you offer groups where affiliates can share their experience. I like the transparency and I would definitely recommend others to visit GAV regularly. I like that you offer affiliates a context in a world where it can become quit lonely to sit alone in front of your computer 12 hours a day.
Thank you very much for your answers Kajsa, we appreciate it! All the best to you and if you have some news or updates that you'd like to share with us feel free to contact us!
Blexr has been crowned Best Casino Affiliate at this year's IGB Affiliate Awards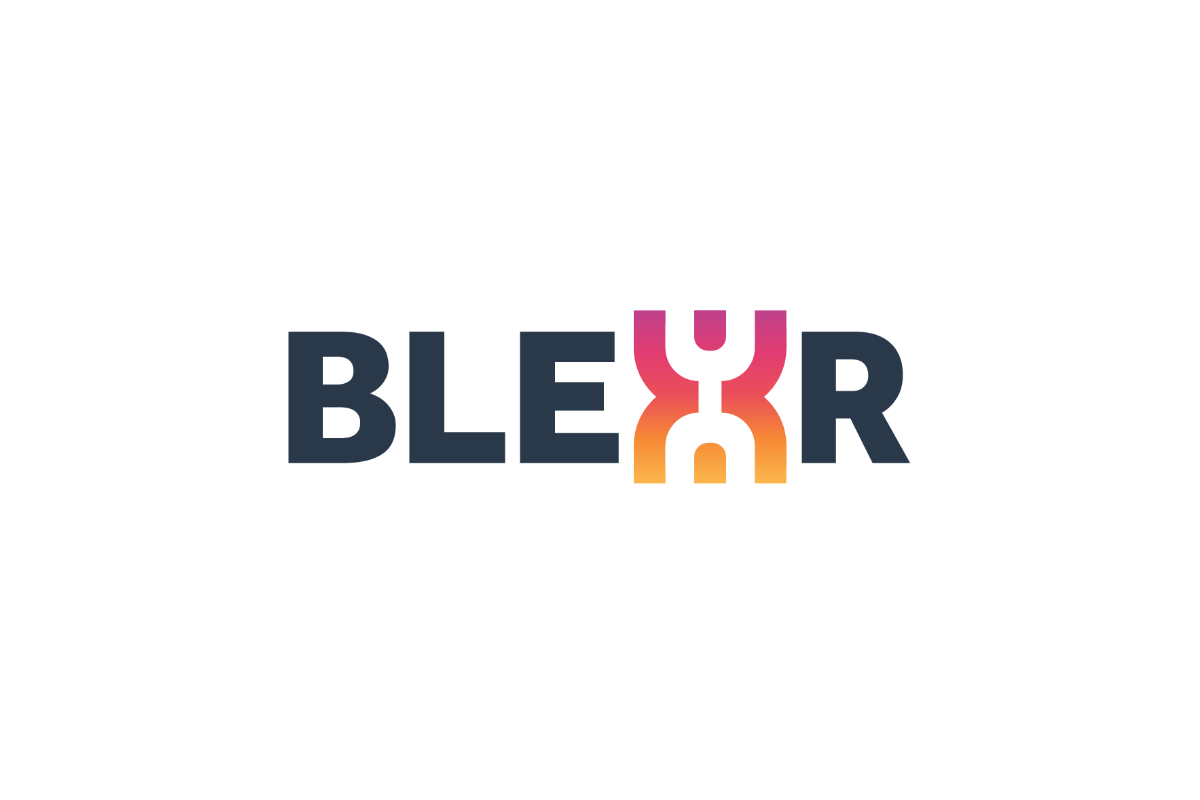 The IGB judges said the company's innovative work with SEO "helped Blexr stand out as a winner, and we liked the deposit guarantee that they offer to their customers".
The judges added: "Their selective way of working means Blexr only collaborates with top quality partners, which judges felt had helped contribute to their impressive growth over the last 12 months."
IGB also mentioned how "Blexr's charitable work within the community helped them stand out as an affiliate to be highly commended".
Blexr is a lead generation company which operates in the iGaming, sportsbook and forex affiliate markets. It also owns the Home Grounds website, which serves a community of home baristas.
Ian Hills, Blexr's general manager in Malta, said: "We're delighted and thrilled to be recognised by IGB this way.
"We pride ourselves on recruiting smart people with innovative ideas and winning a prestigious award like this one is a lovely way for the whole team to be rewarded for their hard work and dedication."
GiG Media reaches top 3 in EGR Power Affiliates Ranking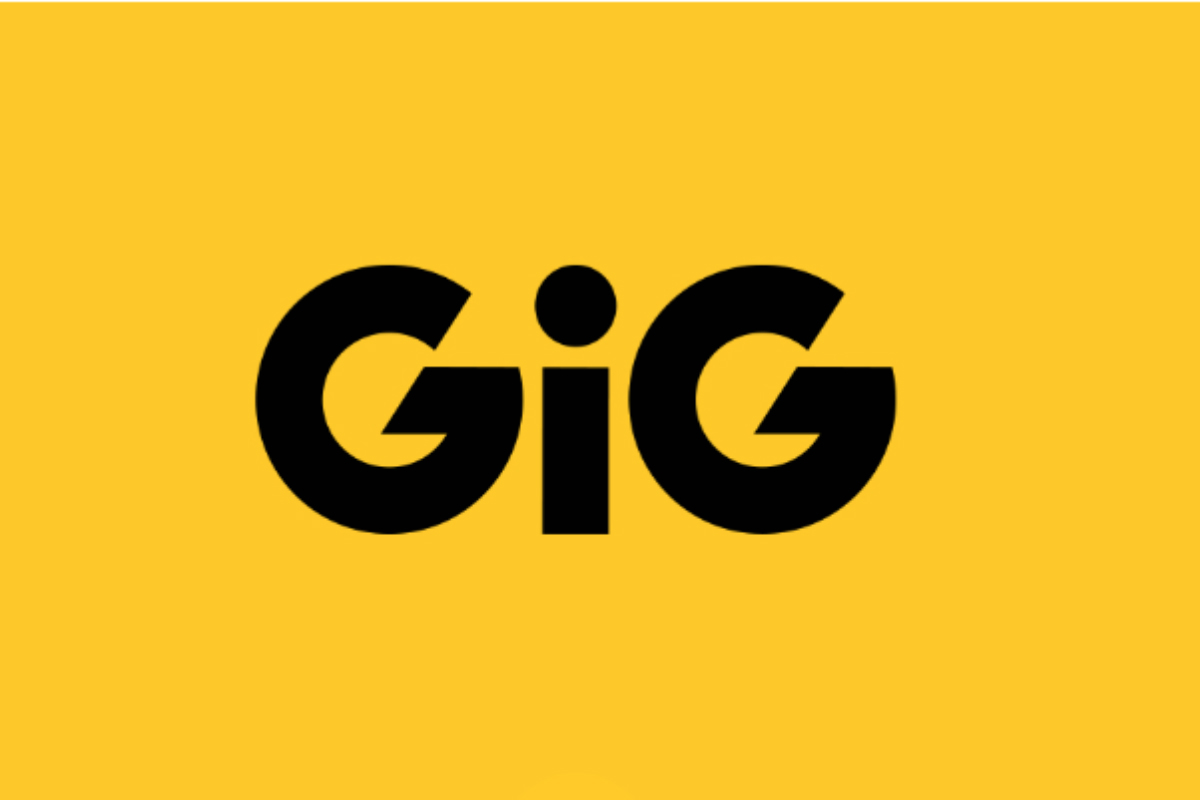 Gaming Innovation Group's media affiliate business, GiG Media has been given industry recognition as one of the top three power affiliates within the gaming industry in this year's Power Affiliate Ranking 2021.
The annual Power Affiliates list commends 25 of the most successful affiliate businesses in the global gambling industry and is referred to by EGR as "a comprehensive rundown of the biggest online gambling affiliates operating in the sector today."
GiG Media grew from strength to strength in 2020, In December 2020 GiG Media realised an all-time high in monthly revenue and generated the 2nd highest monthly player intake over the past two years. The positive developments continued in the new year. In  Q1 2021 GiG's media business reached an all-time quarterly high in player intake and in revenue.  In Q1 2021 player intake grew 56% YoY and 31% QoQ hitting an all-time high in players generated quarterly for GiG Media.
Jonas Warrer, CMO at GiG said: " I am extremely proud that we have officially been named one of the top three Power Affiliates in this year's EGR Power Affiliates Ranking, up nine places from last year! This is a strong testament to all the hard work and dedication the organisation has put into improving our websites, our campaigns, our IT, our content, our design, – just to name a few areas. I am happy to see that our focus on organic growth resulted in continuous improvements throughout 2020, with the aim of new all-time-highs to come throughout the rest of 2021."
Bojoko crowned Affiliate of the Year at EGR Nordic Awards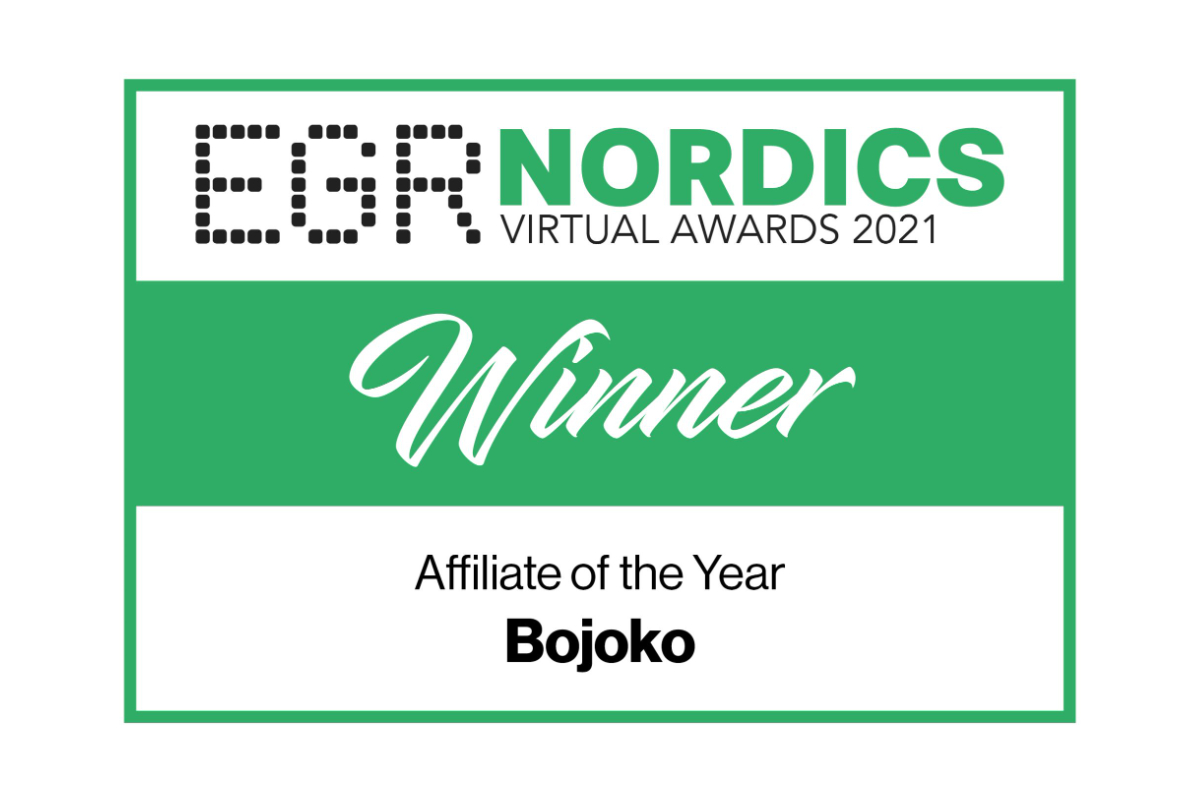 Popular online casino listing site fends off stiff competition to take home the trophy at prestigious awards ceremony
 The Bojoko team is celebrating once again after being named Affiliate of the Year at the prestigious EGR Nordic Awards 2021.
This is the second EGR award that Bojoko has taken home after being crowned Casino Affiliate of the Year at the hotly contested EGR Operator Awards 2020.
Bojoko fought off stiff competition from some of the biggest names in the affiliate industry including AskGamblers, Better Collective, Blexr, Catena Media and the Gambling.com Group.
EGR judges said it had been "another excellent year" for Bojoko and that its SEO performance and overall conversion "really shines".
The EGR judges added: "A more unique idea than most affiliates with great growth and sustainability. A very clever and new type of affiliate that is showing great success. Well done!"
Bojoko allows online casino operators and game developers in the Nordics to create their own dedicated listing page and tell their story through their own words, images and videos.
Bojoko members, of which there are now 30,000+, then rate and review each casino and game and share their honest opinion about the experience they receive.
During the judging period Bojoko built out its team dedicated to the Nordics which led to a 10x increase in unique site visitors and a 25x increase in registered Finnish players.
Joonas Karhu, Chief Business Officer at Bojoko.com, said: "We will need to find more space for our trophies after scooping our second EGR award in as many months but seriously, the entire team is thrilled how have been recognised for our work in the Nordics.
"The Nordics remain a key focus for us and we see plenty of opportunity to drive growth from the region by providing players with our award-winning online casino listing product and service.
"Our mission from day one has been to help players quickly and easily select online casinos through transparency and community feedback and it is a concept that has proved to be hugely popular.
"I would like to thank the EGR judges for recognising our efforts and successes in the Nordics by crowning Bojoko Affiliate of the Year 2021."