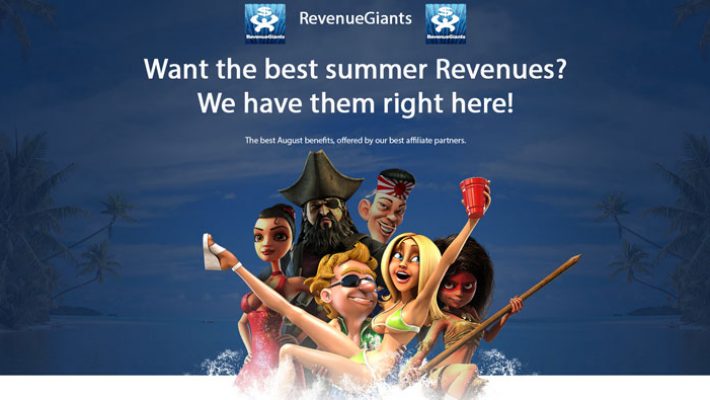 Revenue Giants In August
Come on in and get your $25 Welcome Prize Bonus!
That's right, our "Welcome Cash Bonus" is waiting

for you to create your account. Head over to our bingo

sites, and enjoy the Welcome Prize Bonus. It will

appear instantly in your account, after you log in.

How's that for a "Warm Welcome"?
More money in = Even more money out
How is that possible? Well, for those of you that want to venture into "the deep", we have a very special surprise, that blow away all the other offers. Use it on our live dealer. Spin the roulette, or maybe try your luck at the slot machine. You decide what you do with your own deposit and cashback:
50% cashback when you deposit more than $500
25% cashback for deposits between $200 and $499
15% cashback for deposits between $25 and $199
[textmarker color="2937FF"]SITES[/textmarker] [textmarker color="0F2FFF"]PROMOTIONS[/textmarker]
It's August! Do you know what that means? It's time for our "Crazy Car Chase"! And what other way to celebrate this, than offering a Grand Prize: "Nissan Versa Sedan". Anyone can make it to the final! All you have to do is keep playing! That's the secret! The more games you play and win, the more likely you are to make it to the next round.  In the beginning, you will start playing in the main room, where anyone can enter. But only those who keep wining will enter the "BIG Final" on the 31st August. Do you think you can make it? We sure do.
The outside weather isn't the only hot thing in August! Our  "Too HOT to Hold" promotion is running every day of the month, so come and get yours now! You can try our 50% extra on all deposits. Or maybe you want the Special Deposit bonuses only available online. A 100% bonus? Or maybe 200%? 300%? But how about a 400% SPECIAL BONUS? Check in with us right now, this month of August.  Don't forget the ice.. Things might get really hot inside!
Other promotions
Choose between a variety of online casinos by clicking on a logo below. Learn more about their promotions and take advantage of all the wonderfull special offers.
~Affiliate tip~
Using Facebook to increase your revenue. How?
Your Facebook page (if you have one, if not, then you might consider making one after reading this)can leverage your revenue. As a virtual platform, with over 1 billion users, Facebook can be considered a true gold mine, if used in a proper way. Here's how:
Offer the best info there is and get some well-deserved "likes"
The best way to grow your popularity on Facebook, is to have your fans "like" your page. Consider the Facebook "like" some sort of currency; the more you have, the bigger you grow! It's really simple, and all you have to do is offer your "followers" some fresh and relevant content. If they like it, they might even "share it" with their own friends, thus growing in popularity even more.
On Facebook, you can even arrange different sorts of contests, for all your followers to play! Choose a random winning "like", or give a prize to the best comment you read in a post. Or simply, offer them links that give away bonuses, or promote special offers. These are the keys that can help you earn popularity and followers in a very short amount of time.
Make a link between your Facebook Page and your Web Site
Thus, by also sharing direct links towards your web site, you can greatly increase your traffic. The more followers you have, the more people will see the links, thus generating bigger traffic.
*****
In the end
Join us on our web site and find out how we can help you raise your revenues even more! All kind of materials, fresh new games, and other creative issues are waiting for you to discover.
We aim at helping, growing and
sustaining our affiliates, while offering
them a real chance to increase traffic. Our 360 exposure
is guaranteed to all our clients. We also work with all the possible types of monetization.
~~~~~~~~~~~~~~~~~~~~~~~~~~~~~~~~~~~~~~~~~~~~~~~~~~~~~~~~~~~~~~~~~~~
Contact Us
Website:
www.revenuegiants.com
Twitter:
@RevenueGiants
Email:
support@revenuegiants.com
Related
folder_openAssigned tags
content_copyCategorized under
About author