Esports Entertainment Group Signs Affiliate Marketing Agreement with Global Speedrun Association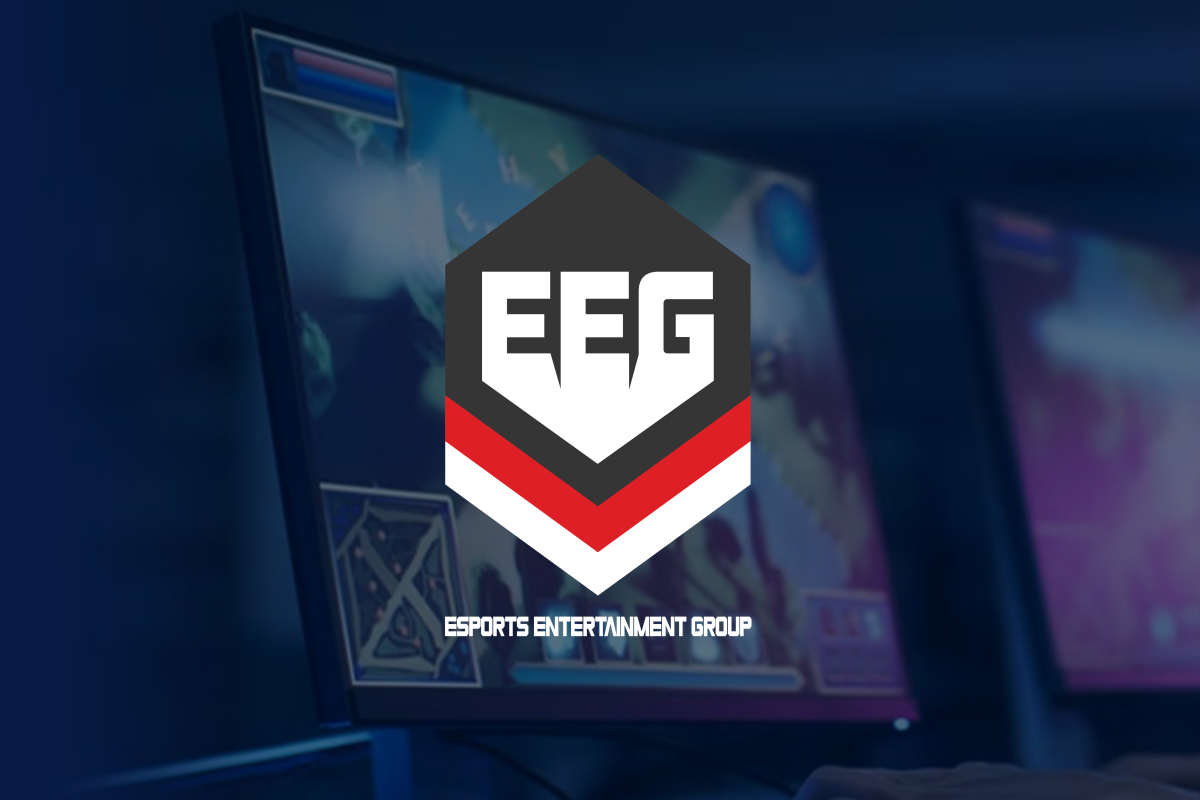 Esports Entertainment Group, Inc., a licensed online gambling company with a specific focus on esports wagering and 18+ gaming, is pleased to announce the signing of an Affiliate Marketing Agreement with Global Speedrun Association ("GSA"), which hosts and administrates races on a broad variety of speedrun games, most notably Super Mario 64 and Super Mario Odyssey, across their three Twitch channels.  As the first platform to offer wagering for speedrunning, this agreement is another milestone for vie.gg, the world's first and most transparent esports betting exchange.
GLOBAL SPEEDRUNNING COMMUNITY GROWING RAPIDLY
GSA is a relatively new company dedicated to pushing speedrunning into the mainstream and helping speedrunners achieve the same success that esports athletes now enjoy.  Despite its relatively recent entrance into the speedrunning space, GSA has generated impressive traffic with 860,000 views from 3 Twitch.tv channels over the last 30 days.  More importantly, GSA is growing rapidly and this partnership with VIE.gg will only serve to help accelerate that growth.
The global speedrunning community is growing at a very fast pace, with single events raising over $2,000,000 for charity in 2018, and is expected to continue growing at a very rapid pace for years to come. As the premier P2P betting platform for speedrunning, VIE now gives fans the ability to be on their favourite players, which will serve to broaden the fan base and their attention times, as well as, help attract the top players in the world, including top esports players with an affinity for speedrunning.
Brian Cordry, Head of Esports at Esports Entertainment Group, stated, "Groups like GSA help raise the standard of production quality and push speedrunning forward. We love speedrunners and we love what GSA is doing. I expect speedrunning to grow exponentially and that is why it is so important for Esports Entertainment Group to partner with the likes of GSA for the long term. Together, we will help push speedrunning to the heights that esports is currently achieving."
Steven Adams, Chief Executive Officer at Global Speedrun Association stated, "GSA is the premier organized speedrunning league and our goal is to increase the consistent quality of our broadcasts and competitions by working with VIE in 2018 and beyond.  The key differences this relationship will make are being able to fund larger prize pools for our leagues and tournaments to catalyze higher levels of competition, as well as, attracting and compensating key people that make our broadcasts so entertaining, such as great commentators, video editors and other GSA staff who will be able to increase the output and quality of their productions. Working together will help push speedrunning to new heights and help grow this budding sector of the video game industry, which will lead to betting growth on VIE. Looking forward to the future!"
VIE.GG:
vie.gg offers bet exchange style wagering on esports events in a licensed, regulated and secured platform to the global esports audience, excluding jurisdictions that prohibit online gambling. vie.gg features wagering on the following esports games:
Counter-Strike: Global Offensive (CSGO)
League of Legends
Dota 2
Call of Duty
Overwatch
PUBG
Hearthstone
StarCraft II
About Esports Entertainment Group:
Esports Entertainment Group, Inc. is a licensed online gambling company with a specific focus on esports wagering and 18+ gaming. Esports Entertainment offers bet exchange style wagering on esports events in a licensed, regulated and secure platform to the global esports audience at vie.gg.  In addition, Esports Entertainment intends to offer users from around the world the ability to participate in multi-player mobile and PC video game tournaments for cash prizes. Esports Entertainment is led by a team of industry professionals and technical experts from the online gambling and the video game industries, and esports. The Company holds licenses to conduct online gambling and 18+ gaming on a global basis in Curacao, Kingdom of the Netherlands and the Kahnawake Gaming Commission in Canada. The Company maintains offices in Antigua, Curacao and Warsaw, Poland. Esports Entertainment common stock is listed on the OTCQB under the symbol GMBL.  For more information visit www.esportsentertainmentgroup.com
Good Game Limited offloads esports news site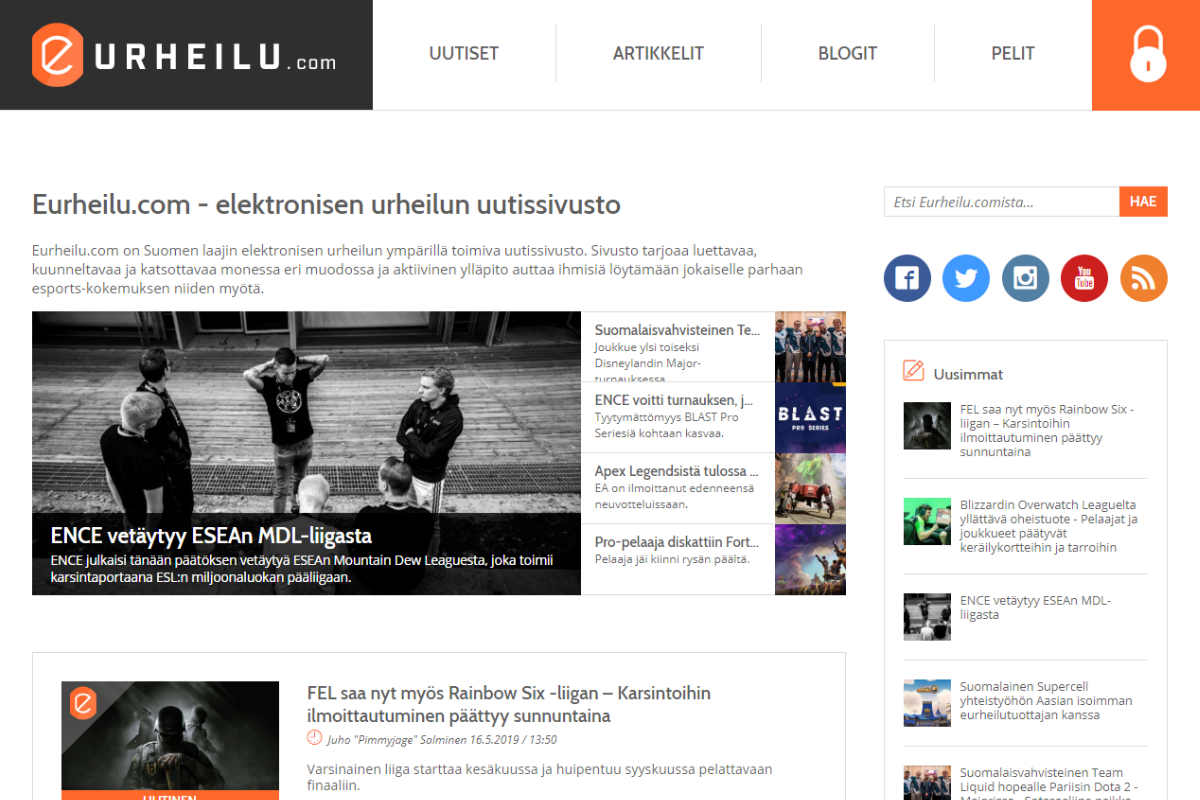 The affiliate company behind Bojoko.com sells Eurheilu.com to Esports Media Solutions for an undisclosed sum
Good Game Limited, the online casino affiliate organisation behind popular comparison site Bojoko.com, has sold its esports news asset Eurheilu.com for an undisclosed sum.
The site has been purchased by Esports Media Solutions and will allow Good Game to reinvest and fully focus on driving growth in Bojoko.
Eurheilu.com was launched in early 2016 and is updated daily with news, features, interviews, streams and guides about the thriving esports industry.
It has proved particularly popular among enthusiasts in Finland and other Nordic countries as esports continues to grow rapidly across the region.
Aleksi Halsas, co-founder of Esports Media Solutions, said: "Our Eurheilu.com acquisition supports our strategy in Finland well and we are extremely excited about the opportunities it presents us."
The sale of Eurheilu.com comes a little over a year after Good Game sold its network of Finnish online casino comparison sites to XLMedia for a total consideration of €15 million.
Good Game now operators just one site, Bojoko.com, which is being positioned as the Trip Advisor of the online casino world.
Bojoko, which was launched in 2017, allows operators and suppliers to upload their own listings with players able to leave their own ratings and reviews.
It has proved a hugely popular concept with operators, suppliers and players alike, with more than 320 casinos and suppliers listed to date.
Joonas Karhu, chief business officer at Good Game Limited, said: "We have spent the past few years building Eurheilu.com into a popular and thriving esports information site and community.
"But as we continue to invest more time and resources into establishing Bojoko as the most popular online casino comparison site in the UK and beyond, the time was right to sell the brand.
"We are thrilled that Esports Media Solutions will be running the site moving forwards as their passion and expertise will take it to the next level."
5 Panel Discussions at Zurich iGaming Affiliate Conference: What Will Experts Talk About?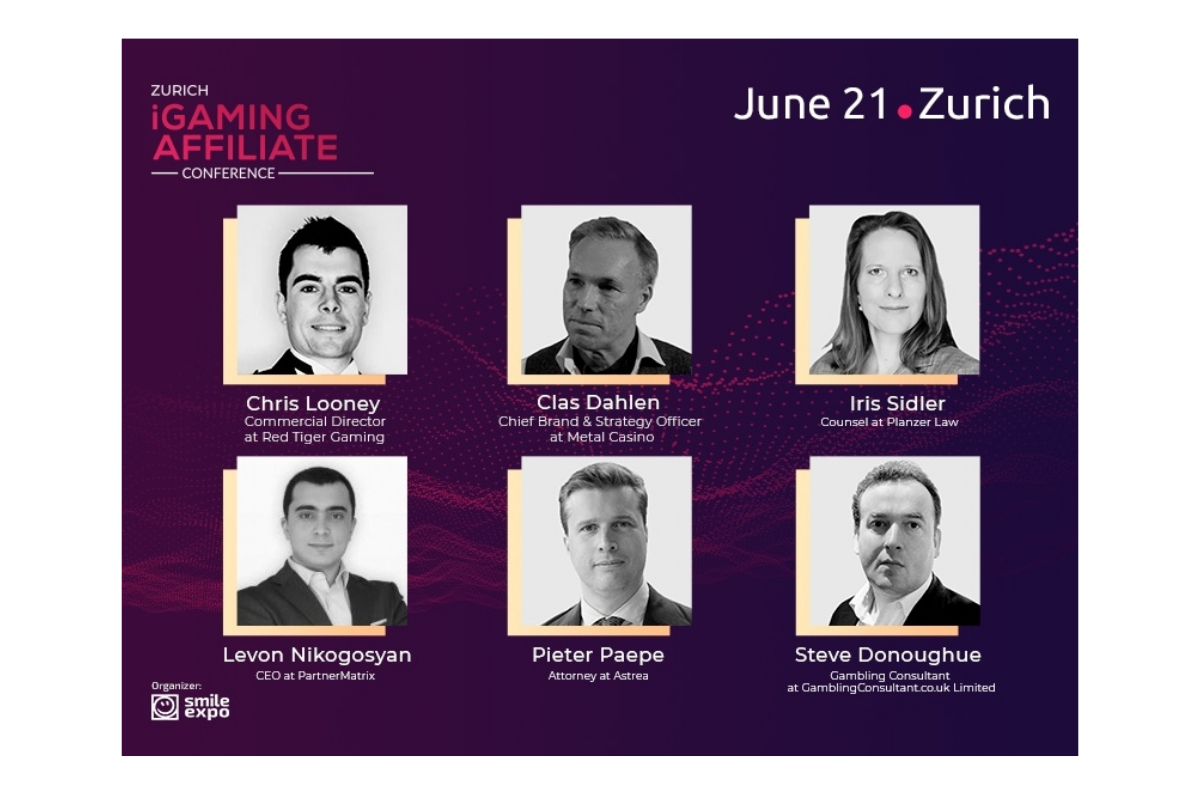 On June 21, Switzerland's first and single event dedicated to gambling business and affiliate marketing – Zurich iGaming Affiliate Conference – will feature five panel discussions.
They will allow experts from various sectors to share their experience and discuss market trends.
Panel discussion: How to create and maintain an attractive online offer
It will be focused on offer issues: what they should be in order to increase customer loyalty and retain clients. Participants include

Chris Looney,

Commercial Director at Red Tiger Gaming, who has been engaged in the gambling and microgaming industry since 2010.
Panel discussion: Successful affiliate marketing: how to attract online players
Speakers will reveal how an online gambling project can catch the interest of potential customers so that they decide to join it. The discussion will involve

Clas Dahlen

, The Best Marketing Executive 2013 in Sweden and Chief Brand & Strategy Officer at Metal Casino, as well as gambling expert

Levon Nikogosyan

, CEO at PartnerMatrix.
Panel discussion: Belgium and Switzerland: comparing two markets
Participants will explain how these two jurisdictions should establish mutually beneficial business. One of the speakers is

Pieter Paepe

, Attorney at Astrea, specializing not only in gaming, but also in sports, healthcare, IT, electronic communications, and broadcasting.
Panel discussion: Data protection issues
Experts will tell guests what measures should be taken to protect private data of both players and companies. Participants include

Iris Sidler

, a lawyer with 12 years of experience in IP, IT, and communications.
Panel discussion: Responsible gambling as the future of gambling
Experts will highlight why companies should necessarily comply with the responsible gambling concept in order to protect players from negative consequences of gambling. The discussion involves

Steve Donoughue

, Gambling Consultant at GamblingConsultant.co.uk Limited, who has been operating in the online and offline gambling sector for 25 years.
Exhibition Area and Networking
Besides panel discussions, participants of Zurich iGaming Affiliate Conference will be able to attend the exhibition area where companies will introduce their iGaming solutions.
By the way, all participants will be able to find business partners during networking. Note: each visitor is a potential client.
Venue and Organizer
Zurich iGaming Affiliate Conference will take place at Sheraton Zurich Hotel at the address: Pfingstweidstrasse 100, Zurich, Switzerland.
The event is organized by Smile-Expo, a company that has been holding high-tech business conferences for 13 years.
Hurry up to buy a ticket to Zurich iGaming Affiliate Conference at the reduced price, as it will go up on May 20!
Invitation to presentation of Better Collective's Q1 report 2019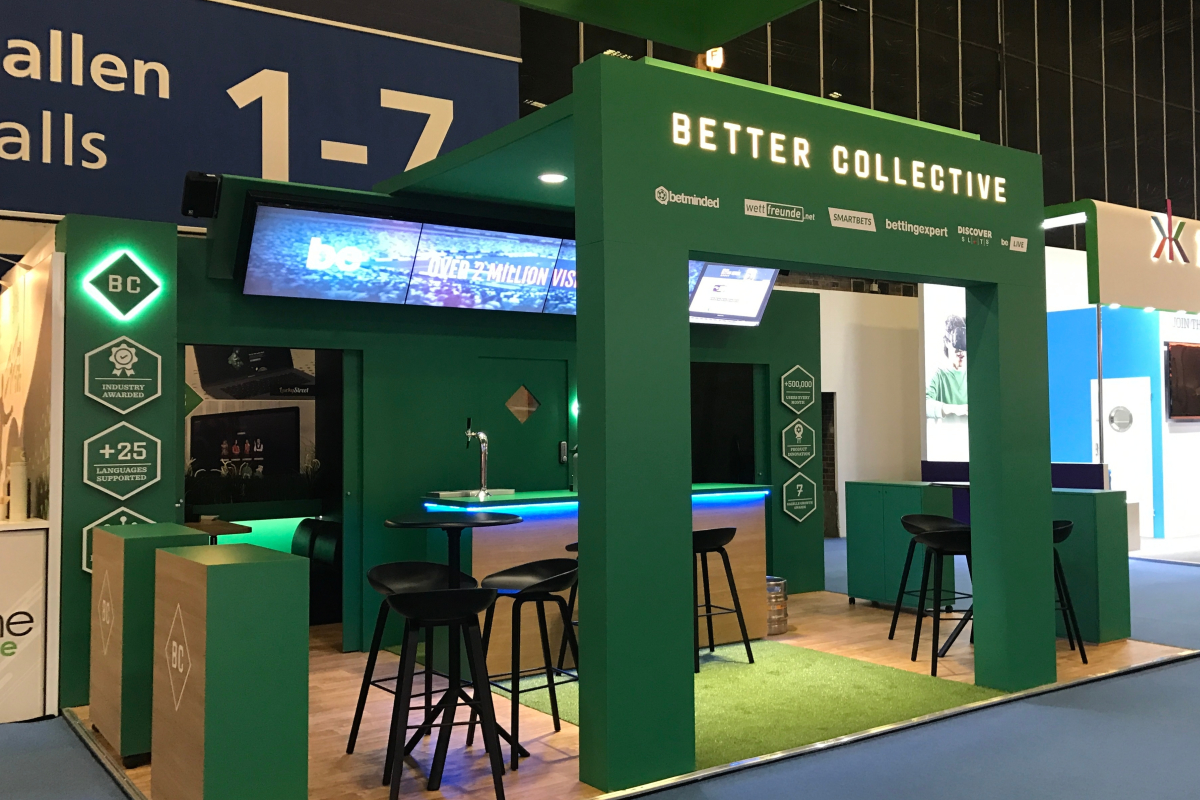 Better Collective, the world's leading developer of digital platforms for bookmaker information, iGaming communities, and betting tips, will publish its interim financial report for the period January 1 – March 31, 2019,  on Wednesday, May 8, 2019, at 8.00 a.m. CET.
A telephone conference will be held at 10.00 a.m. CET on the same day by CEO Jesper Søgaard and CFO Flemming Pedersen. The presentation will simultaneously be webcasted, and both the telephone conference and the webcast offer an opportunity to ask questions.
Dial in details for participants:
Confirmation Code:         1798279
Denmark:                            +45 32 72 80 42
Sweden:                              +46 (0)8 50692180
United Kingdom:              +44 (0)8445718892
Webcast link
The webcast can also be accessed from www.bettercollective.com and the presentation will be available from 9.00 a.m. CET.