ThePOGG Launches Bonus Ratings & Reviews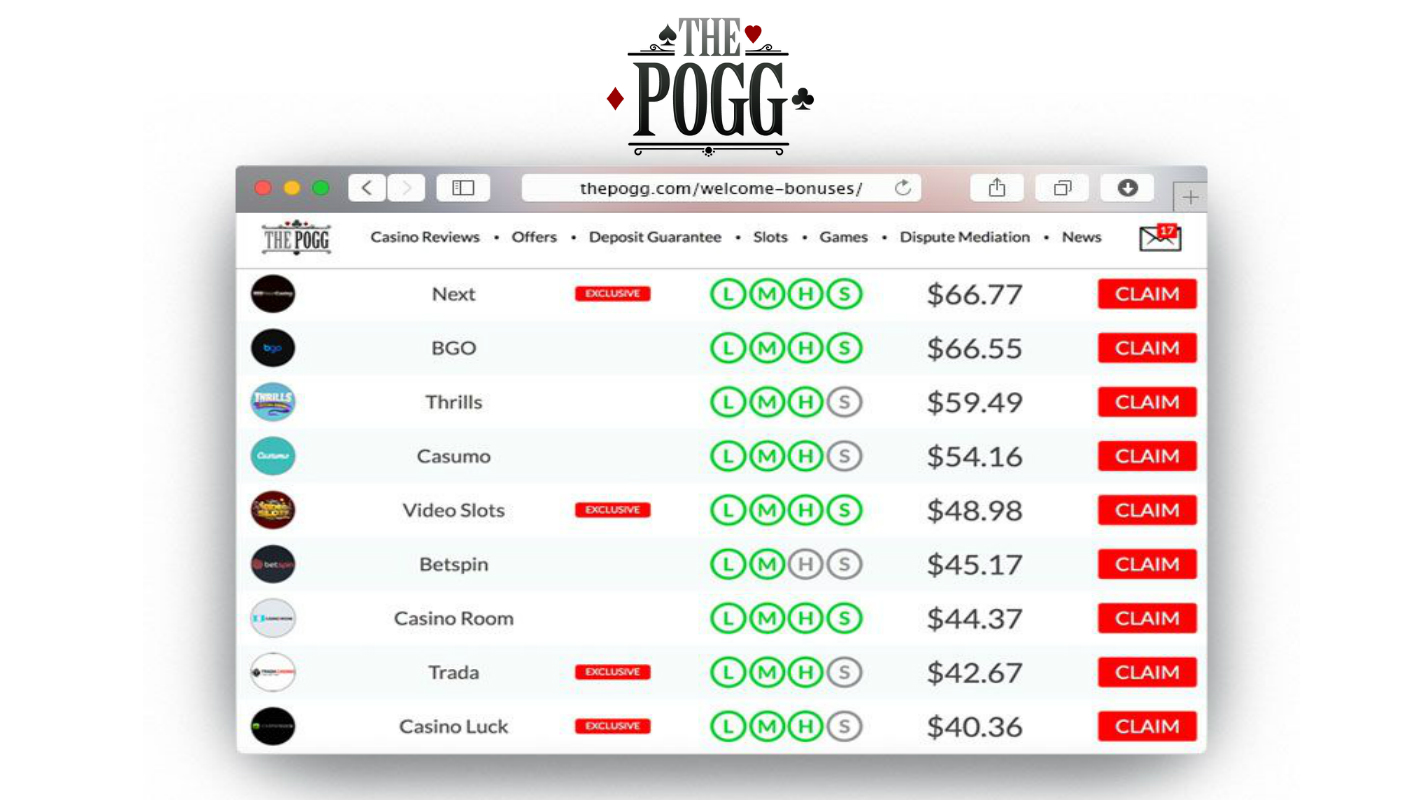 ThePOGG.com is proud to launch their casino welcome bonus ratings and reviews which features detailed analysis and value simulations to help players decide if a bonus is right for them. We all know that when confronted with varying terms and conditions it is next to impossible to tell which of two bonuses is better. Our new system addresses this issue, making life easy for players everywhere.
Players look to casino review portals for advice and recommendations to help them make the right decision on where to play and to find the best bonuses. Most player portals advertise bonuses but ultimately provide recommendations based on their opinion, without any sound basis for stating that one bonus is "better" than another. Players care about value and don't like being deceived and this analysis aims to bring to light the true value of a bonus.
ThePOGG simulated over 350 welcome bonuses (with almost 200 reports still to be published) to determine the value of each bonus for low rollers, mid rollers, high rollers and super high rollers. These figures are then provided so players can get an accurate assessment of how good a bonus is for them once all of the terms and conditions and their own playing style is taken into consideration.
This project was undertaken in partnership with BeatingBonuses using a tool developed
several years ago for the
assessment of bonuses, but has been implemented in a way intended to replicate various categories of normal player. Each simulation repeats the bonus 10 million times then takes the average result to provide a value for each player type.
The new feature focus on delivering what the users wants immediately with a focus on making the information quickly accessible and understandable to the user, highlighting the important data points to ensures optimum user experience. The site has been redesigned with the goal of providing players with unique and highly useful information in a format that is quickly and easily understandable while letting the player know about all the additions services offered by ThePOGG. This is a unique system that provides users with information available nowhere else.
"Our new bonus reporting system is one of the most important and useful features we've ever put together. I'm extremely proud of the results and genuinely feel that once again ThePOGG is leading the market by offering a service that is both exceptionally useful to players and entirely absent anywhere else. I have absolutely no doubt that this will quickly become a 'go to' resource for many player"  Duncan Garvie – Manager and ADR Official for ThePOGG.com
To see all of the welcome bonuses rated you can visit thepogg.com/welcome-bonuses/ which shows the complete list of casinos with their bonuses with their rating for every type of player: lower roller, mid roller, high roller and super high roller. You can adjust the type of player and currency setting to reorder the list to show the best bonuses for your playing style.
About ThePOGG
ThePOGG.com is not your average online casino portal as the site pride's itself on having a critical eye when it comes to casino reviews and having the toughest standards for recommendations. ThePOGG is one of the fastest growing casino portals around and continues to add value and services to players to help them make the most informed decision on where to play.
Some of the standout features of ThePOGG includes their Casino Complaints and Dispute Mediation service where they are also accredited ADR by the United Kingdom Gambling Commission. The site also has terms and conditions monitoring service which offers customer protection from retroactively changed terms and conditions. They also offer a unique service to players which is their Deposit Guarantee Seal to refund a player's deposit if a casino recommended by them is found to treat a player unfairly. The Casino Reviews listed on ThePOGG.com are the most rigorous and robust to be found in the industry.  They give honest and accurate reflections of the services provided by online operators and most importantly for player peace of mind: placement and recommendation on ThePOGG.com can NEVER be influenced via improved revenue deals.
Bojoko crowned Casino Affiliate of the Year 2020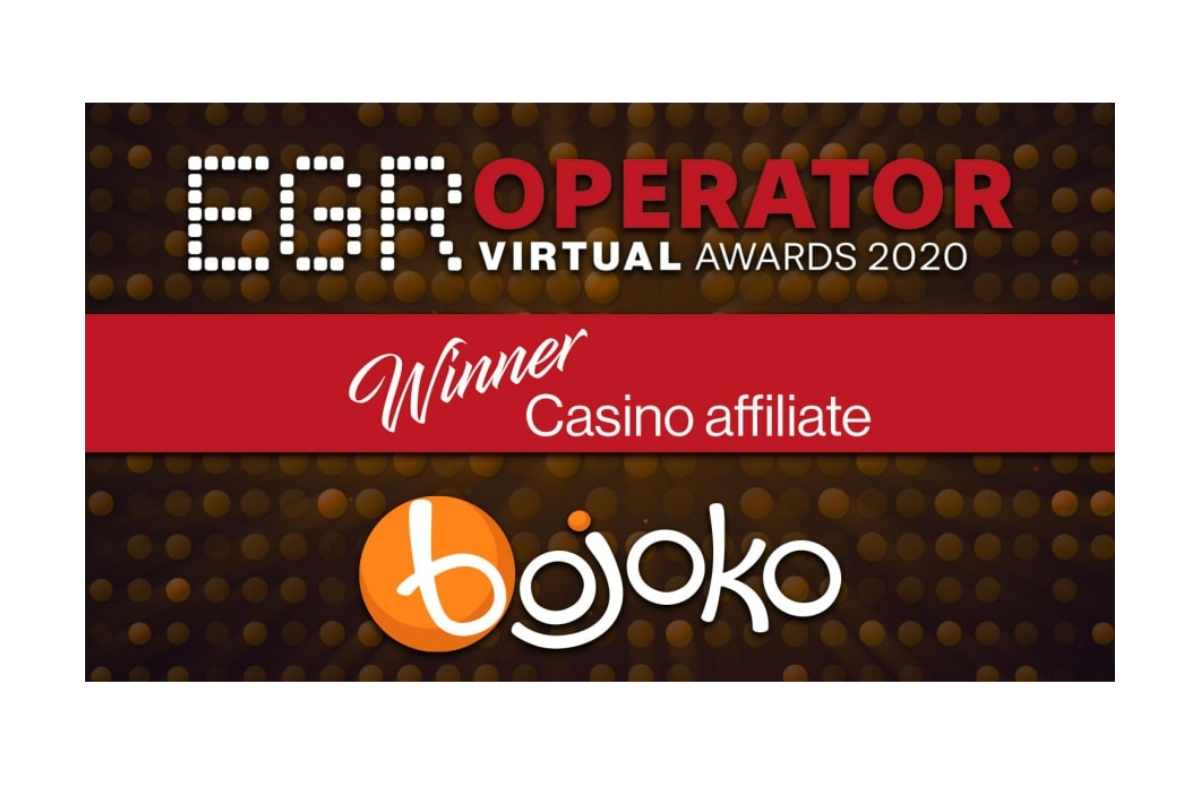 Online casino comparison site takes home its first EGR Operator Award off the back of a hugely successful year
 The party is continuing at Bojoko after the online gambling comparison site was named Casino Affiliate of the Year at the prestigious EGR Operator Awards 2020.
Bojoko fought off stiff competition from some of the biggest names in the affiliate industry, including Gambling.com Group, Catena Media and Blexr, to take home the trophy.
EGR judges said that Bojoko had showed "very strong growth" over the past three years having been the first to use the Airbnb and Trip Advisor model in the online casino sector.
The EGR judges said: "They continue to be innovative with a number of new features which has allowed them to grow to 26,000+ registered members.
"I really like the concept, it's a true affiliate giving customers choice who to choose, growth looks decent and operators managing the page ensures compliance and cost control.
"It is a clever idea and model and shows good growth," the judges added.
Bojoko allows online casino operators and game developers to create their own listing and tell their story through their own words, images and videos.
Bojoko members then rate and review online casinos and games based on the experience they receive, with Bojoko's member base now standing at 26,000+.
Joonas Karhu, Chief Business Officer at Bojoko, said: "We are thrilled to have been named Casino Affiliate 2020 at the EGR Awards and for Bojoko to be recognised as a true leader in the space.
"The Covid-19 pandemic saw operators pivot to casino as part of efforts to mitigate the impact of the global sports blackout, making the casino comparison sector even more competitive than normal.
"The Bojoko team rose to this challenge and I am so pleased that their efforts have been recognised by EGR and its panel of esteemed judges.
"Our mission from day one has been to help players find the best casinos for them while also meeting the highest possible standards when it comes to responsible gambling and safe gaming.
"We continue to innovate and introduce new tools and features to help players filter and compare the 160+ casinos and 40+ game developers listed on Bojoko.
"We have ambitious plans for the coming 12 months, including expanding into the US market, and look forward to doing this with our first EGR award in the bag."
Affiliate Capital Merges Affiliate Programs of Three Established RTG Brands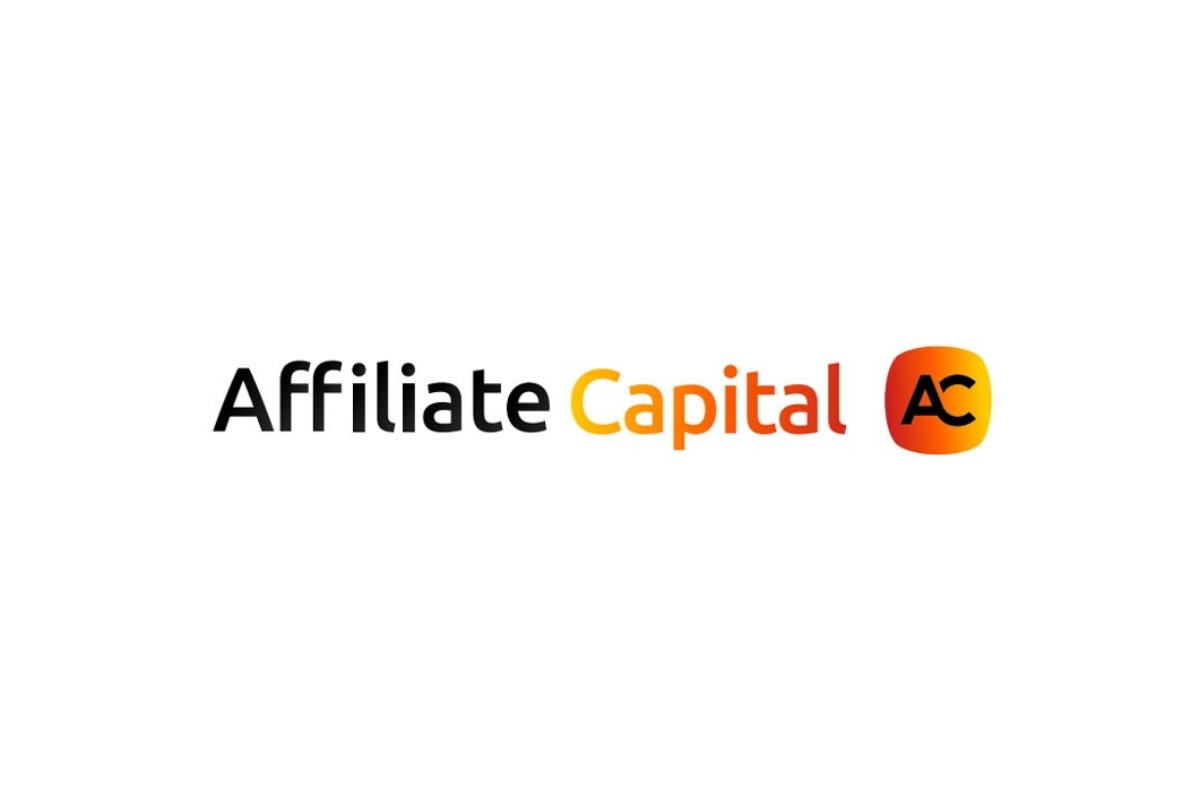 Three established online casino brands, all powered by Realtime Gaming, are merging their affiliate programs into one new one.  Affiliate programs for Jackpot Capital Casino, Grande Vegas Casino and Slotastic will now be managed by the new Affiliate Capital. The group has developed new, enhanced software that will provide affiliates with a more detailed reporting system and dynamic tracking.
Login and registration starts working on November, 4th. As username, existing affiliates have to use the e-mail address they have used for registration. The password needs to be reset before first login.
Affiliate Capital has developed its own affiliate platform. The full-featured system will provide reports and marketing materials for all three brands.
Tony and Brian, who have been managing the affiliate programs for these brands until now, will be joined by Viktoria.
"Having just one login and one commission payment for all three brands is going to really streamline operations for Jackpot Capital, Grande Vegas and Slotastic affiliates," said Viktoria.
"Affiliates can take advantage of the synergy effects in promoting all three brands," noted Brian.  "There will be no bundling, though.  Commissions will continue to be calculated separately for each brand."
"We'd love to be launching this new venture with a big party in London or Malta," added Tony. "We'll have to postpone that kind of celebration for now, but we definitely look forward to raising a glass or two with our partners when the time is right."
Current affiliates of Jackpot Capital, Grande Vegas and Slotastic have been asked to download all reports currently saved in the former affiliate platform and to prepare to update their tracking links as the new ones become available.  New affiliates interested in promoting these brands can find further information at Affiliate Capital's new website: www.AffiliateCapital.com.
Karhu launches Professional Gambling Affiliates Association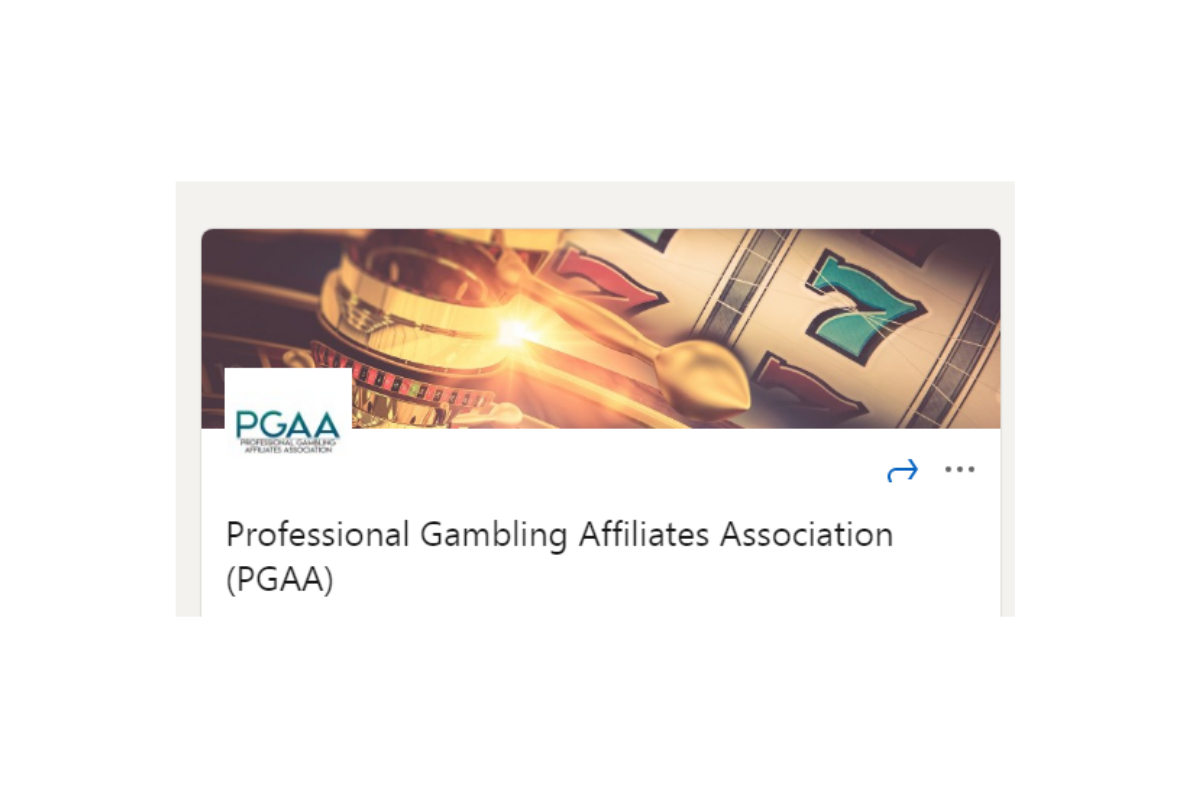 Bojoko's Chief Business Officer launches industry group with the aim of creating contractual security between affiliates and operators for the first time
Joonas Karhu, Chief Business Officer at Bojoko.com, has launched the Professional Gambling Affiliates Association (PGAA) to help improve the relationship between affiliates and operators and create contractual security for the first time.
Karhu formed the association after becoming concerned with the imbalance in the relationship between affiliates and operators. The PGAA will address this with affiliates coming together as one in order to push for contractual security and fair terms and conditions when promoting operator brands.
At present, there is no contractual security for affiliates who are forced to sign agreements that are one-sided and subject to change at any time. This can see life-time revenues slashed and fees increased with little to no notice.
This is not the case in other B2B industries and makes running an online gambling affiliate business incredibly difficult. Operating an organisation without a secured contract is unsustainable, making it impossible to invest in growth and putting jobs at risk.
The PGAA intends to create a contract that provides the security its members need to be able to promote operator brands now and moving forwards. The contract will be signed by PGAA members and their operator partners.
Bojoko will handle the initial communication between the PGAA and operators, and will also cover the legal cost associated with creating the PGAA contract. This includes any potential reviews or amendments required now and in the future.
Karhu is now calling on affiliates of all sizes to join the Professional Gambling Affiliates Association. Those interested in signing up can do so by requesting to join the dedicated Professional Gambling Affiliates LinkedIn Group here.
Joonas Karhu, Chief Business Officer at Bojoko, said: "The situation online gambling affiliates face is unprecedented when compared with other industries and sectors. Running a business without a secured contract is simply unsustainable and puts organisations and their employees at great risk.
"By creating the PGAA, I hope to be able to provide the contractual security that affiliates need to be able to promote operator brands and be confident that the players they send and the revenues they generate are secured over time.
"I am now calling on all affiliates to join the PGAA and for operators and other industry stakeholders to support the association and its mission to level the playing field for affiliates and to provide the contractual security they need and deserve."