ThePOGG Launches Bonus Ratings & Reviews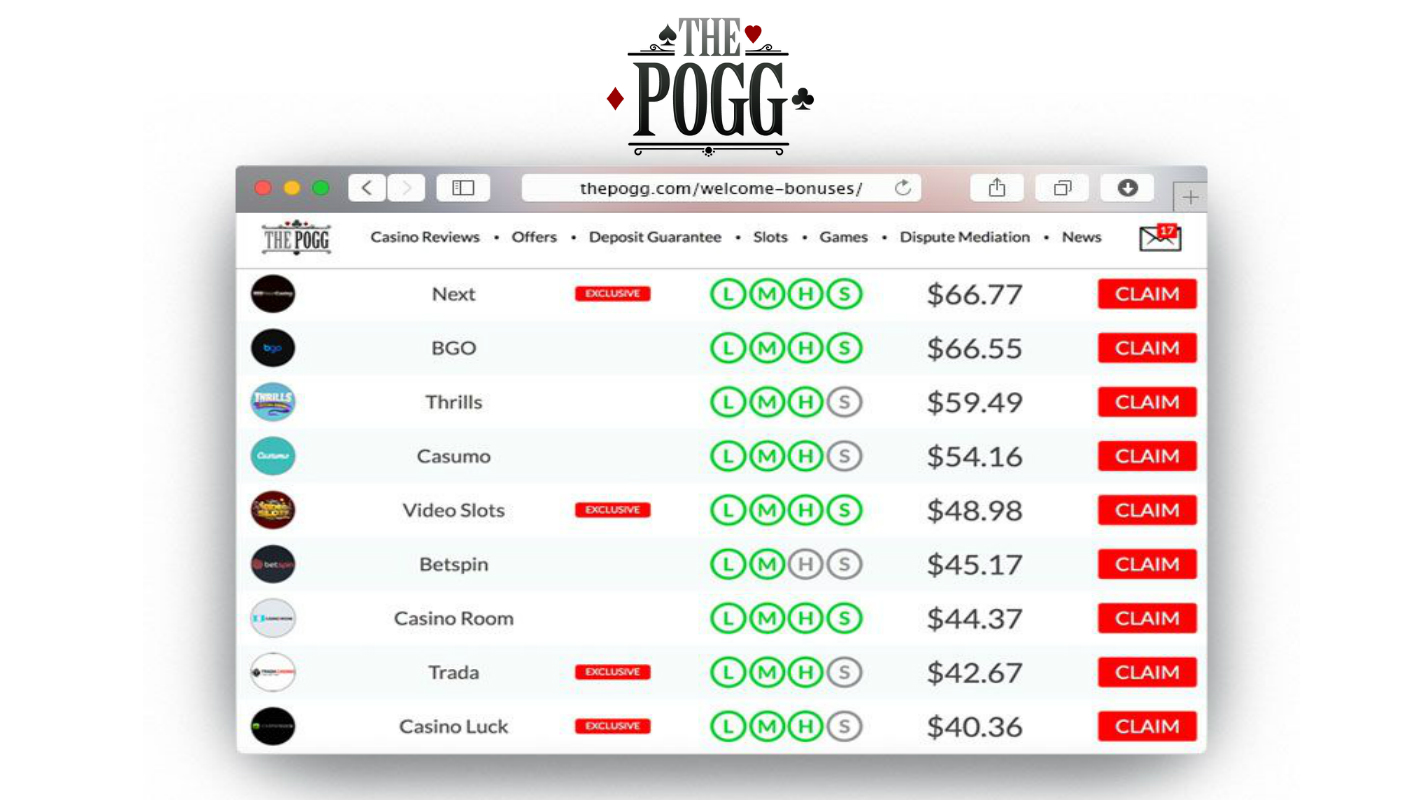 ThePOGG.com is proud to launch their casino welcome bonus ratings and reviews which features detailed analysis and value simulations to help players decide if a bonus is right for them. We all know that when confronted with varying terms and conditions it is next to impossible to tell which of two bonuses is better. Our new system addresses this issue, making life easy for players everywhere.
Players look to casino review portals for advice and recommendations to help them make the right decision on where to play and to find the best bonuses. Most player portals advertise bonuses but ultimately provide recommendations based on their opinion, without any sound basis for stating that one bonus is "better" than another. Players care about value and don't like being deceived and this analysis aims to bring to light the true value of a bonus.
ThePOGG simulated over 350 welcome bonuses (with almost 200 reports still to be published) to determine the value of each bonus for low rollers, mid rollers, high rollers and super high rollers. These figures are then provided so players can get an accurate assessment of how good a bonus is for them once all of the terms and conditions and their own playing style is taken into consideration.
This project was undertaken in partnership with BeatingBonuses using a tool developed
several years ago for the
assessment of bonuses, but has been implemented in a way intended to replicate various categories of normal player. Each simulation repeats the bonus 10 million times then takes the average result to provide a value for each player type.
The new feature focus on delivering what the users wants immediately with a focus on making the information quickly accessible and understandable to the user, highlighting the important data points to ensures optimum user experience. The site has been redesigned with the goal of providing players with unique and highly useful information in a format that is quickly and easily understandable while letting the player know about all the additions services offered by ThePOGG. This is a unique system that provides users with information available nowhere else.
"Our new bonus reporting system is one of the most important and useful features we've ever put together. I'm extremely proud of the results and genuinely feel that once again ThePOGG is leading the market by offering a service that is both exceptionally useful to players and entirely absent anywhere else. I have absolutely no doubt that this will quickly become a 'go to' resource for many player"  Duncan Garvie – Manager and ADR Official for ThePOGG.com
To see all of the welcome bonuses rated you can visit thepogg.com/welcome-bonuses/ which shows the complete list of casinos with their bonuses with their rating for every type of player: lower roller, mid roller, high roller and super high roller. You can adjust the type of player and currency setting to reorder the list to show the best bonuses for your playing style.
About ThePOGG
ThePOGG.com is not your average online casino portal as the site pride's itself on having a critical eye when it comes to casino reviews and having the toughest standards for recommendations. ThePOGG is one of the fastest growing casino portals around and continues to add value and services to players to help them make the most informed decision on where to play.
Some of the standout features of ThePOGG includes their Casino Complaints and Dispute Mediation service where they are also accredited ADR by the United Kingdom Gambling Commission. The site also has terms and conditions monitoring service which offers customer protection from retroactively changed terms and conditions. They also offer a unique service to players which is their Deposit Guarantee Seal to refund a player's deposit if a casino recommended by them is found to treat a player unfairly. The Casino Reviews listed on ThePOGG.com are the most rigorous and robust to be found in the industry.  They give honest and accurate reflections of the services provided by online operators and most importantly for player peace of mind: placement and recommendation on ThePOGG.com can NEVER be influenced via improved revenue deals.
Meet the first four speakers of Kyiv iGaming Affiliate Conference!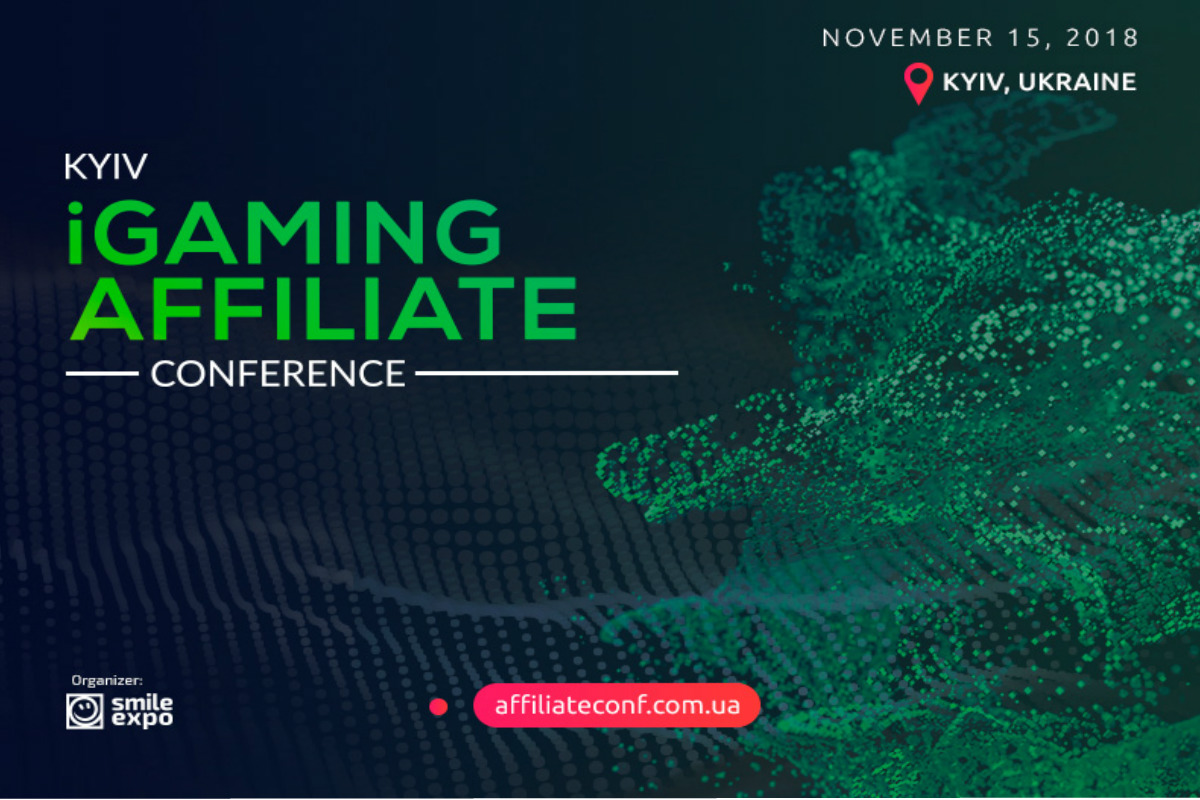 Speakers of Kyiv iGaming Affiliate Conference: discussion of gaming affiliate programs and traffic in Russian and foreign networks
On November 15, Kyiv will host iGaming Affiliate Conference. The industry representatives will discuss the latest gambling and affiliate marketing trends as well as take an opportunity to establish new business partnership within the networking area. Meet the speakers of the event that have already confirmed attendance. They are e-business professionals and world-class experts on affiliate marketing.
The event will gather representatives of iGaming business and affiliate marketing. The platform consists of a conference, an exhibition, and a networking area. It will take place at Vsi. Svoi D12 (12 Desatinna St.), a popular center of cultural and business life in the city's old town section.
Conference: space for expert's presentations addressing affiliate marketing and iGaming.
Exhibition: a venue for iGaming representatives from across the globe. The companies will present software and hardware products.
Networking: business representatives will enjoy the enjoyable atmosphere with a VIP zone available to special guests.
Conference speakers and their presentations
iGaming is a highly competitive niche, which has to be taken into account while developing marketing strategies. Vladimir Luchaninov, Head of Acquisitions at Firelink Media, will tell about the pitfalls of eSports affiliate programs and provide the criteria of affiliate program choosing. He will also touch upon the challenges of risk assessment as well as advise on how to reach the highest profit from an affiliate program.
Kostiantyn Novofastovsky, Head of ClickFrog, will also cover the peculiarities of gaming websites. In his presentation titled 'Buying traffic in gambling. How to avoid bots', the speaker will feature the popular resources and compare CPM banners with ClickUnder.
Dmitry Petrenko, Head of SEO at Edu-cash.com Ukraine, will dwell on promotion in foreign networks. The speaker took part in website promotion to top positions in the U.S., Canada, Germany, Austria, and the CIS. He will reveal the secrets of leadership on foreign competitive websites emphasizing on grey promotion and organic traffic.
Myroslav Liaskovez, Founder at LeadMarketing and an author of the online course 'Facebook Without the Fluff', will shed light on traffic arbitrage techniques in social networks. The attendees will have a chance to find out about the frequent mistakes made by beginning arbitrage managers and effective advertising strategies for Facebook.
New speakers are coming soon! Visit the website Kyiv iGaming Affiliate Conference to follow the announcements.
Register to keep up with the trends of gambling affiliate marketing.
Login Casino raffles one VIP ticket for Kyiv iGaming Affiliate Conference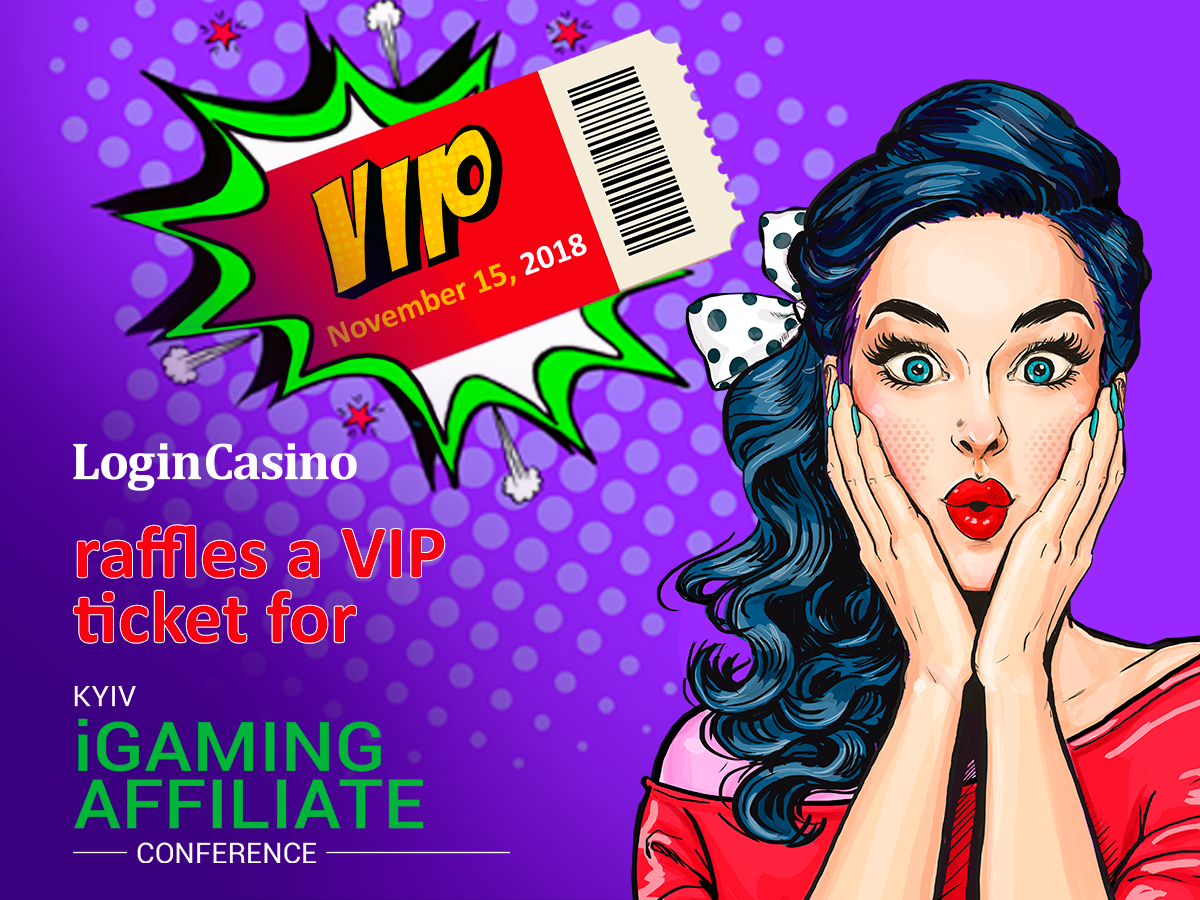 Login Casino, the media gambling-sponsor of Kyiv iGaming Affiliate Conference, is raffling a free VIP ticket for the event.
The conference will be held on November 15 at a popular local platform TAO Event Hall, Kyiv, Ukraine. In order to take part in the raffle one has to fill in the registration form on the Login Casino website, having indicated the name and e-mail address from 9.10.2018 to 04.11.2018. The winner will be determined on November 5 via a random number generator.
The VIP ticket includes:
separate registration at the entrance;

comfortable VIP zone with the best level of service and networking opportunities;

access to both conference and exhibition area;

access to the after-party;

gifts from the event organizers.
What is going to be at the conference:
Both local and foreign experts of the sector will take part in the event. The conference will bring together iGaming business representatives as well as stakeholders of the affiliate marketing industry – one of the most accessible ways of brand promotion. The platform will give the visitors and speakers the opportunity to get new business contacts and listen to a number of useful reports.
During the event, the industry experts will take the floor in section № 1. They will cover the following topics:
revenues from the affiliate programs;

correct paid traffic redirection to gambling website;

which resources outside of the Runet can be useful for operators;

how exactly the work for the World Wide Web is carried out and many more.
The special guest for the event is the head of the advertising traffic audit service ClickFrog.ru Konstantin Novofastovsky. He will dwell on how a successful gambling-related traffic purchase is carried out as well as about the most popular traffic channels to gambling websites. The expert will also explain how to avoid bots, what to choose – CRM-banner or ClickUnder and many more.
One more speaker at the platform for presentations in section № 1: Conference will be Vladimyr Luchaninov, Procurement Director at Firelink Media. He will explain the criteria for choosing an affiliate program, which risks and pitfalls can be connected with it.
The event organizer is an international company Smile-Expo.
Register: https://bit.ly/2QE5peS
Betsson Group Wins Top Online Gaming Affiliate Award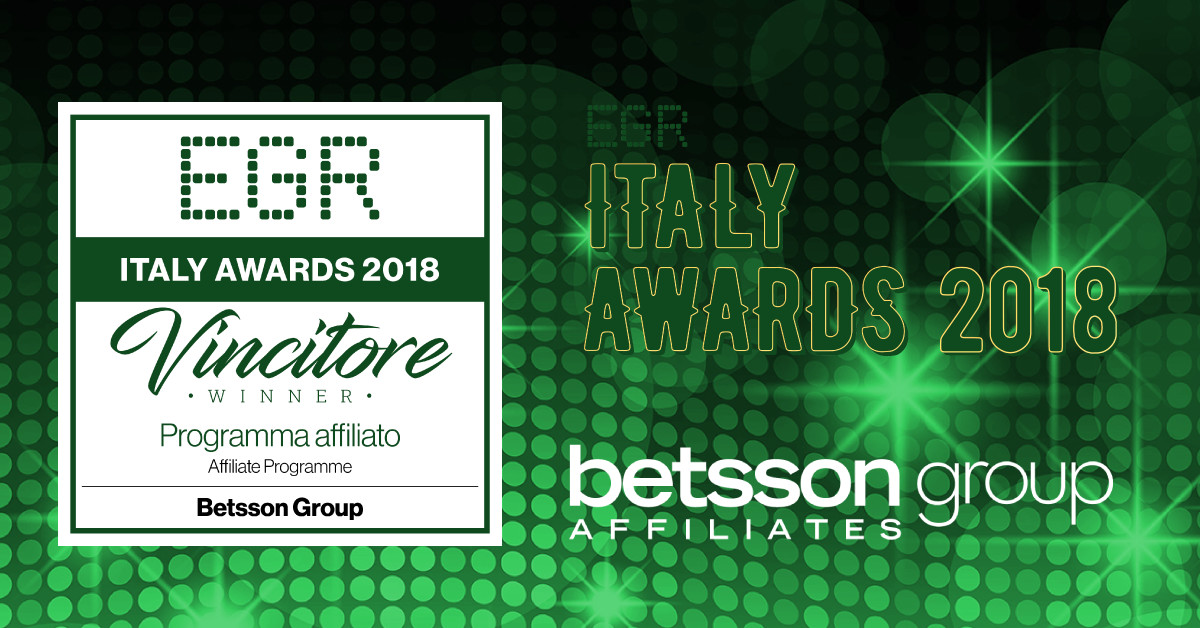 Betsson Group Affiliates – Best Affiliate Programme – EGR Italy Awards 2018
Betsson Group is proud to announce that it has received one of the highest accolades when it comes to the online gaming affiliate arena, with its affiliate offering named 'Best Affiliate Programme 2018' at the prestigious EGR Italy Awards.
Hosted at Aldrovandi Villa Borghese, in the heart of Rome, the fifth edition of the EGR Italy Awards brought together the largest online gaming operators and service providers operating in the Italian market. This is the first time that the EGR Italy Awards has introduced the 'Best Affiliate Programme of the Year' category, meaning that Betsson Group is truly leading the way with its affiliate programme in the Italian market.
Jesper Svensson, CEO for Betsson Group said, "We're very proud to receive this award as the entire team has worked really hard to deliver excellence in everything that we do. It's encouraging to see that the efforts done behind the scenes in offering our affiliate partners the highest possible level of service are being recognised.
Our multi-region and multi-brand offering gives our affiliate partners unrivalled flexibility to promote what works best for them and this award proves that our affiliate management teams are doing an amazing job."
To learn more about the award-winning affiliate partnerships programme by Betsson Group, visit www.BetssonGroupAffiliates.com.
About Betsson Group
With 17 brands, including Betsafe.com, Betsson.com, NordicBet.com and CasinoEuro, offering Sportsbook, Casino and other games, Betsson Group is one of the world's largest gaming groups, at the heart of entertainment for over five decades. The company's vision is to provide the best customer experience in the industry – listening to, and learning from, its customers, and then exceeding their expectations. Betsson Group is wholly owned by Betsson AB – listed on Nasdaq Stockholm Large Cap.