How to Keep Online Casinos Users Interested: Advice from Christina Thakor-Rankin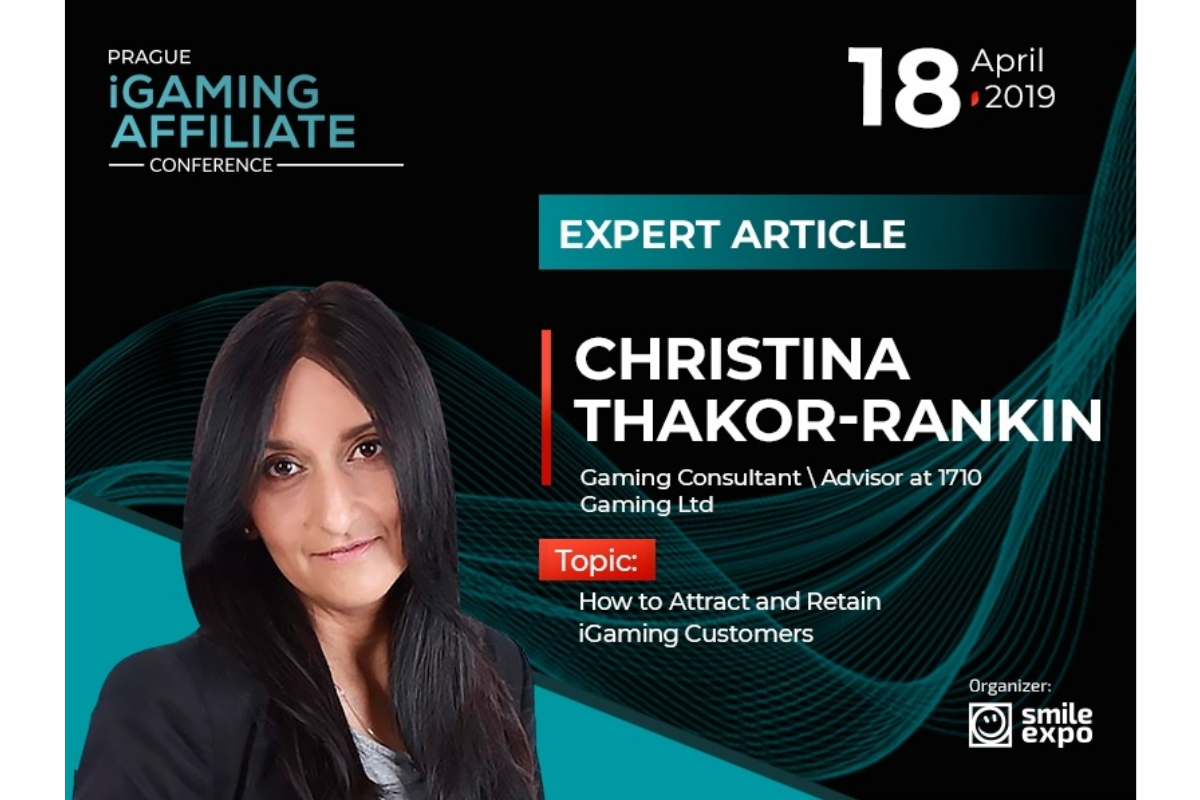 According to the Conversion portal, the gambling market increased by €4.3 billion in 2018, and its volume would grow by €3.9 billion in 2019. It means that the industry competition will become even higher. Therefore, it is quite important for online casino owners not only to attract new gambler, but also to retain the current ones. Well, what methods are the most efficient in this regard?
Tools for Retaining Online Casino Clients
The high-return gambling industry allures new companies interested in the expansion of their audience to the market. To attract and retain customers, online casino owners develop comprehensive marketing strategies allowing to fulfill players' demands. One widens a range of casino offers, provides maximum transparency of transactions and access security, as well as adds new ways of withdrawals and major loyalty programs.
There are several efficient and, most significantly, legal tools that help to engage clients and encourage them to return to the resource again and again.
Christina Thakor-Rankin, a Leading Gaming Advisor at 1710 Gaming Ltd. and expert in betting, gaming, and gambling industries with 25 years of experience, has shared her opinion of how gambling online resources can retain steady clients.
Christina Thakor-Rankin will become a speaker at the Prague iGaming Affiliate Conference – event about affiliate marketing in online gambling by the company Smile-Expo, which will take place in the Czech Republic on April 18. The conference will gather top marketers, gambling sphere experts, affiite programs representatives and online casinos operators.
Special Offers, bonuses and loyalty programs
Appealing special offers include non-deposit games, registration bonuses, and cashback in case of losing. Such prizes and bonuses should be optimized for both new clients and regular visitors. Also, it is important to remember about loyalty programs with well-defined rules.
Christina Thakor-Rankin believes that exclusive customer specific deals and offers, and loyalty programs that offer a proper reward are the most efficient tools to retain online casino customers.
"We now live in a world where customers are always looking for the next thing. Being aware of this means we can stay a step ahead by making sure that we keep developing what we do."
The reason for exclusive customer specific deals and offers is simply to mirror what customers get from other digital service and product providers, believes Christina. According to the expert, it refers to recommendations based upon historic activity, and it works for casinos and gambling sites.
Loyalty programs which really do reward regular customers with something meaningful are also important. Christina explains that it could be points which can be converted to cash or rewards in the form of gifts.
"For example, one of the casinos I use sends a small box of chocolates or a voucher on St Valentines' Day or my birthday. Another one rewards regular logins with random free cash, spins or gift drops."
However, expert shares that she probably wouldn't advocate traditional deposit bonuses, as regulators are starting to take action on this and it's a little bit boring.
Constant Product Expansion
The more diverse and high-quality games the platform provides, the more players the resource will get.
The specialist is sure that the first thing to attract players is always product, as if a product is no good, clients won't stay.
"As an industry we've struggled with the next generation of players (the Millennials), and logic says that if we miss them, we will probably miss the next generation as well unless we start doing something about it now."
Christina says that the problem seems to be that the new generation which has grown up in a fully interactive world does not seem to be so interested in a two-dimensional casino game. So, there has been some experimentation with VR and skill-based gambling to look at how we bridge the gap, but it should still be better developed.
"Until we get there, I think that more successful casinos will provide as much as possible to offer something for everyone and tailor products accordingly."
Here the expert explains that some types of slots work better in different parts of the world, for example, fairy tale games work well in Europe but mean nothing to customers in emerging markets. At the same time, virtual sports are taking off in West Africa, but connectivity and cost of data mean it hasn't gone online yet.
Push Notifications, Spam and Black SEO
Push notifications, special emails for registered clients, can inspire players for action and offer to place a bet.
Here, Christina believes that spam and black SEO are not as efficient as they used to be. She explains that customers are now far more aware of the tactics used by digital companies to push themselves up the rankings or get their products and services in front of them.
"It is not important if it is white hat or black hat, and improved spam filters help to ensure that even legitimate emails end up being blocked."
The specialist says, it is only a matter of time before regulators step in, further reducing the effectiveness of traditional affiliate tactics.
"We also need to be aware that traditional SEO is now slowly but surely being superseded by voice – what used to be Google is fast becoming Alexa or Siri and this poses some interesting challenges but also some very interesting opportunities for new forms of affiliate activity."
Artificial Intelligence and Big Data Analytics in Online Casinos
Talking about AI and big data, Christina mentions that knowledge is power.
"The more we know about our customers, the better we understand their behavior, their motivation, their preferences, so, the better we can serve them."
AI and data science have already started to take on the role of an "affiliate" on some websites, explains the expert, talking about recommendations for purchases, products or content based upon customers' activity.
Christina believes data science and machine learning are just taking the principles of customer segmentation and CRM and automating them on a bigger scale. "What will be key is how applications interface and interact with customers," says Christina.
Role of Affiliate Marketing
"Affiliates as we think of them in the world of gambling are really a child of the internet," explains Christina.
According to the expert, currently, we've gone from internet to mobile, voice and virtual and projected reality. There was also a huge shift in regulation: an open internet market has become more restricted. Christina says that keeping in mind the need to limit exposure to gaming content until age has been verified and a new generation whose interest in casino is lower than previous generations, we see that life for online casino affiliates gets much harder.
"That does not mean they don't have a role to play – the question will be whether the role is that of an affiliate or of an advocate and influencer."
At the Prague iGaming Affiliate Conference, Christina Thakor-Rankin will deliver a presentation on the topic: From Affiliate to Influencer – engaging the iGeneration.
Learn more about affiliate marketing from the experts.
Use the promo code SAVE30 and get 30% discount. The amount of tickets is limited.
Details about the event and registration are on the website.
1xBet to share vision for betting's future at iGB Live!/iGB Affiliate Amsterdam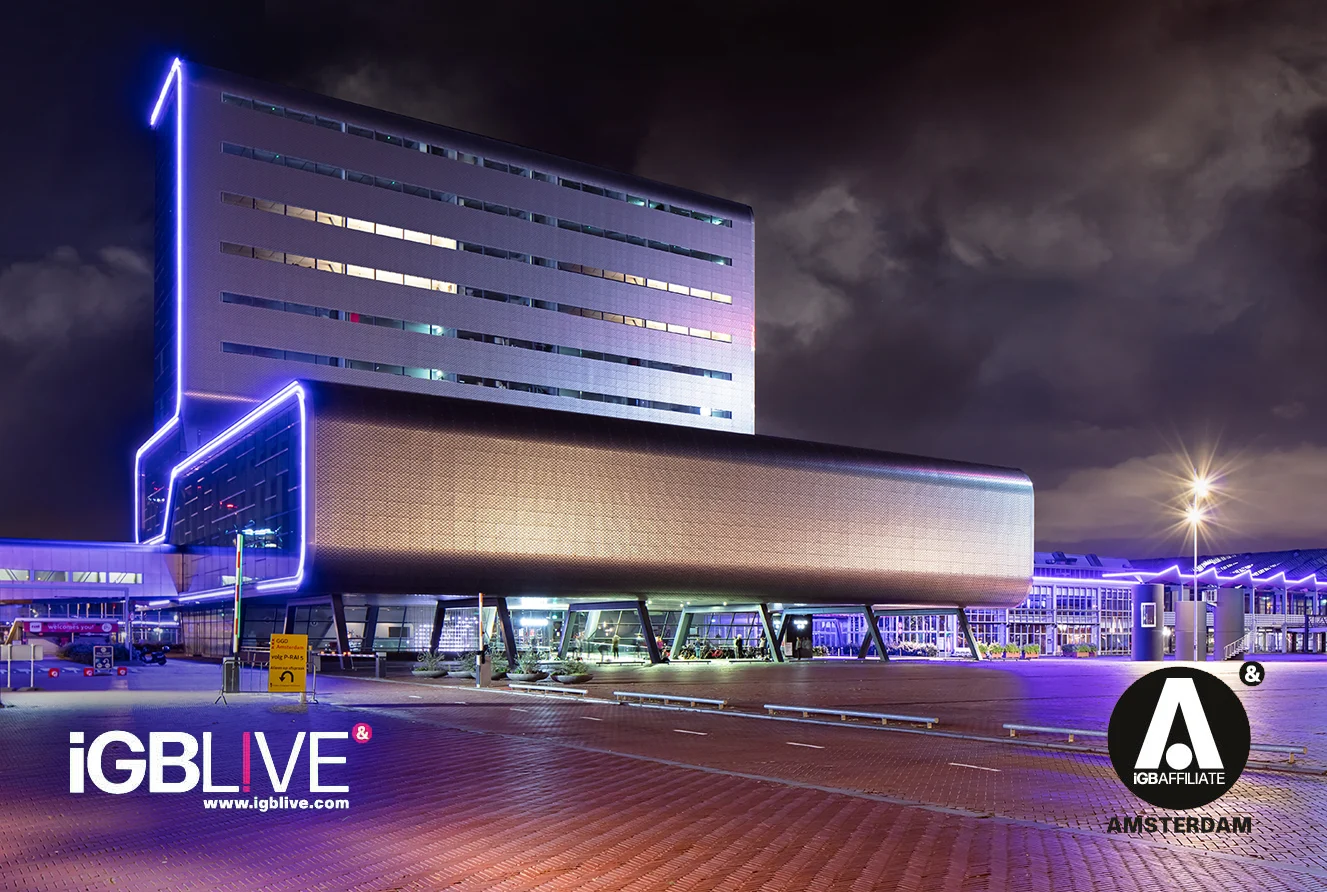 'A glimpse into the future and a chance to see what the industry will be like tomorrow' is how Alex Sommers, Director of Affiliate Marketing at 1xBet, described the opportunities that he believes will be available to visitors attending the forthcoming iGB Live!/iGB Affiliate Amsterdam which is taking place across 28 September – 1 October at the RAI, Amsterdam.
The leading online brand which is the Diamond Sponsor for the affiliate event series, believes the long gap between major in-person gaming events has made industry professionals hungry for knowledge and networking. He explained: "We are confident that brands will be looking to the future. There was a long pause between major exhibitions, and we're all clearly gathering here for big plans. And given that such a variety of companies will be represented in one place, it seems that we will discuss all aspects of the betting industry in general. Starting from the work undertaken by brands during the conditions that were in place last year, and ending with the new challenges that will face us."
Presenting a compelling and passionate case for in-person and the reasons why the industry will be out in force at the Amsterdam-based shows, he argued: "Of course technology allows you to arrange a call with partners on the other side of the world in just a couple of clicks, but we are convinced that live interaction is a much more enjoyable method of communication. We are all human beings who enjoy interacting, communicating and meeting at events such as exhibitions.
"Moreover, at large events, there is always a festive atmosphere and the whole scale of the industry is felt. These emotions cannot be conveyed in the same way via virtual meetings. We've made big plans and look forward to meeting old acquaintances."
The focus is firmly on partnerships both existing and new. "Many meetings with current partners are planned plus we also expect to meet new faces – all the time discussing interesting proposals and ideas ' he stated.
"Exhibition days are challenging but incredibly interesting. Our staff get up early in the morning and return late at night. And in the meantime – dozens of meetings and negotiations are planned. Such events help to unite our team even more, we get to not only know our competitors better but also ourselves. Therefore, we look at iGB only in the most positive way. We look forward to our trip to Amsterdam and invite everyone to chat and discuss partnership opportunities with us. There are very specific areas in which we will act, but we like to keep our cards close to our chest – what we can divulge now though is that people will be pleasantly surprised as we share our vision of innovations that will be introduced in the field of betting!"
Last Chance to Join Zurich iGaming Affiliate Conference: Event About Online Gambling Operations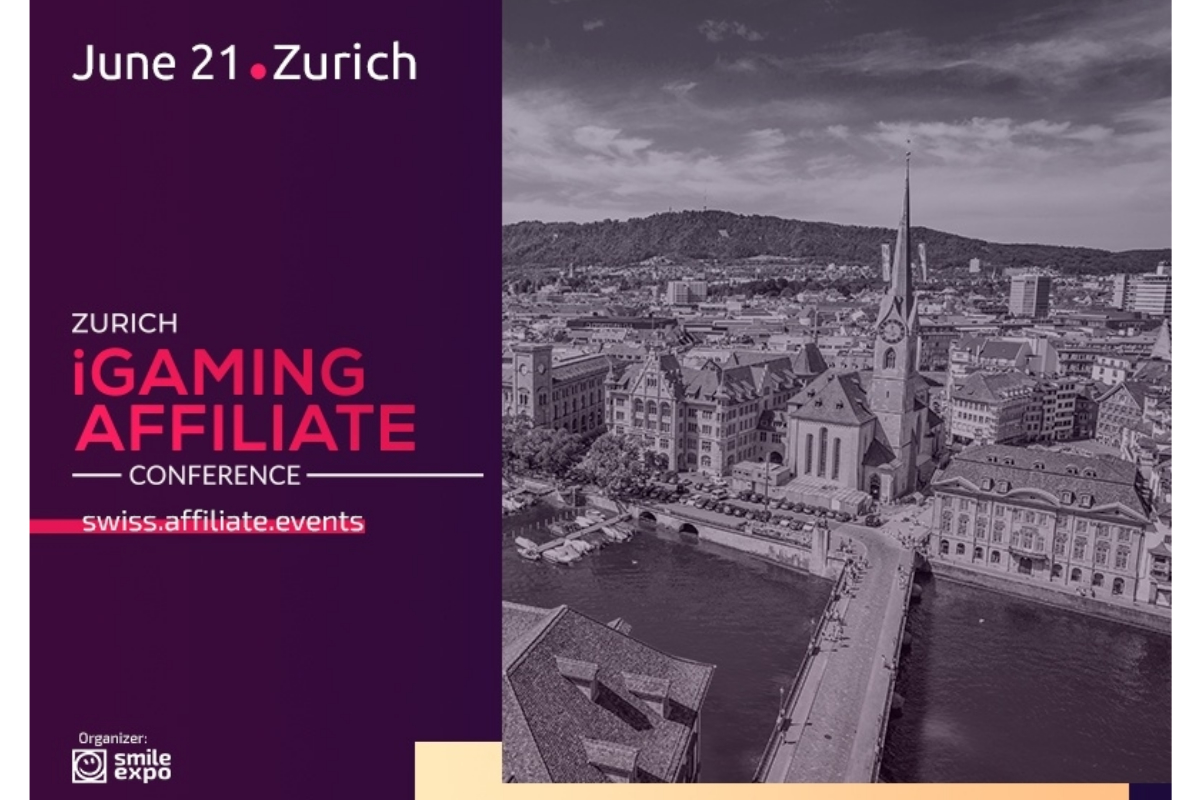 On June 21, an international event company – Smile-Expo – will hold Zurich iGaming Affiliate Conference. It is Switzerland's only event dedicated to online gambling operations and online project promotion using affiliate marketing.
The event will be a platform for sharing experience and establishing cooperation between online casinos and land-based gambling venues.
Conference speakers and participants
The specialized event will bring together representatives of the offline and online gambling industry. It will be attended by casino managers, betting providers, SEO specialists, lawyers, affiliates, and digital agencies from the USA, France, Germany, Greece, Liechtenstein, Luxemburg, and other European countries. They will introduce their companies holding leading iGaming market positions. They include: ORYX Gaming, PartnerMatrix, Endorphina, Red Tiger, Lucky Labz, Rombet, Federbet, Global Bet, Buffalo Partners, Astrea, Expozive, PLANZER LAW, etc.
Top industry experts will make relevant presentations on legal aspects of business operations, company performance optimization, and brand promotion.
Francesco Baranca: general secretary at Federbet. This Belgian non-commercial association combats fixed matches and supports betting companies and their customers.
Dan Iliovici: a specialist in business planning, management, and PR. He is former President of ONJN, the Romanian gambling authority, and Vice President at Rombet.
Robert Toth: has more than 10 years of experience in the iGaming sector. Currently, he is Key Account Manager at Global Bet, the largest independent provider of virtual sports.
Reuben Portanier: a professional with executive management experience in gambling, consultancy, technology, and finances. Director of Business Development at GTG Advocates and Founding Partner at Afilexion Alliance. These companies provide legal and consulting services. The speaker is also Co-Founder and Director at Caledo.
Joe Ewens: journalist and author of many materials dedicated to gambling. Now, he is a managing editor at GamblingCompliance, a provider of an independent legal, regulatory and business analytics in the global iGaming sector.
The conference will be followed by the Talks&Drinks party. Participants will be able to discuss critical issues as well as find new business partners and investors to implement future projects.
Location and organizer
The conference will take place at Sheraton Zurich Hotel. The registration of participants will start at 9:30 a.m.
The event is organized by Smile-Expo, a company that has been conducting international specialized В2В and В2С events for 13 years.
Hurry up to buy a ticket at the 20% discount! You should just use a promo code: PR20. Register to the conference right away.
Event details are available on the official website of Zurich iGaming Affiliate Conference.
Celebrating the International Workers' Day: 30% Discount on Zurich iGaming Affiliate Conference Tickets!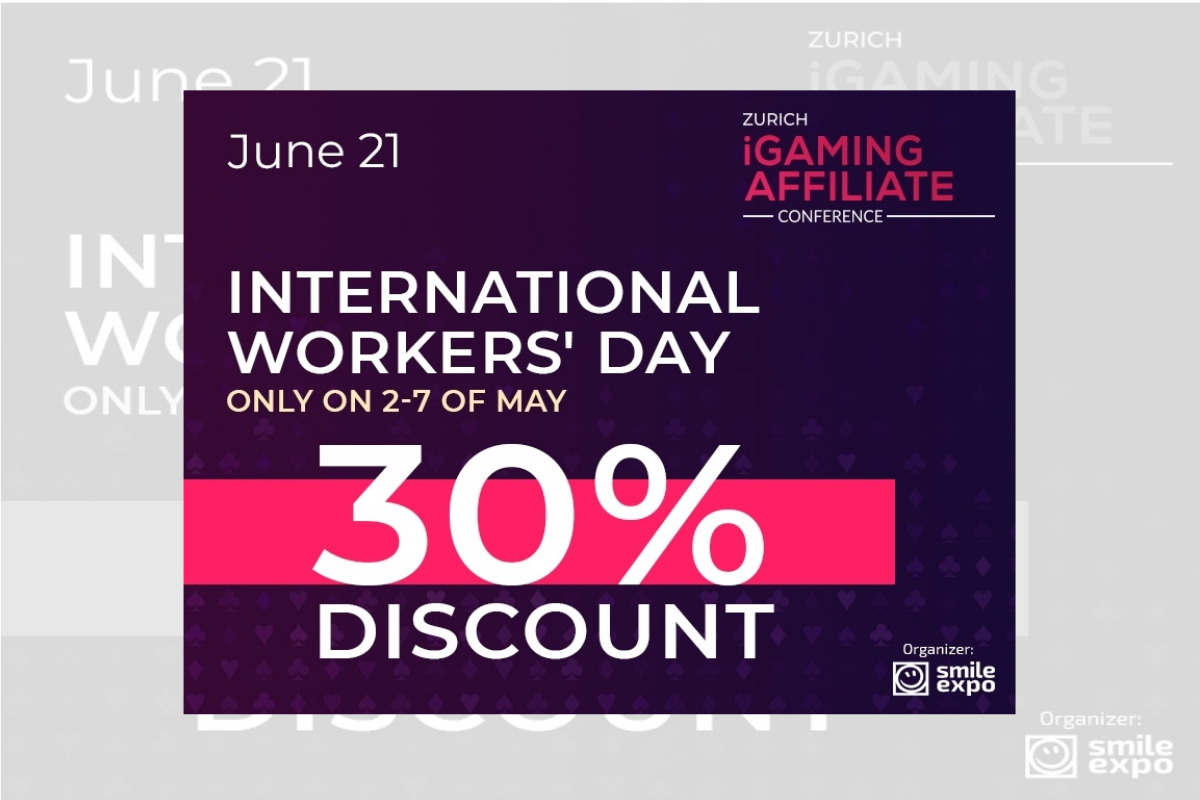 The organizer of the Zurich iGaming Affiliate Conference offers 30% discount on the tickets to the event about affiliate marketing in the online casinos industry.
Only on May 2-7:
Price with the discount: 210 EUR.
Common price: 300 EUR.
Zurich iGaming Affiliate Conference is the event about the affiliate programs in the gambling and betting industry which will take place on June 21 in Switzerland.
The conference will gather online casinos operators, marketers and affiliate experts, as well as legal specialists and industry regulators. Invited speakers will discuss gambling laws, strategies to attract online players, and casinos' experiences in different markets.
Don't miss the lucrative offer and learn more about the marketing in the gambling business at the event!
Get a discount >>>