Win One Bitcoin Every Month With #JackMate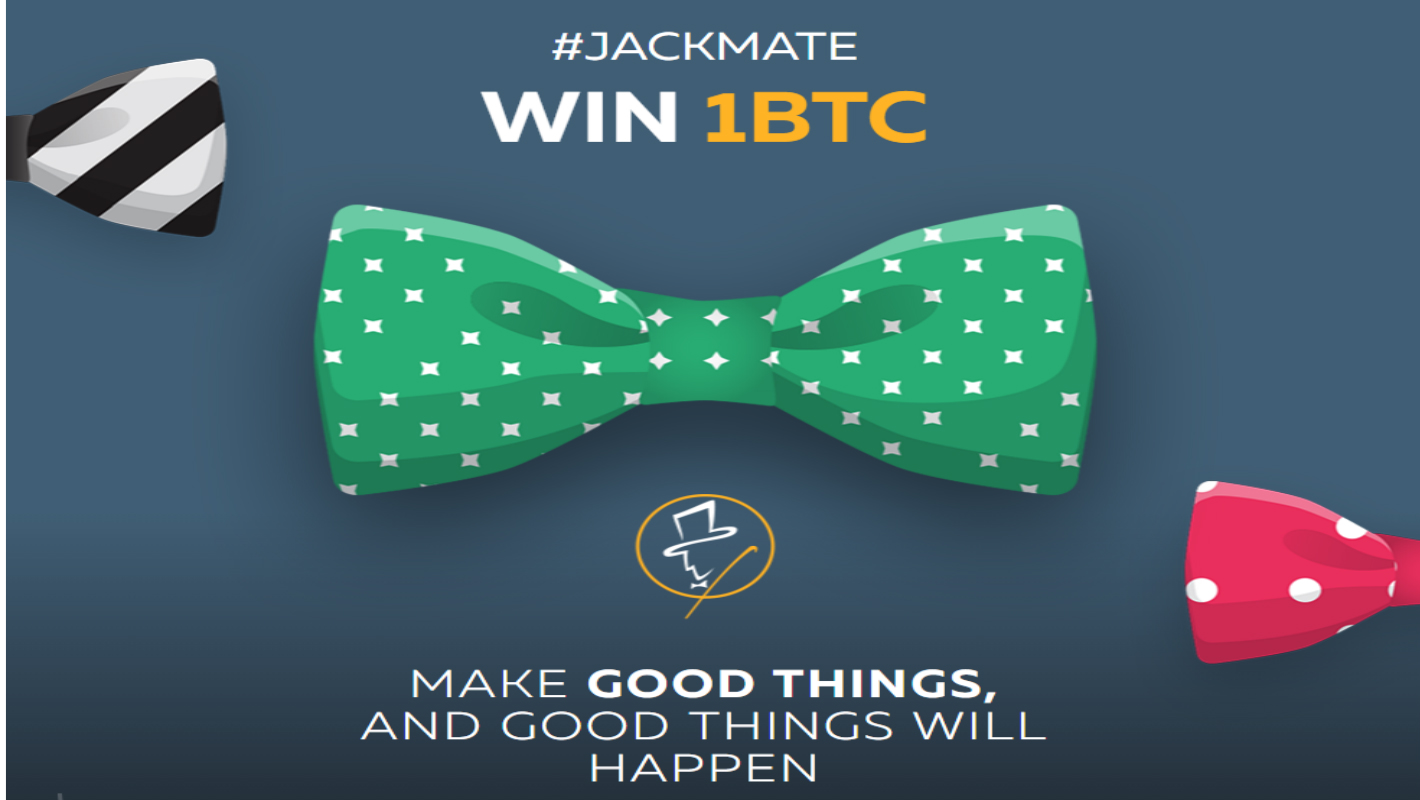 FortuneJack is giving away ONE FREE BITCOIN every month until August, and winning is easy…
In an effort to unite and reward the global crypto-community for its important role in the growth of cryptocurrencies in recent years, FortuneJack are giving away one bitcoin a month! All you need to do is create a buzz around cryptocurrencies, whether on or offline.
How Do I Win?
To stand a chance of taking home a prize each month, each participant can share a brief explanation of their project in the related Discord thread on the FortuneJack channel – share the link or full post and don't forget to include the hashtag #JACKMATE.
When it comes to what to do to gain the attention of the community, the options are endless!

Follow these steps to get your project noticed:
Step 1: Create a buzz in the crypto-community – on or offline
Step 2: Use the hashtag JACKMATE and share your content on Twitter
Step 3: Share your influential content on the FortuneJack Discord Channel
Step 4: Stay tuned every month to find out if you're the lucky winner

The unique influencer with the standout initiative will be chosen by the FortuneJack team and the winner's name will be announced on the FortuneJack blog, Facebook and Twitter pages, as well on the Discord channel.
On 31 March, FortuneJack's panel of judges will choose one lucky crypto-community member and reward them with one whole bitcoin based on the activity, creativity, and reach of their crypto-project, whether on or offline.

Here's why FortuneJack is so excited about this giveaway:
Founder and CEO of FortuneJack, Jaba Dolidze says: "Since our inception in 2014, FortuneJack has been at the forefront of offering the crypto-community the latest games, currencies and easiest cash-out systems, all while remaining closely engaged with our players. Four years later, we want to thank our community of loyal fortune-chasers and cryptocurrency advocates for their dedication to the community and for sharing with us the vital feedback that's helped us grow to one of the leading cryptocurrency casino's globally."

What You Can Do with One Bitcoin
At the time of publishing, one bitcoin is valued at $10,813.50 – a good amount to put directly into your pocket! One Bitcoin could also get you 12.32 Ethereum or 11, 527.36 Ripple coins!
Take a look at the table below to see how many of the top five altcoins you could take home with your newly won Bitcoin:
| | | | |
| --- | --- | --- | --- |
| Currency | $ Coin Value | £ Coin Value | Bitcoin Trade in Value |
| Ethereum | $877.22 | £6314.85 | 12.32 |
| Ripple | $0.938072 | £0.68 | 11, 527.36 |
| Bitcoin Cash | $1,241.20 | £893.50 | 8.71 |
| Litecoin | $216.43 | £155.80 | 49.96 |
| NEO | $136.98 | £98.61 | 79.07 |
Additionally, you could:

Take a holiday and pay for flights and hotels with your bitcoin with Expedia, CheapAir, and Surf Air

Download movies, games and app-based services from Microsoft

Buy music from artists who allow you to download their music for bitcoin

Buy a slick piece of furniture for your home at Overstock

Trade your bitcoin for gold and take home over 8 ounces

Earn more bitcoin with FortuneJack and other crypto-friendly gaming sites
Keep an eye out for the announcement after 31 March to find out the first lucky winner of ONE WHOLE BITCOIN! If you don't win this month, don't be discouraged – FortuneJack will be giving away one bitcoin each month up until August.
About FortuneJack
Fortunejack.com is developed by a highly talented team with twenty years' experience in the gambling industry. FortuneJack have an incredible portfolio of work, encompassing Eastern Europe's leading casinos, including brick-and-mortar venues and online sites.
Our sites are developed and maintained by the region's top software professionals: this allows us to offer you today's best, most secure, most innovative games, combined with a fun atmosphere for pros and newcomers alike.
Terms and Conditions
The JackMate promotion is available to all cryptocurrency enthusiasts except FortuneJack employees, family members, and affiliated partners.

The winner will be credited to their FortuneJack account. If the winner doesn't already have a FortuneJack account, one will need to be set up in order to withdraw the funds.

Players participating in the JackMate campaign must be 18 years and older.

Applications that contain disrespectful or insulting content, either of a racial, ethnic, sexual, or discriminatory nature will not be considered for the final prize and will additionally be removed from FortuneJack's discord server.

The deadline for applications for the campaign is 31 March 2018, and the winner will be announced shortly after deadline.

FortuneJack reserves the right to release winner information as they see suitable.

Any account suspected of being linked to another account will be ineligible to win the campaign prize. Should FortuneJack suspect that linked accounts have both claimed this bonus, both accounts will have the winnings removed from the accounts.

Players will be informed when any changes are made to the terms and conditions by means of communication on the official FortuneJack blog and discord channel. FortuneJack reserves the right to make any non-material changes to the terms and conditions at any time, without any prior notice.

When any disputes arise, the decision of FortuneJack management will be final.

By choosing to take part in the JackMate campaign, the applicant also agrees to take part in any publicity should they win the FortuneJack prize. All personal data is strongly protected, however FortuneJack reserves the right to use a player's nickname, first names and the initial of their last name in any promotions.

The winner will be selected by a special jury comprising of FortuneJack's management and marketing teams, as well as cryptocurrency consultants.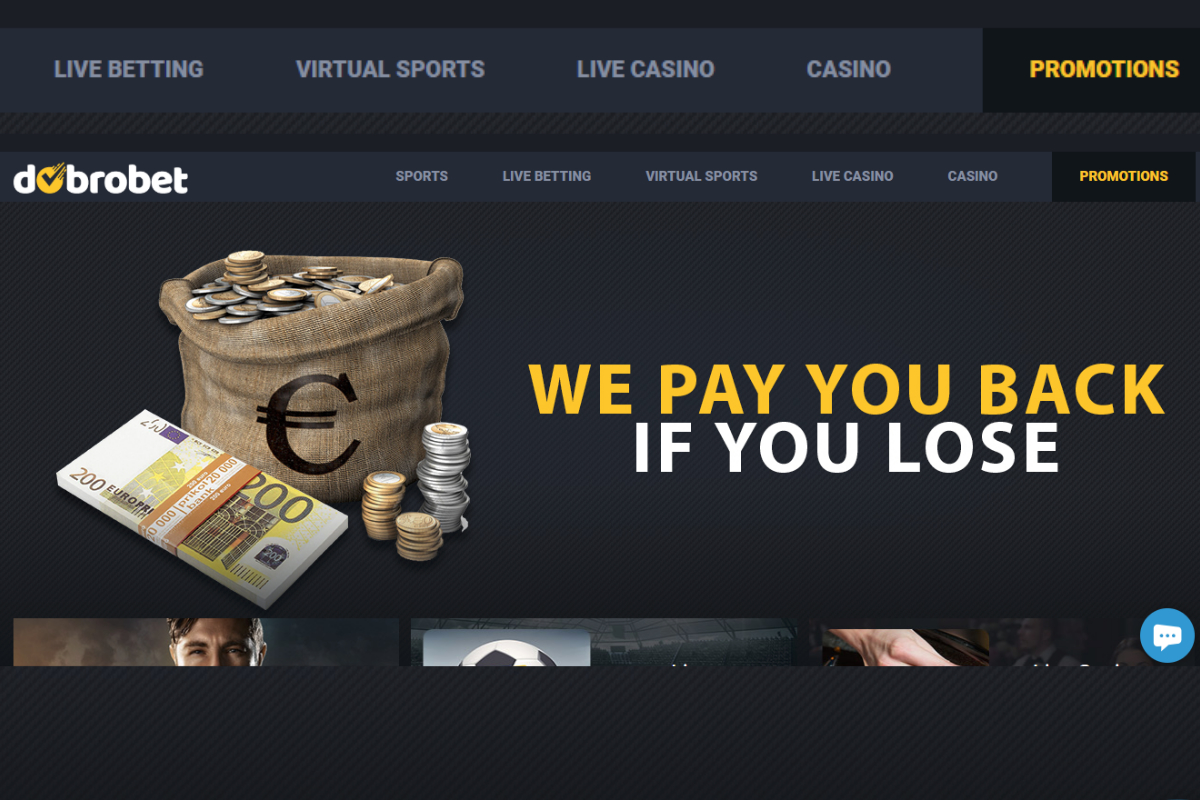 Below you can read an email received by us, from one of our readers, who tells us his story with Dobrobet!
We've decided to publish the original text, as we received it without any further changes:
"I'm their first customer. I have all confirmation about it (chat transcripts and e-mails). My account verified, and I have already recieving payouts from them. Than I've recieved promo e-mail from them. I came to their live chat and asked, what offer available for me. They offered me 100% reload up to 500 eur. Terms were not publiced anywhere and I asked what are terms of my offer. I've recieved answer: "The terms are the same like for Sports Welcome Bonus". I accepted it, deposited 500 eur and started to play. Yesterday I log in my account and saw, that all money dissapeared (about 1900 eur). I've asked them in live chat. They told that it is expired because this bonus only for 14 days.But in terms for Welcome Bonus told about 30 days. They confirmed that it is their error, but they can do nothing. Also they confirmed that terms not publiced anywhere and I couldn't find it. By their error I've lost all money. May be you can help me? Here is some quotes from our chat. Have fun! 
02.10.2018
[17:33:25]Visitor: : I've recieved e-mail from you with first deposit bonus. Is it available for me?
[17:34:01]Lara: : Please, give me your username
[17:34:08]Visitor: : ***
[17:34:16]Lara: : Sec please
[17:34:24]Visitor: : ok
[17:37:56]Lara: : Mr. ***, you can use Reload bonus up to 500 eur
[17:38:15]Lara: : Min. deposit is 100 eur. The terms are the same like for Sports Welcome bonus
17.10.2018
13:24:34]Visitor: : show me where can I find 14 days?
[13:24:57]Tina: : It was an honest mistake, my colleague forgot to mention that difference.
[13:25:29]Visitor: : your colleagur forgot and I've lost 2000 eur.
[13:25:31]Tina: : It is not visible on web page because that bonus is special offer for loyal customers."
Dobrobet is owned and operated by Dobrobet Entertainment Limited and Dobrobet Entertainment EOOD, a company registered in Bulgaria with the registration number 204875371. With their headquartes being at the address: Antim I Str., BL. 2, Entr. 3, Sofia, Bulgaria 1303.
Dobrobet is licensed as Dobrobet Entertainment Limited in Curacao under the license 365/JAZ Sub- License GLH- OCCHKTW0704032018: http://www.gaming-curacao.com/validation/dobrobet-entertainment-limited/
Income Access to Exhibit at Inaugural Lisbon Affiliate Conference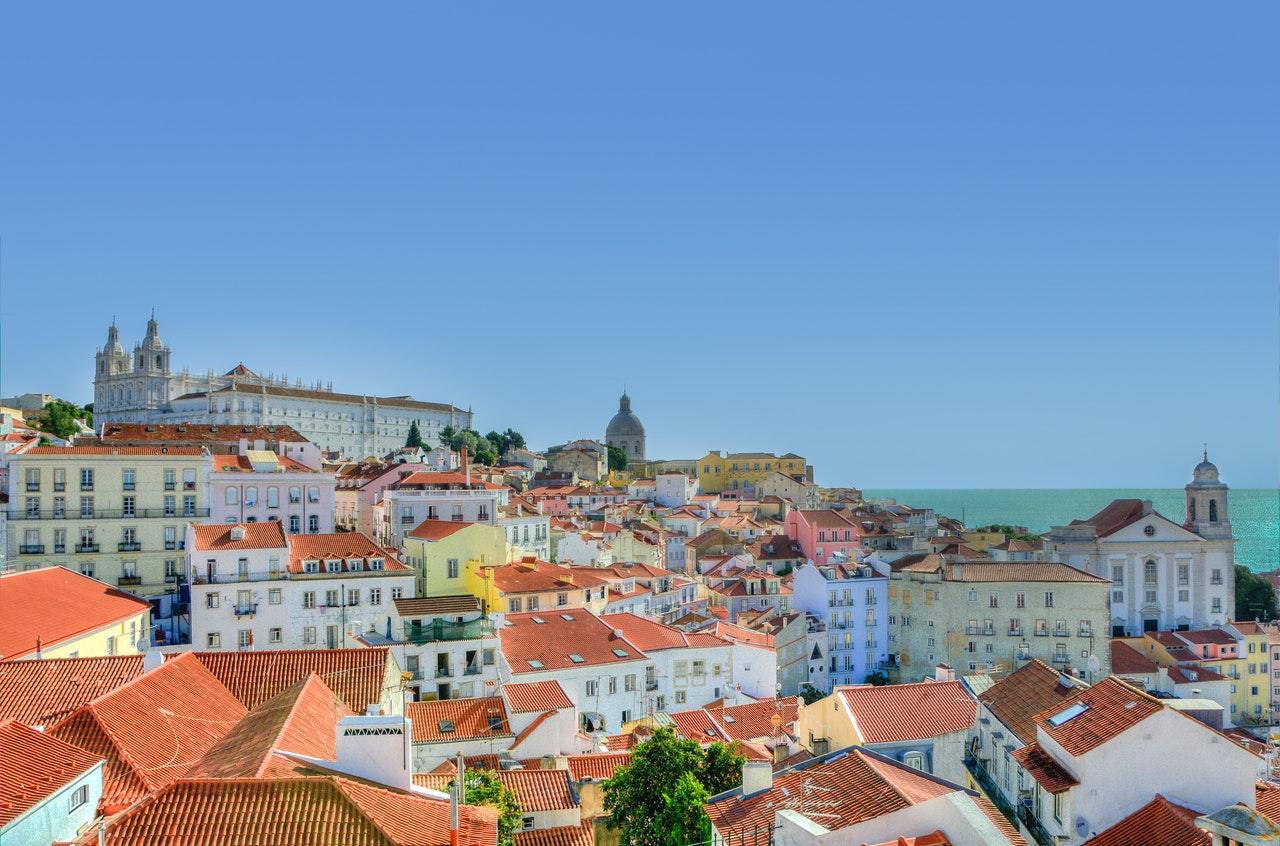 Paysafe Group's marketing technology and services provider to present array of strategic solutions at annual Autumn conference in Portuguese capital
Income Access, Paysafe Group's marketing technology and services provider, will exhibit at the inaugural Lisbon Affiliate Conference (LiAC), held at the Feira Internacional de Lisboa (FIL) from 17th to 20th October 2018. After being held in Berlin for the last three years, the annual Autumn affiliate conference is moving to Lisbon with the stated objective of opening the conference up to the region's local affiliates and facilitating their attendance.
Exhibiting at LiAC Stand C50 with other Paysafe Group companies, NETELLER, Skrill and paysafecard, the Income Access team in Lisbon will include Vice President of Strategy Sarafina Wolde Gabriel, Director of Marketing Erica Anderson, Head of Account Management Geoffrey Smorong and Global Head of Sales Jonathan Vintner. The team will provide demos of Income Access' technology products, including its affiliate platform, Ad Serving tool and mobile app-tracking solution.
Income Access will also showcase the company's diverse suite of digital marketing services for iGaming operators and financial brands attending LiAC. From dedicated affiliate programme management, media buying and search engine marketing (SEM) to app store optimisation (ASO) and content marketing, these services saw the company win its fourth-straight eGR North America 'Acquisition and Retention Partner' Award in June.
Senior members of the company's in-house affiliate and account management teams will be meeting with leading affiliates and operators already using the Income Access platform as well as building new relationships with prospective partners. The team will also be promoting the Income Access Network, iGaming's longest-serving independent affiliate network, to affiliates and operators alike.
Tara Wilson, General Manager at Income Access, Paysafe Group, said: "We're very much looking forward to this year's conference and are excited to see what the move to Lisbon has in store for all attendees. The Autumn affiliate conference is always a great opportunity for our team to touch base with current partners, meet new industry players and gain first-person insights on emerging trends that can help us build corresponding products and services."
To schedule a meeting with the team in Lisbon, please contact Income Access.
About Income Access
Founded in 2002, Income Access is a digital marketing and technology company with an independent affiliate network. It specialises in providing affiliate marketing and digital marketing solutions to regulated iGaming, lottery, land-based casino and financial trading companies. Through its award-winning marketing software and a partnership-centric approach, Income Access delivers comprehensive data and strategic insight on marketing campaigns across all digital and offline channels.
In September 2016, Income Access was acquired by Paysafe Group, the company behind the digital wallet brands NETELLER and Skrill. Income Access is partnered with over 300 brands worldwide. These include: Betfred, Bet Victor, BGO Group, Caesars Interactive, Danske Spil (Danish national lottery), ETX Capital, GAIN Capital, IGT's Lottomatica, Ladbrokes Coral, Jackpotjoy, Michigan Lottery, Pennsylvania Lottery, Pinnacle, Sportingbet, Tote Ireland, and TwinSpires.
Follow Income Access on Twitter / LinkedIn / Facebook / Press Room / Content Hub
About Paysafe
Paysafe is a leading global provider of end-to-end payment solutions. Its core purpose is to enable businesses and consumers to connect and transact seamlessly through industry-leading capabilities in payment processing, digital wallet, card-issuing and online cash solutions. Delivered through an integrated platform, Paysafe solutions are geared toward mobile-initiated transactions, real-time analytics and the convergence between brick-and-mortar and online payments. With over 20 years of online payment experience, a combined transactional volume of US $56 billion in 2017 and approximately 3,000 employees located in 12+ global locations. Paysafe connects businesses and consumers across 200 payment types in over 40 currencies around the world. For more information, visit www.paysafe.com.
Follow Paysafe on Twitter / LinkedIn / Google + / stories.paysafe.com
The Much Anticipated AskGamblers Awards Voting Phase Is Finally Underway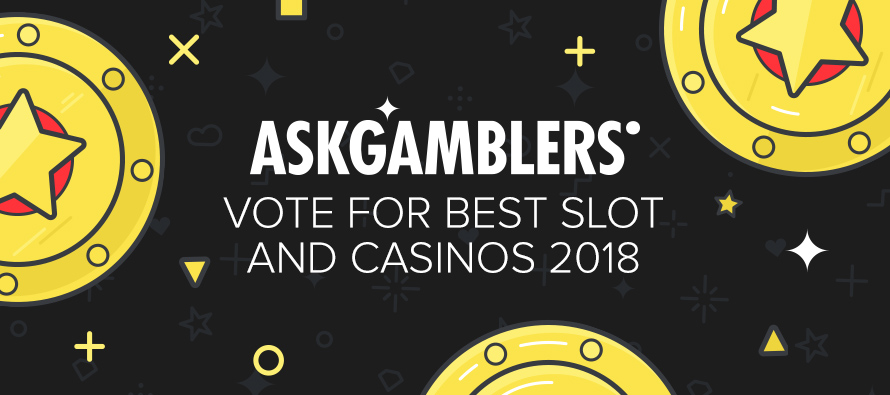 While the preceding nomination period brought us a list of ten finalists in three major AskGamblers Awards categories, the second phase is all about voting and getting one step closer to finding out who the winners will be.
As the AskGamblers Awards nomination period officially ended on the 30th of September, 2018, it gave way to the voting phase. Namely, starting with the 1st of October, 2018 players have been able to cast a vote for their favorites in three major categories: Best Casino 2018, Best New Casino 2018 and Best Slot 2018.
The voting polls will be open until the 17th of January, 2018, when the winners will be announced live at a spectacular gala event in Belgrade, Serbia. Until then it will be possible to choose one out of 10 final contenders in each category, thus helping AskGamblers proclaim the best online casino in the iGaming industry, best new online casino and best online slot released in the year 2018.
To find out which casinos and slots are the finalists in the race and, more importantly, vote for your favourites in the three categories, make sure you visit the AskGamblers Awards voting page and have your opinion be heard. Good luck!
About AskGamblers
AskGamblers, officially the Best Casino Website in 2016, provides the most trusted, unbiased online casino, slot, and bonus reviews. It also features real player opinions and ratings highly valuable in the iGaming community. Thanks to its unique Casino Complaint Service, over $18.8 million has been turned to players thus far. Get the truth, then play!