Affiliate marketing on the rise in Latin America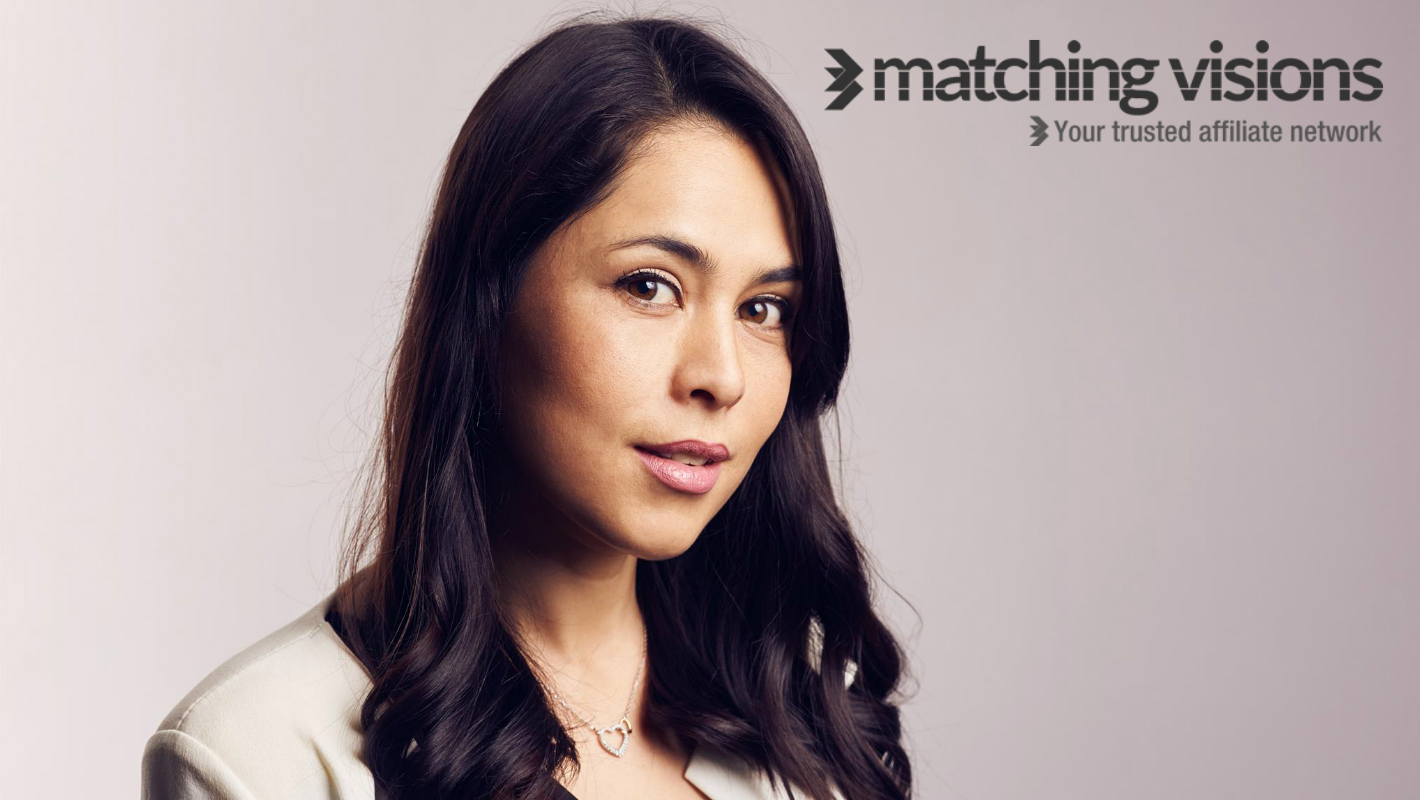 They are passionate, they are fanatic and they love gaming – this is Latin America in a nutshell.
Due to recent developments, the Latin American iGaming-market has received a growing interest of late. With Colombia becoming the first country to approve a regulated online-gaming market in 2016, the latest trends indicate that more countries will follow. Market leading games developer NetEnt recently signed a customer agreement with Caliente, Mexico's largest online casino in their regulated market. This is yet another huge step towards more doors opening for both operators and affiliates alike.
Experts believe that it will not take long before more Latin American authorities realize the benefits of the added tax income and job opportunities that a regulated online gaming market will provide.
Thanks to great advancements in technology, Latin American gamers have quickly developed a huge interest for online gaming. The surge in the use of smartphones, especially among young people, means that online gaming operators now have a strong advantage over land-based casinos.
The Latin American region has a population of over 600 million people and online operators are constantly finding new ways to tap into this market. Some of Europe's biggest operators have already made their presence known, especially in countries like Mexico, Colombia and even Brazil.
As the number of operators increase, affiliate marketers have more brands to advertise. The number of affiliate marketers around Latin America are still relatively few and this means that there's plenty of room for new affiliates to stake their claim.
This is why Scandinavian affiliate network Matching Visions have their sights set on conquering Latin America in 2018. Mexican international Jimena Gamboa Baragaño, was recently added to the Matching Visions team and they are now preparing to travel West and start building relationships with the Latin American affiliate crowd.
With so many countries being potentially just months away from regulation, this is the perfect time for affiliates to educate themselves in this market, Jimena adds. CEO and CO-founder Dennis Dyhr-Hansen, added that the timing couldn't be better, especially with the upcoming football World Cup this summer.
Matching Visions Operations Manager, Andreas Lilja went on to say that trust is the key to any affiliate relationship, especially in the iGaming sphere. Hence, our initial aim will be to simply establish contact with affiliates and operators alike.
Lately, Matching Visions have been keeping busy with developing and running a Latin American affiliate site of their own, http://onlinecasinoguia.com/, aimed at educating players about the best brands in the region.
Will 2018 be the year where iGaming in Europe and Latin America come together? Only time will tell!
Credits:  Jimena Gamboa Baragaño
iGB Affiliate announce One Hundred Shoreditch as new HQ Hotel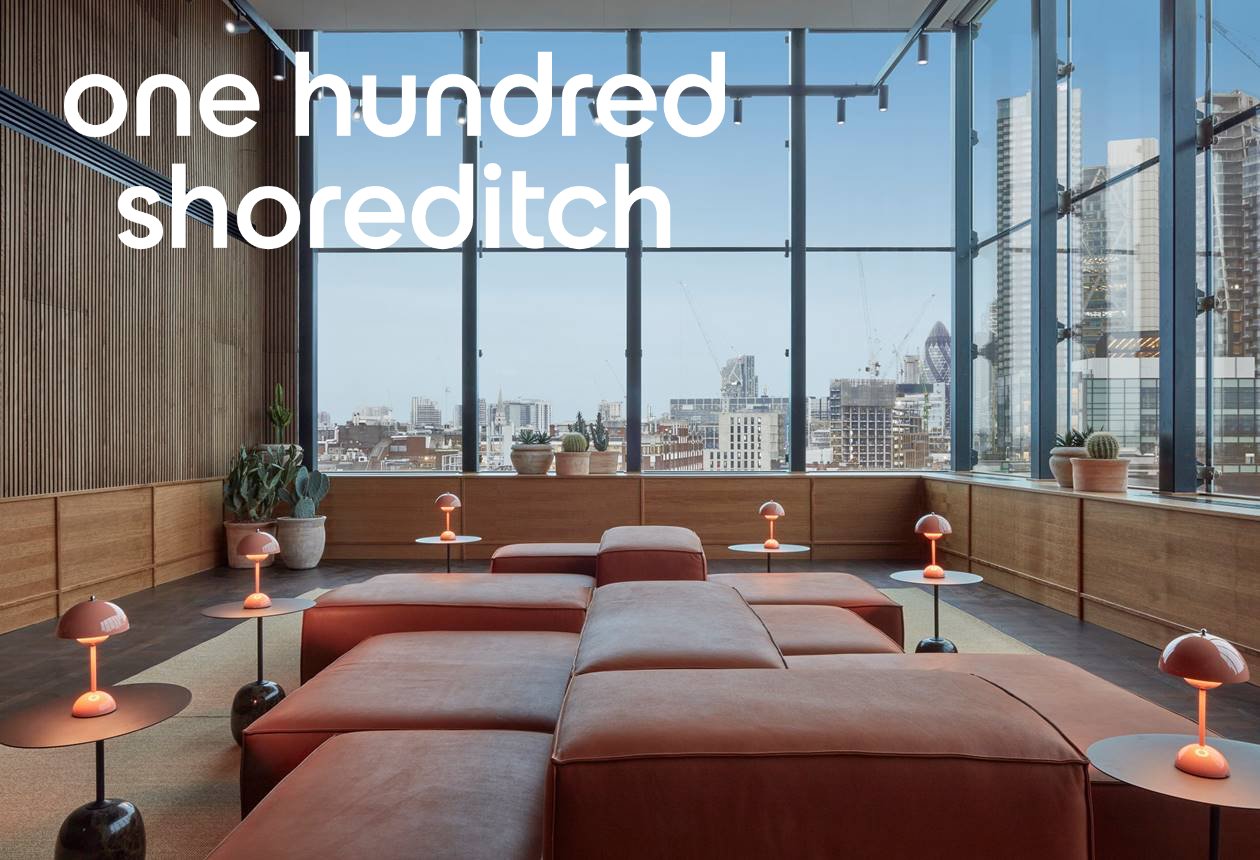 The organising team responsible for iGB Affiliate has announced One Hundred Shoreditch as its new HQ Hotel for February's event (6-9 February, ExCeL London).
Located in a prominent position on fashionable Shoreditch High Street, One Hundred Shoreditch is an acclaimed independent 258 room hotel offering a choice of places to eat and drink including Seed Library, an attractive rooftop bar and terrace offering panoramic views of the London skyline, a coffee shop, and the Lobby Bar which hosts a curated programme of weekly DJs alongside £10 cocktails. The venue offers five meeting and event spaces including the floor-to-ceiling glass One Hundred Room.
Announcing the new HQ Hotel, iGB Affiliate's Naomi Barton said: "We were looking for a hotel close to ExCeL and that would connect with the unique personality of the Affiliate community.
"I have to say that One Hundred Shoreditch could have been designed with affiliates in mind! It's as sassy as hell with great facilities, a roof top bar with amazing views of East London and it's situated in the social heart of the vibrant East End. The bedrooms and suites provide headspace and calm in contrast to the energy of the ultra-cool hotel bars.
"I am confident One Hundred Shoreditch will resonate with show attendees – it will allow guests to socialise, network and hang out together, continuing the unique iGB Affiliate experience.  We have secured 150 rooms which will be allocated on a first come, first served basis, so book now and don't miss out on the chance to be with your peers and friends!"
She added: "The 2024 edition of iGB Affiliate will be the last held in London prior to our relocation to Barcelona the following year. As a consequence, there will be an iGB Affiliate 'Farewell to London' party like no other and we will be celebrating alongside our sister show ICE to ensure that we deliver something exceptional. The farewell party, iGB Affiliate Awards and our new Hotel HQ are all part of the social and networking opportunities which are pivotal to the show experience and make iGB Affiliate so special".
'The future now' creative heralds opening of iGB Affiliate registration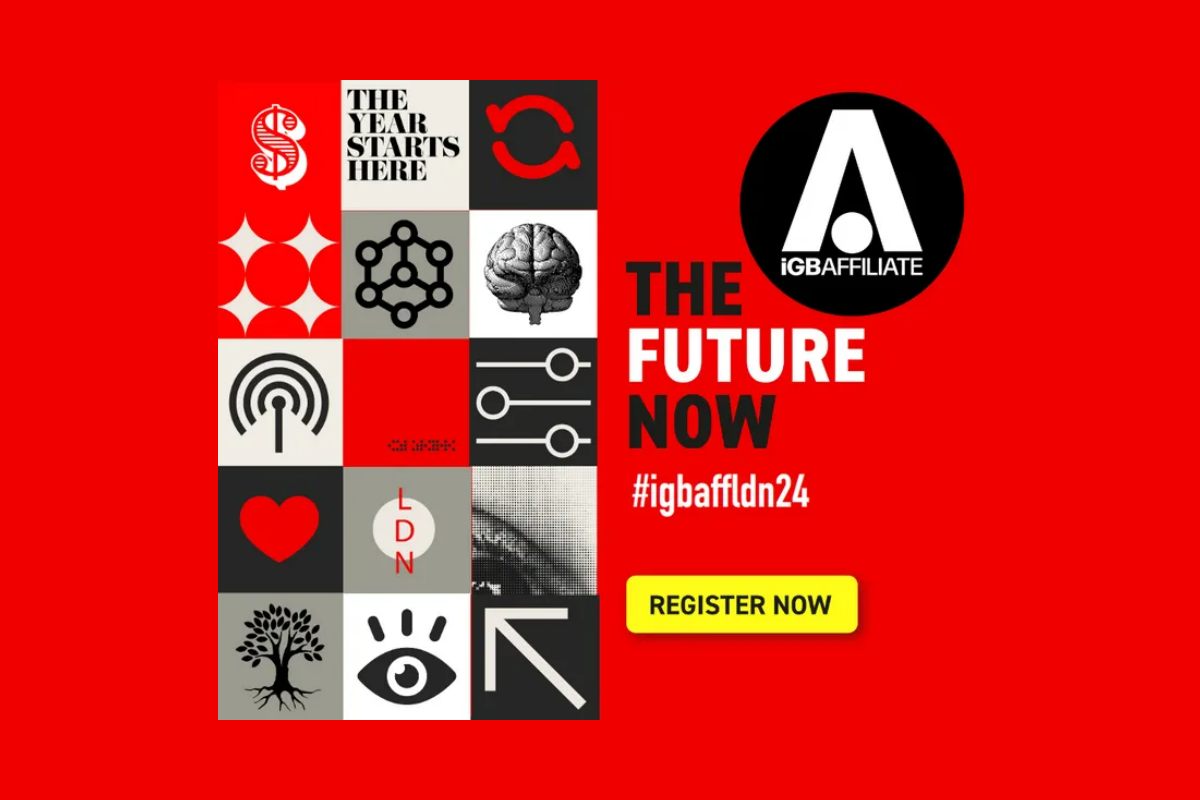 Clarion Gaming, organisers of iGB Affiliate has adopted 'The Future Now' as its creative proposition to help drive participation in the industry-leading show which takes place across 6 – 9 February at ExCeL London. Registration for what will be the last edition of iGB Affiliate to be held in London prior to its relocation to Barcelona in 2025
Clarion Gaming, organisers of iGB Affiliate has adopted 'The Future Now' as its creative proposition to help drive participation in the industry-leading show which takes place across 6 – 9 February at ExCeL London. Registration for what will be the last edition of iGB Affiliate to be held in London prior to its relocation to Barcelona in 2025 has opened at https://london-igbaffiliate-2024.reg.buzz
Explaining the background to the campaign creative iGB Portfolio Director Naomi Barton said: "The Future Now was inspired by our customers and broader stakeholder community who during a comprehensive engagement programme told us that they viewed iGBA as the place where the industry's brightest and best come together to define the future of the industry.
"For so many of our stakeholders the future starts at iGB Affiliate which represents their most important business opportunity of the year. The event messaging captures the pioneering spirit of the industry and reflects iGBA 's status as the home of the iGaming Affiliate community. Our commitment is to connect the right people and the best opportunities, providing the fuel that keeps the industry moving forward."
Looking ahead to what industry professionals will experience at iGBA 2024 Naomi Barton added: "We will be building on the iGB INTRODUCING facilitated onsite networking 'hub' to make connections that count and create excitement about the future that they will unlock. As the ONLY exhibition that's focused purely on igaming affiliation every connection made at show is going to lead somewhere. In terms of content the Pulse Stage will focus on future markets, future tech and future opportunities.
"As this is our last year in London, there will be an iGB Affiliate 'Farewell to London' party like no other – and we will be celebrating alongside sister show ICE to ensure that we deliver something exceptional.
"For anyone involved in igaming the 2024 event is not to be missed: the new-to-show tech vendors we will be showcasing will help our audience to stay ahead of their competitors, and provide inspiration and new products being demonstrated by the circa 200 exhibitors expected at our farewell to the London edition of iGBA."
For more information and to register to attend iGB Affiliate 2024, 6-9 February, ExCeL London:: https://london-igbaffiliate-2024.reg.buzz
Alpha Affiliates Set to Shine at SiGMA Europe 2023 – An Event You Don't Want to Miss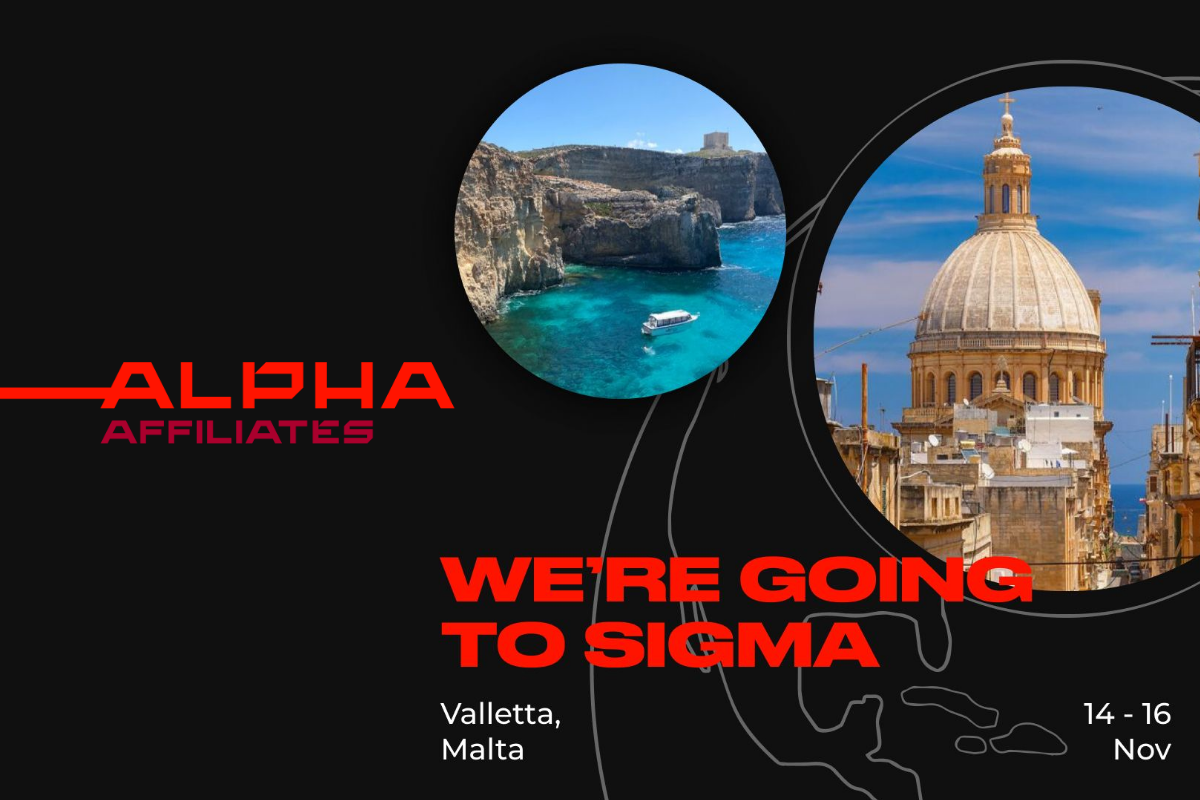 Alpha Affiliates, the leading direct advertiser for the iGaming industry, is excited to announce its participation in the highly anticipated iGaming event of the year, SiGMA Europe 2023. As a rapidly growing force in affiliate marketing for iGaming operators worldwide, Alpha Affiliates will showcase its latest innovative offerings and unveil plans ahead at the prestigious conference, taking place in Malta from 13th-17th November.
Their attendance comes following significant growth, achieving over 15,000 partners across more than 50 countries, and over 2,000,000 players worldwide. The company, which witnessed a 20% upsurge in new partners this year, now looks to strengthen their international network at SiGMA Europe, networking with top affiliates at the heart of the iGaming world.
Attendees can stop by booth 2147 in the MMH Malta to meet the Alpha Affiliates team, learn more about the company's vision and values, discuss new partnerships and take advantage of networking opportunities. The team will also be offering affiliates an exclusive preview of the company's cutting-edge affiliate platform, along with its suite of performance marketing tools, designed to boost conversions and achieve outstanding results.
Event Details:
Event Name: SiGMA Europe 2023
Date: November 13-17
Venue: Mediterranean Maritime Hub (MMH Malta)
Booth Number: 2147
Website: https://sigma.world/europe
Alpha Affiliates will be bringing the fun to SiGMA Europe at their two-storey stand, hosting happy hours in the lounge bar with signature cocktails, providing a fully stocked coffee bar for a pick me up during the event, and running prize giveaways with cash and merch prizes up for grabs at Alpha Affiliates' cash machine.
Boris P, Head of Affiliates at Alpha Affiliates, comments "We are thrilled to connect with fellow innovators and showcase our affiliate programme on the world's iGaming stage. SiGMA Europe brings together the best and brightest in the industry, and we look forward to forging new partnerships and networking with key other stakeholders at the forefront of the rapidly evolving affiliate marketing landscape. Together, we'll explore new horizons and drive the future of iGaming and affiliate marketing"
SiGMA Europe 2023 represents the next step in the company's ambitious growth plans as it connects with more partners and sets its sights on the future.