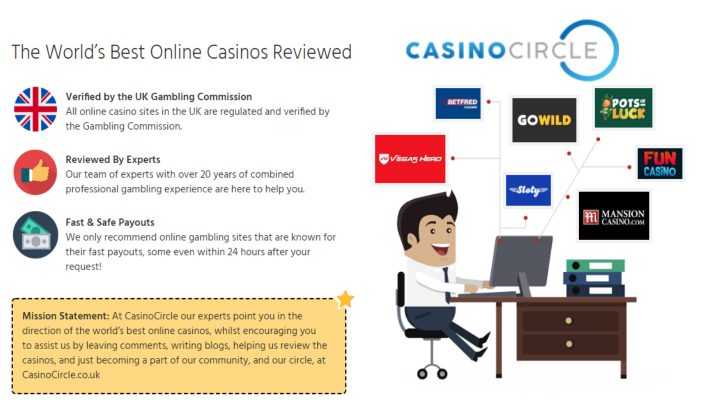 New Online Gaming Comparison Website Launched
CasinoCircle.co.uk have officially launched a brand-new, fully independent casino review and news website featuring some of the most recognisable names in the gambling industry.
CasinoCircle.co.uk, who are solely targeting UK players, already offer over 50 casino reviews and 60 game reviews across their platform, along with a rolling news section and extensive blog.
In April the review site collaborated with movie blog Bttm.co.uk and have featured on 90min.com in May.
"It's great to finally get the project off the ground after all the hard work our team have put into it," says Will Haswell, CasinoCircle's Commercial Director.
"For a while now we've been under the impression that there was a true gap in the market for a casino review site which was fully independent and offered first-class, engaging and trustworthy content. And that's exactly what we've created with CasinoCircle.co.uk."
Big hitters like Betfred, Betfair and Mansion all feature on the recently launched site along with the more up-and-coming brands like Pots of Luck, Vegas Hero and GoWild.
On the blog, there are already detailed articles about responsible gambling, op-eds about the National Lottery, and historical pieces about poker and baccarat.
Meanwhile, the news section is also consistently updated, which provides the latest insights into what is happening across the gambling landscape.
"We want to change the game," says Haswell. "We don't just want to be an intermediary for gamers. We want to be a comforting place for people to spend their time learning about how to get better at blackjack, where they can educate themselves about how poker became so popular, or where they can just enjoy themselves by playing one of our cool quizzes.
"We don't want to be the middleman. We want to be the trusted friend."
About CasinoCircle.co.uk:
Established in 2018, CasinoCircle.co.uk was created by experts who have worked with some of the internet's biggest casinos for over 20 years. Featuring the freshest and hottest brands in the industry, CasinoCircle.co.uk diligently ensures that the casinos they feature are fully licensed by the UK Gambling Commission and offer a safe-haven for the gamer to enjoy their free time.
Related
folder_openAssigned tags
content_copyCategorized under
About author