Esports Entertainment Group Signs Affiliate Marketing Agreement with GOLeague, An International Esports League and Community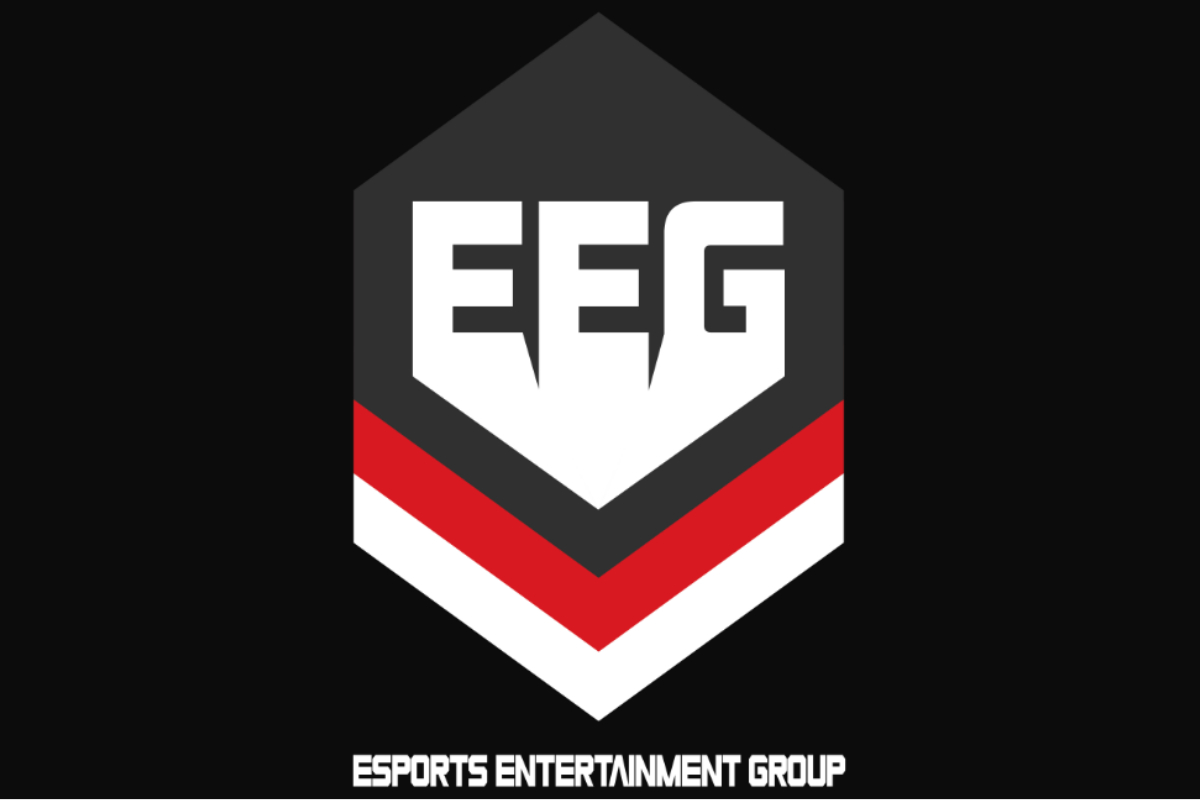 Esports Entertainment Group, Inc. (GMBL: OTCQB) (or the "Company"), a licensed online gambling company with a specific focus on esports wagering and 18+ gaming, is pleased to announce the signing of an Affiliate Marketing Agreement with GOLeague Int. Gaming, a multilingual esports league and community for the games Counter-Strike: Go (CSGO), PubG and League of Legends.  As one of the largest CSGO leagues in Germany, this agreement is another milestone for VIE.gg, the world's first and most transparent esports betting exchange.
Founded in 2017, with the specific goal of supporting and developing esports throughout Europe, GOLeague is the first public league for every skill group in CSGO and League of Legends, attracting 11,000 visitors per day.  The total prize money for their upcoming season has been set at €10,000. As a result of this Agreement, the Company expects to add approximately 350 CSGO matches per month to VIE.gg for GOLeague users to wager.
GOLeague is working with VIE.gg on an exclusive basis for the following reasons:
1.  The VIE.gg P2P model is much more attractive because an esports fan always wins, as opposed to a "house" model where odds are heavily stacked against fans.
2.  VIE.gg is the first and most transparent esports bet exchange as a result of Esports Entertainment Group being a fully reporting SEC issuer in the United States.
3.  Player safety features built into VIE.gg create a fun but responsible esports betting experience for fans. For example, players must choose their maximum bet amounts when they initially sign up with VIE.gg. Any subsequent increase to those levels requires a 30 day cooling off period to make sure players do not get carried away.
4.  The recent addition of pool betting is a further extension of the P2P model, which allows groups of opposing fans to wager against each other when their teams go head to head.
5.  Given the fact some esports fans bet on esports, GOLeague users will be provided with a safe platform that also supports the organization.
GOLeague stated, "In contrast to other German leagues, we are the only one who uses their own anti-cheat system and uses it successfully. We therefore also want to give our users the opportunity to bet on GOLeague matches, as well as, Major League matches with the upcoming season. This will be realized via the start page, an extra page with a sorted listing and under each single match link. For the implementation, we need a strong partner with the necessary licenses and age controls to successfully integrate this product. We are happy to say we found the right partner in VIE.  It is important for our users to know that affiliate revenue from GOLeague matches will be passed on to the teams. We therefore hope for a good and long-term partnership."
Grant Johnson, CEO of Esports at Esports Entertainment Group, stated, "This agreement with GOLeague is a big step forward for VIE, as it will add hundreds of additional matches per month to our pools. GOLeague is a true supporter of esports in Europe and we are excited about building a long-term future together."
ABOUT VIE.GG:
VIE.gg offers bet exchange style wagering on esports events in a licensed, regulated and secured platform to the global esports audience, excluding jurisdictions that prohibit online gambling. VIE.gg features wagering on the following esports games:
Counter-Strike: Global Offensive (CSGO)
League of Legends
Dota 2
Call of Duty
Overwatch
PUBG
Hearthstone
StarCraft II
VIE.gg has announced affiliate marketing partnerships with 190 esports teams and 3 leagues from around the world and expects that number to increase in 2019.
About Esports Entertainment Group:
Esports Entertainment Group, Inc. is a licensed online gambling company with a specific focus on esports wagering and 18+ gaming. Esports Entertainment offers bet exchange style wagering on esports events in a licensed, regulated and secure platform to the global esports audience at vie.gg.  In addition, Esports Entertainment intends to offer users from around the world the ability to participate in multi-player mobile and PC video game tournaments for cash prizes. Esports Entertainment is led by a team of industry professionals and technical experts from the online gambling and the video game industries, and esports. The Company holds licenses to conduct online gambling and 18+ gaming on a global basis in Curacao, Kingdom of the Netherlands. The Company maintains offices in Malta, Curacao and Warsaw, Poland. Esports Entertainment common stock is listed on the OTCQB under the symbol GMBL.  For more information visit www.esportsentertainmentgroup.com
FORWARD-LOOKING STATEMENTS
The information contained herein includes forward-looking statements. These statements relate to future events or to our future financial performance, and involve known and unknown risks, uncertainties and other factors that may cause our actual results, levels of activity, performance, or achievements to be materially different from any future results, levels of activity, performance or achievements expressed or implied by these forward-looking statements. You should not place undue reliance on forward-looking statements since they involve known and unknown risks, uncertainties and other factors which are, in some cases, beyond our control and which could, and likely will, materially affect actual results, levels of activity, performance or achievements. Any forward-looking statement reflects our current views with respect to future events and is subject to these and other risks, uncertainties and assumptions relating to our operations, results of operations, growth strategy and liquidity. We assume no obligation to publicly update or revise these forward-looking statements for any reason, or to update the reasons actual results could differ materially from those anticipated in these forward-looking statements, even if new information becomes available in the future. The safe harbor for forward-looking statements contained in the Securities Litigation Reform Act of 1995 protects companies from liability for their forward-looking statements if they comply with the requirements of the Act.
Endorphina's CEO will be a speaker at Prague iGaming Affiliate Conference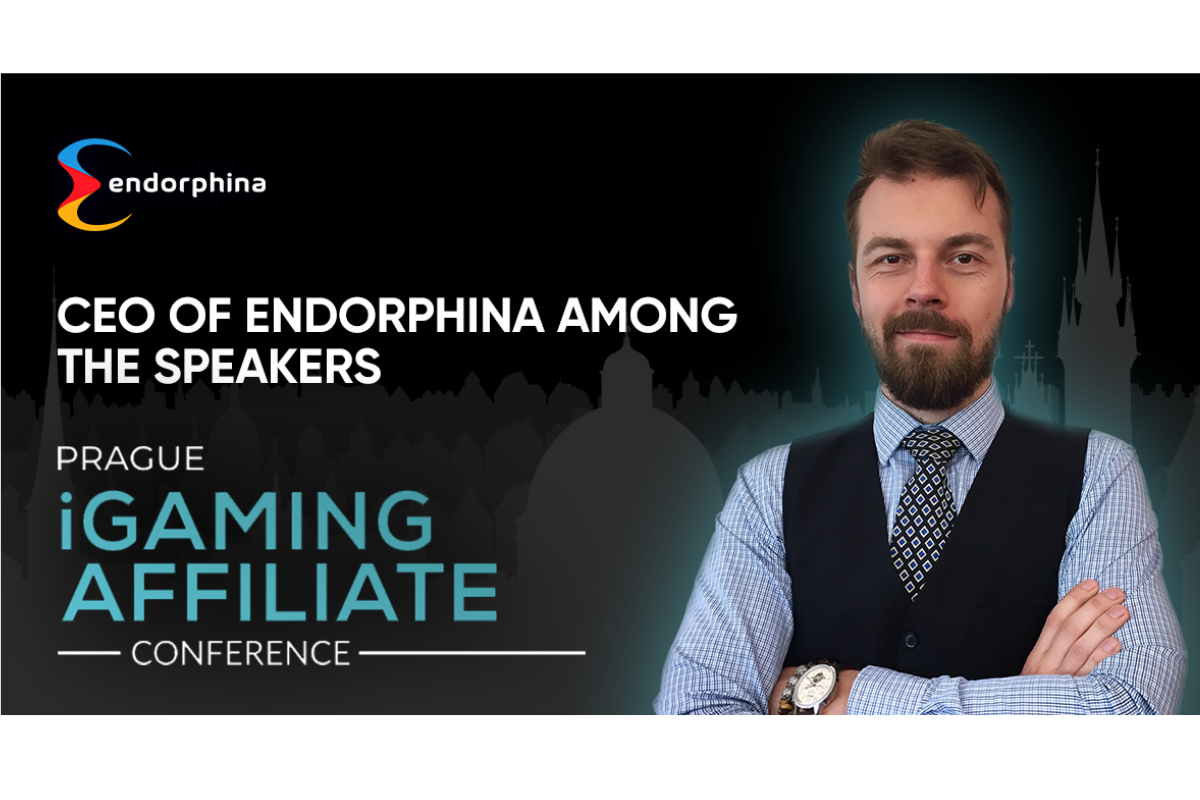 This week, the central European city of Prague will be hosting the iGaming Affiliate conference for the first time ever. Many interesting speakers from the gaming industry were invited to take part in this promising event and we're excited to hear how it unfolds.
The Prague iGaming Affiliate Conference has the potential to be a mad success in the igaming industry due to its sheer perfect location – right in the center of Europe. Many interesting topics will be discussed as participants and organizers take a deeper insight into the world of affiliates. In addition, there will be one particular speaker that should grab your attention.
The recently established CEO of Endorphina, Jan Urbanec, will be speaking about the hidden symbiosis between Affiliates and Providers, along with the possibilities of the cooperation.
Besides just the slot games, Endorphina is also known for their extraordinary and creative promotions that are tremendously appealing for visitors within igaming exhibitions. We believe that their CEO will have a lot to say about the general cooperation with affiliates and we would like to invite you all to participate in this lively first-ever event taking place in the city of Prague.
Learn more about the event: https://cz.affiliate.events/en
Learn more about Endorphina: https://endorphina.com
Karamba returning to AffiliateCon Sofia this year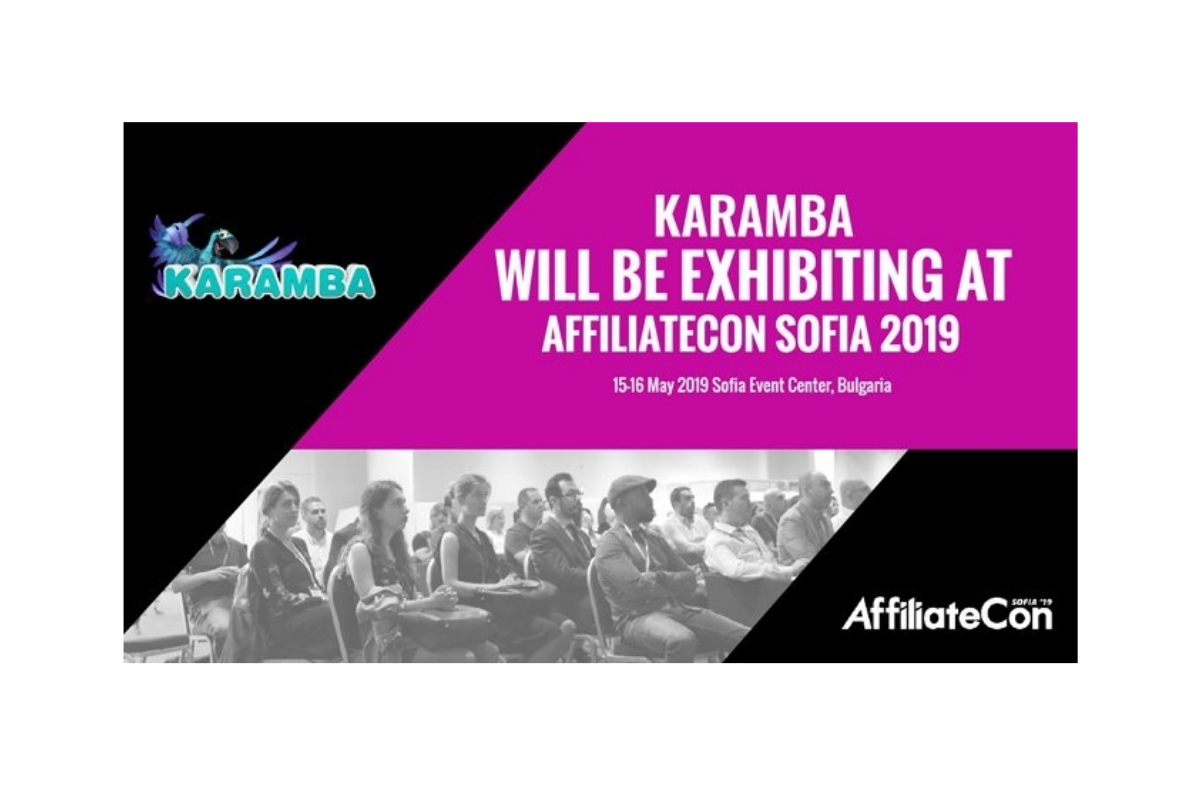 Karamba is the latest brand to join the AffiliateCon Sofia line-up on Wednesday 15 and Thursday 16 May, returning to exhibit after last year's successful show.
Founded in 2005, Karamba provides first-class slot, instant win games, live casino and sportsbook to customers, with an emphasis on entertainment combined with a commitment to safety and responsible gaming.
Karamba joins the likes of Parimatch, Kindred Group, Lapalingo, NetoPartners, ActiveWins and many more on the AffiliateCon Sofia floor plan.
Arnaud Serour, Karamba Managing Director, said: "AffiliateCon Sofia 2018 was a great event for us and we are delighted to be returning in 2019."
AffiliateCon Founder Julian Perry said: "It's fantastic to secure Karamba as an exhibitor once again. Adding its renowned brand further enhances our brilliant AffiliateCon Sofia line-up this summer."
Along with first-class brands, AffiliateCon Sofia also boasts an impressive list of speakers; Google Industry Manager Yiannis Kranitis, Mustard Digital Founder Allan Turner and James Scicluna, Co-managing Partner at WH Partners are among those confirmed to speak.
Two full days of educational speeches will be intertwined with lively entertainment, as Mixology returns for the event's main party on Wednesday 15 May.
Click here to book your tickets and network with the best affiliates Europe has to offer this summer.
50% Discount for Prague iGaming Affiliate Conference Tickets – Last Chance!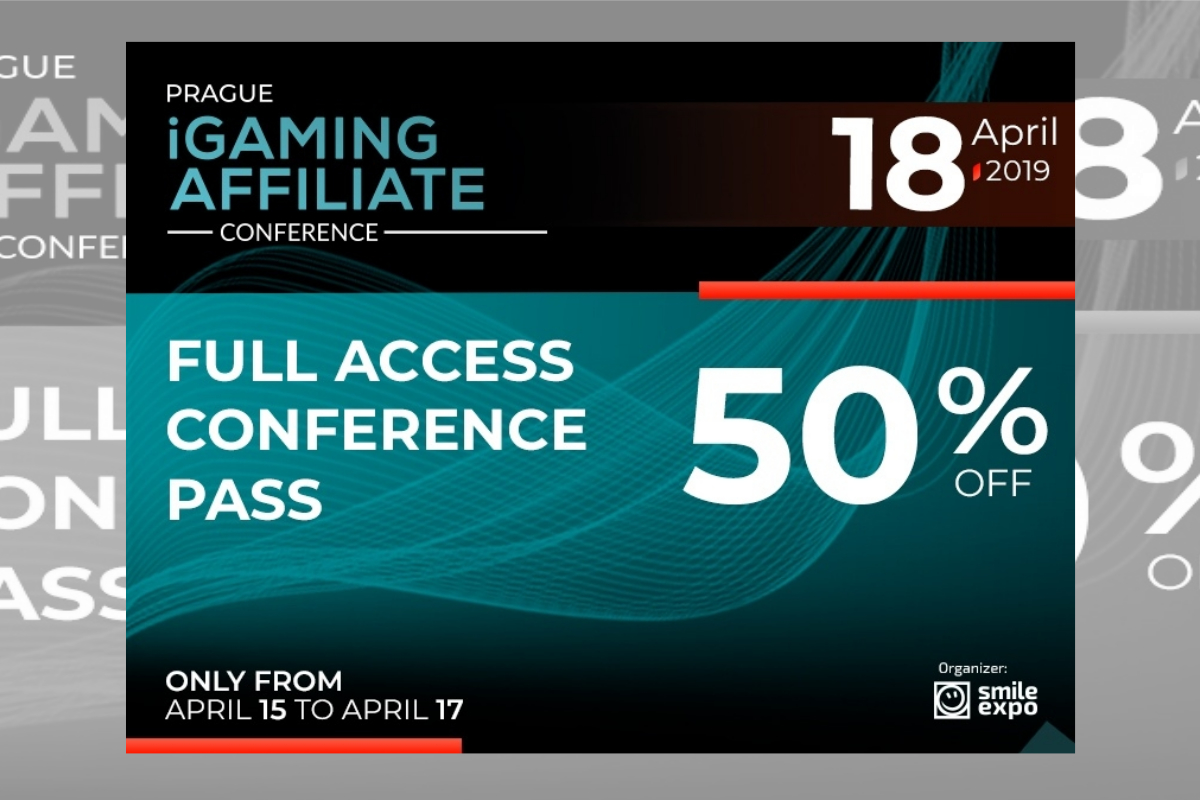 The first Prague iGaming Affiliate Conference, the event about marketing in gambling sphere from Smile-Expo, is approaching. Don't miss the unique offer from the organizer: tickets to the conference at half price!
Ticket's price on April 15 – 17: 3500 CZK.
Ticket's price on the day of the event: 7000 CZK.
The conference will take place on April 18, and will gather leading affiliates, marketers, operators and representatives of the gambling industry.
Program of the Event
The event's program includes conference, demo zone and three panel discussions, where groups of experts will talk about the main industry's aspects.
During the discussions, speakers will elaborate on:
innovative gambling business with affiliate marketing;
potential uses and opportunities of blockchain and cryptocurrencies for iGaming;
current state of gambling regulation in Europe.
Speakers of the event include:
Christina Thakor-Rankin, a Leading Gaming Advisor at 1710 Gaming Ltd;
Jan Řehola, the lawyer at Petroš Sedláčková Legal;
Jan Urbanec, CEO at Endorphina;
Nicc Lewis, CEO & Founder at Expozive;
Raffaela Zillner, Secretary General of the Austrian Association for Betting and Gambling.
The full program of the event and list of speakers are on the website.
Sponsors and Organizer
Leading companies in the gambling industry will become sponsors at the conference:
lanyard sponsor – BetConstruct, technology and services provider for online and land-based gaming industry;
badge sponsor – VBET, online gambling operator with live casino games and sporting events;
bag sponsor – Slotegrator, software solutions provider for online casinos.
The organizer of the conference – the international company Smile-Expo, which has been holding business events about revolutionary technologies and trends of innovations for 13 years.
Join the first Prague iGaming Affiliate Conference and learn about the trends of affiliate marketing in online casinos industry.
Details of the event and tickets with a discount are on the website.