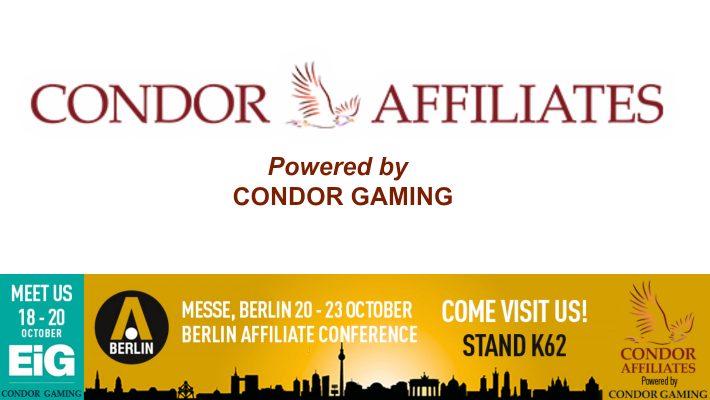 Condor Affiliates powered by Condor Gaming is making headlines in Berlin
As this year's Berlin Affiliate Conference is just around the corner, Condor Affiliates are welcoming you to BAC 2016 with their newest press release:
Condor Affiliates (powered by Condor Gaming), the official affiliate program for four very unique and more importantly, successful, online casino and sportsbook brands (CasinoSieger.com, RembrandtCasino.com, b-Bets.com and the new 24Bettle.com) will be exhibiting at the upcoming Berlin Affiliate Conference from 20th – 23rd October at Stand K62 at which many existing and future affiliates and business partners have already voiced their attendance for a friendly meet and greet and exploration of current and future business ventures and partnerships.
The BAC 2016 is one of the many opportunities for Condor Affiliates to demonstrate their expansive growth in both, the casino and sports betting markets, and put their highly regarded affiliate program on show.
Condor Affiliates has had a busy and overwhelmingly successful 2016 in all aspects of the gaming industry. 2016 started off tremendously positive with the release of the fourth brand, 24Bettle in January, and continued to gain speed and growth in record time with numerous full re-designs and enhanced features across their teeming brand portfolios. To top it off, the recent launch of the new Condor Affiliates website and affiliate system makes for the complete package to promote and forge a long standing partnership with Condor Affiliates in conjunction with Condor Gaming.
Christine and Dobri, two of Condor's seasoned Affiliate Managers, along with their team, will be hosting the stand and are inviting current and new affiliates to sit down with them during this powerful event. It's going to be a very busy conference for everyone involved with Condor Affiliates this year so getting in touch before it begins (20th October) and setting up a time that suits you, will be the best way to ensure, you have the opportunity to get to know this fast growing program and company personally.
Visitors to Stand K62 will have the opportunity to discuss special affiliate deals and business ventures, organise marketing essentials, and get to know some people behind the innovative brands, Condor Affiliates as well as Condor Gaming, all the while enjoying a German draught beer from the in-stand bar. You can get in touch with the Affiliate Managers directly (contact@condor-affiliates.com) or sign up on the website (www.Condor-Affiliates.com) before the conference to set up a meeting.
About Condor Affiliates:
Condor Gaming first launched its strong casino base with Casino Sieger and Rembrandt Casino in 2012, separating both brands with their own identifiable affiliate programs and slowly making a big name in the gaming industry with the 2 brands single-handedly. But with the launch of b-Bets in December 2014 and 24Bettle in January 2016, Condor Gaming had certainly grown to a large, strong brand and company, and the Condor Affiliates affiliate program was created shortly thereafter to ensure affiliates would always have ease of access to all their brands, in one place, with personal support and assistance through very experienced and seasoned affiliate managers. To date, Condor Gaming and Condor Affiliates have both been well established in the European iGaming scene with a diverse offering of brands which caters to all types of Casino players, whilst also offering thousands of Sportsbook markets.
To Condor Gaming, their slogan – The sky is the limit – is not just that, it's a standard of living.
Condor Affiliates is a Silver Sponsor of Gamblingaffiliatevoice.com, see how you can become a Sponsor Program .
Related
folder_openAssigned tags
content_copyCategorized under
About author