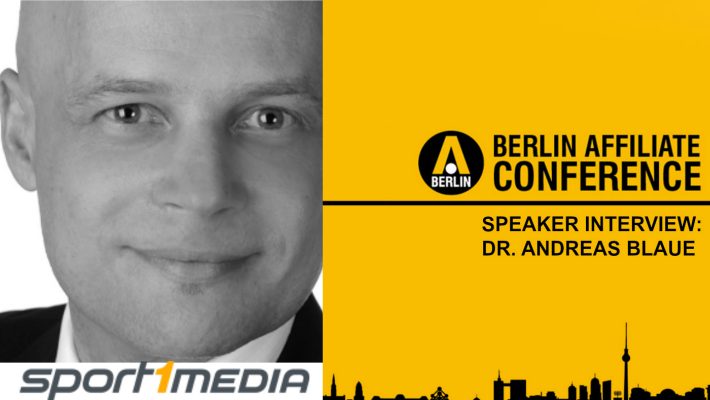 DR. ANDREAS BLAUE – Speaker Interview BAC 2016
Prior to his presentation the organizers of the Berlin Affiliate Conference spoke with Dr. Andreas Blaue from Sport1Media about his session:"German market overview: What's happened in the last 12 months?", this being the very first of the sessions of this years BAC, taking place at the 21st October from 10:00 AM. Dr. Andreas Blaue is Entertainment Director & DRTV being responsible for the marketing of gambling advertisements (casino, poker, sports betting, etc.) on the TV stations as well on the internet, mobile and social media platforms of the SPORT1 brand.
Dr. Andreas Blaue began his career at the public television station Zweites Deutsches Fernsehen (ZDF) in 2001 as a lawyer. In 2010 he obtained his doctorate on the subject of television advertising and was awarded the title of Doctor of Economic Science.
SPORT1 was the first on the German market in media advertising sports betting (since 2003), poker (since 2005), and casino (since 2013).
iGB: HOW IS YOUR TOPIC RELEVANT TO THE GAMING INDUSTRY?
Andreas: The German market is one of the most important markets for the gaming industry and also one of the most challenging in terms of the legal hurdles which have to be faced when doing business. 
The wealth of experience gained as a first mover on the German market, with more than a decade of successfully building and defending advertising models for well-known clients, has helped to break a lot of new ground for the gaming industry.
iGB: WHAT IS THE ONE THING YOU HOPE DELEGATES GET OUT OF YOUR SESSION?
Andreas: Operating a sports betting, poker or casino business in the German market may not be simple, but it may also not be quite so daunting as it first appears and the rewards can be huge.
iGB: WHY CHOOSE THIS EVENT AS YOUR PLATFORM TO VOICE YOUR FINDINGS?
Andreas: The name of the panel is "German market overview" and with the event – which is a hugely successful event, bringing together people from across the world who work in or with the gaming industry – having become a fixture in Berlin, and following  the developments in the German legal landscape in the last 12 months, this is a perfect platform to focus on issues affecting the German market.
iGB: HOW DO YOU PLAN ON MAXIMIZING YOUR TIME AT THE EVENT?
We will be meeting as many of our customers as possible and taking advantage of the unique networking opportunities which this event provides.
For the full list of BAC 2016 speakers click here!
Related
folder_openAssigned tags
content_copyCategorized under
About author