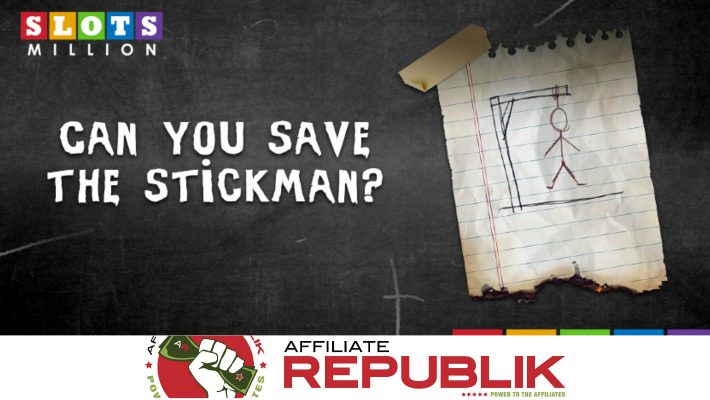 Affiliate Republik News
Exclusive Promo
Exclusive promotion: Can you save the stick man?
Duration: From Monday 24/10/2016 to Monday 31/10/2016
Hear ye, hear ye! Valiant affiliate- your time has arrived! Rumour has it lives are at stake, and the stick man is being pursued by the threat of a certain and horrific death at the hands of a hanging! They say your players are the only ones who can save him! Can you get them to help us solve the riddle and get the stick man back to safety?!
F _ _ _ _ _ _ _ _ _ _ _ _ _ _ _ _ _ _ _ _ _ _ _ _ _ _ _ _ _ _
They only have one guess/day, so they better choose wisely: great prizes await those who solve this puzzle… maybe a deposit bonus, maybe free spins? The only way to find out is to crack the code, are you up to it!?!
Warning for players! If you think you can do it, contact support via chat or email on the day you solve the riddle and claim your reward… just keep in mind the earlier you solve the puzzle, the greater the reward!
Good luck – the stick man is counting on you!
Terms and conditions
Only 1 guess per customer per day.
A customer can only solve the puzzle and receive a reward once.
SlotsMillion reserves the right to cancel or modify this promotion and its terms and conditions at any time, for any reason. It is the customer's responsibility to check for changes and updates.
SlotsMillion reserves the right to exclude any player from this promotion and to close their account and confiscate existing funds if evidence of abuse or fraud is found.
The original text of these terms and conditions is in English. Should there be any discrepancies in the translated versions of the terms and conditions, the original English version will prevail.
Currency conversions are calculated according to the following example: €10, $10, 100 kr.
General terms and conditions apply.
---
Recurring Promos
Promotion: Gents & Ladies' Night

Duration: Monday (ladies) & Wednesday (gents) 7pm – 11pm (players' time zone)
Offer: 40% up to €100 on every deposit made between 7pm and 11pm.
More info here. 

Promotion: SLUNCHBREAK
Duration: From Monday to Friday – 11am-1pm (players' time zone)
Offer: 20 free spins on every deposit made between 11am and 1pm.
More information here.
Promotion: Happy Bonus Friday 

Duration: On Friday, 7pm – 11pm (players' time zone)
Offer: Between 7pm to 11pm every Friday, players get 50% extra on every deposit they make, up to an accumulated total of €100.
More information here.
---
#BAC2016: What a pleasure!
All the good things come to an end… and so did the Berlin Affiliate Conference!
It's going to be hard to go back to the office after these amazing days in Berlin.
SlotsMillion wants to thank you for stopping by their stand, it was their pleasure to get the chance to meet you there!
They will soon post some of the photos taken at their stand on Facebook. And for those of you that couldn't attend the event, the live streaming is awaiting for you on Twitter.
---
Related
content_copyCategorized under
About author