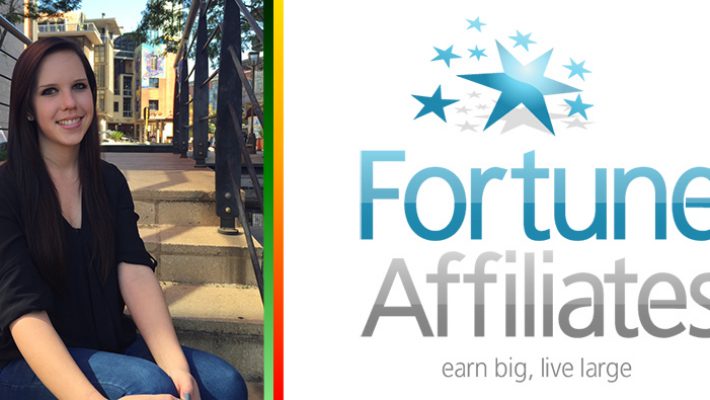 Affiliate Manager in the spotlight: Jessica Guether of Fortune Affiliates shares her story
Well, it doesn't get any better than this, working at one of the industry's giants and loving every part of your day and activity. Jessica Guether is one of the Affiliate Managers at Fortune Affiliates, an affiliate program that we like working with and I can promise you that if you join Fortune Affiliates, you too can share this experience.
Name: Jessica Guether
Age: 25
Hometown: Johannesburg, South Africa
Living in: Johannesburg, South Africa
Favorite Food: Mexican
Must Read Book: Shantaram by Gregory David Roberts
Affiliate Manager at: Fortune Affiliates
EEG: Hi Jessica, first of all, tell us and our readers a bit about yourself. How did your career start in the industry? What determined you to engage in this activity and start working at Fortune Affiliates?
Jessica: I have a degree in marketing and management and quickly found my way into Account Management. Through the years, I made the natural progression into the digital marketing arena. The rush and dynamic pull of the casino industry sucked me in. Fortune Affiliates has a young, vibrant corporate culture which is infectious and impossible to leave once in. After working with so many fantastic affiliates as part of an industry giant, I can definitely say I have one of the most rewarding job titles.
EEG: Fortune Affiliates is the affiliate program for a number brands, such as Royal Vegas Casino, Euro Palace Casino, Platinum Play Casino, WinTingo Casino, DizzyWin Casino, Red Flush Casino, 7 Sultans Casino, Vegas Palms Casino and Casino La Vida. What do you think is the key aspect affiliates appreciate regarding your affiliate program?
Jessica: Our brand portfolio is one of the key factors that makes Fortune Affiliates a great partner to work with. Each brand has been tailored to suit specific markets as opposed to a one-brand-fits-all approach. Couple this with one of the best retention, conversion and VIP teams in the business and you have a partnership that will extract as much value from your traffic as possible. Over and above this, our personal touch comes from our team of highly skilled Account Managers who are always at hand to assist our affiliates in any way possible. When partnering with us, you are signing up for a mutually beneficial relationship with a company that is trustworthy, ethically driven and has the capacity to pay our affiliates timeously for the traffic they have provided.
EEG: What is your personal opinion about fair gaming? Do you think there is room to improve the view of the gambling industry? I mean, is there a new generation prepared to do that? Both Affiliate Manager and Affiliates.
Jessica: In my opinion, the gambling industry is fair. Each casino needs to be registered with a gaming authority who regulates the market and a payout percentage will always be set. The reason why outsiders to the industry may perceive this differently is due to the common belief that casinos never payout or give you anything in return. This is where clear opening offers and wagering requirements from casinos need to come into play. The more transparent we are, the more trustworthy and less dubious our industry will become.
EEG: Could you fill us in on your current offer for affiliates and maybe a brief description of your program?
Jessica: Our program has been at the forefront of the gambling industry for the last 15 years with an impressive portfolio spanning over 9 casino brands. We offer online casino and casual games over a range of gaming providers such as Microgaming, Netent and PariPlay.
As part of our signup deal, new affiliates can enjoy 30 – 50% rev share deals spanning over 3 months. After this, they will be placed on our standard tiers which will be based on the amount of traffic they deliver, 25 – 40%.
As each and every affiliate is allocated a dedicated Account Manager, we can negotiate different deals such as CPAs, flat-rates and tailor made solutions.
EEG: What markets does Fortune Affiliates target, and what makes it stand out in the huge crowd of casino affiliate programs?
Jessica: Fortune Affiliates stands out from the crowd mostly because of reputation. After 15 years in the industry, we must be doing something right!!! As a tried and trusted brand, you are guaranteed the best service and expertise that you would expect from a casino giant.
The regions that we target are very extensive as we have all the different brands to suit a multitude of players. Our strongest would be Australia, Canada, Scandinavia and Europe but we are always looking to extend our reach.
EEG: Since the London Affiliate Conference is almost here, we would like to ask your opinion on these event, are you guys attending these conferences or are you going to be in London?
Jessica: Fortune Affiliates will always have a presence at these events. Our business is online however, a personal touch can never be replaced. These conferences are a great opportunity for us to meet and socialize with our affiliates as well as meet new affiliates interested in our program. We are all looking forward to LAC and hope to see many new faces at our photo booth and meeting room 5.
EEG: Where do you think the online casino industry will be in 3 years, and of course, on which scale do you see Fortune Affiliates?
Jessica: I am a huge fan of Fortune Affiliates and the brands we have built so I know that we will be at the forefront, whichever way the industry goes. In 3 years' time, I predict a bigger focus on mobile as well as multi-gaming platforms.
EEG: Tell us a bit about your team? As we know it's quite huge and well positioned in the industry with some skilled and experienced affiliate managers in the affiliate marketing sector.
Jessica: Our company is 400 strong with dedicated call center, conversion, retention, fraud, creative and VIP teams and we are still expanding daily! We have an eclectic team of account managers from varying backgrounds. Each of us is accomplished in digital marketing and account management and always looking for ways to upskill and keep ahead of a very dynamic environment.
EEG: Since Central and Eastern Europe offers a large pool of successful affiliates in the industry, do you think that this region is somehow overlooked by brands that are not applying for licenses in the demographic and are there many super-affiliates that you managed coming from this region?
Jessica: These days, affiliates come from all over the world and target many different regions, not just their own. It would be ignorant to disregard an affiliate simply based on their location. Some of the best affiliates we have had have been from Europe! I look forward to getting many, many more….
EEG: Who is your favorite celebrity and if you'd have to a pick a destination in Eastern Europe, where would you travel?
Jessica: My favorite celebrity is Sandra Bullock, has she ever done a bad movie?
 If I had to choose a destination, it would have to be Bulgaria. The food, beaches and people are just amazing!
EEG: Where you wouldn't want to travel?
Jessica: I don't think there is a place I wouldn't go 🙂
EEG: What is your opinion about EEG(eegaming.org)?
Jessica: EEG is a fantastic idea! I am very surprised that an initiative like this hasn't been successfully done before. As we know, Central and Eastern Europe has a multitude of affiliates and is quickly making waves in the industry. To have a dedicated source of support and a trustworthy platform to engage with other affiliates is a great way of catapulting many potential affiliates into the bigtime.
Related
content_copyCategorized under
About author