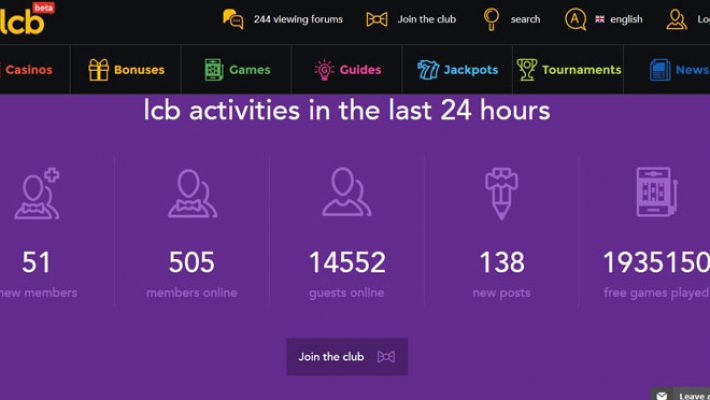 LCB: The best affiliate website unveiling to date!
Latest casino bonuses (LCB), as you know it, is no more; well not entirely. Everything you loved about it still remains, but now it is simply new, and improved. Frequent customers can check out the new website and enjoy new features a secure website connection, a new comprehensive gambling restrictions page and custom made gambling forum, which will surely not disappoint. While it will remain dedicated to its large library of quality content, and its unparalleled commitment to customer support, the site has undergone a transformation that will display a more user-friendly, modernized layout.
Those who are already members need not worry about their accounts, as they will be able to continue logging in with the same details, just as they were before. New members can also register with ease, completing the process in just a few, short moments. Completion will warrant full access to the site and all that it has to offer.
Members will notice that changes have been made for the better. For starters, there have been some modifications made to the user profile. With the new launch, individuals will find this feature more easily navigable, and more personally tailored to each customer's needs. Furthermore, all things relating to the user profile can be found in one place. Players' profiles will also be conveniently linked to their dashboard, messages, and the LCB shop.
Additionally, players can also look forward to an improved search option, making it much easier for visitors to find their way around the site. Now, members will be able to easily select the 'Search' tab and enter the term or topic they are looking for, with results generating instantly. Main menu navigation has also been similarly reconfigured. Tabs provided at the top of the site will immediately launch the desired page, providing links to any and all sub-pages.
LCB delivers its members the latest news within the gambling industry, providing for the most up-to-date details on gambling-related news across the globe. This is further enhanced by a live feed, in which information is updated as it happens.
So, members need not fret. LCB is not going anywhere. It has simply been improved to meet the growing needs of its users, while still delivering hundreds of online casino and game reviews, thousands of free games, mobile gaming opportunities, and a world directory of land-based casino reviews. With a number of awards already under its belt, this latest transformation foreshadows a bigger, and brighter future for the site.
Related
content_copyCategorized under
About author