AskGamblers Awards. Three-peat for King Billy!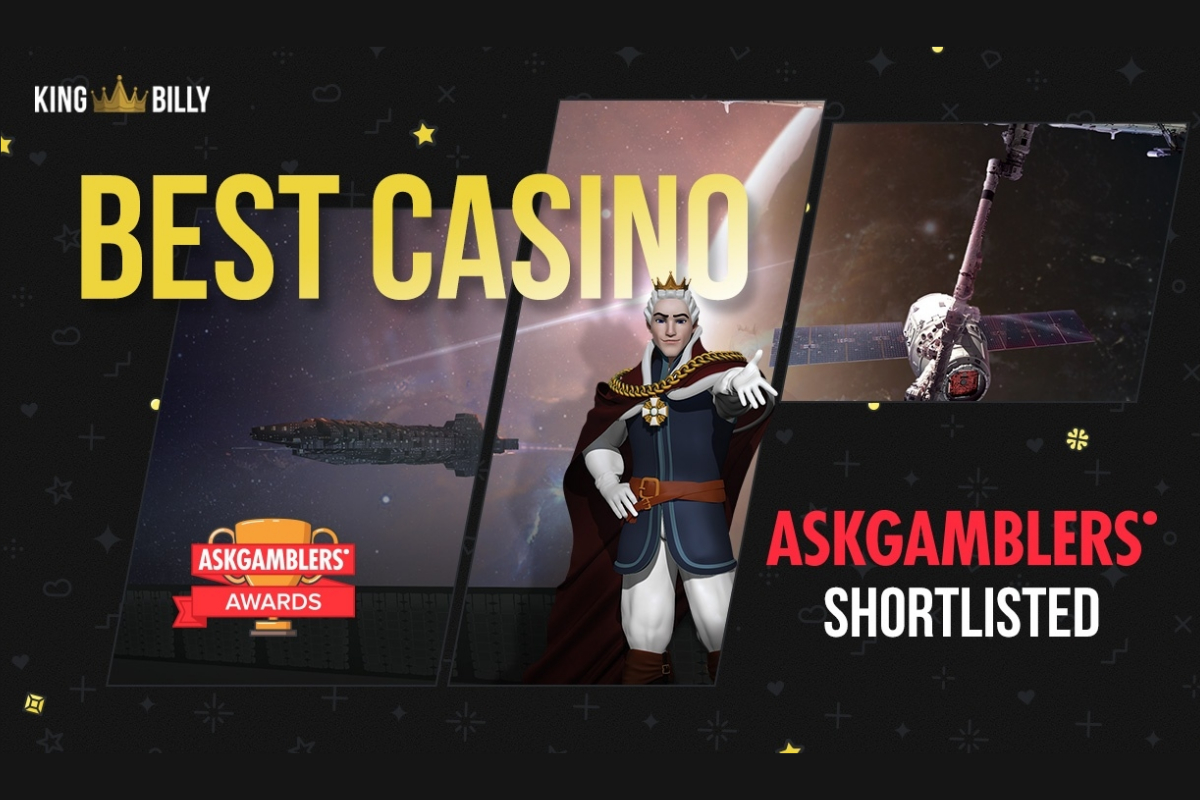 It is often observed that life links people together from the very beginning. Goscinny and Uderzo of Astérix le Gaulois. Mick Jagger and Keith Richards of the Stones. And yes, King Billy and AskGamblers. So, it is no coincidence that King Billy Casino is ready for a three-peat at the AskGamblers 2020 Awards.
Back in 2017, when King Billy Casino started business on St. Patrick's Day (the audacity!) few would have expected the phenomenal rise of the casino to the echelons of online casino greatness. After all, according to modest estimations, there is a new casino launch on planet Earth every day.
However, there was something more to that "baby King" than met the eye. A combination of marketing, strategy and product not only helped the casino grow through its teething phase without problems, but also gave it its first award: Best New Casino in the inaugural AskGamblers awards back in January 2018.
Fast forward one year and the, by then, "teenager King" has grown enough to win a place or two in the heart of players and judges alike. In January 2019, the casino lands 2 more awards at the second AskGamblers Awards: Best Casino 3rd place and Player's Choice Casino 2nd place.
So, here we are now, with a "mature King" this time. King Billy Casino has been shortlisted again for Best Casino in the third AskGamblers Awards. We reached out to King Billy CEO (and "First Lord of the Kingdom" according to internal protocol) Volodymyr Harkusha for a few words. An, understandably, elated Volodymyr told us:
"How does the adage goes? Once is chance, twice is coincidence, third time is a pattern? Frankly speaking, it has never been chance or coincidence with the wonderful team of King Billy Casino. It has rather been the result of hard work, ambition, team spirit and the most talented bunch of people I have ever worked with!"
So, will King Billy make it three in a row? By paraphrasing the mutual funds disclaimer, we must say that past performance in awards is no guarantee of future results. But, between you and us, would you wager that His Majesty King Billy would not win again? We wouldn't, even with a wager x1.
The AskGamblers Awards have become one of the most respected awards in the iGaming world. The Awards are organized by AskGamblers, itself an award-winning portal which provides accurate information about online casinos worldwide, as well as the opportunity for players to resolve their issues with casinos transparently.
King Billy Casino is a new generation online casino, available in 6 languages (English, German, Russian, Finnish, Norwegian and Japanese) with an impressive record in awards and an amazing variety of games and features. King Billy has prioritized the creation of a superb user experience focusing on the myth of King Billy and his Kingdom and treats all players with the specialness they deserve.
Mr. Gamble Wins 'Bonus Comparison Affiliate of The Year' at the AffPapa iGaming Awards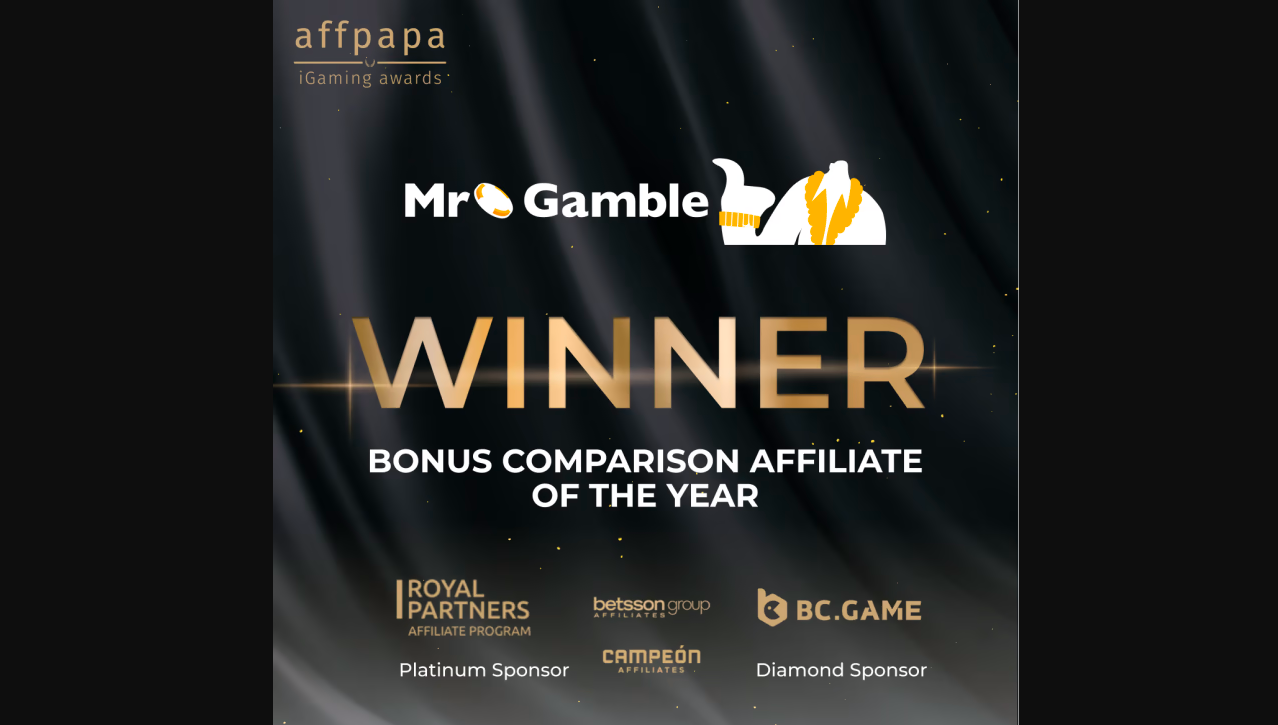 Online casino affiliate site Mr. Gamble has won the 'Bonus Comparison Affiliate of the Year' accolade at the AffPapa iGaming Awards 2022. A highly anticipated, industry-wide online event, the AffPapa iGaming Awards represent and celebrates the best in the iGaming industry and show case some of the strongest contenders across affiliates and operators globally.
The 'Bonus Comparison Affiliate of the Year' award recognises sites that provide excellent services such as comparing online casino sites globally and providing players with the highest quality online casino experience.
Joni Oinonen, CMO of Cashmagnet LTD who operates Mr. Gamble, says: "We are honoured to have been awarded Bonus Comparison Affiliate of the Year at his year's AffPapa iGaming awards! The news has been amazing to share with the team, who have worked hard behind the scenes to ensure our customers have a seamless and enjoyable user experience at Mr. Gamble. We are passionate about our brand, continuing to further develop our site to align with our customer needs and the ever-changing world of iGaming. This award win further strengthens our brands position as a leader in the online casino affiliate portals sector and we would like to thank the panel at AffPapa Awards for recognising us as such."
Betsson Group Affiliates to sponsor AffPapa iGaming Awards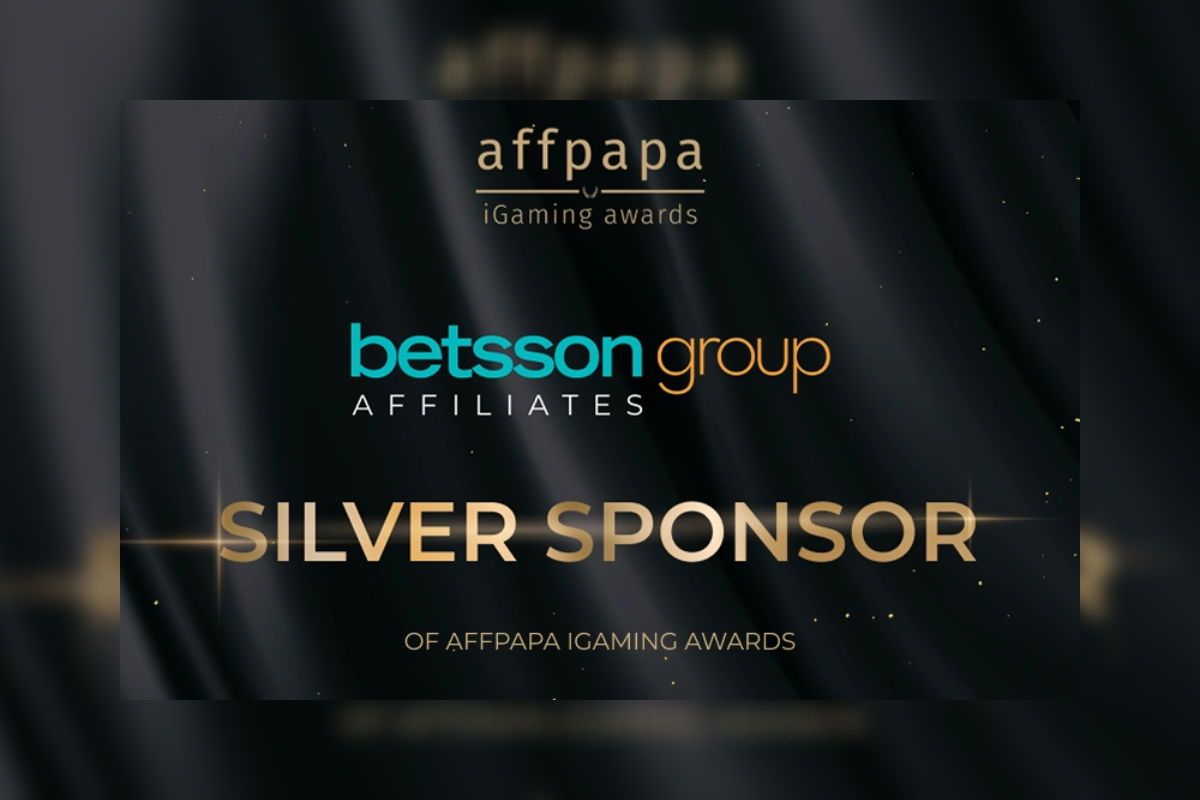 Betsson Group Affiliates has made it to the list of the AffPapa iGaming Awards as a Silver Sponsor.
The partnership continues a close collaboration between AffPapa and the iGaming operator, after they renewed their year-long contract at the beginning of this year. The operator has closed several deals through AffPapa, and the workflow has been really seamless.
Shakyra Johnsson, Senior Affiliate Operations Manager at BGA, commented:
"Betsson Group Affiliates has been working closely with Affpapa since 2020 and we are very satisfied with the results of this partnership. As an operator and affiliate programme that is constantly striving for excellence, we are extremely proud to be sponsoring this year's AffPapa iGaming Awards and wish all nominees the best of luck!"
The first-ever AffPapa iGaming Awards will soon mark its debut with the voting process starting on May 23rd. Numerous prominent brands have joined AffPapa in honoring the industry's top performers and showcasing their brand to as many potential clients and partners as possible.
Yeva Avagyan, Head of Commercials at AffPapa, stated:
"We're looking forward to continuing our close working relationship with the BGA team and building on what we've already established. Betsson Group Affiliates' decision to work with us again reflects AffPapa's continued efforts and the value it delivers to its partners. We're pleased that our first Awards received such an excellent reaction, and that so many amazing brands, such as BGA, have joined us."
The Awards will be followed by an exclusive event – iGaming Club – on July 5th in Amsterdam, with plenty of networking opportunities.
Royal Partners as Platinum Sponsor of AffPapa iGaming Awards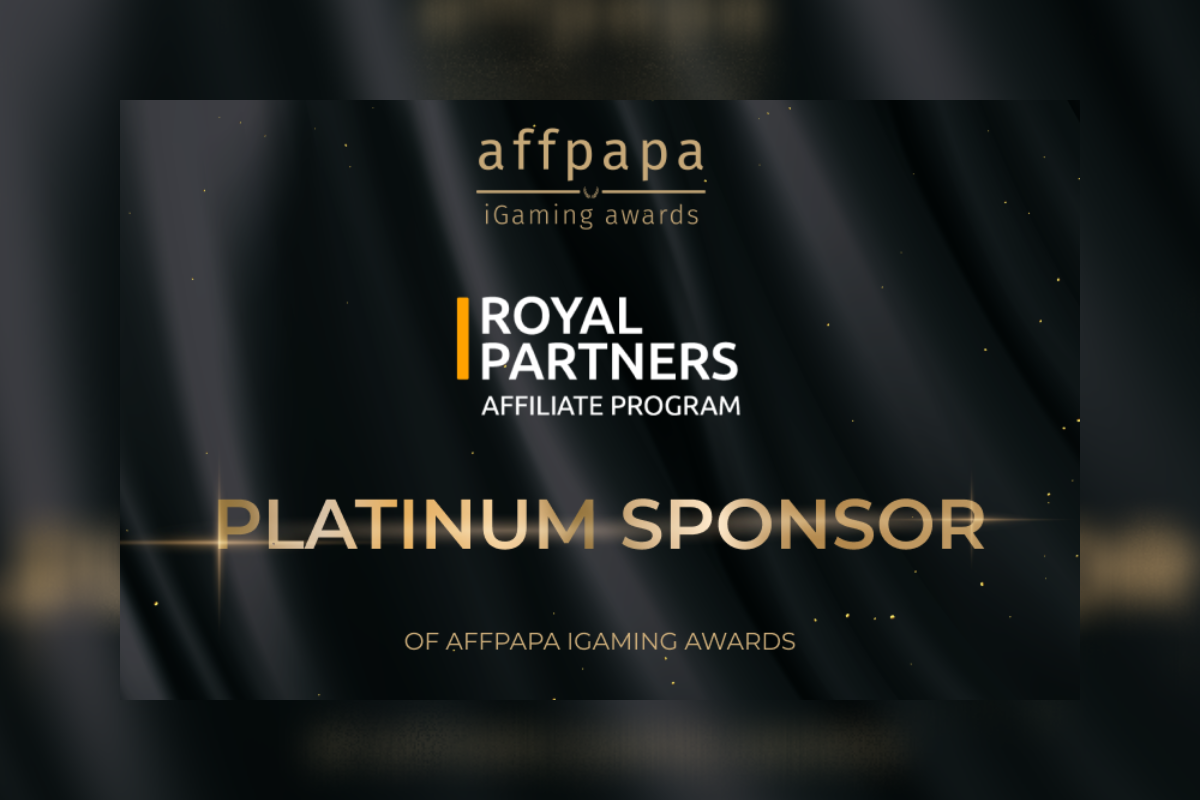 Royal Partners will join AffPapa iGaming Awards 2022 as the Platinum Sponsor of the event, honoring affiliates and operators.
The event will convert into a genuine melting pot, mirroring the incredible dynamic of the iGaming industry – promoting and bringing along affiliates and operators for a unique chance to participate among the industry's biggest names.
The virtual Awards will be accompanied by an offline event for industry members on July 5th of this year, in the heart of Netherlands – Amsterdam.
All attendees will not only get the chance to network and have fun, but the winners will also be handed with physical awards right there in front of their whole team and the rest of the iGaming industry, who will be cheering them on!
Denis Nikishin, Head of Affiliates at Royal Partners, commented:
"Royal Partners is delighted to be this year's Platinum Sponsor of the AffPapa iGaming Awards. This is an amazing opportunity to not only reconnect affiliates and operators, but to also have some fun. We're pleased to see several of our affiliate partners join the list as well."
Royal Partners joined AffPapa's directory at the end of 2021, and the operator's collaborations with our AffPapa-registered affiliates have been quite fruitful to say the least. This is yet another milestone in strengthening the cooperation between the two companies.
Yeva Avagyan, CCO at AffPapa, stated:
"We're honored to welcome Royal Partners as our Platinum Sponsor for our first-ever AffPapa iGaming Awards. Working with the operator has been a pleasure so far, with communication and honesty being at the heart of just about everything. Having a major sponsor for AIA that also shares our AffPapa values is a big win!"