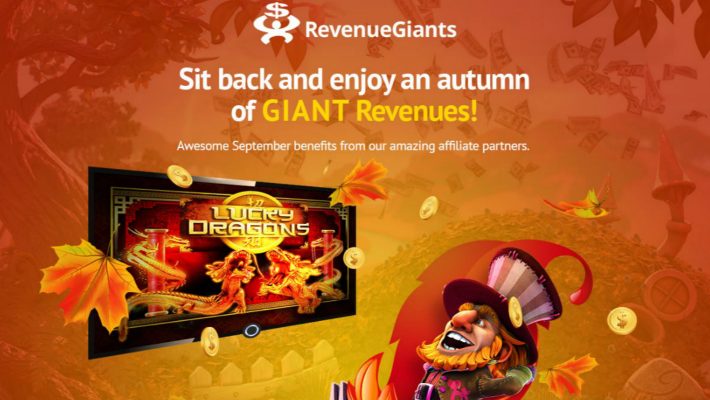 Revenue Giants in September: Sit back and enjoy an autumn of Giant Revenues
Newsbreak
Starting from September the following new games are available for the players: Lucky Dragon – Pragmatic Play and Charms&Clovers – Betsoft. Also starting with this month affiliates are being advised to provide an invoice as Revenue Giants are making changes in the payment process. You can contact them at the following e-mail address: support@revenuegiants.com if you need any guidance in the process or just want to ask them a question.
Latest Creative
Feel free and grab the latest creative so that your website is up to date.

Make sure that you don't miss out on a spin with Legends of the West promotion running from September 5th – 18th. You can Play More Gold Diggin and why not win the first prize of $5000 in cash with second and third prizes of $2500 and $1000 respectively. Your visitors will truly love this western-themed promo at Bingo Hall!
 200K Guaranteed Tournament
Members of Rich Casino can join the 200K Guaranteed Tournament for a shot at the $200,000 prize pool! Once players enter, they simply start playing amazing favorite games and earn points for all their bets. The player who will collect the most points at the end of the tourney takes home their share of $200,000!
Sites Promotions
Spread the news every month about the most popular special promotions.
Embrace the supernatural with Greedy Goblins Tournament! From September 19th to October 2nd Bingo Hall members can reel in up to $5,000! We've got a pot of $2,000,000 and we're giving it away at our Million Dollar Party! Players are invited from 9pm – 3am EST and welcomed with cash prizes ranging from $300 – $100,000!
 Exciting prizes with Progressive Pot of 15k – the daily offer of $15,000 keeps our players on their toes. Each wagered dollar counts as a point in the tournament– hosted all September!
Don't forget to promote the 200K Guaranteed Tournament for a shot at the $200,000 prize pool! The action takes place every Tuesday, Thursday, and Saturday.
Other promotions
Find out and learn how to drive more traffic this month and check out which promotions they have for the following brands. 
Affiliate tip
The do's and don'ts in writing persuasive content!
Focus on the benefits.
State a clear message on how your product or service can help your audience. Write powerful sentences using the right adjectives so you can turn more website visitors into those much wanted leads.
Avoid the passive voice.
This grammatical construction it may sound robotic or way too formal so use it wisely and only if it's necessary. Try to create strong sentences using verbs for extra energy and directness both of which will keep your readers engaged.
Use familiar words.
We know that you have smart readers but don't stretch it! They want fast answers, not wasting time checking words in the dictionary. Be smart about it and give them what they want!
Use specific examples.
We like examples because things are clearer after reading one. Not to mention the use of examples increase credibility. Go ahead and use them as often as you can!
Make sure you don't bore your readers.
In other words keep it nice and simple. Get to the point, have structured ideas and find out what triggers your audience. That way your writing will encourage your readers to keep coming back!
Why join RevenueGiants?
RevenueGiants is the one of the best affiliate program out there which is specifically designed to meet the needs of casino and bingo affiliates 365 days a year and increase their revenues!
The REAL Consultation with bingo and casino affiliates has enabled the team to create an affiliate program that offers fantastic gaming sites with excellent promotions and a quality player retention, not to mention the easy and obtainable high commissions and reporting tools second to none.
Join the Revenue Giants affiliate program for free and start to increase your Profit Share. Revenue Giants operates under various commission structures: Revenue Share, CPA and a hybrid, our default commission is revenue share, however, the other two commission structures; CPA and Hybrid are negotiable.
Related
folder_openAssigned tags
content_copyCategorized under
About author