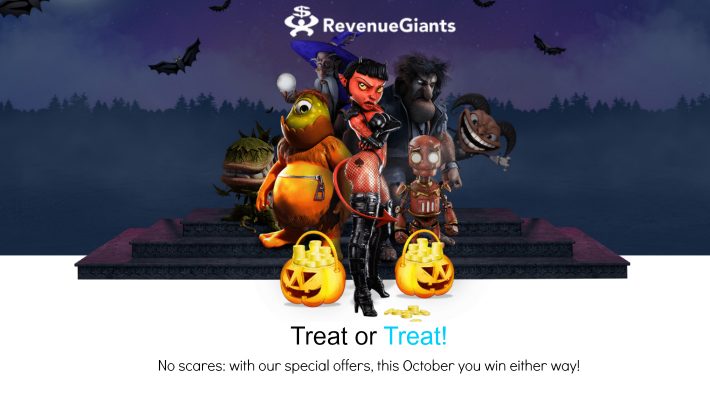 Revenue Giants in October: Treat or Treat!
Newsbreak
Revenue Giants is proud to announce the launch of two brand new slots games by Pragmatic Play: Beowulf and Paco and the Popping Peppers, Great 88 and Arrival from Betsoft games. Also, in October they are bringing you a number of special offers to celebrate Halloween. Revenue Giants are heading to BAC! Write to them on support@revenuegiants.com to set a meeting with their delegated team! See you in Berlin!
Latest Creative
Grab the latest creative to keep your website up to date.
Sites Promotions
Spread the news every month about the most popular special promotions.
Other promotions
Learn how to drive more traffic this month and check out which promotions Revenue Giants have for the following brands. Simply click on the logo to view the attractive events!
Affiliate Tip
Most common myths about Affiliate Marketing
In the affiliate marketing world, the idea that it works in unethical ways is frequently heard among people that are not familiar with the system or are simple outsiders. The main problem is that skeptic people and outsiders tend to believe that it's an internet scam that promises you a fast and impressive revenue for minimum work but never provides results. Here are the most main myths that you've probably heard about and what the actual facts are:
Affiliate marketing is just another name for spam.
Internet users tend to believe that banner ads and the emails sent by the affiliates are nothing but spam. The actual fact is that affiliates have to follow strict guidelines or face litigation if the best practices are not used.
Affiliate programs are not serious jobs.
An affiliate program is very complex and it requires an active and well-managed system. In order to succeed, time and money has to be invested in digital campaigns and, to make sure that the users have some of the best conditions to see great results.
Affiliate programs only work for small niche markets.
As you might have already seen, the online bingo and casino market is one of the most prolific and continuously extending market at this moment.
Affiliate marketing won't be popular for much longer.
As previously stated, this market will continue to grow and grow. In 2016, the experts expect that the affiliate marketing industry will exceed 4.5 billion dollars, this sum represents a growth of more than double in just 5 years.
FINAL THOUGHTS
Enjoy an Autumn full with promotions to ensure players have the best experience possible. Visit the Revenue Giants clients' sites Today to see a full list of promotions and specials taking place in October.
Join the Revenue Giants affiliate program for free and start to increase your Profit Share. Revenue Giants operates under various commission structures: Revenue Share, CPA and a hybrid, our default commission is revenue share, however, the other two commission structures; CPA and Hybrid are negotiable.
Related
folder_openAssigned tags
content_copyCategorized under
About author