TheBigFreeChipList.com Has Rebranded To Chipy.com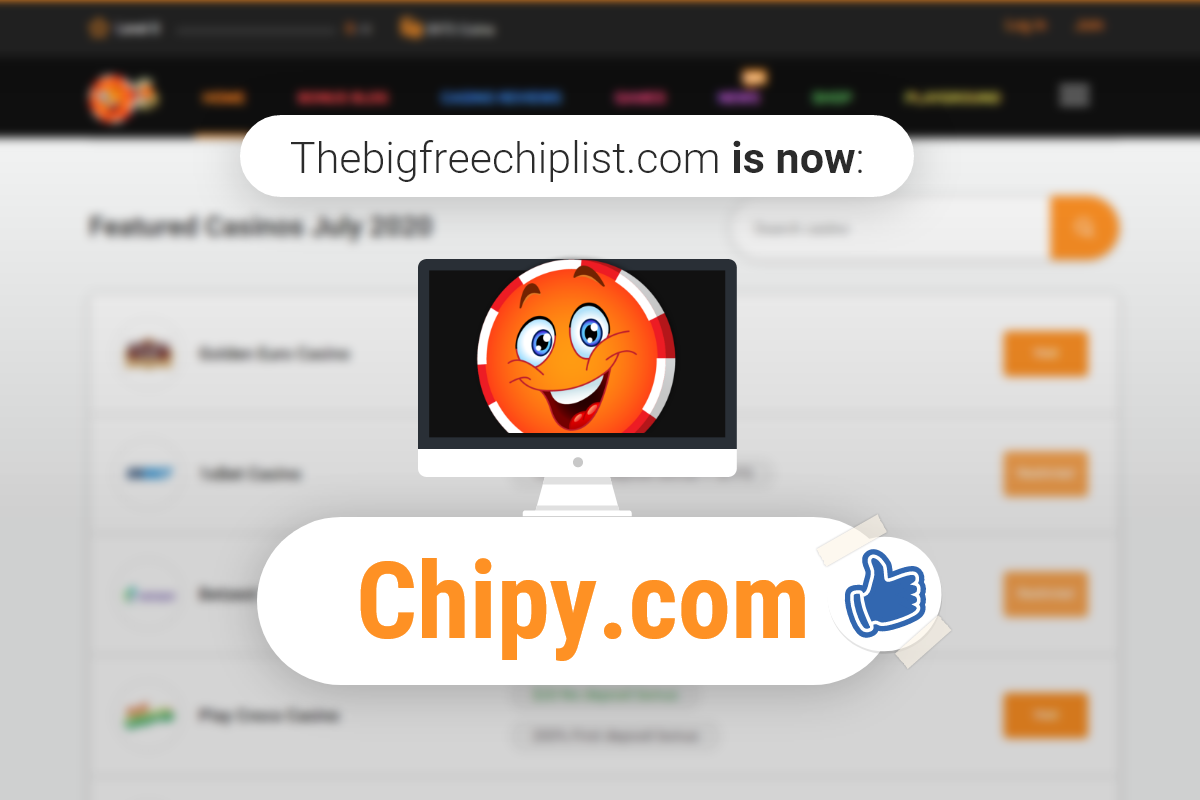 Welcome To TheBigFreeChipList's New Identity
The leading gambling portal, TheBigFreeChipList, has rebranded itself as Chipy.com to better reflect the company's current goals and objectives. The new identity was meant to bring awareness to the company's offerings, as the new domain name is more tuneful, shorter, and easier to remember.
TheBigFreeChipList is not gone for good – the company has implemented a restructuring process without losing its brand essence whatsoever. Players will find the same top-quality online gambling content in the same user-friendly approach. The rebranding has only targeted the gambling platform's name, without changing the interface of the website.
Chipy.com is renowned for its Playground section and the Community Shop, two unique features on the market. The reason for the Playground's originality is that the section hosts an excellent selection of games, where gamblers can play using Chipy coins, the website's exclusive currency, for a chance to win.
With the Chipy coins, players can visit the Community Shop, a virtual shopping section, and indulge themselves with a generous collection of fun items. They have the opportunity to turn their coins into actual money by purchasing "Real Money Items", acquire exclusive bonus offers by visiting the "Shop Bonuses" section, as well as getting hold of some really cool "Avatar Items".
A Foray Into The Past
The company was established in 2012, under the name of TheBigFreeChipList, and was an immediate success. Only a few months after its launching into the online gambling industry, the Bonus Blog section of the site became extremely popular among gambling aficionados. This section is enjoying a lot of popularity in the present day as well.
It didn't take long for TheBigFreeChipList to become one of the most trustworthy and reputable online gambling portals in the industry. Its offerings have always consisted of wide-ranging lists of online casinos rated and reviewed by real players, first-class collections of casino bonuses, entertaining game titles, and top software providers. And last but not least, an extensive and reliable news section aimed to bring users the latest gambling news.
Final Thoughts
TheBigFreeChipList has passed on its legacy to Chipy.com with the purpose of finding a balance between old and new, without losing its brand essence. The new identity represents the company in the online gambling industry and all the interconnected assets that come with this change are meant to propel Chipy.com into one of the best online gambling platforms on the market.
Chipy team believes that this change is important for further development and is hopeful that will bring significant benefits not only for the gambling portal but also for the players – as this rebranding process was before anything else an improvement meant to help users easily and efficiently retain the name of the website.
Be sure to check out chipy.com and keep an eye out for all the fun surprises this rebranding has brought with it!
7 Rules For Online Gambling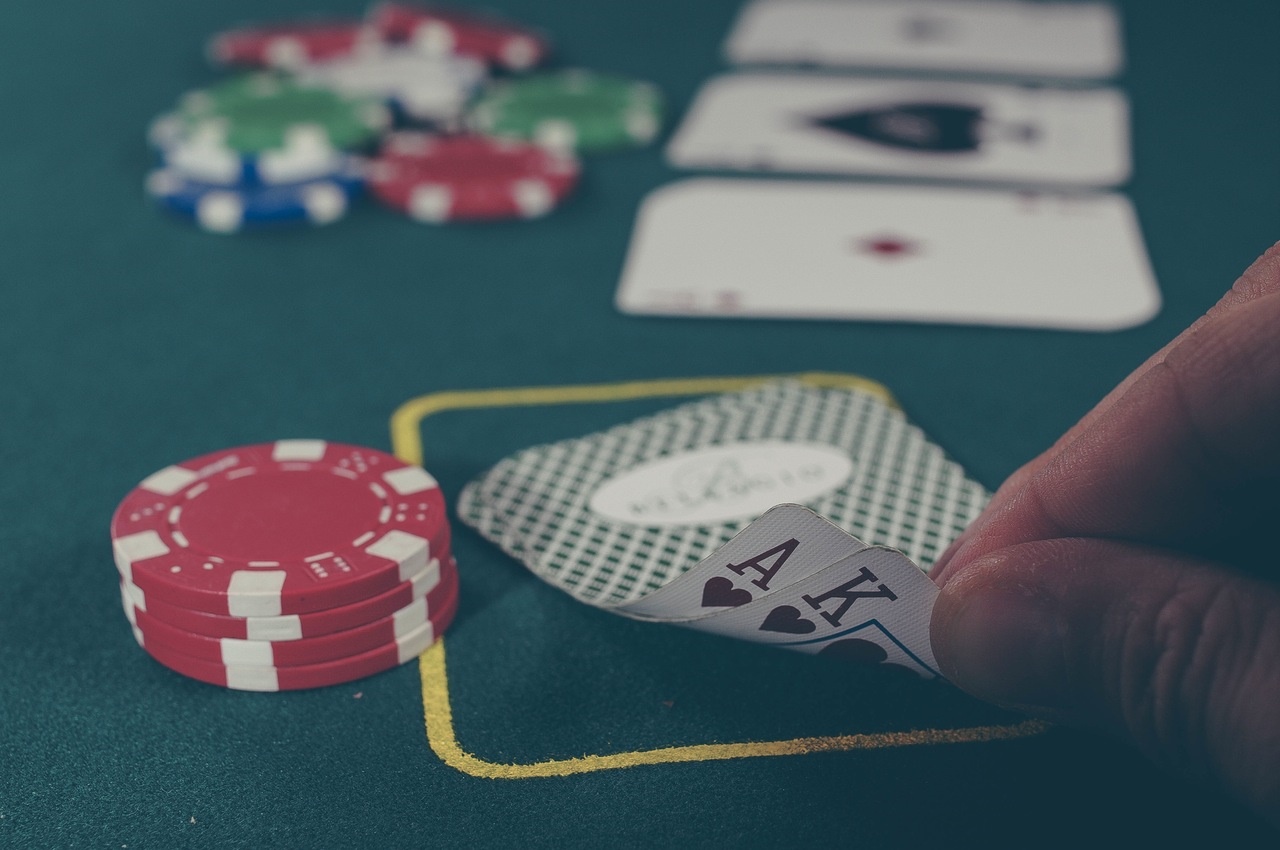 Read these 7 tips before you begin to gamble online.
1. The Law
There is a reason why this is number one on this list. It's because the laws varies as to whether it is legal for you to gamble online. Know your states local laws before you begin to gamble on the Internet. If you are unsure, contact your local authorities, or as a reference, visit this site: http://www.gambling-law-us.com/State-Law-Summary/
If you are outside of the United States, the same advice still applies. Do a search on the Internet or contact local authorities to determine whether it is legal or not for you to gamble over the Internet.
2. Casino Research
Keeping track of trustworthy casinos is the primary reason this website exists. I would still suggest you do your own investigation before making the first deposit. This includes your opinion of the website. Is it a shallow website without much content? Do they have customer service numbers and email addresses posted in a visible manor? Are their policies, terms, and condition statements vague or short? These are all ways to determine just how serious the company is about their operation.
Additionally, search for message boards and forums for any information regarding the casino in question. There are few websites like Casinofy that "approve" or suggest casinos. That does not mean it's a reliable casino. Seek out more than one positive review for a casino.
3. First Time Playing
Almost all casinos and online poker rooms allow you to play for free. Once an account is made, there will be options to play for free, or play for money. Be smart! Play for free for a while. You may find out you don't like a certain game, or the way the casino operates. This is your chance to move on before you make that first deposit.
If the casino does not offer the chance to make a free account, that would be a cause for concern. Move on to another casino if this is the case.
4. Payouts
Most importantly, when we sign up for a casino, most are thinking about winning! That's the fun of gambling. Being a safe gambler means understanding that winning at a casino is not a given; however it's a huge rush of excitement and adrenaline when it happens!
In the case that you win, you will want paid! Read the casinos payout conditions. Be sure that there are no stated stipulations that could prevent you from accessing your money outside of the online casino.
5. Customer Support
As stated earlier, customer support is an important way to judge the quality of the online casino. Research to make sure there are multiple ways to get in touch with casino staff. 24-hour phone numbers live online chat and email addresses are common industry standard customer services. It's actually a great idea to call the customer service numbers and talk to the individual. Ask them a question or let them tell you about their sign-up bonuses.
6. Know The Game
This is no different with land-based casinos. Know your specific game rules before you begin to play. Different casinos will have different in-house rules that always apply first before what you are used to, or what you experienced elsewhere. Additionally, online casinos choose different software vendors. All software vendors and their licensees are not created equal. Read before you bet!
7. Adopt A Playing Style
With a land-based casino, you are often forced to play at a certain speed. You also don't always have a nice dealer that will explain the difference in games or even how to play to you. I've made the same "first timer" mistakes myself. That ends up in loosing money fast!
After you research the in-house rules, be sure to use your own personal playing style with the games. Take your time! Think about your bets. Even more so, do some research on game strategy. There is plenty of free information available on the Internet that gives you an edge at playing the games. I will warn you that some "strategy" scams do exist. Use only free information, and carefully consider the tips or techniques before you employ them. After all this, HAVE FUN!
Live Dealers Prove Big Draw for Online Casinos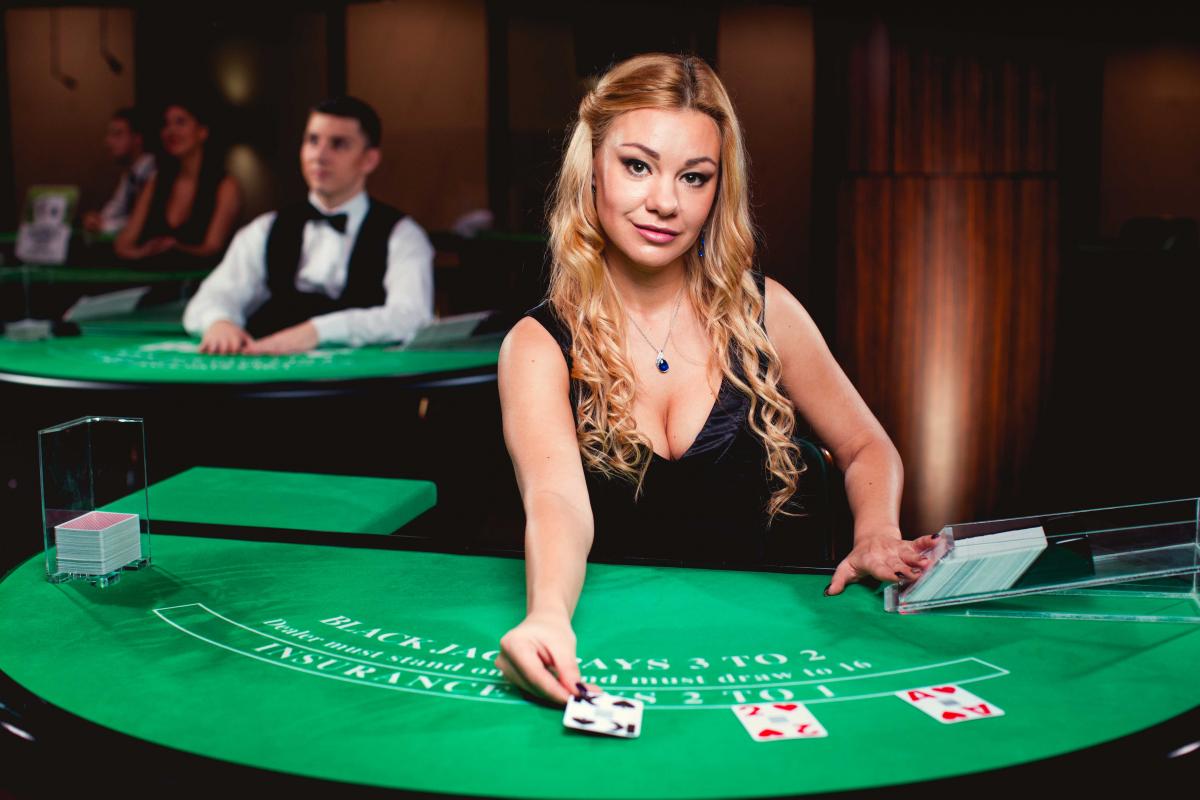 The online casino experience has come a long way in recent years. Gone are the simple and unappealing presentations that players encountered with their favourite games. They've been replaced by attractive and exciting displays that not only replicate the physical-casino setup but are beamed directly from specialised studios with live dealers in charge of the action. 
It's all down to the power of the internet and the development of newer technologies that allow the best live casinos online to provide thrilling playing and betting experiences for their customers all over the world. And it's the widespread availability of increasingly reliable broadband internet that has made it possible for just about every adult that's eligible to take part and enjoy themselves without leaving the comfort of their homes.
This is why online gambling has taken off in recent years, and in places like the United Kingdom — where betting and gambling are enormous pastimes and a giant industry worth £14.3 billion a year — it's taking an ever-larger slice of the gambling space pie. According to the most recent figures from last year, online gambling in the UK is now worth £3.2 billion annually, a 3.9% rise on the figures from the previous year. 
People are playing on their desktops, laptops, tablets and, increasingly, their smartphones as the best live casinos are typically configured to work on the entire range of popular devices in use today. It's not only the convenience of online casinos that's providing such an attraction, but the time and cost savings too — why drive or fly to a casino and stay at a hotel when you don't have to?
What Happens at Live-Dealer Casinos?
Online casinos with live-dealer features are broadcast via the internet from studios in various parts of the world. They have everything you'd expect from a physical casino depending on the type of game you're playing — roulette, poker, blackjack, baccarat and a whole lot more. When you sign up for an account at one of the best online casinos, you'll typically be offered a promotion or bonus that may include cash sums that you can start using straight away to place bets — so an initial deposit might not be required. 
You'll be able to interact with the dealer and everything is done in the same way as an offline casino. If you're playing a card game like poker, for instance, the cards will be real and not a graphic, like they were in the early days of online casinos. The dealer will shuffle them, and you can place your bets, all in real-time, giving you the experience of being at a physical casino. As well as interacting with the dealer, you may also be able to chat with your fellow players — usually via a live chat feature.
Added Benefits of the Best Live Casinos
If you're used to playing at physical casinos and are now spending more time at some of the best live casinos online, you'll have surely noticed that there are additional attractions to the latter. They may have innovations you won't find at offline casinos such as giant wheels spun by live presenters in games that are specially created for the online casino experience — Crazy Time from online casino provider Evolution Gaming is one such example. 
Plus, there's added graphics to make the experience of remote playing and gambling all the more exciting, and the best studios are fitted out with the latest in lighting and other elements so that they look vibrant, inviting and make you want to stay and play. 
It turns out that you can bet on live dealer online casinos to offer a great time every time you visit.
Sports Betting Thriving Despite Lockdown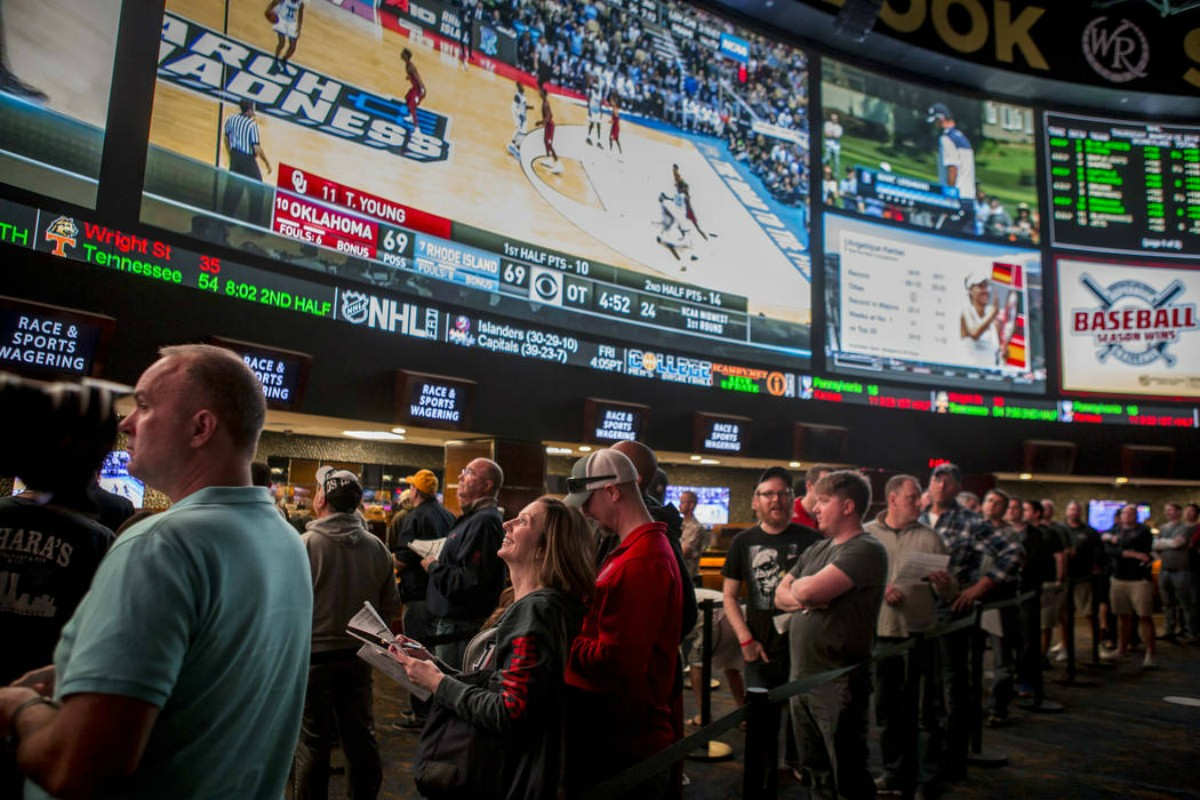 Wanna Make a Bet?
The global pandemic put North American professional sports on the shelf for nearly five months but bettors soon found leagues that they never knew existed and, well, if you're dying of thirst in the desert and someone offers you water, you don't ask if it's Fiji. Soon there were millions of experts on Belarusian soccer and Taiwanese paddle ball willing to put up or shut up. Even eSports became a mainstream betting vehicle with everything from League of Legends to Madden NFL simulations.
Sports betting may not be the oldest profession but it is quickly becoming one of the most compelling. After decades in the shadows, it has recently been legitimized due to it finally being legalized in many parts of the United States. But gambling, whether it be legal or illegal, will always be pervasive because it's fun, and potentially profitable if you know what you're doing.
Adam Burns, an industry sportsbook director, stated, "Business is booming. "We probably took in 10 times more money than last year on the 2020 NFL Draft. It goes to show people are looking for something to bet on. The draft is always big, but I couldn't believe how much money [was bet] when I woke up the next morning."
In April of this year, betting was up 50 percent at New Jersey sportsbooks over last year on sports other than basketball, football, and baseball, to the tune of $21.7 million.
Prior to the reopening of sports in North America, Dustin Gouker, lead analyst for PlayUSA.com network, stated, "The rise in bets on nontraditional sports has been interesting, and with auto racing and golf closer to starting, that trend could increase."
Books are Booming
Now that the NBA, MLB, and NHL are in full swing, business is booming even more as evidenced by reports from the best online sportsbooks in the industry. But with the king of kings, the NFL, drawing closer, the numbers are expected to soar as long as the leagues can remain open for business.
In August of 2019, a total of $744,065,765 was legally wagered in the United States and $61,762,233 in revenue was hauled in as a result. But industry experts are nearly unanimous in declaring that this August will dwarf last year's take, not to mention what the offshore books will do as well.
But few believe the take this month will beat the record-breaking month of November 2019, when U.S. sportsbooks handled over $1.8 billion, due to the fact there is no preseason football. "It's a reach," opined ESPN gambling writer David Purdum when asked by US Bets whether the month that starts Saturday can break the November '19 record, "especially without preseason football, which accounts for more than most would believe. Last August, around 25% of the total handle bet in Nevada sportsbooks was attributed to football wagers. The NBA will probably make up for the lack of football, but even then, eclipsing a regular-season football month seems unlikely."
As Purdum noted, the NBA and NHL are both playing in August which is a first for both leagues and will only add to what should be a robust betting handle this month. SportsHandle Editor-in-Chief, Brett Smiley, echoed Purdum's sentiments regarding his skepticism of a record handle in August of 2020, "There are so many moving parts here, including players going in and out of quarantine. Over/under on games played for any of these leagues, I mean, who knows? We're in completely uncharted territory here and there's too many unknowns in the equation. I think people may watch in record numbers, but hopefully people who have taken a serious economic hit — and that's an awful lot of Americans — are not using limited resources to gamble on sports. Betting 10 bucks is fine, but that doesn't impact handle much."
Purdum referenced the uncertain economic times and the looming election as another hurdle to climb for a record-breaking month, "The U.S. betting market is expanding and growing. We have more visibility than ever at how much is being wagered, which may lead to some record-setting numbers in some states. Records seem to be set routinely these days. But, to me, the pandemic, the pending election, and uncertainty surrounding the economy and sports in general will, at some point, have a negative impact on the betting market."
Whatever happens this month, one thing we do know is that Americans have a growing passion for the action. Sports betting is now mainstream and records will be routinely shattered for several years to come as more states enter the fray and become beneficiaries of all that additional tax revenue. Legalized sports betting in the USA has been a long time coming but at long last, we're glad it's arrived.