BookiePro to launch world's first provably fair affiliate program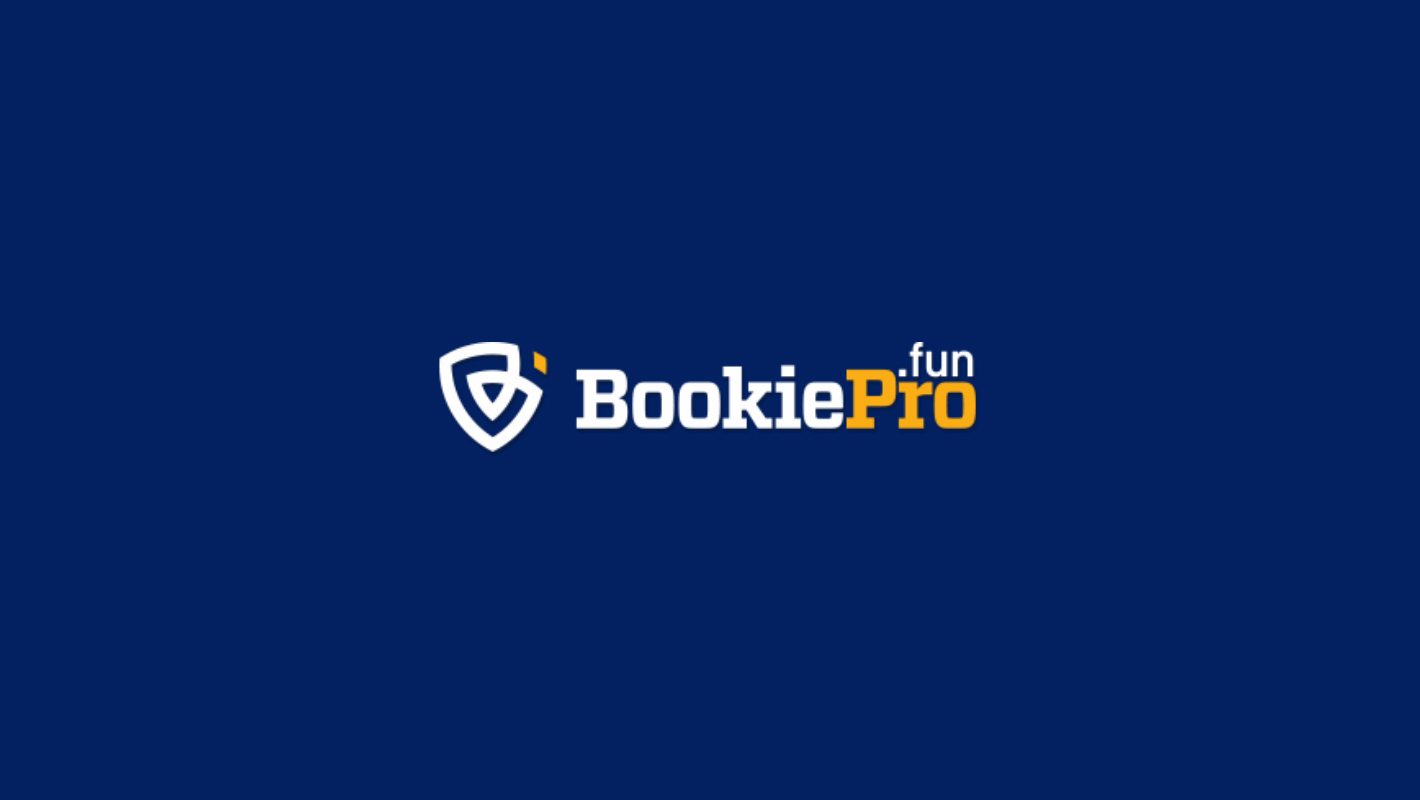 5th July, 2018 (Debert, Nova Scotia, Canada) –BookiePro, the world's first provably fair sports betting exchange, has announced the upcoming launch of a new decentralized affiliate program set to redefine the way operators interact with performance marketers.
BookiePro's provably fair affiliate program will utilize blockchain technology to automate tracking and payments via a fully transparent platform, providing affiliates with peace of mind that they will receive exactly what they are owed without delay.
With blockchain technology already transforming the iGaming sector, the BookiePro affiliate program marks the dawn of provably fair affiliate marketing.
It will offer full transparency of affiliate commission via an immutable public Peerplays blockchain, alongside customized tracking and guaranteed automated payments.
Jonathan Baha'i, President of the Peerplays Blockchain Standards Association (PBSA), said: "We see the future of affiliate marketing leveraging the strategic benefits of blockchain technology. BookiePro is a world-class sports betting product built on the Peerplays Blockchain that offers a productive alternative to affiliates while solving current problems including full transparency, automated guaranteed payments, and customized affiliate tracking."
BookiePro recently authored a whitepaper on this pioneering approach to igaming affiliation, entitled: The Case for Crypto: How iGaming Affiliates Can Cash in on Bitcoin. It can be downloaded by visiting www.bookiepro.fun/affiliate_whitepaper.
The BookiePro team will be attending iGB Live! in Amsterdam later this month. To book a meeting, please email: affiliate@pbsa.info.
BookiePro recently launched its much-anticipated public beta, www.BookiePro.fun, which marks the first official decentralized app operating on the Peerplays blockchain as well as the first public showcase of provably fair sports betting. No single person, company, or central authority owns or operates BookiePro.
For more information about PBSA and the Peerplays blockchain, please visit: www.pbsa.info and www.peerplays.com.
About BookiePro:
BookiePro is a decentralized sports betting exchange, the first of its kind in the world. BookiePro.fun is the public beta version of BookiePro, where bettors use play tokens called BitFun while competing in competitions to win real Bitcoin. Launched in time for World Cup 2018, the app allows betting on soccer matches during the tournament and beyond. Additional sports and tournaments will be added regularly, over time.
No single person, company, or central authority operates BookiePro.fun or the Peerplays blockchain on which it is built. As the Racing Post puts it: "…because of the way blockchains work, Peerplays is largely automated and self-sustaining. No one owns it, no single person or organisation is responsible for it…"
Unikrn Welcomes Affiliate Partners to Wagering's Leading Esports Betting Platform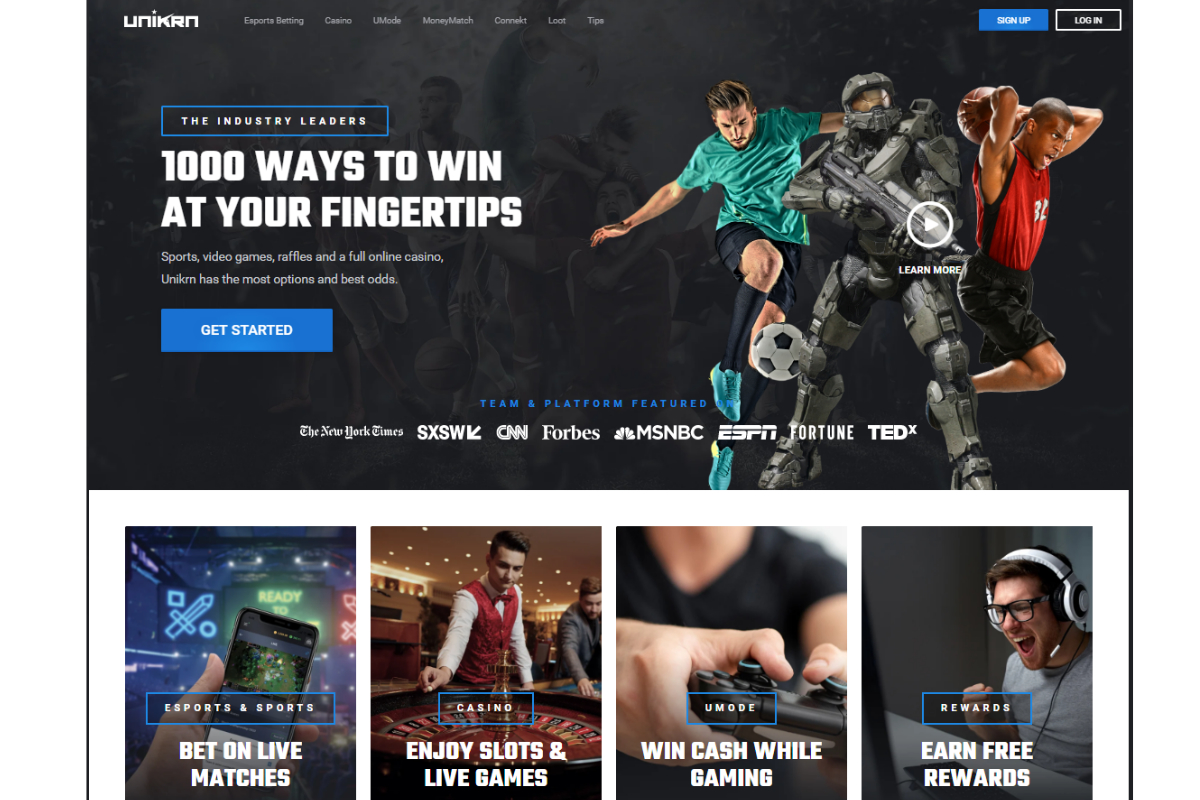 Award-winning esports-first betting platform Unikrn announces they have integrated community-driven affiliate partnerships and are recruiting additional affiliate relationships to drive acquisition for gaming, sports, esports and casino experiences.
Since 2014, Seattle-based esports betting platform Unikrn has been rapidly solidifying their position in the market as an innovative platform, building crossroads through betting, blockchain, content and player experiences.
After years of work and winning Esportsbook of the Year 2019, Unikrn is now the leading esports betting destination on Earth. Unikrn is seeking and signing community partners and platforms to accelerate their growth and footprint.
Unikrn is the ultimate destination for players who want unique experiences in and out of gaming, including free rewards, leading 300% first-deposit offers, betting and more. Alongside esports betting, Unikrn has recently launched a first-class casino offering to give players a one-stop shop for esports, gaming, sports betting & casino interests.
Unikrn has also the most robust and flexible payment system among their contemporaries, with fully currency agnostic across cash and crypto options.
This commitment to superior experiences, through innovation and new technology, attracts players across the board, from the esports obsessed to the casual-competitive gamer. Catering to players, whether watching or playing, Unikrn covers every major title, including Dota 2, League of Legends, Overwatch, Counter Strike: Global Offensive and Fortnite.
Through their unique technology, Unikrn UMode, players can even bet on themselves by selecting their favorite game, betting on their own success and reaping the rewards as they cash in on their gaming victories.
"With our customer demand and retention at an all-time high after years of hard work, we're excited to share that success with more partners big and small in the gaming space," said Karl Flores, Unikrn's co-founder and CPO,  "Every player should get to feel like a pro, get thrills and have the most exciting experience possible, and Unikrn is the only place to bet on yourself, bet on the pros in esports or sports, bet on 24/7 exclusive virtual showdowns or enjoy live casino games from the safety of home."
PartnerMatrix powers TotoGaming Affiliate Program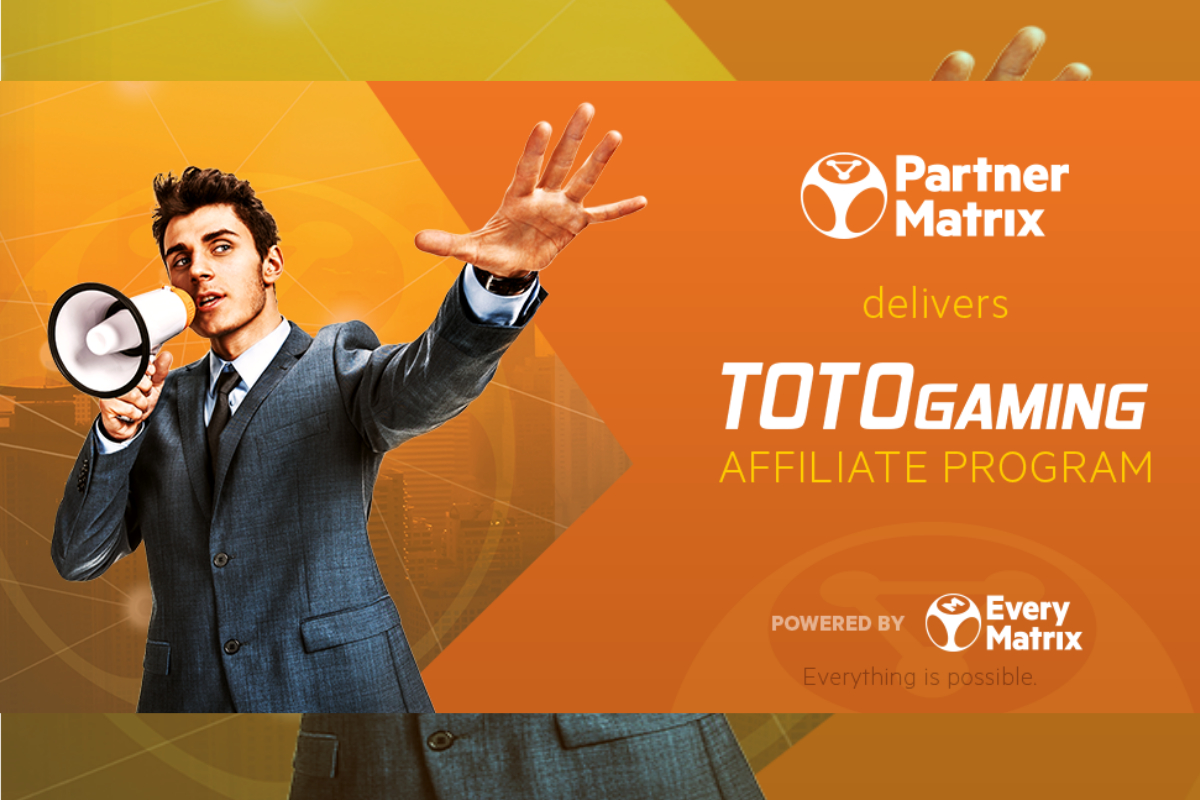 EveryMatrix is delighted to support the launch of TotoGaming Affiliate Program through its PartnerMatrix Affiliate Management solution directly integrated with TotoGaming's current platform as a 3rd party.
Through PartnerMatrix, TotoGaming Affiliates provides flexible commissions structure, an easy-to-use and friendly interface, plenty of marketing tools, support for attractive bonuses and promotions and constant expert guidance.
Furthermore, PartnerMatrix simplifies affiliate managers' operational efforts through in-depth reporting with real-time statistics, accurate tracking of the impact of promotions, allowing them to easily manage data, payment plans, marketing tools, and affiliate settings from a single location. The back-office in PartnerMatrix is highly focused on both administrator and affiliate comfort and it gives the opportunity to reach each angle of the promoted brand.
Victoria Poghosyan, the Deputy COO on Commerce at TotoGaming said: "As we already have a leading position in the Armenian market both as an online and land-based gaming operator, it was inevitable to extend our services further, therefore we designed a program that will cater the interest of our affiliates at best. Our partnership with PartnerMatrix came naturally since we pursue the same goal – to make affiliates successful through excellent campaigns."
Levon Nikoghosyan, PartnerMatrix CEO, added: "We're thrilled to be TotoGaming's choice for their affiliate platform and looking forward to strengthening this partnership in 2019 as the companies continue to grow together. PartnerMatrix has now considerable expertise in optimising the affiliate channel and leverages its market-leading platform to help operators launch and manage successful affiliate programmes."
PartnerMatrix is continuously innovating to benefit both operators and affiliates. The platform recently made available features such as Reactivation Rewards for affiliates, Server to Server (S2S) tracking that improves the accuracy of the conversion, and Player Segmentation for better optimization of the affiliate rewards. PartnerMatrix also delivers feeds and APIs for affiliates to obtain reports and data automatically.
About TotoGaming :
TotoGaming is a reputable iGaming operator, partnered with Digitain, providing betting opportunities to players across multiple sports betting and online casino products during last 15 years. TotoGaming's in-house 400 traders cover 65 sports, 7500 leagues, 3000 betting markets, 40 000 pre-match monthly events, 30 000 real live monthly events. The Live Casino and online casino cater for various slots and games. The variety of excellent gaming experiences are supported by a superior customer support service and care for players. TotoGaming is headquartered in Yerevan, Armenia.
About EveryMatrix:
EveryMatrix delivers a modular and API driven product suite including a market leading one-stop shop casino content aggregator and integration platform, a cross-product bonusing engine, a fully managed sportsbook and sport data services, a stand-alone payment processing product, and a multi-brand affiliate/agent management system.
To offer the services required by operators, the EveryMatrix products work together as an entire platform or independently and can be easily integrated with existing platforms to accommodate different types of clients from bookmakers to lotteries and, from existing large operations to newcomers.
Global Gaming Affiliates wins big at the iGB Affiliate Awards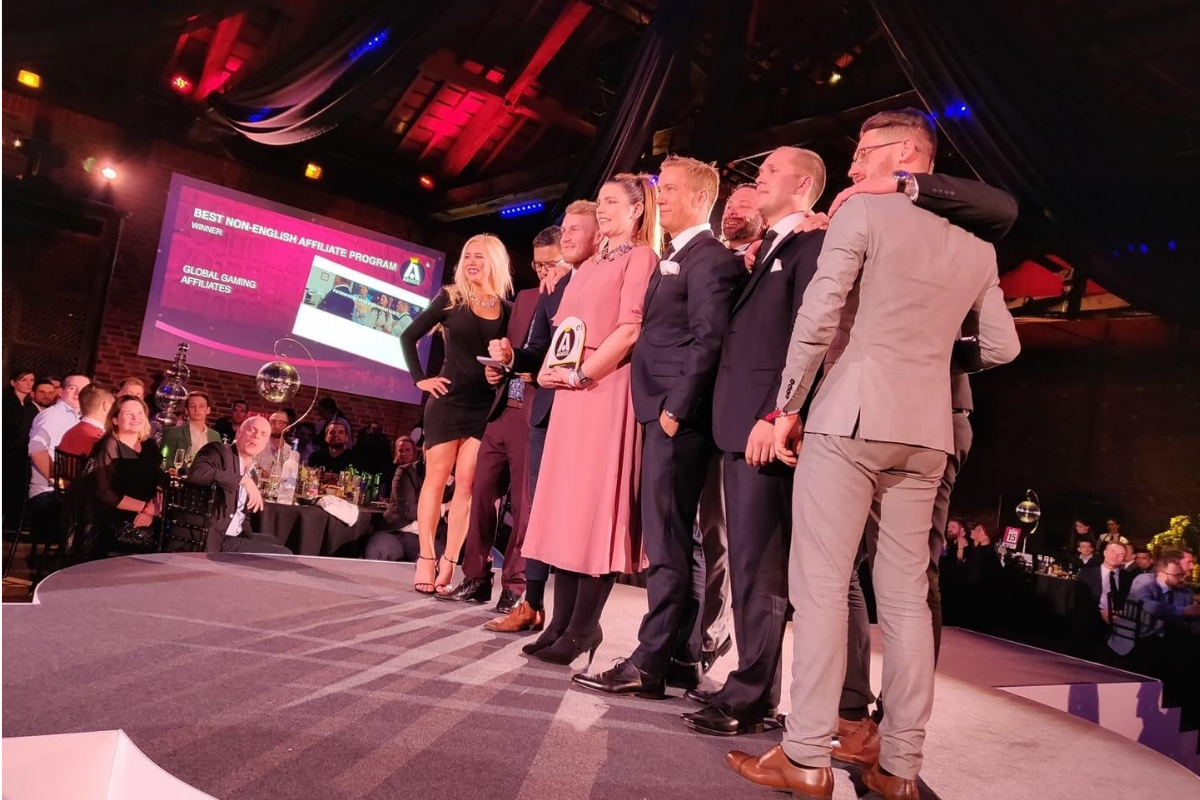 Global Gaming Affiliates has cemented its position as one of the industry's fastest-growing affiliate programmes after being named Best Non-English Affiliate Program at the 2019 iGB Affiliate Awards.
The expert panel of judges were impressed with the successful impact of Global Gaming Affiliates since launching last year, which promotes Global Gaming's leading brand Ninja Casino.
With a focus on developing close relationships with its partners, Global Gaming Affiliates introduced an industry-first sick pay initiative during the judging period. The scheme enables affiliates to receive up to three months of commission, based on an account's last six months of earnings, if they are unable to work due to a serious illness or other event.
The iGB Affiliate Awards recognise the most prestigious businesses within the online gaming affiliate industry. The winners were announced at a prestigious ceremony held at The Brewery, in the City of London.
Elaine Gardiner, Head of Global Gaming Affiliates, said: "Being named Best Non-English Affiliate Program at the iGB Affiliate Awards is an honour, and is a real testament to the strength of the team we have at Global Gaming Affiliates.
"It's great to be recognised by our fellow peers and it is only the start of the journey for Global Gaming Affiliates. We look forward to a successful 2019, where we have a number of innovative ideas to enhance the programme even further."
About Global Gaming:
Global Gaming is a challenger in the iGaming industry, delivering innovative and safe gaming services and operating a number of successful casino brands.
Its flagship, Ninja Casino, builds on a revolutionary technology allowing players to enjoy a safe and seamless online casino experience without the hassle of a lengthy registration process.