AffiliateINSIDER praised for "value-driven ethos" after landing Vbet deal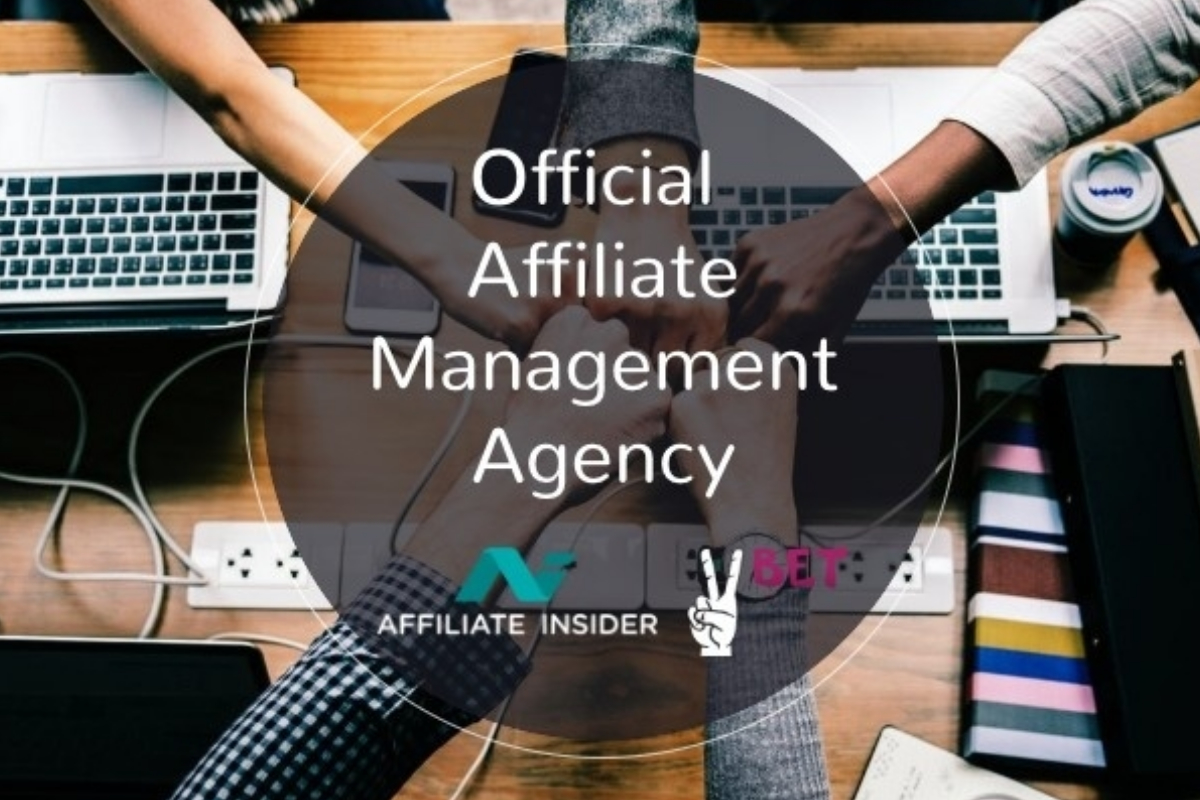 AffiliateINSIDER (AI) has struck a new client deal with Vbet to become the bookmaker's affiliate management agency. Through the role, AI will be responsible for the BetConstruct subsidiary's global affiliate strategy and daily program management.
AI's affiliate management service includes both strategy and program management coupled with bespoke marketing services designed to growth hack affiliate recruitment, program promotion and widen their brand reach.The client also benefits from access to reputable affiliates via our unique events AIBootcamp (March) and AffiliateFEST (September).
Vbet, winner of the Balkan Gaming Awards for Online Operator of 2018, cited AffiliateINSIDER's "value-driven ethos" and the team's connections and expertise in affiliate marketing as the main reason for the appointment. AffiliateINSIDER has delivered a proven track record of helping deliver growth and has fast become a "go-to" supplier for affiliate program strategy and account management services since launching in late 2017.
Arsen Aharonyan, Vbet VP Operations, explained: "We believe in investing in the best expertise to help our business innovate and grow Vbet's global expansion via the affiliate channel. As such, we've partnered with AffiliateINSIDER to manage the commercial strategy affiliate relationship management and marketing for our global affiliate program.
"AffiliateINSIDER has over two decades of affiliate marketing experience obtained in iGaming and a strong value-driven ethos which matches our own. We're delighted to be working with AffiliateINSIDER's experienced team to improve our affiliate program proposition."
Vbet will further benefit from AffiliateINSIDER's Affiliate Bootcamp, designed to help affiliates growth hack their business, having already secured the headline sponsorship for AIBootcamp2019, held at Under the Bridge in London from 21-22 March 2019.
In addition to this, they will also take advantage of ongoing skills-development for their growing affiliate team via the AffiliateINSIDER Affiliate Manager Training academy, while benefiting from additional PR and media support via the company's content and news hub.
AffiliateINSIDER Founder and CEO Lee-Ann Johnstone added: "We are thrilled to have the opportunity to work with Vbet and help support their global affiliate expansion. I"m very excited to be working with such an exciting product and a constantly innovating brand.
"As a pure affiliate marketing and events business, we specialise in working with brands who want to build personable relationships in the affiliate community and driving focussed revenue growth. Our team is well versed at implementing cost effective strategies that drive incremental revenue and brand marketing reach. We look forward to working alongside the Vbet team as the business expands into new global markets."
How to Keep Online Casinos Users Interested: Advice from Christina Thakor-Rankin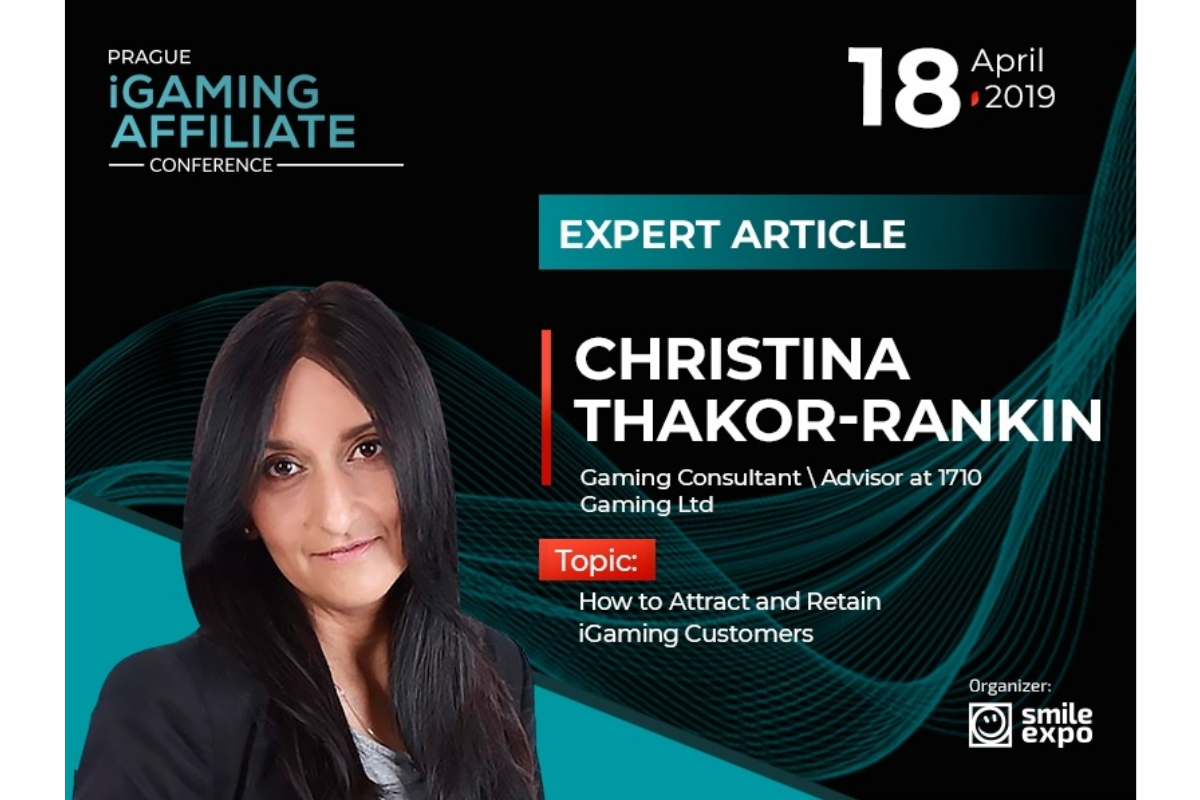 According to the Conversion portal, the gambling market increased by €4.3 billion in 2018, and its volume would grow by €3.9 billion in 2019. It means that the industry competition will become even higher. Therefore, it is quite important for online casino owners not only to attract new gambler, but also to retain the current ones. Well, what methods are the most efficient in this regard?
Tools for Retaining Online Casino Clients
The high-return gambling industry allures new companies interested in the expansion of their audience to the market. To attract and retain customers, online casino owners develop comprehensive marketing strategies allowing to fulfill players' demands. One widens a range of casino offers, provides maximum transparency of transactions and access security, as well as adds new ways of withdrawals and major loyalty programs.
There are several efficient and, most significantly, legal tools that help to engage clients and encourage them to return to the resource again and again.
Christina Thakor-Rankin, a Leading Gaming Advisor at 1710 Gaming Ltd. and expert in betting, gaming, and gambling industries with 25 years of experience, has shared her opinion of how gambling online resources can retain steady clients.
Christina Thakor-Rankin will become a speaker at the Prague iGaming Affiliate Conference – event about affiliate marketing in online gambling by the company Smile-Expo, which will take place in the Czech Republic on April 18. The conference will gather top marketers, gambling sphere experts, affiite programs representatives and online casinos operators.
Special Offers, bonuses and loyalty programs
Appealing special offers include non-deposit games, registration bonuses, and cashback in case of losing. Such prizes and bonuses should be optimized for both new clients and regular visitors. Also, it is important to remember about loyalty programs with well-defined rules.
Christina Thakor-Rankin believes that exclusive customer specific deals and offers, and loyalty programs that offer a proper reward are the most efficient tools to retain online casino customers.
"We now live in a world where customers are always looking for the next thing. Being aware of this means we can stay a step ahead by making sure that we keep developing what we do."
The reason for exclusive customer specific deals and offers is simply to mirror what customers get from other digital service and product providers, believes Christina. According to the expert, it refers to recommendations based upon historic activity, and it works for casinos and gambling sites.
Loyalty programs which really do reward regular customers with something meaningful are also important. Christina explains that it could be points which can be converted to cash or rewards in the form of gifts.
"For example, one of the casinos I use sends a small box of chocolates or a voucher on St Valentines' Day or my birthday. Another one rewards regular logins with random free cash, spins or gift drops."
However, expert shares that she probably wouldn't advocate traditional deposit bonuses, as regulators are starting to take action on this and it's a little bit boring.
Constant Product Expansion
The more diverse and high-quality games the platform provides, the more players the resource will get.
The specialist is sure that the first thing to attract players is always product, as if a product is no good, clients won't stay.
"As an industry we've struggled with the next generation of players (the Millennials), and logic says that if we miss them, we will probably miss the next generation as well unless we start doing something about it now."
Christina says that the problem seems to be that the new generation which has grown up in a fully interactive world does not seem to be so interested in a two-dimensional casino game. So, there has been some experimentation with VR and skill-based gambling to look at how we bridge the gap, but it should still be better developed.
"Until we get there, I think that more successful casinos will provide as much as possible to offer something for everyone and tailor products accordingly."
Here the expert explains that some types of slots work better in different parts of the world, for example, fairy tale games work well in Europe but mean nothing to customers in emerging markets. At the same time, virtual sports are taking off in West Africa, but connectivity and cost of data mean it hasn't gone online yet.
Push Notifications, Spam and Black SEO
Push notifications, special emails for registered clients, can inspire players for action and offer to place a bet.
Here, Christina believes that spam and black SEO are not as efficient as they used to be. She explains that customers are now far more aware of the tactics used by digital companies to push themselves up the rankings or get their products and services in front of them.
"It is not important if it is white hat or black hat, and improved spam filters help to ensure that even legitimate emails end up being blocked."
The specialist says, it is only a matter of time before regulators step in, further reducing the effectiveness of traditional affiliate tactics.
"We also need to be aware that traditional SEO is now slowly but surely being superseded by voice – what used to be Google is fast becoming Alexa or Siri and this poses some interesting challenges but also some very interesting opportunities for new forms of affiliate activity."
Artificial Intelligence and Big Data Analytics in Online Casinos
Talking about AI and big data, Christina mentions that knowledge is power.
"The more we know about our customers, the better we understand their behavior, their motivation, their preferences, so, the better we can serve them."
AI and data science have already started to take on the role of an "affiliate" on some websites, explains the expert, talking about recommendations for purchases, products or content based upon customers' activity.
Christina believes data science and machine learning are just taking the principles of customer segmentation and CRM and automating them on a bigger scale. "What will be key is how applications interface and interact with customers," says Christina.
Role of Affiliate Marketing
"Affiliates as we think of them in the world of gambling are really a child of the internet," explains Christina.
According to the expert, currently, we've gone from internet to mobile, voice and virtual and projected reality. There was also a huge shift in regulation: an open internet market has become more restricted. Christina says that keeping in mind the need to limit exposure to gaming content until age has been verified and a new generation whose interest in casino is lower than previous generations, we see that life for online casino affiliates gets much harder.
"That does not mean they don't have a role to play – the question will be whether the role is that of an affiliate or of an advocate and influencer."
At the Prague iGaming Affiliate Conference, Christina Thakor-Rankin will deliver a presentation on the topic: From Affiliate to Influencer – engaging the iGeneration.
Learn more about affiliate marketing from the experts.
Use the promo code SAVE30 and get 30% discount. The amount of tickets is limited.
Details about the event and registration are on the website.
Google Manager joins illustrious speaker list for AffiliateCon Sofia 2019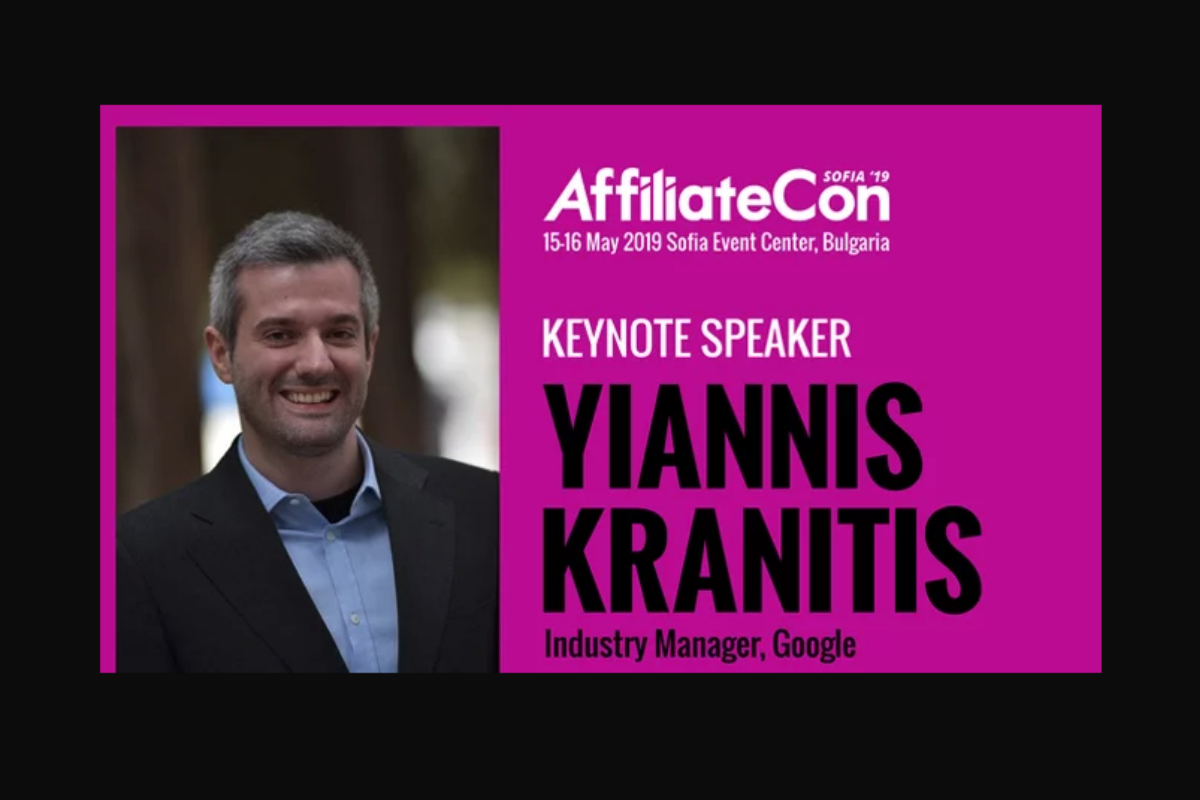 Google Industry Manager Yiannis Kranitis has been confirmed as a speaker for AffiliateCon Sofia 2019.
Joining Google in 2009, Kranitis boasts more than seven years experience in the gaming industry, consulting companies in their acquisition efforts and digital strategies.
Prior to joining the SEO giant, Kranitis worked on the agency side, meaning AffiliateCon Sofia attendees can tap into his multi-layered wealth of industry knowledge.
Topics he will cover include trends and competitive insights from international markets in a must-see presentation for members of the affiliate sector.
AffiliateCon Founder Julian Perry said: "SEO strategies are vital to the survival and success of affiliates and we are delighted to have a search engine specialist like Yiannis at our show this year.
"Yiannis joins an already stellar line-up of AffiliateCon SEO speakers and his time at Google should offer an array of unmissable insights."
AffiliateCon Sofia will offer two full days of educational speeches intertwined with lively entertainment and an evening party. The show will be held at the Sofia Event Center on Wednesday 15 and Thursday 16 May.
AffiliateCon Sofia will also be hosting an SEO Mega Panel on both mornings of the show, where four expert speakers have signed up: Stanislav Dimitrov, Gennadiy Vorobyov, Lyubomir Popov and Nikola Minkov.
Other speakers include Mustard Digital Founder Allan Turner and UltraPlay's Dragomir Ivanov, with the stage set for an even bigger and better event than 2018's unforgettable show.
Genesis Affiliates the latest exhibitor to sign up for AffiliateCon Sofia 2019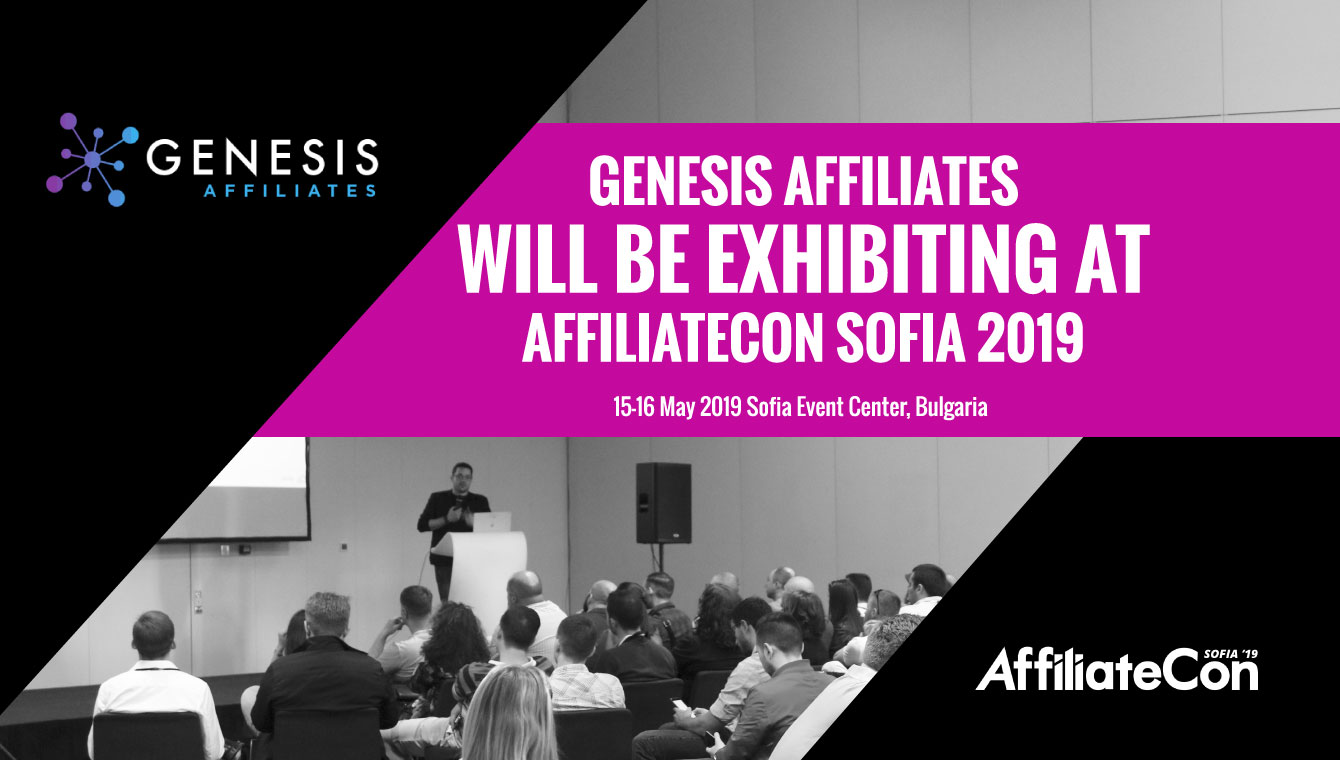 Leading brand Genesis Affiliates has been confirmed as an exhibitor for AffiliateCon Sofia 2019.
The affiliate strives to offer customers lifetime value and will be present in Sofia on 15-16 May, showcasing its services at one of the premier gaming events of the year.
Genesis Affiliates was recently granted a Swedish license and already boasts a long list of casino brands as its partners.
In adding its name to the line-up of reputable attendees, Genesis Affiliates joins the likes of Kindred Group, Lapalingo and 7StarsPartners, as the AffiliateCon Sofia floor plan begins to take shape.
AffiliateCon Founder Julian Perry said: "We welcome Genesis Affiliates with open arms as one of the industry's biggest affiliate brands. This is another sign that established affiliate names want to take part in our event.
"We look forward to hosting Genesis Affiliates, along with several other big-name brands at the show, and we are excited about how the AffiliateCon Sofia floor plan is coming together."
AffiliateCon Sofia promises to be an even bigger and better event than 2018's successful rendition, with a number of first-class speakers and exhibitors already added to the event schedule.
Two full days of educational speeches will be intertwined with lively entertainment and an evening party with special guests to complete the experience.
Click here to book your tickets and network with the best affiliates Europe has to offer this summer.