PartnerMatrix makes its comeback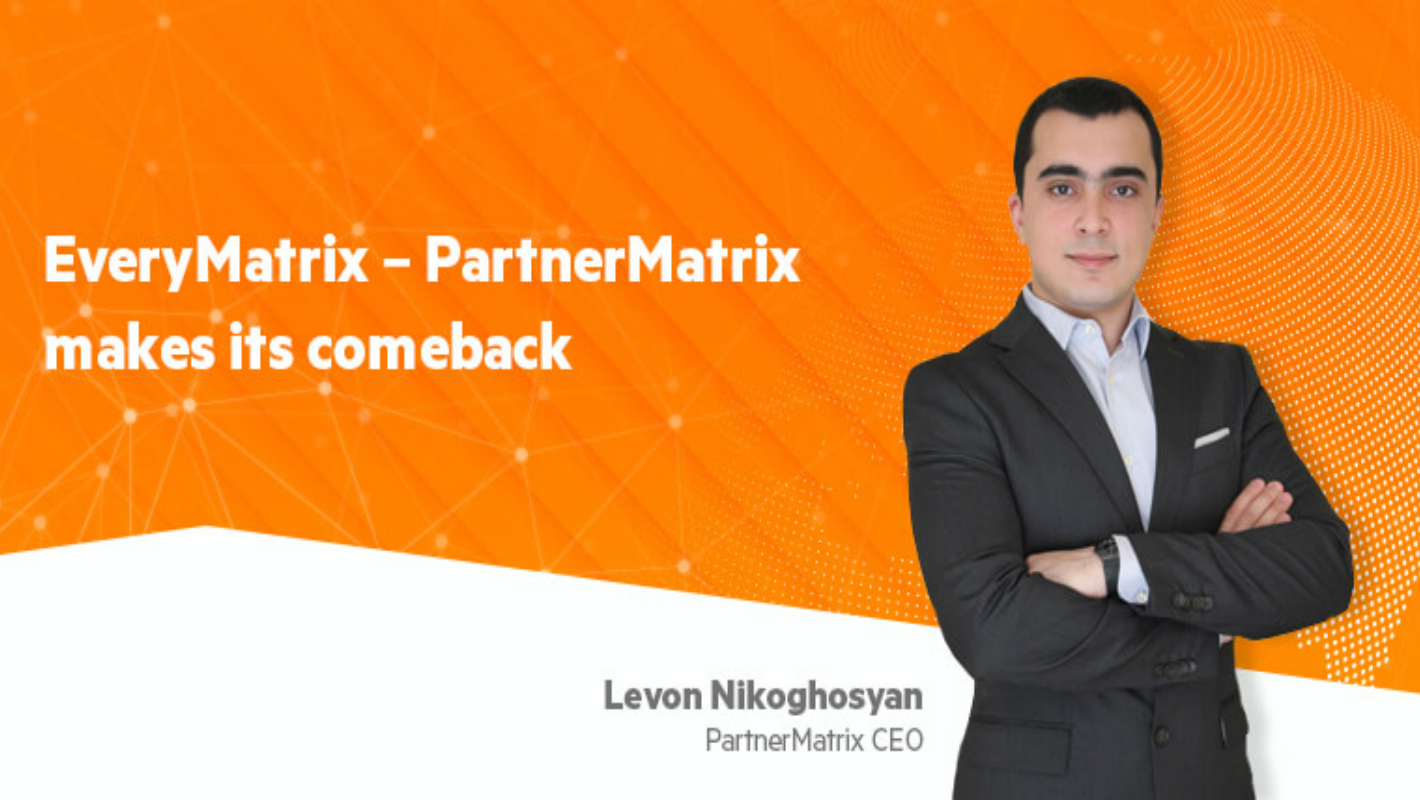 Levon Nykoghosyan, PartnerMatrix CEO, speaks in this interview about the product revamp, key features and product vision, as well as how to overcome the present industry challenges.
Can you detail why PartnerMatrix is such an important release for EveryMatrix in 2017?
Nykoghosyan: PartnerMatrix has been one of the first projects of EveryMatrix and it is not only an important release in 2017 but it has always been an important part of our full package solutions for operators, ranging from sportsbook to casino and payments solutions.
Although the new PartnerMatrix version it's just two years old, is already a competitive product with a responsive and easy to use interface allowing operators manage affiliates' data, payment plans, marketing tools, reports and user settings, all from a single location. Simple to implement and supplied with continuous updates, the system is fully adaptable for different markets and regions and has gained trust among both startups and big operators.
Under constant improvement, our system is an ever-evolving solution. The 2017 releases include, among new languages support and many other small improvements, the launching of real-data reporting and the integration with our payment service provider, MoneyMatrix. This integration allows us to provide so many ways for affiliates to withdraw their commissions and this is another step towards providing one of the most powerful affiliate systems in the iGaming market.
From a product perspective what marks PartnerMatrix as a unique software for the saturated affiliate market place?
Nykoghosyan: The most important thing, which was at the core of our key features from the start, (back in 2015), was to build a real-time system, for both affiliates and agents, and track everything under one system instead of using two separate systems that track the same data.
PartnerMatrix allows affiliates to operate as agents (transfer money to specific players, place a bet in the system, place a bet on behalf of a player) and at the same time the agents can operate as affiliates (use banners to bring traffic, provide promo-codes to customers, keep sub-affiliates). This unique system has been designed to offer our clients the ability to widen their users' base by using agent networks to target offline customers.
I am very happy about the feedback we received from the industry for which I would like to thank our solid and hard-working team.
From your perspective, where do you feel industry affiliates are being underserved, and how has this factor shaped the development of PartnerMatrix as a platform?
Nykoghosyan: I think one of the most significant issues nowadays, is the lack of transparency. It is important for affiliates to be able to see how every single number is being generated instead of just being fed with partial data, like many systems do. More than this, the lack of transparency could lead, over time, to trust problems.
Our solution provides very detailed and comprehensive reports by displaying breakdown of every number, costs, bonuses, etc. We can also provide, like in case of some operators, detailed bets history for a better insight.
Transparency is not the only issue we see within the industry. Lack of support is among things that are on the table and often brought in discussions. To tackle this concern, PartnerMatrix has been established with its own dedicated Account Management team, which allows us to be close to operators, understand their needs, receive their requirements and deliver the solution in the shortest time.
From a marketing and operations perspective, what new obstacles are facing affiliate as an industry acquisition vertical?
Nykoghosyan: There is a huge organic competition between affiliates and our focus is always helping our clients and their affiliates and make sure we give them a powerful advantage over competition.
To this end, the Back-office in PartnerMatrix is highly focused on affiliate manager and administrator comfort. It gives opportunity to reach each angle of the website and successfully manage all the operations.
Relatively new, ad blocking and domain blocking is definitely an obstacle in terms of traffic loss. At PartnerMatrix, we do offer a solution to this problem (which our current affiliates use) by allowing them to choose affiliate domains which do not contain "block words". Furthermore, operators can immediately change affiliate tracking links if the current domain gets blocked.
Finally, following its initial launch, how do you see PartnerMatrix growing as an EveryMatrix service?
Nykoghosyan: I am happy to see it growing every day, by every new release deployment, with every added feature and, the most rewarding, with every new client.
We strongly believe that finding the right balance between high performance and product quality requires team work and common vision. To that end, EveryMatrix has assembled PartnerMatrix project as a separate business unit in the company to fully concentrate on providing one of the leading performance marketing and partnership solutions in the world. The bar is set high for us, and this is a good thing.
I'm fully confident that competitive pricing, on top of its features, will help PartnerMatrix shine as people's platform. Whether you are a start-up or a decent sized operator, the platform will meet all operators and affiliates' needs.
The original version of this article can be found here.
What does "beyond the commission" mean for King Billy? A short list (at least) at the EGR Awards!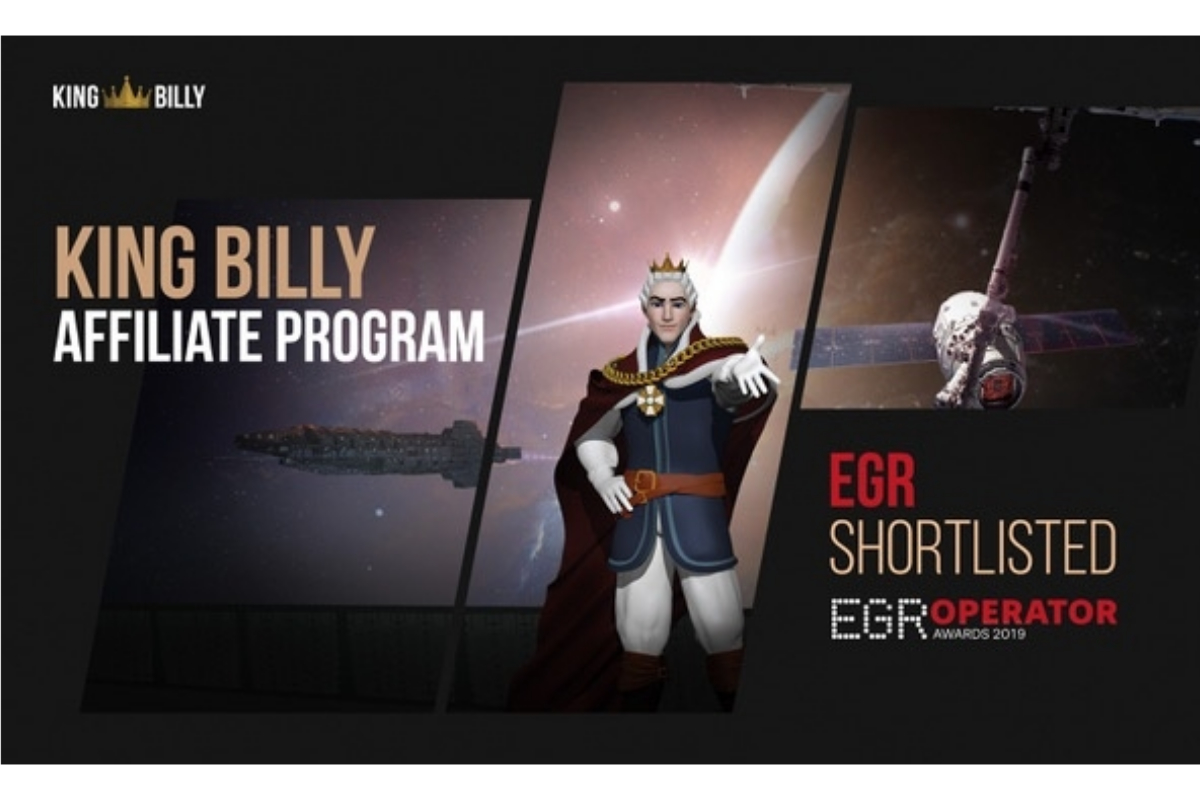 King Billy Casino has been making quite some noise with its Affiliate Program this year. The program has gained momentum and achieved wide recognition from Affiliates, both established and upcoming, which is something not to be taken lightly, given the, ahem, unpredictable mentality and demands of the Affiliate world.
According to King Billy, this is a program that promises to take the casino – affiliates relationship to a new, mythical level "beyond the commission". You may wonder (as we did) what lands lie beyond the commission. Is the first stop Valhalla? El Dorado? Shangri La? Camelot? Mount Olympus?
Much closer actually: It is the luxurious Grosvenor House on London's Park Lane, home of the 2019 EGR Awards. The King Billy Affiliates Program has been short-listed in the Affiliate Program Category and we asked Ruslan Legenzov, Head of Affiliates at King Billy Casino, to share his feelings with us.
"The excitement never gets old! Congratulations to the whole department at King Billy, our "King's Servants" who make this possible. Also, a big thanks to our Marketing and Creative Department for helping us move beyond the commission exactly the way our affiliates want.
Following our biggest distinction to date, the award at the 2019 iGB Awards, this is one more proof that we are doing something extremely well at King Billy Casino. Obviously, after being short-listed, we'd like to go all the way, but we are well aware of the top level and the quality of all the nominees. So, see you at Grosvenor House and may the best operator win!"
The reputable EGR Operator Awards reward B2C operators for setting the standard in egaming excellence, with categories ranging from customer service to social responsibility, and recognizing achievements across all verticals. The 2019 Awards will take place on the evening of Thursday 24 October at Grosvenor House, London.
King Billy Casino is a new generation online casino, available in several languages (English, German, Russian, Finnish, Norwegian and soon Japanese) with an impressive record in awards and distinctions. The King Billy Affiliates Program has already won the 2019 iGB Awards Affiliate Program of the Year award.
Welcome to Kyiv-Tbilisi Affiliate Journey: a Double Ticket Will Unveil Two Markets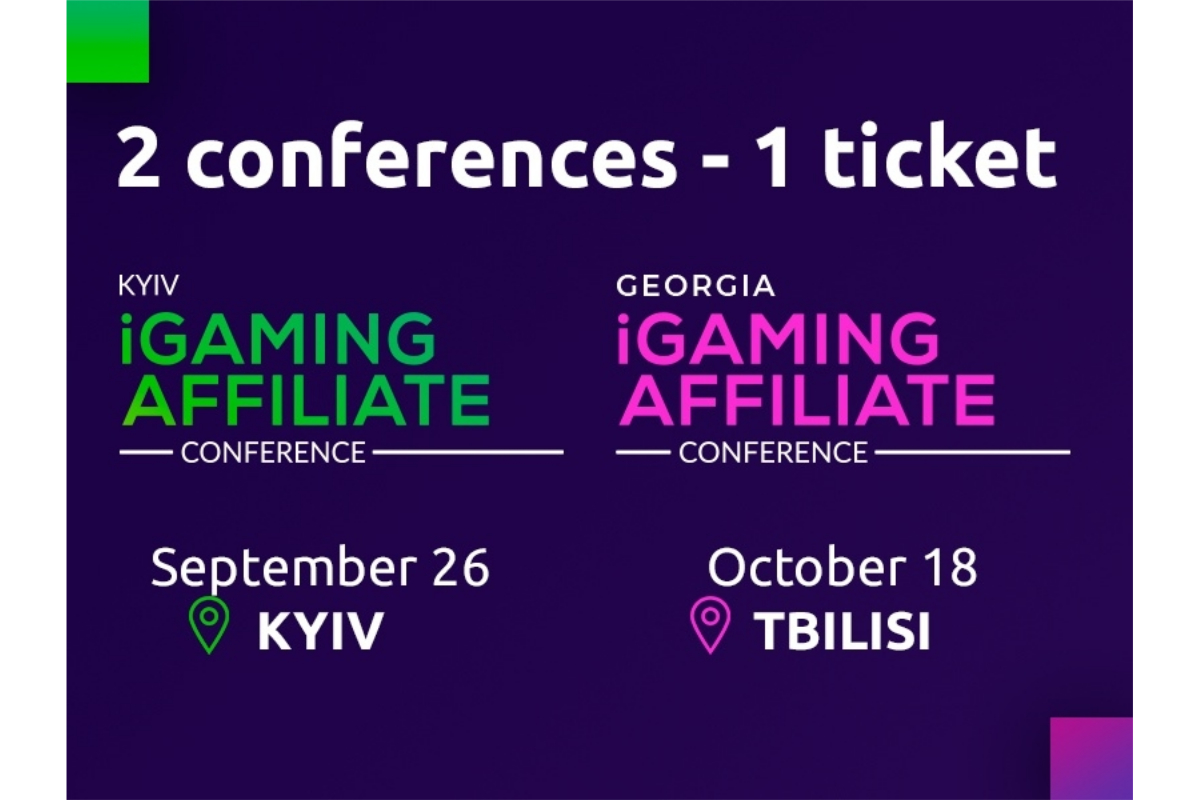 On October 18, Smile-Expo will organize Georgia iGaming Affiliate Conference – a practical event dedicated to affiliate marketing in the offline and online gambling business. Speakers will discuss the efficient strategies for attracting clients and traffic, as well as the legal aspects of land based and virtual casinos operations.
Conference website already features seven expert presentations and two participants of the panel discussion: "Offline and online casinos. Review of tools aimed at user attention". Presenting the event program, organizers also announced a new special offer: Kyiv-Tbilisi Affiliate Journey, allowing to buy two tickets to events in Tbilisi and Kyiv.
What to expect from Kyiv iGaming Affiliate Conference?
Kyiv will host the second annual conference dedicated to iGaming affiliate marketing on September 26. Attendees of Kyiv iGaming Affiliate Conference 2019 will enjoy latest insights, interactive program, lots of networking, communication with experts from five countries, and a demo zone with reputed companies.
Speakers of the conference include webmasters, affiliates, arbitrage specialists, marketers and top lawyers. They will address key issues:
How to get maximum quality traffic from the CPA networks?
How blockchain influenced the gambling market?
Why advertisers and affiliates need to work together to reach the best result?
How to find traffic for betting mobile app?
How to build funnels while working in the gambling niche?
What is important for banks and regulators in the activities of operators and affiliates?
Gambling market in Africa: what this is and is there money?
Besides, a panel discussion will take place as part of the event, highlighting gambling, betting, esports, as well as finding the balance between these sectors.
A double ticket to Kyiv – Tbilisi Affiliate Journey
Specialists working in the iGaming segment will learn useful knowledge at Georgia iGaming Affiliate Conference and Kyiv iGaming Affiliate Conference, having a chance to talk to local experts, find out more about the operations in the region, and learn about the prospects for launching and expanding the business.
That's why, Smile-Expo is offering you a Kyiv-Tbilisi Affiliate Journey, allowing to get one ticket for two conferences at the best price. The price for one ticket till September 3 comprises €150 only.
Each week, the price will grow €50, and with each price increase, we'll add new exciting options from the organizers into tickets. Kyiv-Tbilisi Affiliate Journey will last one month, ending on September 22.
You can buy a double ticket on websites of both conferences, the special category is open on the pages of registration.
MyAffiliates announces its rebranding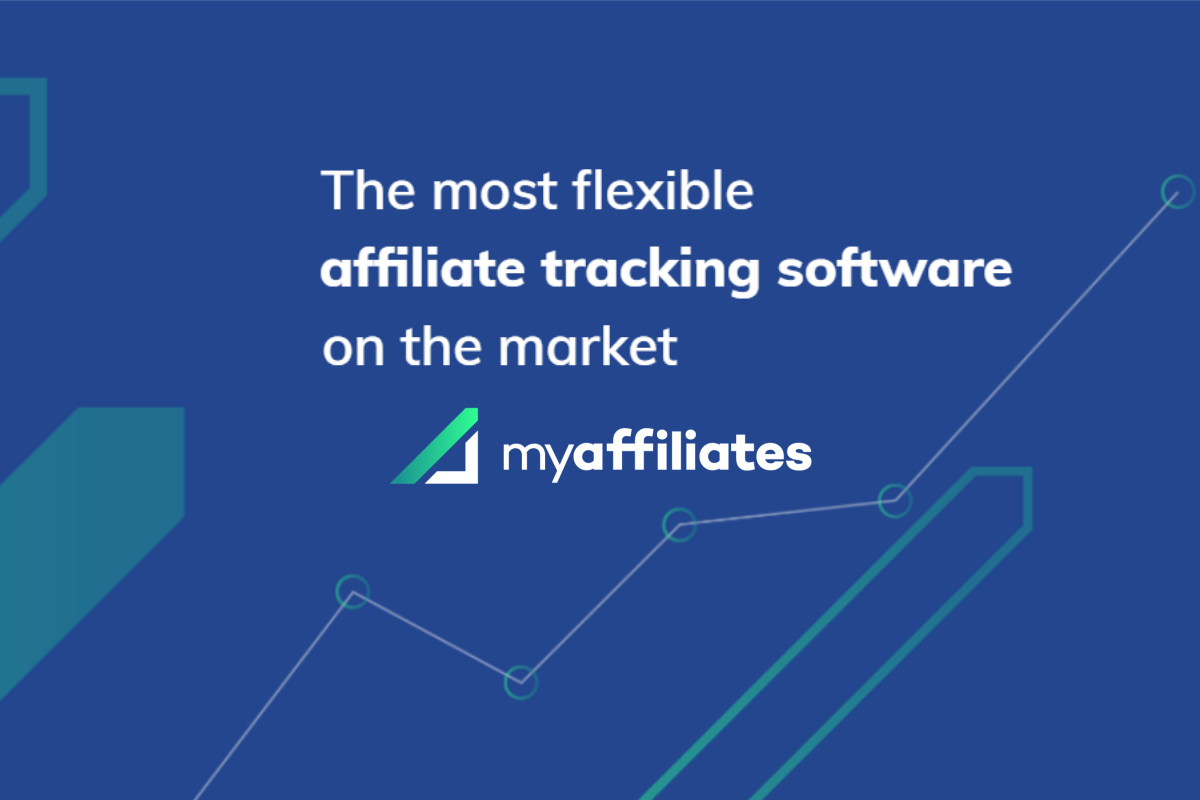 MyAffiliates, the affiliate marketing software provider, announced today a major rebranding of its product image to reflect the company's evolution in the online betting, gaming, forex and binary industries.
Clemence Dujardin, General Manager at MyAffiliates said: "MyAffiliates has been around since 2007. Our technology and our products have evolved considerably since then. It was high time for a rethink of our brand to plot our journey in the years ahead. We have been very successful over the years working with an ever growing number of online operators worldwide. Our new brand is an invitation to them to join us as we continue to improve our offering.
"The new brand recalls MyAffiliates' sterling reputation as the most flexible affiliate marketing software on the market. This flexibility is built on the features we developed along the years. But our success also rests on transparency in our pricing structure and the support we provide our customers anytime they need it, whichever time zone they are in. Our vision remains to build software that answers the needs of the industry, backed by reliable and scalable technologies."
Steven Harris, MyAffiliates' founding Director said: "Over the years, our professional and well-grounded team, managed to evolve our product into the affiliate marketing software affiliates love. For us it is crucial that our clients find all they need and more to run a successful affiliate program and grow their business. It is equally important for us that the end users — the affiliates — continue to enthusiastically approve of our solution. We will not rest on our past successes.
"This rebranding tells the story of our evolution and better represents MyAffiliates as the young and dynamic company that we are, continuously striving to develop the best product of its kind on the market as we help our clients grow."
Visit www.myaffiliates.com.