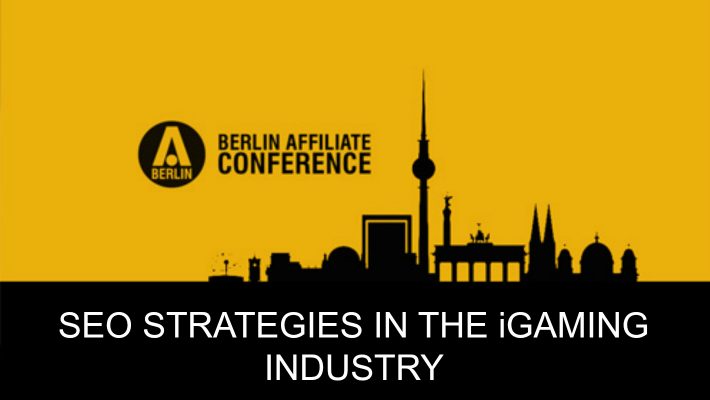 BAC 2016 – SEO Sessions Preview
On the second day of this year's Berlin Affiliate Conference the focus will be on SEO, you can expect a series of individual sessions and panels examining and analyzing all the latest SEO strategies within the iGaming industry. Ahead of these sessions the organizers asked three of the keynote speakers about the present state of the SEO sector.
Bastian Grimm head of organic search at Peak Ace AG, where he oversees SEO activities as well as the content and online PR departments.
Fili Wiese is SEO consultant at SearchBrothers.com, where he successfully recovers websites from all the Google penalties, offering SEO Audits, consulting and SEO workshops. He is also a former member of Google's Search Quality team.
Christoph C. Cemper is CEO and founder of Link Detox, LinkResearchTools, and Impactana! He started working working in online marketing in 2003, providing SEO consulting and link building services as well.
Below you'll find the interview with these keynote personalities from the SEO world.
"Organizers: LOOKING AT THE IGAMING INDUSTRY AS A WHOLE, HOW WELL ARE WE DOING SEO AND WHERE CAN WE IMPROVE?
CHRISTOPH C. CEMPER: Every day Google is becoming more serious about fighting web spam. There are SEO risks in every industry, but when it comes to igaming websites, the risk of losing rankings is increasing, especially when the backlink profiles contain a lot of 'spam'.
SEOs need to go beyond analysing the backlink profiles and disavowing the risky links. In the igaming industry, it's vital to know what the top competitors in the sector are doing: what are the normal ratios for anchor text, Power*Trust, country, language, deep links, link status, link type and link velocity.
Everyone needs a good overview of the competitive landscape before starting further SEO projects. But people must always keep in mind that the igaming industry is very different from finance, medicine and other sectors.
Google uses different versions their internal algorithm. A backlink that can be bad for one industry, language or country, can be very helpful for another. This is why we developed a unique feature in Link Detox that allows users to adapt the link audit reports to the market, language, and country of the website they're analysing.
FILI WIESE: The gaming industry is a competitive environment. Unsurprisingly, many stakeholders take their SEO very seriously and allocate significant resources to ongoing site improvement. Especially in the backlink risk management and technical on-page optimisation areas, the gaming industry tends to do comparatively well.
Organizers: WHAT MAJOR CHANGES CAN WE EXPECT FROM GOOGLE OVER THE NEXT 12 MONTHS?
BASTIAN GRIMM: With the recent launch of Google's Penguin 4.0 and its "real time capabilities", I'm quite sure we will see some adjustments in a sense of aggressiveness and behaviour. Google will continue to push site speed and anything everything related to it, especially Accelerated Mobile Pages (AMPs) and also now Progressive Web Apps (PWAs), which in some ways will make real apps obsolete.
Content quality will remain, so my guess would be that we will continue seeing those unnamed "core" updates which mainly adjust things in terms of having too many low-quality pages.
CEMPER: Google announced the integration of Penguin into their Core Algorithm. That's one major change that changes the way SEOs handle link audits, disavows and other areas.
Penguin is more granular. That means that we will hear quite often about partial Penguin penalties. Google can penalise a domain, a sub-directory, a group of keywords or just a page. That's why we recommend analysing the DTOXRISK of separate Subfolders on websites that have a more complex structure. For example, a Subfolder about "casinos" will have a different backlink profile and therefore different risk, compared to "horse racing" or "sports bets."
Penguin also now runs in "real time". A website can trigger a Google Penguin filter any day if you have unnatural links, but the good news is that a penalised website can recover much faster than before. The improvements you make to your backlink profile will be visible much faster after we re-crawl and re-index a page. And you could even push Google to crawl your links faster using Link Detox Boost.
WIESE: The only prediction that can be made with a good conscience is to say we can expect many changes. Google just massively improved their Penguin algorithm, making it not only granular but essentially real time. That's one of the big updates, very visible and officially confirmed. At the same time, countless small and not so small tweaks are being applied to old and new algorithms. In a nutshell, nothing will change as everything will continue changing at a neck-break speed in search. This is why a clever SEO with foresight maintains their focus on the one factor Google has now been prioritising over all other factors: user experience.
Organizers: HOW WELL HAS THE IGAMING INDUSTRY ADAPTED ITS SEO STRATEGIES TO MOBILE?
CEMPER: The igaming industry always focused on paid search to gain visibility on mobile. But in the past year, I have seen more and more SEOs (not only in the igaming sector) focusing their efforts on mobile SEO. I've seen great interest in mobile keyword research and content creation, app indexing and app store optimisation, and even using AMPs to decrease page load speed and improve the user experience.
WIESE: It has done well adapting their strategies to the needs of mobile users. There are a lot of competitive participants that adapt fast, and this has helped the igaming industry to evolve in that area faster than other verticals.
GRIMM: Mobile is a pretty broad term. The reality is that mobile can be a lot of things; we're not only talking different screen resolutions, but also operating systems (iOS versus Android) and therefore different search results (like app packs) which need to be properly optimised as well. I'd say there is a lot of room for improvement – but that's currently the case for almost any industry, not only igaming.
Organizers: WHAT WILL BE THE KEY TO SUCCESS IN IGAMING SEO OVER THE NEXT 12 MONTHS?
WIESE: An absolute focus on user experience and a constant drive to meet and exceed user expectations will remain the success-defining factors for the foreseeable future.
CEMPER: There are more elements that come together to form the "key to success": link risk management, Penguin-friendly link building, competitive analysis, SEO-friendly redirects (we have a bunch of tests to determine which redirects help rankings more) and a lot of passion for SEO in general.
GRIMM: Historically, igaming has been quite aggressive on the link building side of things. With the recent Penguin refresh, we will likely be seeing massive movements in igaming search engine results pages (SERPs) for a while.
It will also be more important to manage link profiles even closer. One of the downsides of Penguin 4.0 might be that "sniping out" crucial money pages (of competitors) just got easier, so SEOs will need to watch this closely
Finally, it will be critical to fulfil searchers' expectations. That's not unique for igaming, but it is more true than ever before. If you rank and don't deliver, you will be losing in engagement and that ranking will suffer and most likely disappear."
Did you enjoy the article, if yes then make sure you catch all three keynote speakers at this years Berlin Affiliate Conference!
Related
content_copyCategorized under
About author