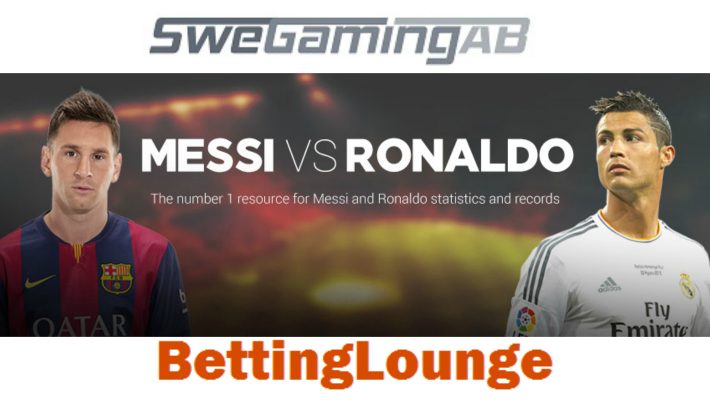 Affiliate Interviews: Andreas Johannesson, founder of SweGaming Affiliates AB
In our newest affiliate interviews series we caught up with Andreas Johannesson, co-founder of SweGaming Affiliates AB, and owner of BettingLounge.co.uk and MessiVsRonaldo.net. Andreas together with his partner recently decided to take on the UK market as well, after they've sold their Swedish sites to an affiliate industry giant!
So without any further delays, here is another affiliate success story featuring Andreas Johannesson!
Name: Andreas Johannesson
Age: 22
Hometown: Gothenburg
Living in: Gothenburg
Favorite Food: Pasta
Must Read Book: Steve Jobs biography
Profession/Job title: Founder
GAV: Hi Andreas, first of all, tell us and our readers a bit about yourself! How did your career start in the industry? What determined you to engage in this activity and start working at SweGaming Affiliates (Bettinglounge.co.uk and Messivsronaldo.net)?
Andreas: Me and my partner David started our business when we were still in high school back in Sweden at the age of 18. We just wanted to get hold of some extra cash so that we could travel and do things that we couldn't do otherwise. We were also very interested in creating webpages and value to our visitors and therefore we launched our first website betexpert.se back in 2012.
Our company, Swegaming Affiliates AB, first solely focused on the Swedish gambling market but since we sold our Swedish websites to one of the giants of the affiliate industry back in June of 2016 we wanted a new challenge and decided to take on the UK market with sites like BettingLounge.co.uk and we also acquired the site Messivsronaldo.net.
GAV: Could you tell us a bit about SweGaming Affiliates and Bettinglounge.co.uk and Messivsronaldo.net?  What are the strong points of the website's and what makes them stand out from the other niche websites? Regarding Messivsronaldo.net, we can certainly say it jumps out of the routine websites… the design is really appealing.
Andreas: Our long term goal with BettingLounge.co.uk is to create a complete betting guide with reviews, bonuses, odds comparisons and free bets updated with new content each and every day. In other words we want to create a website that will cover all of the betting world for UK bettors.
Messivsronaldo.net is another story, there is no other website that compares the past decade tw
o best football players that we do. We have every single statistic you can think about when comparing these two and it drives traffic like crazy.
GAV: What were the bumps that you encountered and how did you overcome them?
Andreas: We have had many bumps in the past but as long as you figure out what you're doing wrong then it's just up to fixing it. I think many don't really think about what they did wrong the last time but just keep on going with new projects instead of fixing what's wrong and taking it from there.
GAV: We have browsed Messivsronaldo.net and found some high quality content and a high volume of statistics. Are you writing it by yourself or you have a team of people writing your editorials and doing the research?
Andreas: We have a small team near London in the UK that's taking care of the statistics, Facebook page and content writing.
GAV: How about the Messivsronaldo.net Facebook page, do you manage it, it has quite a nice fan base with pretty good engagement level too?!
Andreas: We have worked a lot of gaining Facebook followers and to engage them and so far it seems like it's working. A good day can bring us as much as 500 new followers – although both Messi and Ronaldo must have had good games the day before – it's pretty clear what's driving traffic to our site. It's the same team that manages the Facebook page as manage the statistics and content of the site.
GAV: We are sure that you receive daily messages from Affiliate Managers showcasing their products. You of course select them by the brands they work with; but what are your thoughts on how Affiliate Manager-Affiliate relationships should be built and maintained?
Andreas: I think the most important is that both parties understand that the other party needs to make money from the relationship as well. I feel like there are many people in the industry, both affiliates and operators, that miss this and therefor many partnerships don't stick in the long-term.
GAV: How do you see the future of the gambling industry? For instance, will it become a global phenomenon in the near future?
Andreas: When all regulations and laws are fixed there are several very big markets that will come available for the gambling industry. The biggest example is probably the US, when they get it all regulated that will become the world's biggest market again overnight. The markets of Africa, South America and Asia is also up for grabs and when all these get the infrastructure that the west world has gambling will for sure be a big thing there as well.
GAV: Can you name one change that you want to see in the UK betting affiliate ecosystem?
Andreas: To be honest, as we haven't been in the UK market for that long time I think it's too early to say anything about this.
GAV: What would be your advise to the new affiliates who are looking to venture into this great industry?
Andreas: Even though it may seem like there is competition like no other affiliation niche with work you'll get to the top as well. I guess it's all about not giving up and putting in the hours.
GAV: How do you see the Central and Eastern European affiliate market, do you think that this region is somehow overlooked by brands that are not applying for licenses, etc. ?
Andreas: I think it's somehow overlooked. But I guess a big part of that is the player value that, I guess, is a lot lower than a Swedish, Norwegian or UK player. But the volumes should make up for that and there are probably big opportunities in the Eastern Europe markets.
GAV: Since the Berlin Affiliate Conference is almost here, we would like to ask your opinion on these event, are you guys attending these conferences or are you going to be in Berlin? How about SiGMA?
Andreas: We always go to all the conferences – London, Berlin, Amsterdam and also Sigma – and think it's a great way to get to know people from the industry, especially if you do not live in one of the big gambling places in Europe as Malta for example. Also a great way for new affiliates to get into the business and understand how things are done.
GAV: Who is your favorite celebrity and if you'd have to a pick a destination in Eastern Europe, where would you travel?
Andreas: As a swede the question is pretty easy… Zlatan of course! Prague!
GAV: Where you wouldn't want to travel?
Andreas: Hmm.. Albania maybe?
GAV: What is your opinion about the GamblingAffiliateVoice.com?
Andreas: It's a great place to get information about what's happening in the industry. We usually use it to find information about new affiliate programs that want to work with us.
Related
content_copyCategorized under
About author