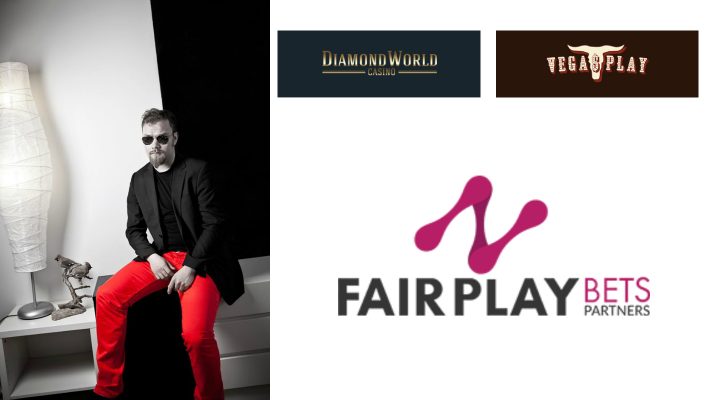 Affiliate Managers under interrogation by GAV: Lauri Aro, Senior Affiliate Manager at FairPlayBets Partners
Our latest interview in the Affiliate Managers under interrogations series features Lauri, Senior Affiliate Manager at FairPlayBetsPartners, affiliate program dedicated to promoting the Fair Play Bets Ltd's online products. Their main goal is to provide players with the best possible entertainment one may find on the internet, through partnership with great affiliates and publishers.
Name: Lauri
Age: 28
Hometown: Helsinki
Living in: Malta
Favorite Food: Grilled Vegetables
Must Read Book: Kalevala(Ancient Finnish book)
Profession/Job title: Senior Affiliate Manager
GAV: Hi Lauri, first of all thanks for the interview! Please tell us and our readers a bit about yourself. How did your career start in the industry? What determined you to engage in this activity and start working at FairPlayBetsPartners?
Lau: Hi, It is a pleasure to be in this interview. A bit of myself: I come from Entertainment background From Finland and basically I just wanted to leave the country and try life in sunny Malta. So my starting point is pretty usual. I came to Malta and most of the jobs on the island are in igaming. I was lucky though, the company that wanted hired me, offered to train me as Affiliate Manager and I'm still on the same path. I really like this, you get to meet people, see the world, you get to work with numbers and results can be seen very quickly. FairPlayBets from what I have seen, is the best place to work in. We have a solid base to do everything correctly and focus on each aspect of running a casino. That gives us a huge advantage on the market. We don't want to rush anything, that is basically the same as throwing the ball to the wall where it bounces back to you quickly. The coworkers are all amazing. I can only say that this is the best environment I have seen.
GAV: FairPlayBetsPartners is the affiliate program for two well known brands: VegasPlay.eu and DiamondWorldCasino.com. What do you think is the key aspect affiliates appreciate regarding your affiliate program?
Lau: From the feedback I have received, it is the simplicity and transparency of our backend system. And without taking any credit to myself, Affiliates say I am always easy to work with and always there to for them.
GAV: What is your personal opinion about fair gaming? Do you think there is still room to improve the general view of the gambling industry? I mean, is there a new generation prepared to do that? Both Affiliate Manager and Affiliates.
LAU: I think right now the gaming is now very fair towards the players and how the casinos themselves are transparent towards gambling problems and their players´ safety, however the general view of course could always improve, and the main issue for this is at least in Finland that the Online Casinos don't get to show their good side in media so the image of the online casinos are mainly formed by local media and monopolies.
GAV: Please be so kind and fill us in on your current offer for affiliates and maybe a brief description of your program?
Lau: I am happy you asked this. Right now we have a guaranteed 50% offer for everyone who is reading this article, which everyone can get through contacting me at fairplay.partners and mentioning this article.
GAV: What are the target markets of FairPlayBetsPartners, and what makes it stand out in the huge crowd of casino affiliate programs?
Lau: We accept players from Easter, Central Europe and Scandinavia. What makes us stand out, is the good, tailored service we offer to our each partners. We want our every partner to feel that they are treated as a respected business partner.
GAV: Since SIGMA 2016 is almost here, we would like to ask your opinion on this event, are you guys attending these conferences or are you going to be London, at the London Affiliate Conference?
Lau: Actually we are not yet in Sigma, but we will definitely be in London next year. I think Sigma is very good because many industry workers live on the island, so it is good to have something in your own hoods and have no stress about the heavy traveling.
GAV: Where do you think the online casino/iGaming industry will be in 3 years, and of course, on which scale do you see FairPlayBetsPartners?
Lau: Difficult one, I must say. In some areas it looks like markets are getting closed and in some areas they are getting more opened. I believe that in some point the Swedish model will take over in Europe, in 3 years? I hope so.
When it comes to FPB, we are growing fast now and as I stated before, we want to do everything well and with focus, I believe we have very good position in this sector.
GAV: Tell us a bit about your team? As far as we know it's quite well positioned in the industry with some skilled and experienced individuals in the affiliate marketing sector.
Lau: Our team is made of ambitious experts who are willing to work a lot for the common goals. What I also see as advantage of ours, is that we are all willing to learn from each other so that everyone is aware of everything that is happening in the company and learning of each aspect that is required to run a successful casino.
GAV: Do you have any advise you would like to offer to newbies who are looking to venture into this great industry!?
Lau: I like to say this to everyone who is coming to the business. "You know it's going to be fun. There will be lot of parties and it is totally different than any other office job, but it still has one same rule: hard work pays off. So If you want to succeed, work hard and party after."
GAV: Who is your favorite celebrity and if you'd have to a pick a destination in Eastern Europe, where would you like to travel?
Lau: Leonardo Di Caprio, for the reason the he uses his image to make world a better place. I have never actually been to Eastern Europe, but if I were to start somewhere it would be Romania.
GAV: Where you wouldn't want to travel?
Lau: I cant say any destination I wouldn't want to travel, but I wouldn't want to go anywhere, where is war at the time.
GAV: What is your opinion about GAV(GamblingAffiliateVoice.com)?
Lau: A professional, well established online newspaper which is always pleasant to read.
GAV: Thanks for your time Lauri, we wish FairPlayBetsPartners all the best!
Related
folder_openAssigned tags
content_copyCategorized under
About author