Clarion Events buys US-based Affiliate Summit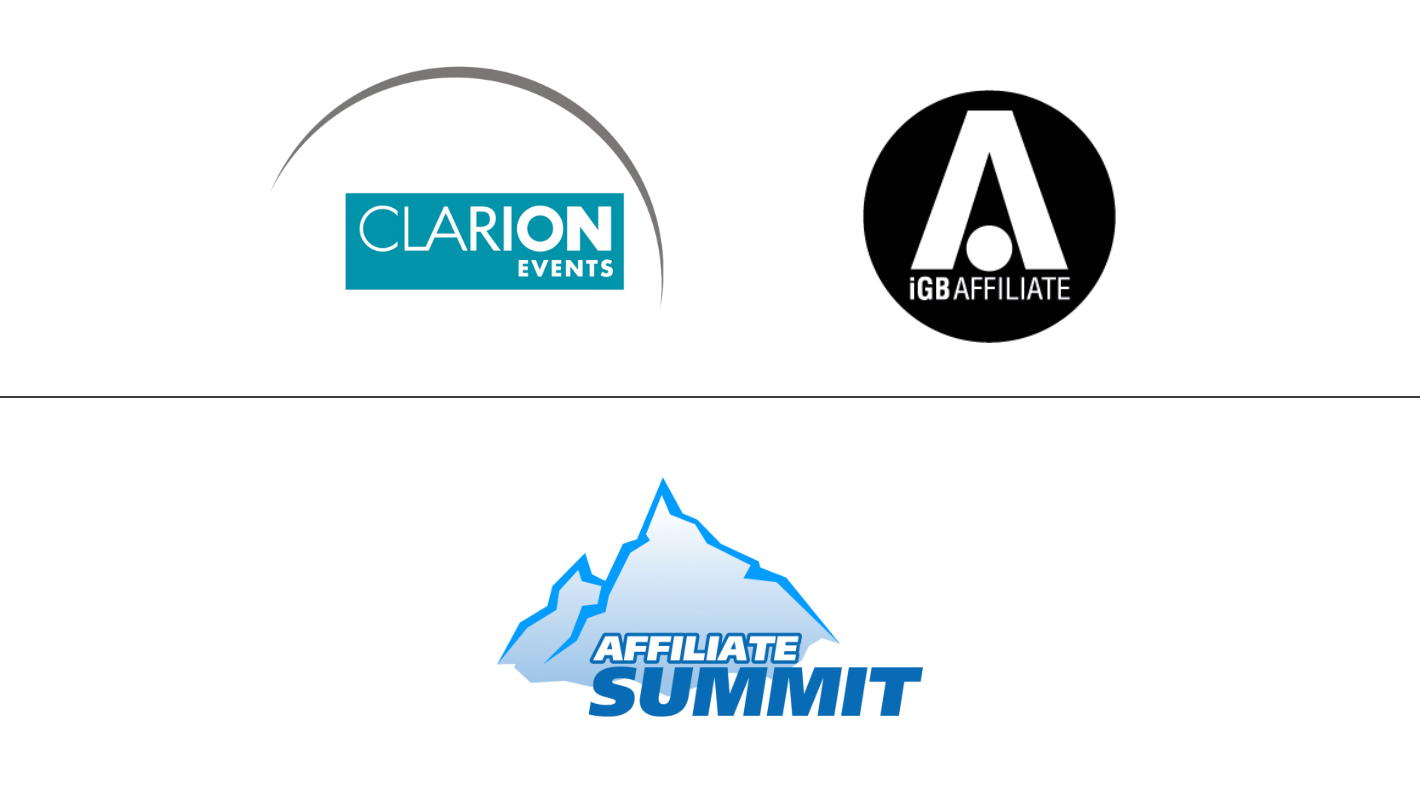 Acquisition of Affiliate Summit Heralds Exciting New Chapter for Leading Affiliate Marketing Event Companies Affiliate Summit and iGB Affiliate
Clarion Events the parent company of iGB Affiliate is pleased to announce its acquisition of the Affiliate Summit Corporation, which includes the Affiliate Summit tradeshow and conference, FeedFront Magazine, GeekCast.fm, ReveNews.com, and the annual AffStat industry benchmark reports. Affiliate Summit has been at the forefront of the affiliate marketing industry since their inception in 2003.
Affiliate Summit joins Clarion Events alongside the iGB Affiliate brand to further the vision of both companies to provide a comprehensive events and information platform for the affiliate marketing sector. With the acquisition, Affiliate Summit will continue to deliver the premier affiliate marketing trade-show and conference in the United States, and will now have the opportunity to expand the Affiliate Summit brand internationally.
Additionally, Affiliate Summit Co-Founders, Missy Ward and Shawn Collins with over 20 years' experience in affiliate marketing, will continue running Affiliate Summit in the capacity of Co-CEOs with the support of their highly regarded team.
"Clarion is widely regarded as a leading event organizer, and we will be harnessing their expertise in order to expand internationally and bring our events to the next level. Becoming part of Clarion will add value to our current brands and provide an opportunity to take new products to emerging markets. Bringing Affiliate Summit and iGaming Business together will deliver enhanced benefits to attendees and exhibitors alike." said Shawn Collins.
Alex Pratt, Managing Director – iGB Affiliate, Clarion Events said "This is a really exciting acquisition for Clarion, bringing together the biggest affiliate marketing events company with Clarion's resources, expertise and successful affiliate shows in igaming and finance. Missy and Shawn have established an extremely strong business and we are looking forward to a successful collaboration to improve the US events as well as launch the Affiliate Summit brand internationally."
Future Dates:
Affiliate Summit East, New York Marriott Marquis, July 30th – Aug 1st 2017
Berlin Affiliate Conference, Messe Berlin, Oct 1st – Nov 4TH 2017h
Affiliate Summit West, Paris Las Vegas, Jan 7th-9th 2018
About Affiliate Summit:
Affiliate Summit, started in 2003, is the largest affiliate marketing conference and tradeshow in the world. This three-day conference included an exhibit hall with affiliates, merchants, vendors, and networks, as well as multiple tracks of educational sessions covering the latest trends and information from affiliate marketing experts. In addition to the conference and tradeshow, Affiliate Summit also publishes FeedFront Magazine, GeekCast.fm, ReveNews.com, and the annual AffStat industry benchmarking reports.
About iGB Affiliate:
iGB Affiliate is the affiliate-facing brand of iGaming Business. It organises the three biggest affiliate events in the industry: LAC, AAC and BAC. Its conferences provide the platform for affiliates to learn from the industry's best during dedicated conference schedules, and meet affiliate managers from major and rising operators both on the exhibition floor and during well-attended networking events.
The affiliate conferences are the only place you can network with large volumes of affiliates at once. For operators, the conferences are vital to growing their affiliate networks. iGB Affiliate also provides the free iGB Affiliate magazine. With high quality content and strong digital and print followings, it continues to be the only dedicated magazine in the affiliate industry.
About Clarion Events:
Clarion Events can trace its roots back to 1947 and takes great pride in being one of the oldest independent event organizers in the UK.  The teams at Clarion create uniquely effective and stimulating environments that can serve as a platform to build businesses and enhance customer relationships and experiences. Clarion is a global events business with a number of events across a range of vertical markets. In the affiliate and retail sector, Clarion Events provides a range of services including the iGB Affiliate series of exhibitions, iGB Affiliate Magazine, InternetRetailing Expo, InternetRetailing Conference , and the Internet Retailing Summit.
iGB Affiliate announce One Hundred Shoreditch as new HQ Hotel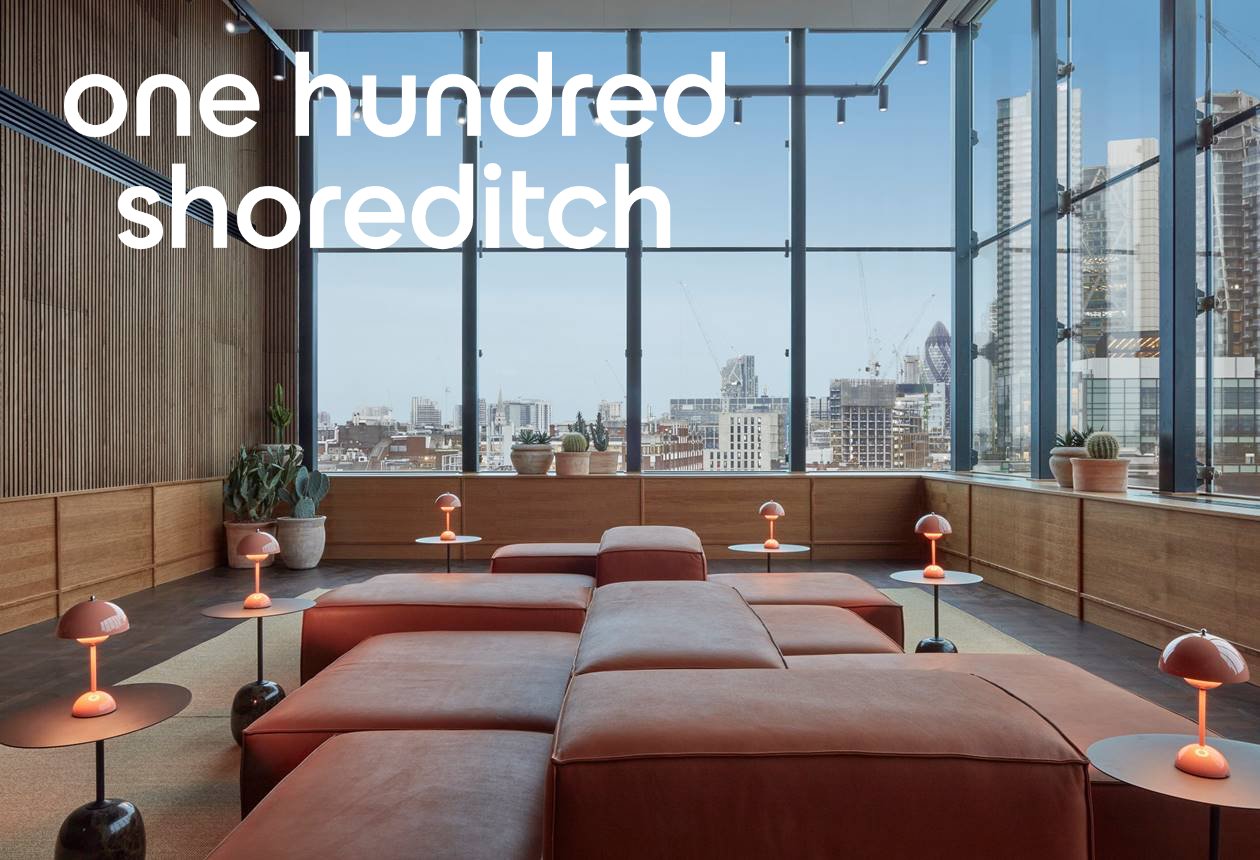 The organising team responsible for iGB Affiliate has announced One Hundred Shoreditch as its new HQ Hotel for February's event (6-9 February, ExCeL London).
Located in a prominent position on fashionable Shoreditch High Street, One Hundred Shoreditch is an acclaimed independent 258 room hotel offering a choice of places to eat and drink including Seed Library, an attractive rooftop bar and terrace offering panoramic views of the London skyline, a coffee shop, and the Lobby Bar which hosts a curated programme of weekly DJs alongside £10 cocktails. The venue offers five meeting and event spaces including the floor-to-ceiling glass One Hundred Room.
Announcing the new HQ Hotel, iGB Affiliate's Naomi Barton said: "We were looking for a hotel close to ExCeL and that would connect with the unique personality of the Affiliate community.
"I have to say that One Hundred Shoreditch could have been designed with affiliates in mind! It's as sassy as hell with great facilities, a roof top bar with amazing views of East London and it's situated in the social heart of the vibrant East End. The bedrooms and suites provide headspace and calm in contrast to the energy of the ultra-cool hotel bars.
"I am confident One Hundred Shoreditch will resonate with show attendees – it will allow guests to socialise, network and hang out together, continuing the unique iGB Affiliate experience.  We have secured 150 rooms which will be allocated on a first come, first served basis, so book now and don't miss out on the chance to be with your peers and friends!"
She added: "The 2024 edition of iGB Affiliate will be the last held in London prior to our relocation to Barcelona the following year. As a consequence, there will be an iGB Affiliate 'Farewell to London' party like no other and we will be celebrating alongside our sister show ICE to ensure that we deliver something exceptional. The farewell party, iGB Affiliate Awards and our new Hotel HQ are all part of the social and networking opportunities which are pivotal to the show experience and make iGB Affiliate so special".
'The future now' creative heralds opening of iGB Affiliate registration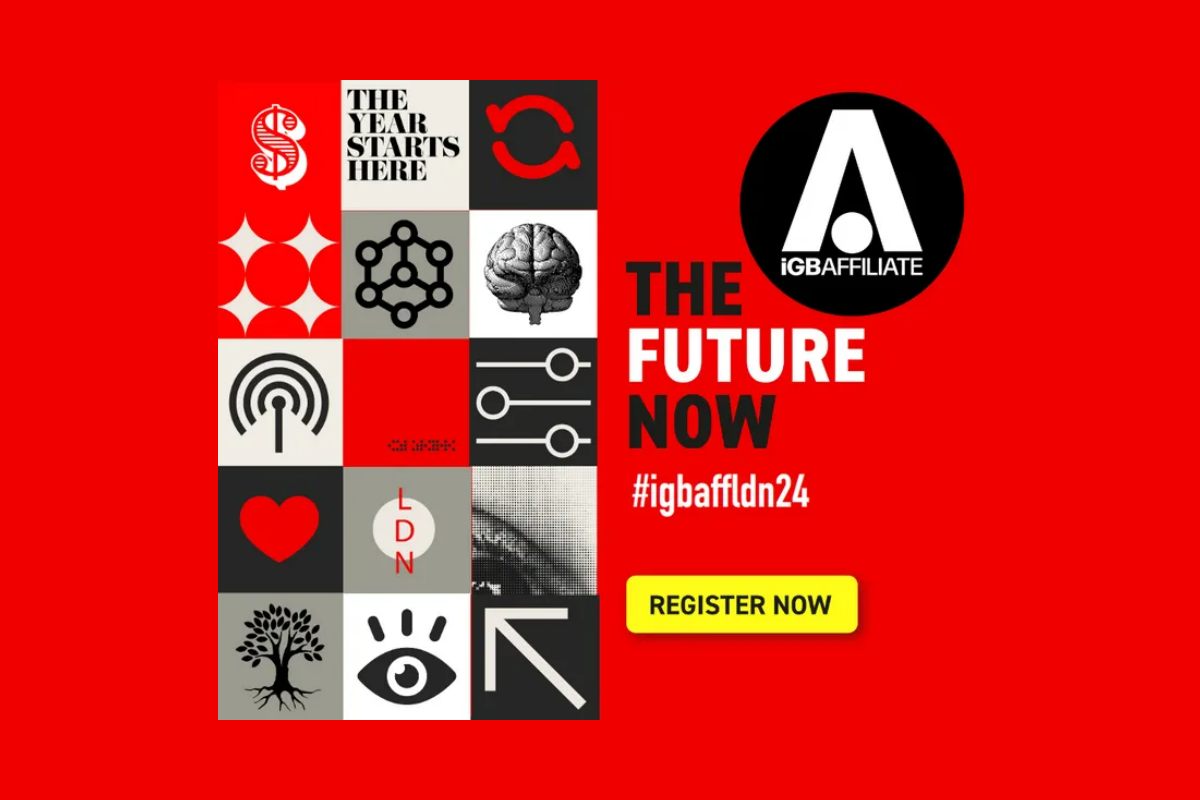 Clarion Gaming, organisers of iGB Affiliate has adopted 'The Future Now' as its creative proposition to help drive participation in the industry-leading show which takes place across 6 – 9 February at ExCeL London. Registration for what will be the last edition of iGB Affiliate to be held in London prior to its relocation to Barcelona in 2025
Clarion Gaming, organisers of iGB Affiliate has adopted 'The Future Now' as its creative proposition to help drive participation in the industry-leading show which takes place across 6 – 9 February at ExCeL London. Registration for what will be the last edition of iGB Affiliate to be held in London prior to its relocation to Barcelona in 2025 has opened at https://london-igbaffiliate-2024.reg.buzz
Explaining the background to the campaign creative iGB Portfolio Director Naomi Barton said: "The Future Now was inspired by our customers and broader stakeholder community who during a comprehensive engagement programme told us that they viewed iGBA as the place where the industry's brightest and best come together to define the future of the industry.
"For so many of our stakeholders the future starts at iGB Affiliate which represents their most important business opportunity of the year. The event messaging captures the pioneering spirit of the industry and reflects iGBA 's status as the home of the iGaming Affiliate community. Our commitment is to connect the right people and the best opportunities, providing the fuel that keeps the industry moving forward."
Looking ahead to what industry professionals will experience at iGBA 2024 Naomi Barton added: "We will be building on the iGB INTRODUCING facilitated onsite networking 'hub' to make connections that count and create excitement about the future that they will unlock. As the ONLY exhibition that's focused purely on igaming affiliation every connection made at show is going to lead somewhere. In terms of content the Pulse Stage will focus on future markets, future tech and future opportunities.
"As this is our last year in London, there will be an iGB Affiliate 'Farewell to London' party like no other – and we will be celebrating alongside sister show ICE to ensure that we deliver something exceptional.
"For anyone involved in igaming the 2024 event is not to be missed: the new-to-show tech vendors we will be showcasing will help our audience to stay ahead of their competitors, and provide inspiration and new products being demonstrated by the circa 200 exhibitors expected at our farewell to the London edition of iGBA."
For more information and to register to attend iGB Affiliate 2024, 6-9 February, ExCeL London:: https://london-igbaffiliate-2024.reg.buzz
Alpha Affiliates Set to Shine at SiGMA Europe 2023 – An Event You Don't Want to Miss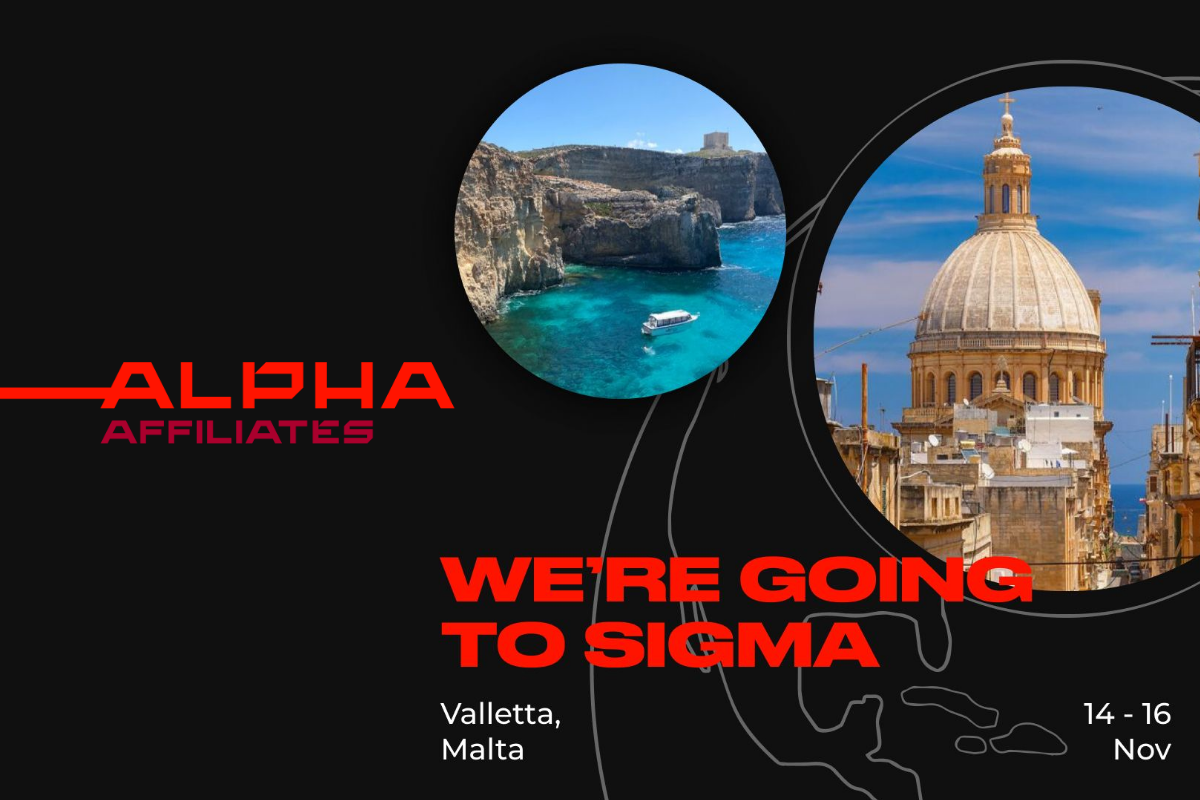 Alpha Affiliates, the leading direct advertiser for the iGaming industry, is excited to announce its participation in the highly anticipated iGaming event of the year, SiGMA Europe 2023. As a rapidly growing force in affiliate marketing for iGaming operators worldwide, Alpha Affiliates will showcase its latest innovative offerings and unveil plans ahead at the prestigious conference, taking place in Malta from 13th-17th November.
Their attendance comes following significant growth, achieving over 15,000 partners across more than 50 countries, and over 2,000,000 players worldwide. The company, which witnessed a 20% upsurge in new partners this year, now looks to strengthen their international network at SiGMA Europe, networking with top affiliates at the heart of the iGaming world.
Attendees can stop by booth 2147 in the MMH Malta to meet the Alpha Affiliates team, learn more about the company's vision and values, discuss new partnerships and take advantage of networking opportunities. The team will also be offering affiliates an exclusive preview of the company's cutting-edge affiliate platform, along with its suite of performance marketing tools, designed to boost conversions and achieve outstanding results.
Event Details:
Event Name: SiGMA Europe 2023
Date: November 13-17
Venue: Mediterranean Maritime Hub (MMH Malta)
Booth Number: 2147
Website: https://sigma.world/europe
Alpha Affiliates will be bringing the fun to SiGMA Europe at their two-storey stand, hosting happy hours in the lounge bar with signature cocktails, providing a fully stocked coffee bar for a pick me up during the event, and running prize giveaways with cash and merch prizes up for grabs at Alpha Affiliates' cash machine.
Boris P, Head of Affiliates at Alpha Affiliates, comments "We are thrilled to connect with fellow innovators and showcase our affiliate programme on the world's iGaming stage. SiGMA Europe brings together the best and brightest in the industry, and we look forward to forging new partnerships and networking with key other stakeholders at the forefront of the rapidly evolving affiliate marketing landscape. Together, we'll explore new horizons and drive the future of iGaming and affiliate marketing"
SiGMA Europe 2023 represents the next step in the company's ambitious growth plans as it connects with more partners and sets its sights on the future.