BAC 2016 – SEO Sessions Preview
On the second day of this year's Berlin Affiliate Conference the focus will be on SEO, you can expect a series of individual sessions and panels examining and analyzing all the latest SEO strategies within the iGaming industry. Ahead of these sessions the organizers asked three of the keynote speakers about the present state of the SEO sector.
Bastian Grimm head of organic search at Peak Ace AG, where he oversees SEO activities as well as the content and online PR departments.
Fili Wiese is SEO consultant at SearchBrothers.com, where he successfully recovers websites from all the Google penalties, offering SEO Audits, consulting and SEO workshops. He is also a former member of Google's Search Quality team.
Christoph C. Cemper is CEO and founder of Link Detox, LinkResearchTools, and Impactana! He started working working in online marketing in 2003, providing SEO consulting and link building services as well.
Below you'll find the interview with these keynote personalities from the SEO world.
"Organizers: LOOKING AT THE IGAMING INDUSTRY AS A WHOLE, HOW WELL ARE WE DOING SEO AND WHERE CAN WE IMPROVE?
CHRISTOPH C. CEMPER: Every day Google is becoming more serious about fighting web spam. There are SEO risks in every industry, but when it comes to igaming websites, the risk of losing rankings is increasing, especially when the backlink profiles contain a lot of 'spam'.
SEOs need to go beyond analysing the backlink profiles and disavowing the risky links. In the igaming industry, it's vital to know what the top competitors in the sector are doing: what are the normal ratios for anchor text, Power*Trust, country, language, deep links, link status, link type and link velocity.
Everyone needs a good overview of the competitive landscape before starting further SEO projects. But people must always keep in mind that the igaming industry is very different from finance, medicine and other sectors.
Google uses different versions their internal algorithm. A backlink that can be bad for one industry, language or country, can be very helpful for another. This is why we developed a unique feature in Link Detox that allows users to adapt the link audit reports to the market, language, and country of the website they're analysing.
FILI WIESE: The gaming industry is a competitive environment. Unsurprisingly, many stakeholders take their SEO very seriously and allocate significant resources to ongoing site improvement. Especially in the backlink risk management and technical on-page optimisation areas, the gaming industry tends to do comparatively well.
Organizers: WHAT MAJOR CHANGES CAN WE EXPECT FROM GOOGLE OVER THE NEXT 12 MONTHS?
BASTIAN GRIMM: With the recent launch of Google's Penguin 4.0 and its "real time capabilities", I'm quite sure we will see some adjustments in a sense of aggressiveness and behaviour. Google will continue to push site speed and anything everything related to it, especially Accelerated Mobile Pages (AMPs) and also now Progressive Web Apps (PWAs), which in some ways will make real apps obsolete.
Content quality will remain, so my guess would be that we will continue seeing those unnamed "core" updates which mainly adjust things in terms of having too many low-quality pages.
CEMPER: Google announced the integration of Penguin into their Core Algorithm. That's one major change that changes the way SEOs handle link audits, disavows and other areas.
Penguin is more granular. That means that we will hear quite often about partial Penguin penalties. Google can penalise a domain, a sub-directory, a group of keywords or just a page. That's why we recommend analysing the DTOXRISK of separate Subfolders on websites that have a more complex structure. For example, a Subfolder about "casinos" will have a different backlink profile and therefore different risk, compared to "horse racing" or "sports bets."
Penguin also now runs in "real time". A website can trigger a Google Penguin filter any day if you have unnatural links, but the good news is that a penalised website can recover much faster than before. The improvements you make to your backlink profile will be visible much faster after we re-crawl and re-index a page. And you could even push Google to crawl your links faster using Link Detox Boost.
WIESE: The only prediction that can be made with a good conscience is to say we can expect many changes. Google just massively improved their Penguin algorithm, making it not only granular but essentially real time. That's one of the big updates, very visible and officially confirmed. At the same time, countless small and not so small tweaks are being applied to old and new algorithms. In a nutshell, nothing will change as everything will continue changing at a neck-break speed in search. This is why a clever SEO with foresight maintains their focus on the one factor Google has now been prioritising over all other factors: user experience.
Organizers: HOW WELL HAS THE IGAMING INDUSTRY ADAPTED ITS SEO STRATEGIES TO MOBILE?
CEMPER: The igaming industry always focused on paid search to gain visibility on mobile. But in the past year, I have seen more and more SEOs (not only in the igaming sector) focusing their efforts on mobile SEO. I've seen great interest in mobile keyword research and content creation, app indexing and app store optimisation, and even using AMPs to decrease page load speed and improve the user experience.
WIESE: It has done well adapting their strategies to the needs of mobile users. There are a lot of competitive participants that adapt fast, and this has helped the igaming industry to evolve in that area faster than other verticals.
GRIMM: Mobile is a pretty broad term. The reality is that mobile can be a lot of things; we're not only talking different screen resolutions, but also operating systems (iOS versus Android) and therefore different search results (like app packs) which need to be properly optimised as well. I'd say there is a lot of room for improvement – but that's currently the case for almost any industry, not only igaming.
Organizers: WHAT WILL BE THE KEY TO SUCCESS IN IGAMING SEO OVER THE NEXT 12 MONTHS?
WIESE: An absolute focus on user experience and a constant drive to meet and exceed user expectations will remain the success-defining factors for the foreseeable future.
CEMPER: There are more elements that come together to form the "key to success": link risk management, Penguin-friendly link building, competitive analysis, SEO-friendly redirects (we have a bunch of tests to determine which redirects help rankings more) and a lot of passion for SEO in general.
GRIMM: Historically, igaming has been quite aggressive on the link building side of things. With the recent Penguin refresh, we will likely be seeing massive movements in igaming search engine results pages (SERPs) for a while.
It will also be more important to manage link profiles even closer. One of the downsides of Penguin 4.0 might be that "sniping out" crucial money pages (of competitors) just got easier, so SEOs will need to watch this closely
Finally, it will be critical to fulfil searchers' expectations. That's not unique for igaming, but it is more true than ever before. If you rank and don't deliver, you will be losing in engagement and that ranking will suffer and most likely disappear."
Did you enjoy the article, if yes then make sure you catch all three keynote speakers at this years Berlin Affiliate Conference!
iGB Affiliate Conference in Berlin: What to Expect?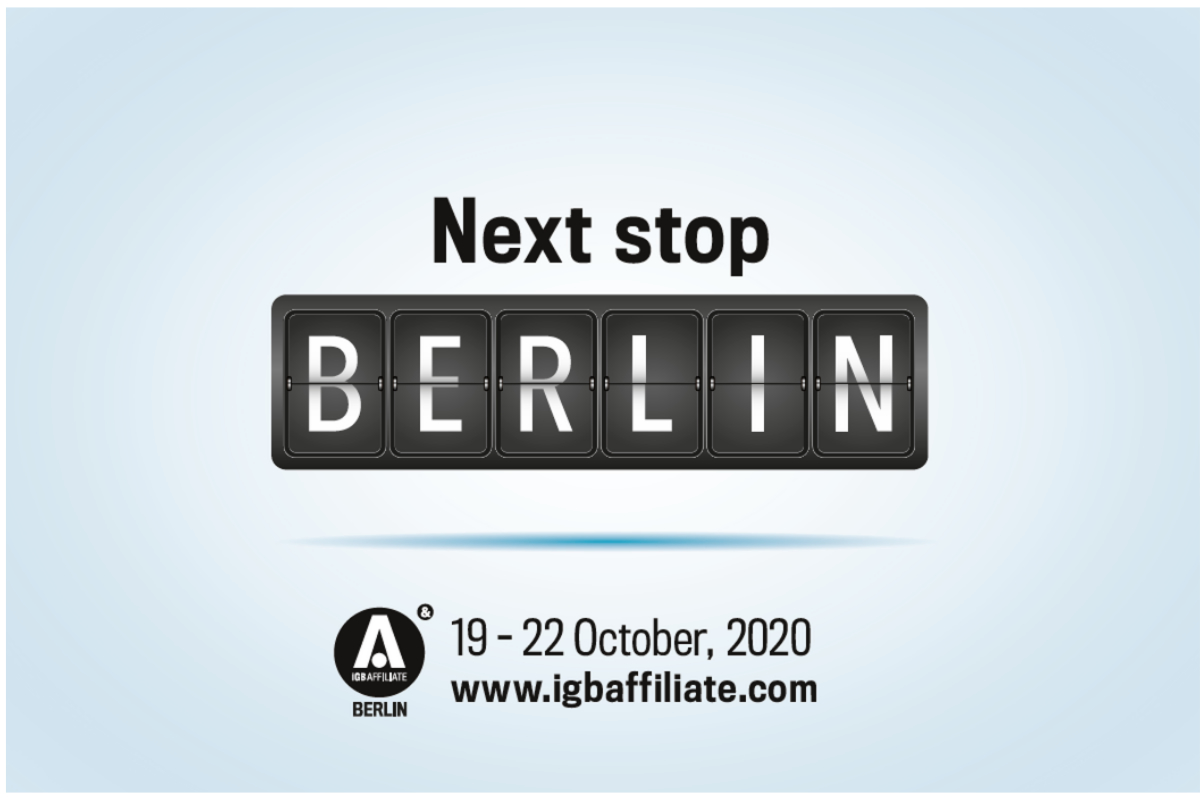 Guess where the iGB affiliate conference is taking place this year. Previously hosted in Lisbon for two consecutive years, iGB affiliate conference moves to the center of Berlin, Germany, in 2020. The conference provides gaming affiliate with an opportunity to network with operators, industry friends and have a glimpse of dynamic insights into the future.
General Information
Berlin has held an iGaming affiliate conference up until 2017. Clarion Gaming decided to move to Portugal for a change, but now the event is back to Berlin.
The question is, why Berlin? 
According to Michal Kopec, the director of Better Collective, Berlin is a bizarre destination for an event, culturally, logistically, and the market potential of Germany, in general, is incredible. In 2017 and before, the iGB affiliate conference took place in the eastern part of Berlin-Messe that was hard to reach. This year, however, the conference takes place at the Station. According to Group Event Director for iGB Affiliate Naomi Burton, the decision to move event location was for convenience reasons. Berlin has unbeatable accessibility making it an ideal destination to host an event and encourage attendees to join.
There's more.
The Station in Berlin is a dynamic location. In such a lively location, you can be sure to have a better experience. Ideally, Station is hyper-functional, in the heart of berlin hence a prime location and is aesthetically beautiful.
Berlin, been a hotbed for technology and business innovations, is an ideal destination to bring together affiliates who wish to network and share real casinos for cash that provide pleasant iGaming experience. Since Germany lawmakers are in the process of making long term regulatory model for gambling, Berlin is the right place to practice the regulations, first-hand.
What's exciting, 2020 is the year online casino, sports betting, and poker will be legalized for the first time. Together with a wide range of target clients, Berlin provides delegates with a learning opportunity and prepares them for Germany's long-awaited market opening.  
Besides networking and learning, affiliates will experience nightlife in a buzzing city of Berlin. What more could you ask for? 
What to Expect?
IGB affiliate berlin 2020 edition starts on 19th October and culminate on 22nd October. Now berlin been a home to host a prominent event such as iGB will feature several conference rooms, exhibition floor, and more.
During this event, delegates learn the latest trends as well as discover the future and opportunities available in iGaming. Some of the things to be covered include:
Regulation and compliance

SEO

Technical SEO

Social media

Emerging market

staying on top of the competition

link building

influence people to play

earn money and more
The event attracts business to business and business to customer delegates you can network and learn from. If you attend the event, you open your chances to display your game offers as well as highlight the latest technology. The visitors will be able to get the latest news about iGaming industry around the world including how New Zealand will revitalize gambling and many more interesting things. The good news is the program if beginner and intermediate companies and thus is a robust platform to mark your existence. Moreover, you get to meet with global and local affiliate programs.
For example, last year in Lisbon, several international brands such as 22Bet, William Hill, 1XBet, Betwinner, Mansion, Bet365, and more attended with their affiliate programs that 2500 delegates benefited from.
So, if you're a software developer, you can show your new gaming products to above and more brands. Another thing to expect is networking parties where you can socialize with multiple people as you have fun. By the time the event ends, you will have a list of to-do you never imagined before. 
Final Words
Ready for the final and autumnal event of the year? Attend berlin iGB Affiliate event starting 19th October and learn incredible information you can use to improve how you provide your services or increase your income. Furthermore, you will be among the first to tap into leading global brands and benefit from their affiliate programs. See you during the return to Berlin autumn event in 0ctober.  
Income Access to Exhibit at 2017 Berlin Affiliate Conference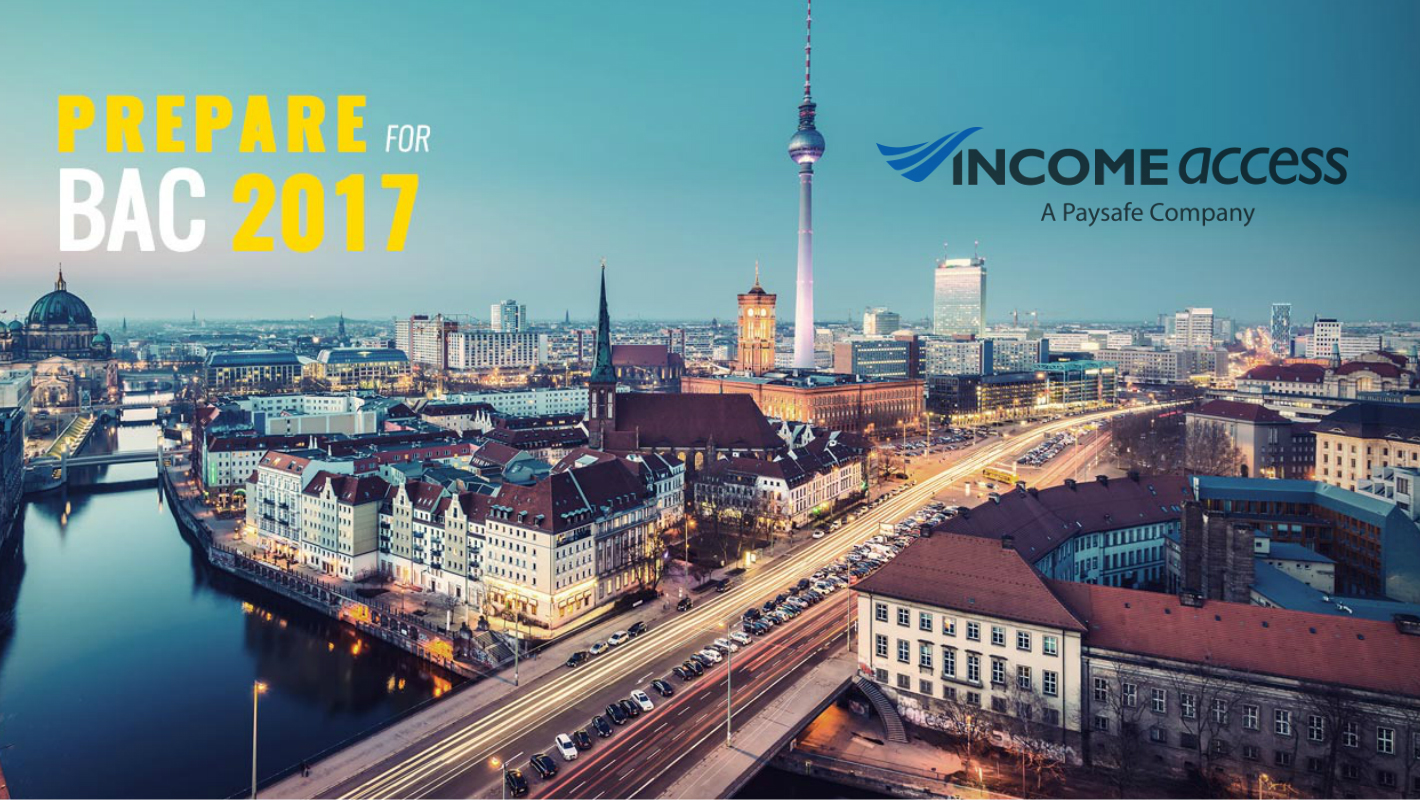 Income Access, Paysafe's digital marketing technology and services provider, has announced that it will both attend and exhibit at this year's Berlin Affiliate Conference (BAC), which will be held at the Messe Berlin, Berlin, Germany, from 1st to 4th November.
Sarafina Wolde Gabriel, Vice President of Strategy & Operations; Sarah Robertson, Head of Business Development; and Alexandra Bogdanova, Supervisor of Affiliate Services, will be located at Booth A50, alongside other colleagues, to showcase the company's multi-channel tracking and analytics affiliate platform as well as its Ad Serving tool and mobile app-tracking solution.
Paysafe's Income Access team will also focus on promoting the company's full range of marketing services, which include affiliate programme management and corresponding affiliate network, media buys, marketing audits, content marketing, SEM and web design.
Income Access is proud to have OlyBet, Tau Affiliates, and Trada Casino as its featured partners for BAC. All three brands will have representatives available at Booth A50 to discuss potential partnership deals.
Affiliates will also have an opportunity to enter a prize draw by passing by the booth. Prizes will include a £1,000 Amazon gift card, courtesy of Trada Casino as well as a gift bag from OlyBet that includes 1,000 free spins, playing cards with real gold-plated coating, a Micro Cotton beach towel, a Power Bank with LCD display and an OlyBet cap with 3D embroidery.
Wolde Gabriel said: "BAC presents a valuable opportunity for affiliates, operators and other industry stakeholders to share insights that have been acquired and ideas that are being developed for the future of iGaming and Paysafe Group.
"We're very excited to be sending a strong team that will meet up with existing partners and look to embark on new business relationships with other conference attendees."
Income Access will be exhibiting alongside Paysafe's digital wallet solutions NETELLER and Skrill as well as Paysafe's leading prepaid payment solution, paysafecard. BAC will once again be held in tandem with the Financial Partners Expo.
To schedule a meeting with the team in Berlin, please contact Income Access.
About Income Access
Founded in 2002, Income Access is a technology company, affiliate network and digital marketing agency servicing the global gaming market, including regulated iGaming, social gaming, land-based casinos and online financial trading (forex, binary options). Through its award-winning marketing software and a partnership-centric approach, Income Access delivers comprehensive data and strategic insight on marketing campaigns across all digital and offline channels.
In September 2016, Income Access was acquired by Paysafe Group, the company behind the digital wallet brands NETELLER and Skrill. Income Access is partnered with over 300 gaming brands worldwide. These include: Betfred, Gala Interactive, Coral, Sportingbet, Sky Betting & Gaming, PMU, Jackpotjoy, Stan James, Bet Victor, TwinSpires, Caesars Interactive, PKR and Pinnacle.
About Paysafe
Paysafe is a leading global provider of end-to-end payment solutions. Our core purpose is to enable businesses and consumers to connect and transact seamlessly through our industry-leading capabilities in payment processing, digital wallets and online cash solutions. Delivered through an integrated platform, our solutions are geared towards mobile-initiated transactions, real-time analytics and the convergence between bricks-and-mortar and online payments. With over 20 years of online payment experience, a combined transactional volume of US$48 billion in 2016 and over 2,300 staff located in 12 global locations, Paysafe connects businesses and consumers across 200 payment types in over 40 currencies around the world. Paysafe Group plc shares trade on the London Stock Exchange under the symbol (PAYS.L). For more information, visit: www.paysafe.com.
World-class speakers to share knowledge at BAC 2017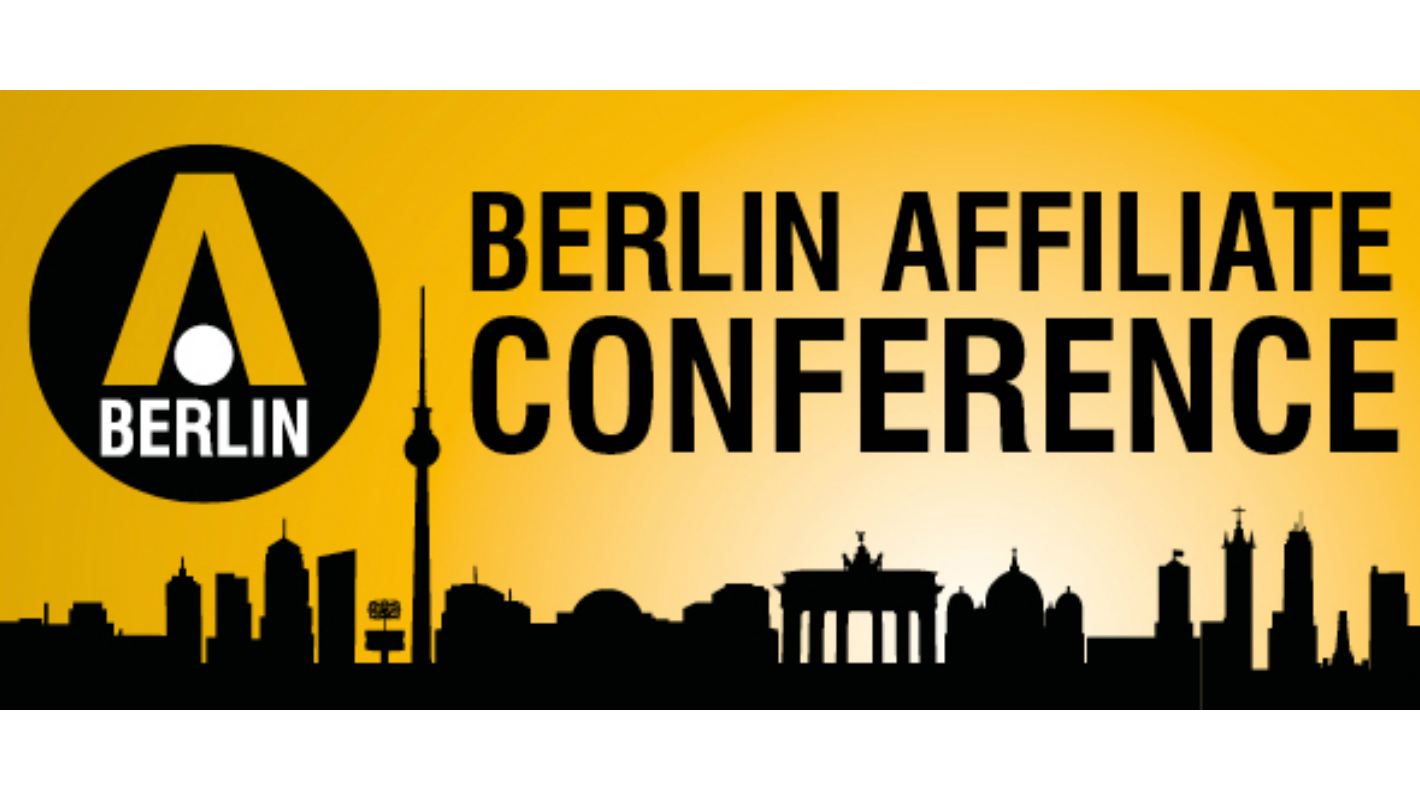 iGB Affiliate, the most respected information provider for the iGaming affiliate market, has announced a line-up of speakers featuring many of the industry's leading minds to address delegates attending the 2017 Berlin Affiliate Conference.
The event, which takes place at the Messe Berlin from 1st-4th November, is expected to attract in excess of 3,250 delegates, making it the biggest in its history.
The ever-popular Bastian Grimm, managing director of Peak Ace AG and a renowned expert for large scale international SEO, returns to enlighten attendees on the latest trends and best practices.
SearchBrothers.com co-founder and former Google Search Quality team member Kaspar Szymanski will also address delegates in Berlin in a discussion entitled: "Google Manual Penalties Demystified."
And world-leading expert in conversion optimisation, Dave Gowans, will draw upon his experience working in the gaming industry to talk about conversion optimisation for affiliates.
iGaming Business' head of operations Shona ODonnell said: "It's a privilege to welcome such highly-esteemed industry experts to the Berlin Affiliate Conference, and we can't wait to hear what they have to say. We have invited speakers who will share their top-level experience in a manner that will ensure our delegates receive take-away lessons they can apply as soon as they return from the conference. The event is continuing to get bigger every year and the fact we're able to entice this calibre of speaker to address the audience, speaks volumes of our rapid growth."
Register for the Berlin Affiliate Conference 2017 here!
About iGB Affiliate
iGB Affiliate is the affiliate-facing brand of iGaming Business. It organises the three biggest affiliate events in the industry – LAC, AAC and BAC – as well as the recently-launched Nordic Affiliate Conference. Its conferences provide the platform for affiliates to learn from the industry's best during dedicated conference schedules, and meet affiliate managers from major and rising operators both on the exhibition floor and during well-attended networking events.
The affiliate conferences are the only place you can network with large volumes of affiliates at once. For operators, the conferences are vital to growing their affiliate networks. iGB Affiliate also provides the free iGB Affiliate magazine. With high quality content and strong digital and print followings, it continues to be the only dedicated magazine in the affiliate industry.