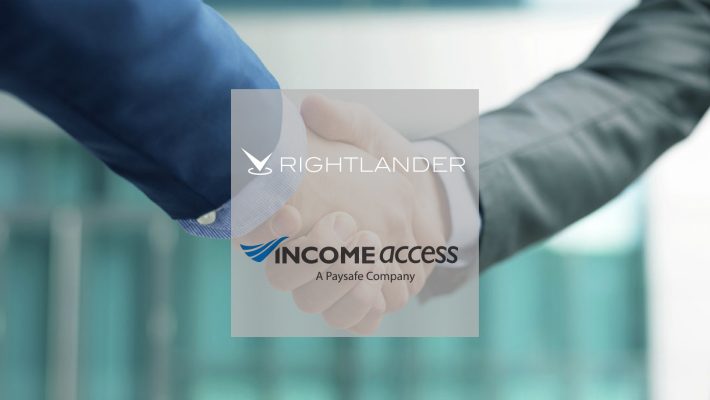 Rightlander Partners with Income Access
Rightlander partners with Income Access to offer clients enhanced monitoring of advertising campaigns
Montreal, QC. 16th April 2018 – Rightlander, a UK-based supplier of monitoring tools and services for advertising campaigns, has partnered with Income Access, Paysafe's marketing technology and services provider. The deal will see Rightlander's scanning and monitoring product integrate with Income Access' award-winning affiliate platform.
With heightened advertising regulations requiring operators to ensure responsible marketing practices, Rightlander offers Income Access clients an automatic site-scanning solution to easily review advertising campaigns and help meet compliance needs. The Rightlander solution will complement Income Access's robust ad serving and campaign management tool, which has won eGaming Review's B2B 'Affiliate Software' Award four times since 2013.
Designed to significantly reduce the manual checking of affiliate sites, Rightlander's technology scans and analyses content and links, and provides detailed reports, including both link and brand mentions. Rightlander also locates and reports domains with brand mentions of which operators may be unaware.
The addition of the Rightlander product, with its significant time and cost efficiencies, allows for better monitoring of advertising campaigns. Brands will also benefit from the ability to track, analyse and optimise all aspects of their marketing campaigns while maintaining regulatory standards for its target market(s).
Ian Sims, Director at Rightlander, said: "We are delighted to partner with a brand like Income Access, having worked with them as an affiliate for more than a decade. We feel our combined services will support affiliate programmes to better manage their advertising campaigns and support affiliates to stay compliant."
Sarafina Wolde Gabriel, Vice President of Strategy at Income Access, said: "Ensuring regulatory compliance and responsible affiliate marketing practices are vitally important focuses for Income Access and the wider iGaming industry. We're therefore excited to partner with Rightlander, whose product will provide operators with a cutting-edge software, custom-built for affiliate marketing's future."
For more information on the Rightlander partnership, contact Income Access.
About Rightlander:
Rightlander was developed to help affiliates and the brands they represent to work together effectively in identifying and managing non-compliant content. The technology scans and analyses affiliate sites, examining text, images and links, and provides reports on where brands are mentioned or linked to.
About Income Access:
Founded in 2002, Income Access is a technology company, affiliate network and digital marketing agency servicing the global gaming and financial trading industries, including regulated iGaming, social gaming, land-based casinos as well as online forex and binary options trading. Through its award-winning marketing software and a partnership-centric approach, Income Access delivers comprehensive data and strategic insight on marketing campaigns across all digital and offline channels.
Related
folder_openAssigned tags
content_copyCategorized under
About author