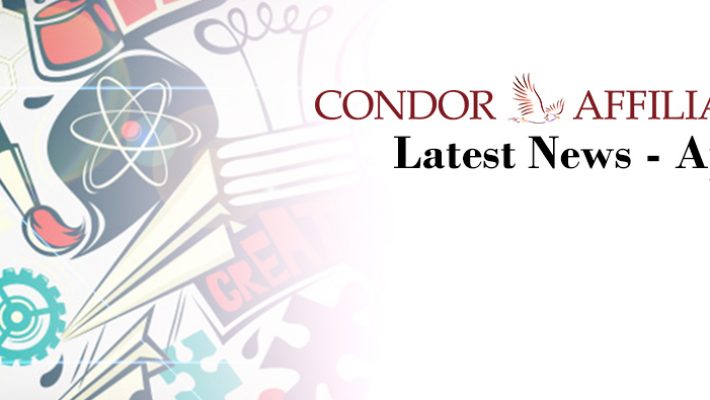 Latest News from Condor Affiliates – What to expect in April 2016
Even if the latest topic is 24Bettle, we're both engaged in creating the best casino brand that players have ever seen and in enhancing the other brands, which are undergoing changes for the better.
This is the perfect time to attain a high conversion rate, as the upgraded features are to get players thrilled and glued! Read on to learn it all.
B-Bets casino has a new look and a promotional video 
b-Bets is all about the unique bonuses' auctions and advanced sportsbook features and we're happy to announce that it has received a new fresh look that includes not only graphical creative changes to its homepage – and a new game menu that makes browsing through the games easier – but also a new background and a promotional video.
b-Bets Casino
de b-Bets
This short video explains b-Bets concept in a straightforward way, so if you promote this casino you're welcome to broadcast its video.
[spacer color="8BC234″ icon="Select a Icon" style="2″]
Rembrandt Casino is going to be upgraded
On the 12th of April a new Rembrandt Casino will be put live!
The unique selling points of Rembrandt Casino new version consist of:
– a more modern look and feel;
– enhanced speed;
– lower minimum deposit (€10);
– totally responsive design;
– jackpot tickers;
– better navigation.
You'll be provided with updated marketing materials as well as new ones, so you can promote this brand to its most.
Please make sure you take a bit of time to update any content you depend on to promote Rembrandt Casino, and don't hesitate to get in touch with us if you need.
[spacer color="8BC234″ icon="Select a Icon" style="2″]
b-Bets and Rembrandt Casino have new welcome packages
We have made alterations for the better in the Welcome Bonuses. We're sure players will care for the second deposit bonuses that are now available at b-Bets and Rembrandt Casino:
b-Bets: 1st deposit >> 100% up to €250 | 2nd deposit >> 25 Free Spins
Rembrandt Casino: 1st deposit >> 100% up to €200 | 2nd deposit >> 20 Free Spins
Most part of the banners in English have been updated and replaced, but if the banners you have placed in your website are not displaying the new second welcome bonus correctly, please either replace them with the updated ones that you'll find under the Marketing Tools of each brand area or get in touch with your affiliate manager to place your custom order.
Please update any information you might have published on your website(s) about the welcome bonus package accordingly.
Should you have any question, doubt or request, please don't hesitate to contact us.
[spacer color="8BC234″ icon="Select a Icon" style="2″]
New minimum deposit at 24Bettle and at Rembrandt Casino
24Bettle is one-of-a-kind online casino and sportsbook, and we want players to have no excuses when it comes to try it and see for themselves. Thus, to make it even more attractive and fair, a new minimum deposit amount has been put in place: €10.
And we're going to adopt the same minimum deposit amount at Rembrandt Casino too! This is to happen when the new version of the brand is launched – from the 12th of April onwards!
[spacer color="8BC234″ icon="Select a Icon" style="2″]
Introducing 24Bettle's Bettle Managers and their webpage
24Bettle is all about leveling up through completing achievements!
So, what better idea could there be than having a figure that interacts directly with players, by giving them a hand and a boost to their confidence so they go up levels?
This is an interactive retention feature that will surely reflect in your conversion rates from now on.
In the Bettle Manager page, players will also find news, unmissable promotions, the hottest new games, the latest big wins, the Bettle Manager's tweets feed and much more!
Each Bettle Manager has his/her own unique way of dealing with players, but all of them are to certainly take part of an unforgettable and interactive casino experience!
[button link="https://www.dmaxepaper.com/epaper/link.php?M=8787063&N=25507&L=19824&F=H" icon="Select a Icon" side="left" target="blank" color="b70900″ textcolor="ffffff"]Go to the Bettle Manager Page[/button]
[spacer color="8BC234″ icon="Select a Icon" style="2″]
New Sportsbook Live Display at b-Bets & 24Bettle
The b-Bets and 24Bettle sportsbooks have an all new live graphic display.
This live widget gives the sports betting enthusiasts all the statistics and events taking place in real time, all the information – live data, live game tracking – they need for those lucrative live bet.
A range of additional statistics and information can also be accessed from an icon bar at the top of the display. The widget is fully responsive and works across all major platforms and browsers.
In football, some of the features shown in the widget include what zone the ball is in, corner/free kicks, throw ins, referee name, cards, substitutions, shots on/off target.
For basketball it gives much the same as football with team possession, attack direction, scoring, misses, etc. For tennis, it gives player on serve, point won, tie break details, etc.
[spacer color="8BC234″ icon="Select a Icon" style="1″]
Condor-Affiliates(Silver Spons) – Fly High – Casino Affiliate Program
[vc_row][vc_column width="1/2″][vc_column_text css_animation="left-to-right"]
[/vc_column_text][/vc_column][vc_column width="1/2″][vc_column_text css_animation="appear"]Start working with 4 well converting brands that your players will enjoy to experience.
The team at
Condor-Affiliates
are equipped with a major experience in the gaming industry, online as well as offline and that makes
Condor-Affiliates
stand out from the crowd of affiliate programs.
Condor's team includes many enthusiastic personalities from all over the world. With a central office in Costa Rica and a side office in Malta, they have a great control center to offer an amazing gaming experience to your players. Their team members are driven to think out of the box, to be creative and deploy even the wildest ideas; all with one aim… Not to be the biggest in online gaming, but to be the best.[/vc_column_text][/vc_column][/vc_row][vc_row][vc_column][vc_column_text css_animation="top-to-bottom"]Set up your own promotion at Condor-Affiliates and share in on our success!
You can earn commissions via your website, blog, forum or mailers. You can choose to promote by brand – 24Bettle, b-Bets, Rembrandt Casino or Casino Sieger – by games, categories, mobile gaming, live games or sportsbook. As a plus, players can play live games with their bonus money while contributing to the wagering requirements deductions. Watch the players join in and the traffic conversion increase! Our professional affiliate management will give you advice and tips on how to get the most out of our win-win business relationship!
[button link="https://gamblingaffiliatevoice.com/CondorAffiliates" icon="fa-check" side="left" target="blank" color="0055b7″ textcolor="ffffff"]Join Now![/button][/vc_column_text][/vc_column][/vc_row][vc_row][vc_column][vc_text_separator title="Commissions" title_align="separator_align_left" color="green"][vc_progress_bar values="%5B%7B%22label%22%3A%22Revenue%20Share%22%2C%22value%22%3A%22100%22%7D%2C%7B%22label%22%3A%22Setup%20Fee%22%2C%22value%22%3A%22100%22%7D%2C%7B%22label%22%3A%22Flat%20Fee%22%2C%22value%22%3A%22100%22%7D%2C%7B%22label%22%3A%22No%20Negative%20Carry%20Over%22%2C%22value%22%3A%22100%22%7D%5D" bgcolor="custom" custombgcolor="#dd3333″ customtxtcolor="#ffffff"][vc_column_text css_animation="appear"]There are no hidden fees, nor additional hidden deductions. Commissions are paid between the 25th and the last day of the next calendar month. Payouts are made when a minimum of €150 of commissions has been reached.[/vc_column_text][/vc_column][/vc_row]
Related
content_copyCategorized under
About author