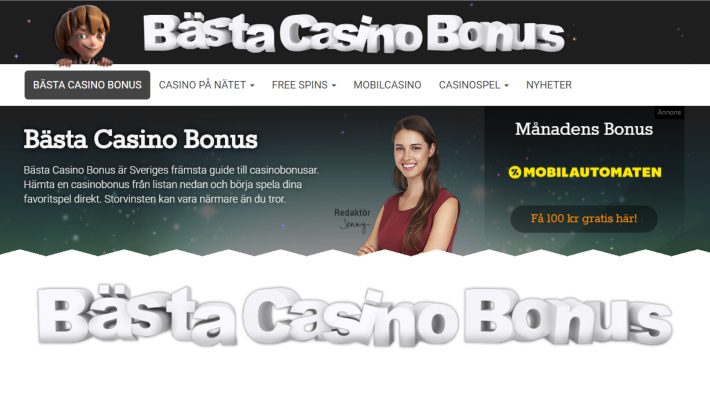 Affiliate Interview: Jenny of Bastacasinobonus.se
In our latest affiliate interview we've talked with Jenny, content manager of Swedish casino bonus site: Bastacasinobonus.se. Jenny and her team have recently launched a dynamic bonus ranking table where the bonus hunters can see bonus offers from different casinos and sort them under various criteria.
GAV: First of we would like to thank you for the opportunity. Could you share with us your profile so our readers can get a better idea of who you are?
Name: Jenny
Age: 26
Hometown: Stockholm
Living in: Stockholm
Favorite Food: Sushi
Must Read Book: The Gambler, Fyodor Dostoyevsky
GAV: Tell us a bit about yourself, we want to know who Jenny really is, the main person behind the Swedish casino bonuses site Bastacasinobonus.se. Where were you born? What was the key idea of developing this great comparison service for casino bonuses?
Jenny: I'm Jenny, 26, and I'm the content manager at bastacainobonus.se. I'm from Stockholm and I still live here. Enough about me though. The idea behind our site was to create a transparent site where we give the user to sort bonuses based on their actual value. There are a lot of affiliate sites, but we noticed that most of them clearly promote the sites that pay the most. We believe that players are becoming more knowledgeable about casino games and we wanted to create a website that acknowledges this.
GAV: Since there are thousands of casino bonuses websites out there, where do you think Bastacasinobonus.se stands now?
Jenny: That's something that's tough to measure. We are a small team but I think we have one of the best products on our niche market.
GAV: What are the strong points of Bastacasinobonus.se and what makes it stand out from the other niche websites?
Jenny: I believe that it is our transparency. We are very open with how we grade the bonuses and the reader have an opportunity to see a completely objective list that is only based on the value of the bonus offer.
GAV: How did you start and what bumps did you have to overcome?
Jenny: We had been running the site without a clear plan for a while, trying to figure out what it was supposed to be. Once we figured out the direction the hardest part was to figure out how to grade a casino bonus. Should we go with the biggest bonus amount? Most free spins etc? In the end we decided to base it on theoretical value when playing starburst, and I think it was a good choice.
GAV: We have surfed your website and found some pretty quality content. Are you writing it by yourself or you have a team of people writing for you? How many casino bonuses are there on your website?
Jenny: We have an in house team of three writers (including me) that produce the content. We currently have 48 different bonus offer and casino reviews. We are constantly adding new casinos but we are actually being quite selective. We turn down a lot of casinos due to them not having them a good enough game selection or not having a european license etc.
GAV: How do you keep the content fresh and relevant when a lot of fluff and nonsense appear on the Internet on a daily basis?
Jenny: We mostly publish factual (I think that is the word I'm supposed to use) articles like new casino reviews and current promotions that casinos run. That way the content is relevant for our bonus site.
GAV: We are pretty sure that you receive messages from Affiliate Managers on a daily basis showcasing their products. You of course select them by the brands they work with; but what are your thoughts on how Affiliate Manager-Affiliate relationships should be built?
Jenny: That's an interesting question. The best relationships we have are the ones where we don't have to be in contact with the manager very often, but still know that we can get a quick answer when needed.
GAV: How do you see the future of the online casino industry? For instance, will it become a truly global phenomenon in the near future?
Jenny: Surely. Gambling has been around for ever and to think that it won't be seems strange.
GAV: Name one change that you want to see in the casino affiliate ecosystem?!
Jenny: As an affiliate I would like a slightly better insight in to tagged players and administrative costs.
GAV: What advise you would like to offer to newbies who are looking to venture into this great industry?
Jenny: Start small and try to build something sustainable.
GAV: Do you have a favorite celebrity?
Jenny: Not really.
GAV: Do you attend any iGaming/casino conferences? If so, which one is your favorite and what is your most fun experience?
Jenny: No, I focus on content and leave the relationship building to the rest of the team.
GAV: What do you think the chances are for Eastern Europe on becoming potential gaming hotpot in the future? Where do you think the region must improve upon?
Jenny: It's possible but I don't have any real insight on how things work in Eastern Europe.
GAV: Alright, here comes the fun part…., where would you like to travel in Eastern Europe?
Jenny: Bucharest and Odessa seem like cool places.
GAV: Where you wouldn't want to travel in Eastern Europe?
Jenny: I'll go anywhere once but I won't go back to Budapest.
GAV: What is your opinion about GAV (GamblingAffiliateVoice.com)?
Jenny: It's a good website that makes it easy to keep up with the industry.
GAV: Thanks for your time Jenny, we really appreciate it, all the best to you and if you have any newsworthy updates feel free to contact us!
If you would like to suggest some more questions or subjects for future interviews, be sure to send your suggestions to: george@gamblingaffiliatevoice.com or comment below this interview.
Related
folder_openAssigned tags
content_copyCategorized under
About author