Speakers at Prague iGaming Affiliate Conference: Major lawyers, state authorities and gambling CEOs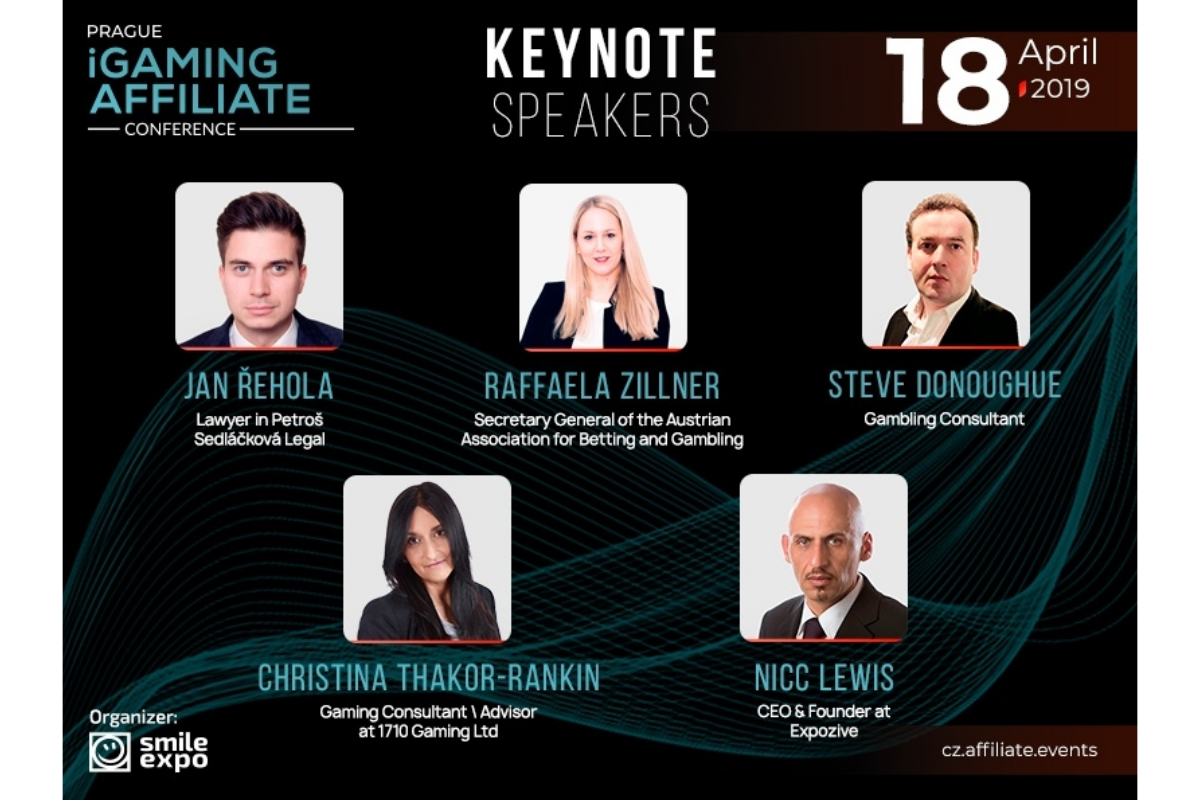 On April 18, for the first time ever the capital of the Czech Republic will host an event at the intersection of iGaming and affiliate marketing. Its organizer Smile-Expo company will gather marketers, arbitrage experts, online casino operators, and investors on one platform.
The event will take place in the format 'conference + demo zone'.
Conference
The conference will bring together well-known lawyers, gambling business advisors, CEOs at marketing and iGaming companies as well as representatives of state authorities. Among them, there will be:
Jan Řehola — a lawyer who worked for 4 years for the Ministry of Finance of the Czech Republic as a Director of Gambling Department. He will take part in the discussion and feature the pros of blockchain and cryptocurrencies in the iGaming sphere.
Raffaela Zillner — Secretary General of the Austrian Association for Betting and Gambling. Along with other well-known lawyers, she will dwell on the current legislative framework of the gambling sphere in the Czech Republic.
Steve Donoughue — a management consultant specializing in the gambling industry for 20 years. Focused on business strategies. In his presentation, Steve will tell why affiliates need a trade association.
Christina Thakor-Rankin — a consultant with 25-year experience in the betting and gaming industry. She will tell how to attract and retain Generation Z clients.
Nicc Lewis — an experienced marketer, CEO at Expozive agency. The speaker will unveil the prospects affiliate marketing exposes to the modern iGaming sphere.
Demo zone and networking
Demo zone is a special place gathering companies from the iGaming sphere – marketing agencies, casino operators, software developers, affiliate networks, and legal firms.
Attendees will have time for networking: businessmen will be able to establish business contacts, investors will find a prospective startup while young companies will get professional advice from experienced specialists.
Venue and organizer
Prague iGaming Affiliate Conference will take place at Grandium Prague hotel near picturesque Vrchlického sady, Address: Politických vězňů 913/12, 110 00 Nové Město.
The conference is organized by Smile-Expo company that has been carrying out events on innovative technologies in business for 13 years.
Details and tickets are available on the website of Prague iGaming Affiliate Conference.
1xBet to share vision for betting's future at iGB Live!/iGB Affiliate Amsterdam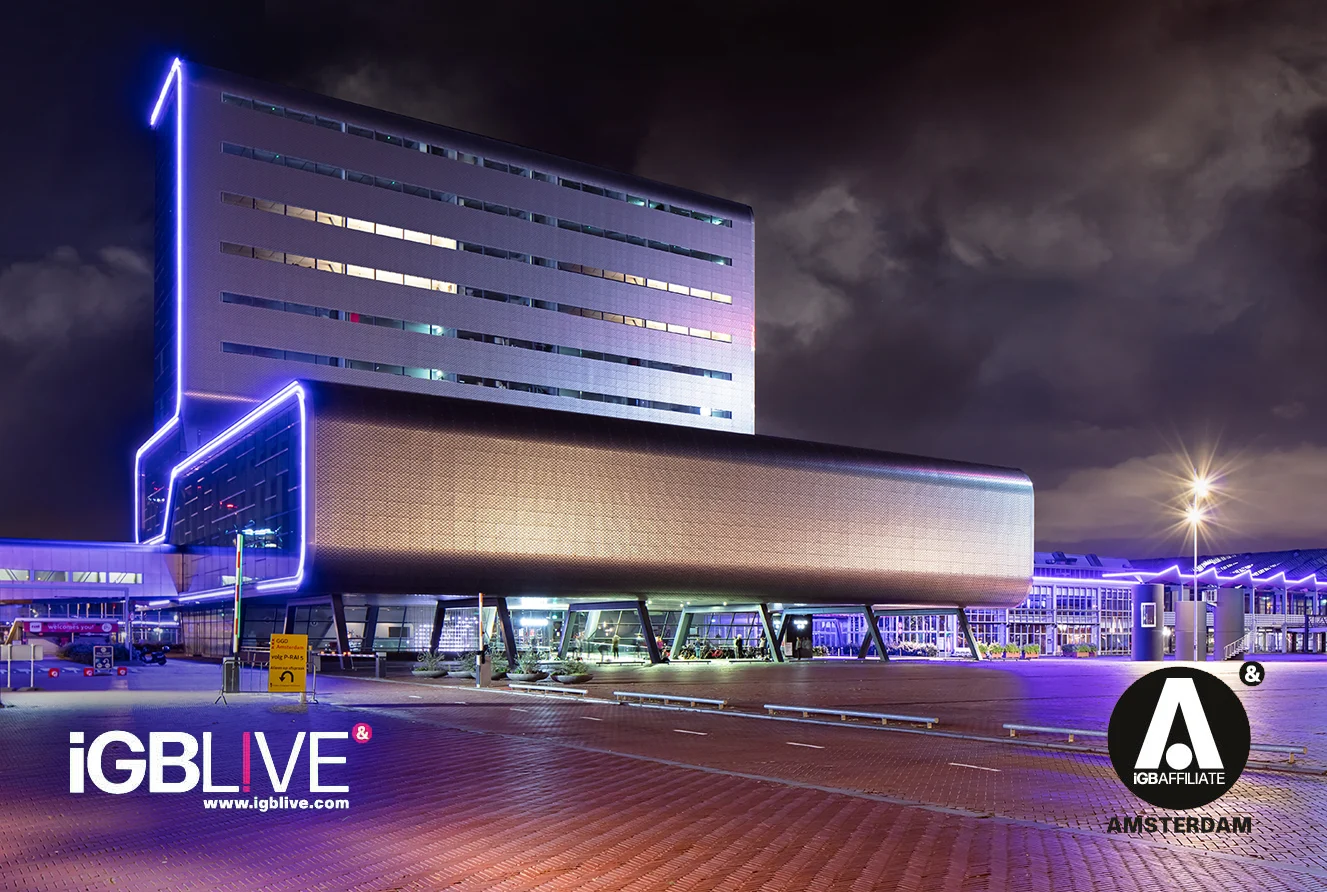 'A glimpse into the future and a chance to see what the industry will be like tomorrow' is how Alex Sommers, Director of Affiliate Marketing at 1xBet, described the opportunities that he believes will be available to visitors attending the forthcoming iGB Live!/iGB Affiliate Amsterdam which is taking place across 28 September – 1 October at the RAI, Amsterdam.
The leading online brand which is the Diamond Sponsor for the affiliate event series, believes the long gap between major in-person gaming events has made industry professionals hungry for knowledge and networking. He explained: "We are confident that brands will be looking to the future. There was a long pause between major exhibitions, and we're all clearly gathering here for big plans. And given that such a variety of companies will be represented in one place, it seems that we will discuss all aspects of the betting industry in general. Starting from the work undertaken by brands during the conditions that were in place last year, and ending with the new challenges that will face us."
Presenting a compelling and passionate case for in-person and the reasons why the industry will be out in force at the Amsterdam-based shows, he argued: "Of course technology allows you to arrange a call with partners on the other side of the world in just a couple of clicks, but we are convinced that live interaction is a much more enjoyable method of communication. We are all human beings who enjoy interacting, communicating and meeting at events such as exhibitions.
"Moreover, at large events, there is always a festive atmosphere and the whole scale of the industry is felt. These emotions cannot be conveyed in the same way via virtual meetings. We've made big plans and look forward to meeting old acquaintances."
The focus is firmly on partnerships both existing and new. "Many meetings with current partners are planned plus we also expect to meet new faces – all the time discussing interesting proposals and ideas ' he stated.
"Exhibition days are challenging but incredibly interesting. Our staff get up early in the morning and return late at night. And in the meantime – dozens of meetings and negotiations are planned. Such events help to unite our team even more, we get to not only know our competitors better but also ourselves. Therefore, we look at iGB only in the most positive way. We look forward to our trip to Amsterdam and invite everyone to chat and discuss partnership opportunities with us. There are very specific areas in which we will act, but we like to keep our cards close to our chest – what we can divulge now though is that people will be pleasantly surprised as we share our vision of innovations that will be introduced in the field of betting!"
Last Chance to Join Zurich iGaming Affiliate Conference: Event About Online Gambling Operations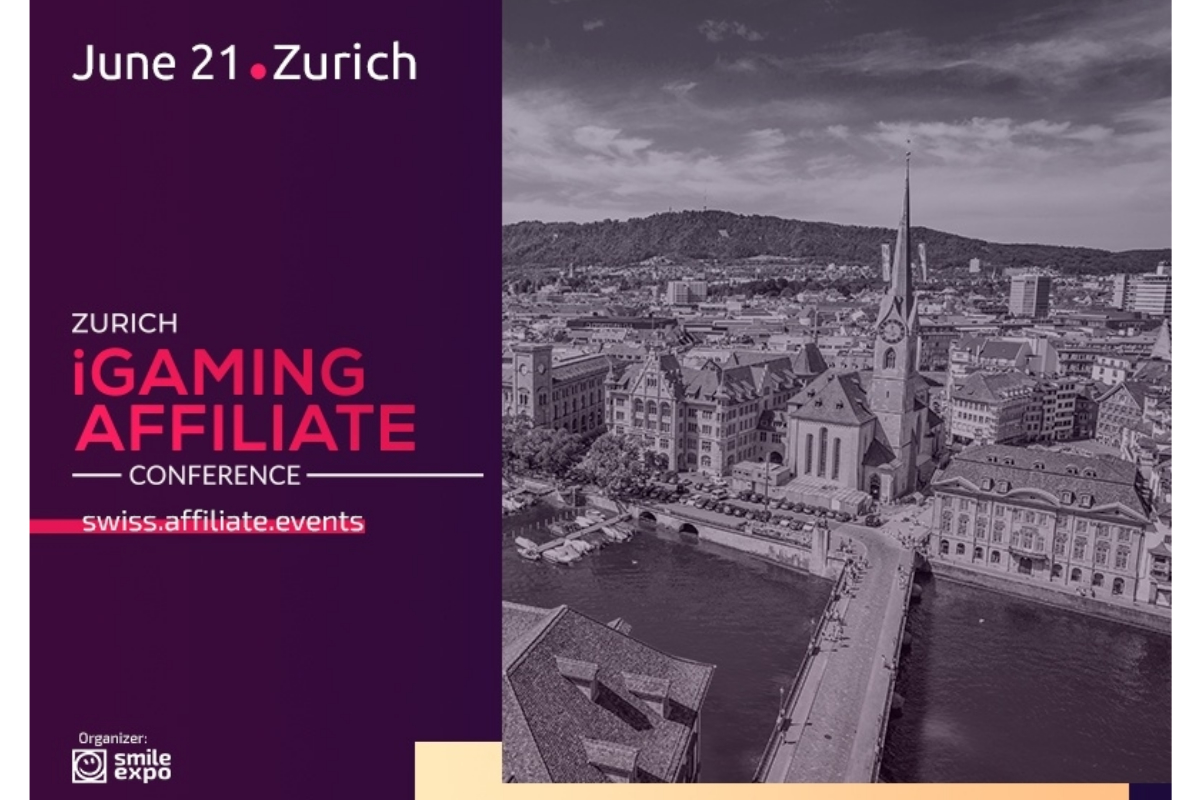 On June 21, an international event company – Smile-Expo – will hold Zurich iGaming Affiliate Conference. It is Switzerland's only event dedicated to online gambling operations and online project promotion using affiliate marketing.
The event will be a platform for sharing experience and establishing cooperation between online casinos and land-based gambling venues.
Conference speakers and participants
The specialized event will bring together representatives of the offline and online gambling industry. It will be attended by casino managers, betting providers, SEO specialists, lawyers, affiliates, and digital agencies from the USA, France, Germany, Greece, Liechtenstein, Luxemburg, and other European countries. They will introduce their companies holding leading iGaming market positions. They include: ORYX Gaming, PartnerMatrix, Endorphina, Red Tiger, Lucky Labz, Rombet, Federbet, Global Bet, Buffalo Partners, Astrea, Expozive, PLANZER LAW, etc.
Top industry experts will make relevant presentations on legal aspects of business operations, company performance optimization, and brand promotion.
Francesco Baranca: general secretary at Federbet. This Belgian non-commercial association combats fixed matches and supports betting companies and their customers.
Dan Iliovici: a specialist in business planning, management, and PR. He is former President of ONJN, the Romanian gambling authority, and Vice President at Rombet.
Robert Toth: has more than 10 years of experience in the iGaming sector. Currently, he is Key Account Manager at Global Bet, the largest independent provider of virtual sports.
Reuben Portanier: a professional with executive management experience in gambling, consultancy, technology, and finances. Director of Business Development at GTG Advocates and Founding Partner at Afilexion Alliance. These companies provide legal and consulting services. The speaker is also Co-Founder and Director at Caledo.
Joe Ewens: journalist and author of many materials dedicated to gambling. Now, he is a managing editor at GamblingCompliance, a provider of an independent legal, regulatory and business analytics in the global iGaming sector.
The conference will be followed by the Talks&Drinks party. Participants will be able to discuss critical issues as well as find new business partners and investors to implement future projects.
Location and organizer
The conference will take place at Sheraton Zurich Hotel. The registration of participants will start at 9:30 a.m.
The event is organized by Smile-Expo, a company that has been conducting international specialized В2В and В2С events for 13 years.
Hurry up to buy a ticket at the 20% discount! You should just use a promo code: PR20. Register to the conference right away.
Event details are available on the official website of Zurich iGaming Affiliate Conference.
Celebrating the International Workers' Day: 30% Discount on Zurich iGaming Affiliate Conference Tickets!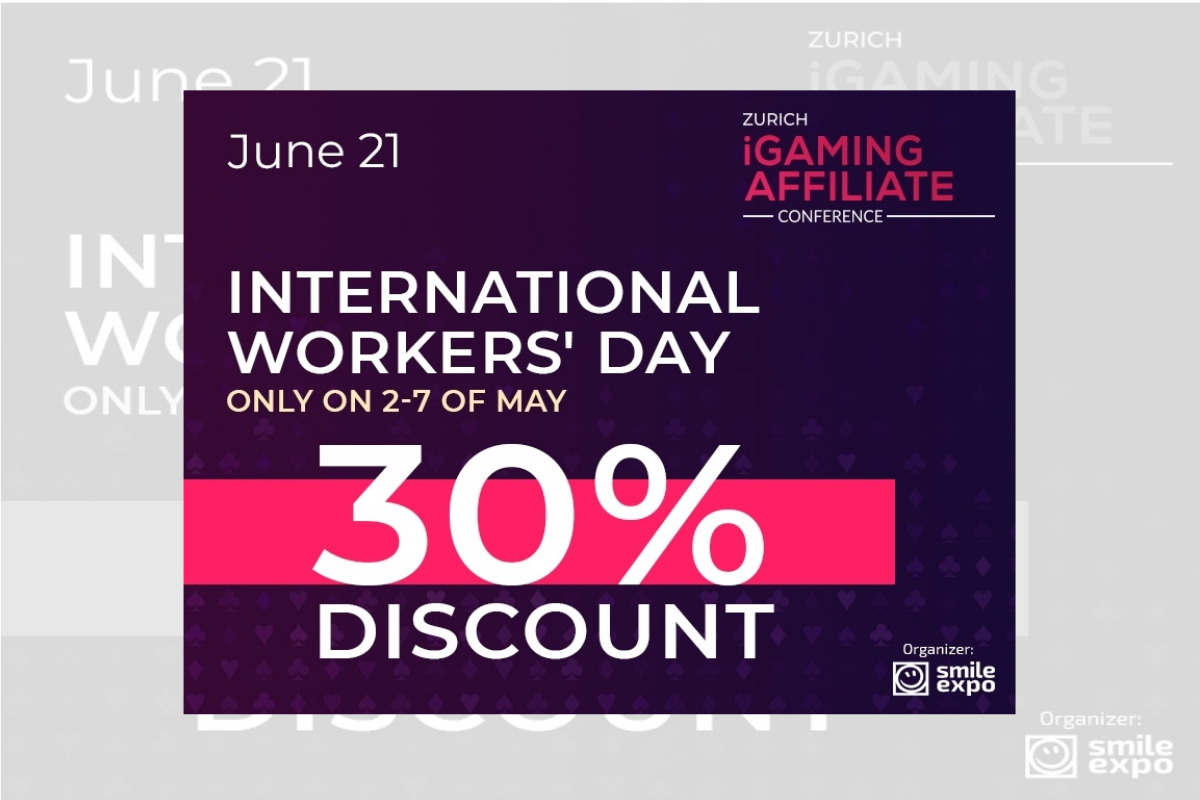 The organizer of the Zurich iGaming Affiliate Conference offers 30% discount on the tickets to the event about affiliate marketing in the online casinos industry.
Only on May 2-7:
Price with the discount: 210 EUR.
Common price: 300 EUR.
Zurich iGaming Affiliate Conference is the event about the affiliate programs in the gambling and betting industry which will take place on June 21 in Switzerland.
The conference will gather online casinos operators, marketers and affiliate experts, as well as legal specialists and industry regulators. Invited speakers will discuss gambling laws, strategies to attract online players, and casinos' experiences in different markets.
Don't miss the lucrative offer and learn more about the marketing in the gambling business at the event!
Get a discount >>>